krainaksiazek chick lit and other formulas for life 20131261
- znaleziono 4 produkty w 1 sklepie 57,61 zł
Książki / Literatura obcojęzyczna
What's in a name? Could Daisy have found her soulmate if she'd been more careful about the names of her dates? This is a witty, poignant new twist on lonely hearts. A rollercoaster autobiography, an A-Z of the men in Daisy's life. Why can't Daisy form a lasting relationship of any value? The reasons are tantalizingly revealed. An early marriage to a cross-dresser, an abusive father, the Exploitative Boss. A series of other encounters weave through the more serious stuff-The Year of the Africans (the accent just makes her weak at the knees now), Gardening Men of the Year (how else do you avoid an osteopath's bill?). The ironic contrast between the confident professional woman and the vulnerable female who can't keep her personal life together. The pleasures and disasters of exotic places. It's Eat, Pray, Love, Get Let Down Again. The soul mate has been met and lost. Is he still out there -somewhere? And is there a correlation between men's names and the way in which they behave? Of course there is. Paul, for example, means little and he was, well part of him was, honestly! This is chick-lit for the intelligent reader. For the many women who are dipping their toes into internet dating, it is an hilarious warning. Daisy is each and every one of us. Someone who still hopes and dreams, buys into the nirvana of a love-for-life, but is the quintessential twenty first century woman.
Sklep: Libristo.pl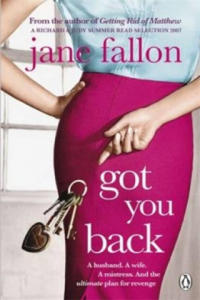 39,40 zł
Książki / Literatura obcojęzyczna
"Got You Back" is the brilliantly witty novel from Jane Fallon author of "Getting Rid of Matthew". A husband. A wife. A mistress. And the ultimate plan for revenge...The husband James never intended to lead a double life - with a wife in London and a mistress in the country, it's exhausting. But that's all about to change...The wife Stephanie isn't really snooping when she finds a text message from a strange woman on her husband's mobile. But now she's found it, how can she ignore it? It's time to track the woman down and find out what's going on...The mistress Katie has no reason to believe her boyfriend, James, is cheating until someone claiming to be his wife gets in touch. Now she's been cast in the role of mistress. Not one she's happy with...Once Stephanie and Katie know about each other, they must decide what to do. They could both just throw him out or they could join forces to make his life hell first...But revenge isn't always sweet. And what happens when one woman thinks enough is enough but the other doesn't know when to stop? The bestselling author of R&J selection "Getting Rid of Matthew" returns with a hilarious novel about relationships. Praise for Jane Fallon: "Intelligent, edgy and witty". ("Glamour"). "A brilliant and original tale". ("Sun"). "Chick lit with an edge". ("Guardian"). Jane Fallon is the multi-award-winning television producer behind shows such as "This Life", "Teachers" and "20 Things to Do before You're 30". Her novels are "Getting Rid of Matthew", "Foursome", "Got You Back" and "The Ugly Sister".
Sklep: Libristo.pl 49,66 zł
Książki / Literatura obcojęzyczna
The world is a fraught place for the contemporary female. Working mothers are still expected to make their children's costumes for the school play, despite the fact that home economics was abolished in the Seventies; we're told it's not looks but brains that count, and yet if we dare to leave the house looking vaguely our age we're made to feel like failures; women's magazines run earnest articles about the evils of size 0 culture, only to feature models with hips like 10-year-old boys a few pages later; we pay the same level of taxation as men, and yet on average we earn 25% less. So, this book - a book for women who never got around to perfecting the art of domestic divinity but would quite like to be able to cook supper for six without having a nervous breakdown; who never quite mastered Cosmo's 101 ways to please your man, but don't want the embarrassment, not to say inconvenience, of him running off with a 19-year-old Russian supermodel. It's your mother, your best friend, your guru and your shrink wrapped up in book form, with jokes. It's the antidote to every stupid, boring, reductive magazine article you've ever read, or every silly, hair-twirling, chick lit confection about girls called Arabella who marry bankers and live in Gstaad. It's for women who love their children but don't want them to run their lives; and for women who love their lives and won't have them run by children. It's about revising expectations, exploding myths and generally dealing with all that life, love and other people have to throw at you.
Sklep: Libristo.pl 49,66 zł
Książki / Literatura obcojęzyczna
Jane Austen is a mystery. The first incontrovertibly great woman novelist, she is, among other things, one of the finest prose stylists in literature; the first truly modern writer, the Godmother of chick lit. She is also the greatest enigma (next to Shakespeare) in English literature. "Soldiers in the First World War" sat in the trenches and read them for the civilising comforts they provided. Hard-nut literary critics such as F. R. Leavis lauded their austere complexity. World Book Day, 2007, found that "Pride and Prejudice" was the one book 'The nation can't live without'. In this witty, accessible guide, Charles Jennings goes in search of this enigma through her words as well as her times, including a short biography, an overview of the novels, as well as the world that she inhabited. Finally, the book contains Jane's very own words of advice for the modern life.
Sklep: Libristo.pl
Sklepy zlokalizowane w miastach: Warszawa, Kraków, Łódź, Wrocław, Poznań, Gdańsk, Szczecin, Bydgoszcz, Lublin, Katowice
Szukaj w sklepach lub całym serwisie
2. Szukaj na wszystkich stronach serwisu
t1=0.023, t2=0, t3=0, t4=0, t=0.024