krainaksiazek cities in transition power environment society 20127627
- znaleziono 4 produkty w 1 sklepie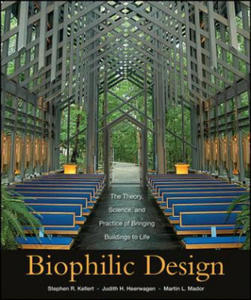 375,48 zł
Książki / Literatura obcojęzyczna
"When nature inspires our architecture-not just how it looks but how buildings and communities actually function-we will have made great strides as a society. Biophilic Design provides us with tremendous insight into the 'why,' then builds us a road map for what is sure to be the next great design journey of our times." -Rick Fedrizzi, President, CEO and Founding Chairman, U.S. Green Building Council "Having seen firsthand in my company the power of biomimicry to stimulate a wellspring of profitable innovation, I can say unequivocably that biophilic design is the real deal. Kellert, Heerwagen, and Mador have compiled the wisdom of world-renowned experts to produce this exquisite book; it is must reading for scientists, philosophers, engineers, architects and designers, and-most especially-businesspeople. Anyone looking for the key to a new type of prosperity that respects the earth should start here." -Ray C. Anderson, founder and Chair, Interface, Inc. The groundbreaking guide to the emerging practice of biophilic design This book offers a paradigm shift in how we design and build our buildings and our communities, one that recognizes that the positive experience of natural systems and processes in our buildings and constructed landscapes is critical to human health, performance, and well-being. Biophilic design is about humanity's place in nature and the natural world's place in human society, where mutuality, respect, and enriching relationships can and should exist at all levels and should emerge as the norm rather than the exception. Written for architects, landscape architects, planners,developers, environmental designers, as well as building owners, Biophilic Design: The Theory, Science, and Practice of Bringing Buildings to Life is a guide to the theory, science, and practice of biophilic design. Twenty-three original and timely essays by world-renowned scientists, designers, and practitioners, including Edward O. Wilson, Howard Frumkin, David Orr, Grant Hildebrand, Stephen Kieran, Tim Beatley, Jonathan Rose, Janine Benyus, Roger Ulrich, Bert Gregory, Robert Berkebile, William Browning, and Vivian Loftness, among others, address: The basic concepts of biophilia, its expression in the built environment, and how biophilic design connects to human biology, evolution, and development. The science and benefits of biophilic design on human health, childhood development, healthcare, and more. The practice of biophilic design-how to implement biophilic design strategies to create buildings that connect people with nature and provide comfortable and productive places for people, in which they can live, work, and study. Biophilic design at any scale-from buildings to cities-begins with a few simple questions: How does the built environment affect the natural environment? How will nature affect human experience and aspiration? Most of all, how can we achieve sustained and reciprocal benefits between the two? This prescient, groundbreaking book provides the answers.
Sklep: Libristo.pl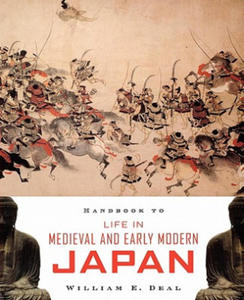 103,14 zł
Książki / Literatura obcojęzyczna
andbook to Life in Medieval and Early Modern Japan spans the beginning of the Kamakura period in 1185 through the end of the Edo (Tokugawa) period in 1868. The medieval and early modern eras in Japan were largely shaped by the rise of the warrior class. After 1603, with the founding of the Tokugawa shogunate, Japanese culture changed dramatically, but as cities grew and merchants thrived, the warrior class became less dominant. By the end of the Edo period, Japan's insular feudal society and military government became irrelevant in an increasingly consumer-oriented economy and thriving urban culture. The contribution of military rulers, celebrated warriors, and cultural innovators to medieval and early modern Japanese culture are well documented. However, life at the village level also had a strong impact on the culture. Covering both levels of society, this comprehensive guide provides insightful information on well-known people and peasants, artisans, shopkeepers, and others outside the periphery of power. Handbook to Life in Medieval and Early Modern Japan introduces the reader to the significant people and events-cultural, social, political, and historical-and the everyday experiences and elements of material culture during this time. Organized thematically, the text covers: History; Land, Environment, and Population; Government; Society and Economy; Warriors and Warfare; Religion; Philosophy, Education, and Science; Language and Literature; Performing Arts; Art and Architecture; Travel and Communication; Daily Life. Each chapter includes an extensive bibliography, and photographs and maps complement the text. Handbook to Life in Medieval and Early Modern Japan provides all the essential information for anyone interested in Japanese history, society, or culture.
Sklep: Libristo.pl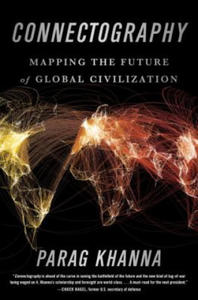 151,94 zł
Książki / Literatura obcojęzyczna
From the visionary bestselling author of The Second World and How to Run the World comes a bracing and authoritative guide to a future shaped less by national borders than by global supply chains, a world in which the most connected powers-and people-will win.§§Connectivity is the most revolutionary force of the twenty-first century. Mankind is reengineering the planet, investing up to ten trillion dollars per year in transportation, energy, and communications infrastructure linking the world's burgeoning mega-cities together. This has profound consequences for geopolitics, economics, demographics, the environment, and social identity. Connectivity, not geography, is our destiny.§§In Connectography, visionary strategist Parag Khanna travels from Ukraine to Iran, Mongolia to North Korea, Pakistan to Nigeria, and across the Arctic Circle and the South China Sea to explain the rapid and unprecedented changes affecting every part of the planet. He shows how militaries are deployed to protect supply chains as much as borders, and how nations are less at war over territory than engaged in tugs-of-war over pipelines, railways, shipping lanes, and Internet cables. The new arms race is to connect to the most markets-a race China is now winning, having launched a wave of infrastructure investments to unite Eurasia around its new Silk Roads. The United States can only regain ground by fusing with its neighbors into a super-continental North American Union of shared resources and prosperity.§§Connectography offers a unique and hopeful vision for the future. Khanna argues that new energy discoveries and technologies have eliminated the need for resource wars; ambitious transport corridors and power grids are unscrambling Africa's fraught colonial borders; even the Arab world is evolving a more peaceful map as it builds resource and trade routes across its war-torn landscape. At the same time, thriving hubs such as Singapore and Dubai are injecting dynamism into young and heavily populated regions, cyber-communities empower commerce across vast distances, and the world's ballooning financial assets are being wisely invested into building an inclusive global society. Beneath the chaos of a world that appears to be falling apart is a new foundation of connectivity pulling it together.§§Advance praise for Connectography §§"Ahead of the curve in seeing the battlefield of the future, and the new kind of tug-of-war being waged on it. Parag Khanna's scholarship and foresight are world-class. A must-read for the next president." -Chuck Hagel, former U.S. secretary of defense§§"This bold reframing is an exciting addition to our ongoing debate about geopolitics and the future of globalization." -Dominic Barton, global managing partner, McKinsey & Company§§"Gives the reader an amazing new perspective on human society, bypassing the timeworn categories and frameworks we usually use. A must-read for anyone who wants to understand the future of humanity." -Sandy Pentland, professor, MIT Media Lab§§"Reading Connectography is a real adventure. The expert knowledge of Khanna has produced a comprehensive and fascinating book anchored in geography but extending to every field that connects people around the globe." -Mark Mobius, executive chairman, Templeton Emerging Markets Group§§"Khanna's latest book provides an invaluable guide to the volatile, confusing worlds of early twenty-first-century geopolitics." -Neil Brenner, director, Urban Theory Lab, Harvard University Graduate School of Design
Sklep: Libristo.pl 294,31 zł
Książki / Literatura obcojęzyczna
The Gourmet Gardens Project aims to expose the potential of urban agriculture and the growing movement of local food production that has the power to substantially benefit our cities and ourselves. It offers a product-service-system enabling people to become active participants in local food systems, with the purpose of producing goods within their own home for personal use or for small businesses that can potentially scale-up. To facilitate this process, a modular grower system with seedlings-supply service has been designed for helping people to construct and maintain household gardens. The project is a proof of concept, on designing urban systems for ecologically supportable, contemporary lifestyle with emphasis on the implementation of eco-conscious objects, a model where household furniture adopts to the functionality of food production. Altogether the goal was to design solutions for promotion, awareness and effective application in order to realise food production in a daily life environment. To improve society's relationship to nature, to draw on to people's enthusiasms so that motivation can be followed through into action.
Sklep: Libristo.pl
Sklepy zlokalizowane w miastach: Warszawa, Kraków, Łódź, Wrocław, Poznań, Gdańsk, Szczecin, Bydgoszcz, Lublin, Katowice
Szukaj w sklepach lub całym serwisie
2. Szukaj na wszystkich stronach serwisu
t1=-0.805, t2=0, t3=0, t4=1.019, t=-0.804