krainaksiazek clinical pharmacy and therapeutics international edition 20128285
- znaleziono 9 produktów w 3 sklepach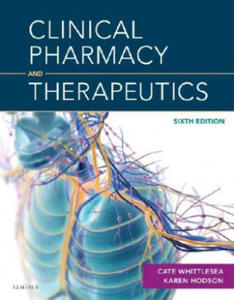 340,45 zł
Książki / Literatura obcojęzyczna
From reviews of the previous edition: 'This new edition of Clinical Pharmacy and Therapeutics was really very helpful when I was doing an MSc course in Advancing Pharmacy Practice and it was really very helpful in all the clinical diseases I have to read for my PBL. I also used it as one of my most reliable reference books for the in-course simulation ward rounds and other clinical case studies. It is a great book to have as a practising clinical or hospital pharmacist or even community pharmacist. It will also be of great use to anyone doing a course in pharmacotherapy. This book will always be of use to you throughout your studentship or when practising after graduation. It is also more portable than most other pharmacotherapy textbooks with the same amount of information.' Now in its sixth edition, this best-selling, multi-disciplinary textbook continues to draw on the skills of pharmacists, clinicians and nurses to present optimal drug regimens. The authors integrate an understanding of the disease processes with an appreciation of the pathophysiological processes, clinical pharmacy and the evidence base. Each chapter is co-written by a pharmacist and a clinician, and each chapter begins with key points and ends with cases to test understanding. The sixth edition is now on StudentConsult for the first time, giving online access to the full text.
Sklep: Libristo.pl 325,61 zł
Książki / Literatura obcojęzyczna
Put the authority of Goodman & Gilman's in the palm of your hand!§5 STAR DOODY'S REVIEW! §"...the most authoritative and trusted source of pharmacological information, has now spawned a portable pocket drug guide....This manual extracts the essential core drug information from the eleventh edition of the parent book, referring the reader to the online version of the parent book for historical aspects, many chemical and clinical details, and additional figures and references. This makes G & G a very useful book. This will be of use to individuals in training or practice in the fields of pharmacy, medicine, nursing, or allied health disciplines where knowledge of drug actions are important....Each chapter provides the core essential information provided in the parent book in a very readable format. Readers can use this easy to handle and read manual for essential information along with the online version of the parent book as a reference for more in-depth specific information on drugs."-- Doody's Review Service (of earlier edition) § NOW IN FULL COLOR!§The Goodman & Gilman Manual of Pharmacology and Therapeutics offers the renowned content of Goodman & Gilman's Pharmacological Basis of Therapeutics, Eleventh Edition , condensed into an ultra-handy, streamlined reference.§More than just a pocket drug guide, this indispensable resource offers:§A carry-along source of essential fundamental information, with all the authority of Goodman & Gilman's Pharmacological Basis of Therapeutics, Eleventh Edition §The benefits of the world's leading pharmacology text in a convenient, portable format §Comprehensive, yet streamlined and clinically relevant coverage of the pharmacological basis of therapeutics§High-yield overview of pharmacokinetics, pharmacodynamics, and the foundations of pharmacology §Expert insights into the properties, mechanisms, and uses of all the major drug classes§Considerations of vital patient-specific issues
Sklep: Libristo.pl 865,80 zł
Zdrowie, medycyna
"Multiple Sclerosis Therapeutics, Third Edition" provides a comprehensive update of clinical trial methodology and current therapeutic modalities in multiple sclerosis. This new edition has been thoroughly revised and reorganized by the team of international contributors to reflect advances in understanding of the pathophysiology of the disease and to include new and emerging treatments. New chapters have been included on biomarkers in MS, pharmacogenomics, emerging therapeutic modalities (natalizumab, T-cell-based therapies, B-cell-based therapies, cytokine/chemokine-based therapies, statins, 4-aminopyridine), neuroprotection, and the use of OCT and MRI to guide disease therapy. The most comprehensive textbook on clinical trial methodology and treatment outcomes in multiple sclerosis, "Multiple Sclerosis Therapeutics" is a highly useful resource for neurologists and anyone involved in the treatment of multiple sclerosis.
Sklep: Albertus.pl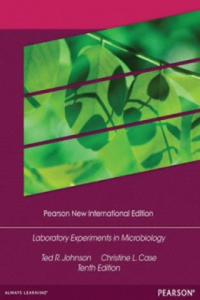 335,45 zł
Książki / Literatura obcojęzyczna
Containing 57 thoroughly class-tested and easily customizable exercises, Laboratory Experiments in Microbiology, Tenth Edition, provides engaging labs with instruction on performing basic microbiology techniques and applications for undergraduate students in diverse areas, including the biological sciences, allied health sciences, agriculture, environmental science, nutrition, pharmacy, and various pre-professional programs. The perfect companion to Tortora/Funke/Case's Microbiology: An Introduction or any introductory microbiology text, the Tenth Edition features an updated art program and a full-color design, integrating valuable micrographs throughout each exercise. Additionally, many of the illustrations have been re-rendered in a modern, realistic, three-dimensional style to better visually engage students. Laboratory Reports for each exercise have been enhanced with new Clinical Applications questions, as well as questions relating to Hypotheses or Expected Results. Experiments have been refined throughout the manual and the Tenth Edition includes an extensively revised exercise on transformation in bacteria using pGLO to introduce students to this important technique.
Sklep: Libristo.pl 950,32 zł
Książki / Literatura obcojęzyczna
This book brings together mental health professionals and researchers to offer the most up-to-date information on the diagnosis, treatment, and research surrounding bipolar depression. Its individual chapters provide valuable diagnostic information, allowing clinicians to distinguish between the various mood disorders. Further, they: review the course, outcome, and genetics of this highly heritable condition; offer a thorough overview of the neurobiology of the disorder, including what is known from neuroimaging work; delineate the treatment of bipolar depression in special populations such as children and pregnant women; address suicide, focusing on the need for assessment during both acute and maintenance treatment with interventions appropriate to a patient's symptoms and history; and cover acute and long-term treatment strategies for bipolar depression, including both traditional and novel therapeutics for the disorder, as well as non-pharmacological treatments.§§This second edition reflects significant advances, including an improved understanding of the altered neurobiology of patients suffering from bipolar depression, new information on pathophysiology and genetic findings drawn from diverse studies, and a discussion of the significant strides made towards improved treatment with already available and novel agents.§§§
Sklep: Libristo.pl 125,97 zł
Medycyna > English Division
Learn How to Apply the Principles of Pharmacotherapy to Real-World Clinical Practice! Pharmacotherapy Casebook sharpens the problem-solving and clinical decision-making skills you need to identify and resolve commonly encountered drug problems. This new edition is packed with more than 150 patient cases -- almost all of them new or revised -- and makes the perfect study companion to the seventh edition of DiPiro's Pharmacotherapy: A Pathophysiologic Approach. Everything you need to develop expertise in pharmacotherapy decision making: Realistic patient presentations include medical history, physical examination, and laboratory data, followed by a series of questions using a systematic, problem-solving approach Compelling range of cases -- from the uncomplicated (a single disease state) to the complex (multiple disease states and drug-related problems) Diverse authorship, with cases provided by 180 clinicians from 94 institutions Casebook sections conveniently categorized by body organ system to correspond with the DiPiro's Pharmacotherapy textbook Coverage that integrates the biomedical and pharmaceutical sciences with therapeutics Appendix containing valuable information on pharmacy abbreviations, laboratory texts, mathematical conversion factors, anthropometrics, and sample responses to case questions
Sklep: Ksiazki-medyczne.eu 1564,30 zł
Zdrowie, medycyna
Based on the second edition of the book that set new standards in medical publishing--Rheumatology--this interactive CD atlas features changes and advances in rheumatology during the past two years. It offers a stunning visual collection of key areas of rheumatology at an affordable price. The added value of complementary text, interactive labelling, and powerful search and index functions makes this an excellent source for clinical teachers, trainees, and clinicians. Users can import images and text to their computers' hard disks.* Comprehensive, up to date text, fully integrated with clinical medicine.* All sections have been meticulously planned. Tight-controlled chapter templates ensure consistent style and level of approach across sections.* User-friendly format, uniform presentation and page-by-page design.* Practical information presented in problem-oriented chapters: the Practical Problems.* Relevant to both academic rheumatologists and non-academic practitioners.* 2500 high quality, 16-bit images throughout, including colour photographs, specially designed conceptual artworks, graphs, and tables plus top-quality black and white imaging. * Gives both imperial and SI units, making this program accessible to international markets.* CD-ROM gives access to all features of the parent book, and gives powerful search facilities of both text and figures.* Image browser, with images pre-classified by clinical content and image type, allows user to search for images under clinical speciality with the convenience of viewing the results of the search as 12 thumbnail images at a time.* Slidebox allows user to organise the images on the disk for use in slide presentations. * 25\% completely new chapters to this edition, 16\% revised chapters, 59\% updated chapters. Virtually every chapter in this parent book have been updated in some way.* Nearly 50\% new practice problems. The remainder have been updates or revised.* Expert theme editors give special attention to therapeutics, orthopaedics, and imaging. * Dazzling line-up of new editors and new combinations of editors means that all dead wood from the first edition have been cut out.* 30\% new contributors, with a total of 253.* Reorganised format contributes to order and logical structure of the information.
Sklep: Albertus.pl 797,94 zł
Medycyna > English Division
With this fully revised fourth edition, Dr Stahl returns to the essential roots of what it means to become a neurobiologically empowered psychopharmacologist, expertly guided in the selection and combination of treatments for individual patients in practice. Embracing the unifying themes of 'symptom endophenotypes', dimensions of psychopathology that cut across syndromes, and 'symptoms and circuits', every aspect of the text has been updated to the frontiers of current knowledge, with the clarity of explanation and illustration that only Dr Stahl can bring. Integrating much of the basic neuroscience into the clinical chapters, and with major additions in the areas of psychosis, antipsychotics, antidepressants, impulsivity, compulsivity and addiction, this is the single most readily readable source of information on disease and drug mechanisms. This remains the essential text for all students and professionals in mental health seeking to understand and utilize current therapeutics, and to anticipate the future for novel medications. Reviews of previous editions: '... essential reading ... I would thoroughly recommend this book to anyone who works with psychotropic drugs - or who has the task of teaching others about them!' American Journal of Psychiatry 'The clinically orientated chapters do an impressive job of bringing together the neuropathological basis and psychopharmacological approaches to psychiatric conditions. I would highly recommend this as a concise, entertaining and easily accessible source of information.' Addiction Biology 'If there is one basic psychopharmacology text for a practitioner or teacher of psychiatric medicine to own, this is it ... Cleverly illustrated with simple cartoons, this book presents complex information in an easily accessible manner ... [Stahl's] Essential Psychopharmacology is a first rate book.' The Lancet '... an excellent basic textbook covering the key areas of psychopharmacology. Its concise and structured approach made reading enjoyable ... I would wholeheartedly recommend this book to all psychiatric trainees.' Journal of Intellectual Disability Research 'As an MRC psychiatry student I have benefited enormously from studying this book. Stahl has allowed me to see the light in what I previously found to be a very complex subject ... it has made a fascinating and fulfilling read.' International Journal of Geriatric Psychiatry '[Stahl's] Essential Psychopharmacology offers a wide range of readers an engaging and comprehensive view of psychopharmacology. It is highly recommended to both novice and experienced researchers, who stand to gain a new or renewed appreciation for the complexity and beauty of how the nervous system mediates the behavioural effects of drugs.' Contemporary Psychology 'The book is an excellent source of information for the art of prescribing psychotropic medications. This book belongs in every clinician's library and serves as a model of clarity for others.' Acta Psychiatrica Scandinavica 'Medical students, psychiatry residents and fellows and experienced clinicians will find the style and content refreshing ... I recommend this text as an extremely useful reference work as we enter the next decade of discovery in brain neurosciences and its role in clinical psychiatry.' Psychological Medicine 'We highly recommend this book both to general practitioners who may need information on general mechanisms of psychotropic drugs and to students that would like to learn more about basic psychopharmacology and its practical applications.' Clinical Neuropsychiatry
Sklep: Ksiazki-medyczne.eu 392,80 zł
Książki / Literatura obcojęzyczna
Acclaimed by students and instructors alike, "Foye's Principles of Medicinal Chemistry" is now in its Seventh Edition, featuring updated chapters plus new material that meets the needs of today's medicinal chemistry courses. This latest edition offers an unparalleled presentation of drug discovery and pharmacodynamic agents, integrating principles of medicinal chemistry with pharmacology, pharmacokinetics, and clinical pharmacy. All the chapters have been written by an international team of respected researchers and academicians. Careful editing ensures thoroughness, a consistent style and format, and easy navigation throughout the text.
Sklep: Libristo.pl
Sklepy zlokalizowane w miastach: Warszawa, Kraków, Łódź, Wrocław, Poznań, Gdańsk, Szczecin, Bydgoszcz, Lublin, Katowice
Szukaj w sklepach lub całym serwisie
2. Szukaj na wszystkich stronach serwisu
t1=0.411, t2=0, t3=0, t4=0.019, t=0.411