krainaksiazek complex economic dynamics an introduction to macroeconomic dynamics 20129091
- znaleziono 8 produktów w 1 sklepie 465,98 zł
Książki / Literatura obcojęzyczna
This book consists of three long papers, accompanied by a series of short comments (by Klaus Nesser, Erling Steigum, Danny Quah, Michael Bergman, and Seppo Honkapohja) and an introduction by the editors covering the main themes of the book. It combines a systematic empirical investigation into the characteristics of business cycles with a review of general theories of the patterns and dynamics of cycles. The first paper, by John Hassler, Torsten Persson, and Paul Soderlind, investigates the patterns over time of business cycles, using data from the remarkable Swedish series dating from 1860 to the present day, and will become a standard reference in the literature on empirical investigations of business cycles. The authors find that there are strong similarities between the patterns of the business cycles of many countries. The second paper, by Peter Englund, Anders Vredin, and Anders Warne, analyses the dynamics of business cycles, and uses applied econometric analysis to identify different types of exogenous macroeconomic shocks, again using the Swedish data. The authors conclude that both permanent and transitory real shocks have lasting effects on patterns of economic growth. The third paper, by Jean-Michel Grandmont, has a different emphasis and reviews the theory of endogenous shocks. In this complex and distinguished paper he argues that agents may have self-fulfilling expectations of fluctuations in business activity.
Sklep: Libristo.pl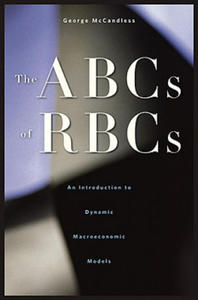 360,04 zł
ABCs of RBCs HARVARD UNIVERSITY PRESS
Książki / Literatura obcojęzyczna
"The ABCs of RBCs" is the first book to provide a basic introduction to Real Business Cycle (RBC) and New-Keynesian models. These models argue that random shocks - new inventions, droughts, and wars, in the case of pure RBC models, and monetary and fiscal policy and international investor risk aversion, in more open interpretations - can trigger booms and recessions and can account for much of observed output volatility.George McCandless works through a sequence of these Real Business Cycle and New-Keynesian dynamic stochastic general equilibrium models in fine detail, showing how to solve them, and how to add important extensions to the basic model, such as money, price and wage rigidities, financial markets, and an open economy. The impulse response functions of each new model show how the added feature changes the dynamics."The ABCs of RBCs" is designed to teach the economic practitioner or student how to build simple RBC models. Matlab code for solving many of the models is provided, and careful readers should be able to construct, solve, and use their own models.In the tradition of the "freshwater" economic schools of Chicago and Minnesota, McCandless enhances the methods and sophistication of current macroeconomic modeling.
Sklep: Libristo.pl 216,52 zł
Książki / Literatura obcojęzyczna
Ukraines 2004 presidential election was falsified, spurring the Orange Revolution. To many observers, the Orange Revolution was a shock, and the stolen elections a recent development. However, both the election fraud and the effort to topple the government of Leonid Kuchma emerged from political dynamics that had appeared in earlier Ukrainian elections.§In this path breaking volume, leading scholars place Ukraines 2004 Orange Revolution in the longer perspective of Ukraines post-Soviet electoral politics. Covering both presidential and parliamentary elec-tions over the entire post-Soviet period, the chapters clarify the man-ner in which earlier elections had emerged as part of the battle for power in Ukraine well before 2004. The opposition that came to power in 2004 had also won the 2002 elections and had developed its strategies during opposition protests that had been catalyzed by the Kuchmagate crisis in 2000. The evolution of the dynamics that led to the fraudulent 2004 election reveals that the events of 2004 represented continuity as well as change. By placing the 2004 elections within a longer trajectory, the volume enriches our understanding of the Orange Revolution and helps us to understand the difficulties faced in consolidating Ukraines democratic breakthrough following the Orange Revolution.§The volume contains an introduction to Aspects of the Orange Revo-lution I-VI by Andreas Umland followed by eight chapters by Robert K. Christensen, Edward R. Rakhimkulov and Charles Wise, Paul DAnieri, Robert Kravchuk and Victor Chudowsky, Paul Kubicek, Taras Kuzio, Lucan Way, and Anna Makhorkina. These authors bring complex and varied perspectives that situate Ukraines post-Soviet elections in economic reforms, constitutional law, foreign policy objectives of integra
Sklep: Libristo.pl 183,41 zł
Książki / Literatura obcojęzyczna
Themes in Roman Society and Culture is a core contributed volume that provides a thematic introduction to fundamental aspects of Roman society-its composition, institutions, structures, and cultural products-with major focus on the period 200 BCE to 200 CE. This engaging introduction challenges students to consider Roman society as a complex web of social relationships, economic dynamics, legal structures, and religious beliefs, informed by the physical environment in which it developed rather than a series of chronological events. Each chapter is written by an active Canadian researcher and teacher in the field, which gives students a sense of the relevant evidence and an assessment of the current state of scholarship, preparing them to pursue more nuanced, thoughtful, and complex research into Roman life or history.
Sklep: Libristo.pl 145,84 zł
Książki / Literatura obcojęzyczna
Southeast Asia is a vast and complex region, comprising countries with remarkably diverse histories and cultures. Jacques Bertrand provides a fresh and highly original survey of politics and political change in this area of the world. Against the backdrop of rapid economic development and social transformation in several countries, he explores why some countries have adopted democratic institutions, while others have maintained stable authoritarian systems or accepted communist regimes. Bertrand presents a historically grounded account of capitalist countries and state-socialist countries, delving into the historical experience of individual countries, whilst simultaneously providing a comparative framework with which to draw parallels and foster a better understanding of the political and economic dynamics both within and between the countries. With powerful yet accessible analysis and detailed coverage, this book offers students and scholars a thorough and thought-provoking introduction to the political landscape of Southeast Asia.
Sklep: Libristo.pl 235,23 zł
Książki / Literatura obcojęzyczna
Southeast Asia is one of the world's most diverse and complex regions. At times it has been a beacon of hope for the developing world, at other times it has been synonymous with insecurity and economic failure. The second edition of this popular and critically acclaimed text has been extensively revised throughout and provides up-to-date coverage of the forces and dynamics that are shaping the region at both the national and regional level. Contemporary Southeast Asia contains specially commissioned chapters - including seven which are entirely new to this edition - from leading area specialists. Carefully edited to ensure systematic coverage of key areas, it provides an accessible and thematically-structured comparative introduction to Southeast Asia and its distinctive patterns of strategic, political, economic and social organisation.
Sklep: Libristo.pl 225,96 zł
Książki / Literatura obcojęzyczna
The era of the Chinese leaders Hu Jintao and Wen Jiabao was one in which China became richer, more powerful, more prominent and more vexed. This series of essays, originally published on the Open Democracy website between 2006 and 2013, attempts to make sense of the cultural, political and economic dynamics within which China operates. They deal with internal and external matters, and cover a range of topics, from the fall out over the award of the 2010 Nobel Peace Prize to Liu Xiaobo to the build-up in 2008 to the Beijing Olympics. Furnished with a comprehensive introduction which sets out an assessment of where China was heading in the first and second decades of the 21st century, the essays encompass voices from the political elite, the migrant labourers and the complex patchwork of groups, people and interests that constitute a rising China whose influence is now felt across the world. Carnival China is a celebration of the confusion, dynamism and colour of China, presented through short essays which were written at the time key events happened and which capture and analyse the country's contradictions and complexities.
Sklep: Libristo.pl 366,99 zł
Książki / Literatura obcojęzyczna
For a region which usually occupies media headlines and academic enquiry with concerns over global security and the supply of petroleum oil, the Middle East would appear averse to any talk of progressive social policy. But below the hard-hitting headlines, what do local Middle Eastern populations think of social welfare, equality and solidarity? The original analysis in this book presents a new and comprehensive narrative of social welfare in the Middle East through an examination of the role of religious welfare. Religion is, arguably, the longest and most dynamic surviving force of social and political action in the region. Based on an in-depth study of the major Muslim and Christian religious welfare organisations in Lebanon (including Hezbollah), and drawing upon supplementary research conducted in Iran, Egypt and Turkey, the book argues that religion - whether through the state apparatus, civil society organisations or populist religious movements - is providing sophisticated solutions to the major social and economic problems of the Middle East. As religion continues to regain its centrality in both academic and policy circles around the world, this book presents a new framework which examines the complex social and political dynamics shaping social welfare in the Middle East. It also opens up broader debate on the role of faith-based welfare in the changing social policy landscape. "Social Welfare and Religion in the Middle East" will be of use to students and academics of social policy, sociology, politics and Middle Eastern studies. It will also provide a useful introduction to the reality of development and social policy in the region to practitioners and policy-makers who are active in the Middle East, or are seeking to engage with faith-based organisations.
Sklep: Libristo.pl
Sklepy zlokalizowane w miastach: Warszawa, Kraków, Łódź, Wrocław, Poznań, Gdańsk, Szczecin, Bydgoszcz, Lublin, Katowice
Szukaj w sklepach lub całym serwisie
2. Szukaj na wszystkich stronach serwisu
t1=0.034, t2=0, t3=0, t4=0.023, t=0.034