krainaksiazek crippled america how to make america great again 20168892
- znaleziono 11 produktów w 3 sklepach 24,90 zł
Książki
Sklep: KrainaKsiazek.pl 46,50 zł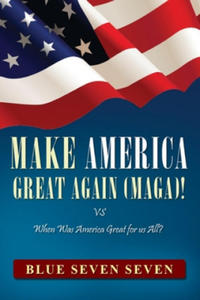 59,22 zł
Książki / Literatura obcojęzyczna
When reading this book, Make America Great Again (MAGA) vs When Was America Great for Us All? You will allow the author to take you on a journey that will allow you to see and feel the growing pains of America. You will also note how religious fundament
Sklep: Libristo.pl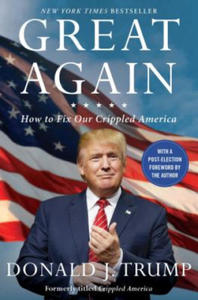 79,53 zł
Książki / Literatura obcojęzyczna
n this book (previously published as Crippled America), we're going to look at the state of the world right now. It's a terrible mess, and that's putting it mildly. There has never been a more dangerous time. The politicians and special interests in Washington, DC are directly responsible for the mess we are in. So why should we continue listening to them? It's time to bring America back to its rightful owners-the American people. I'm not going to play the same game politicians have been playing for decades-all talk, no action, while special interests and lobbyists dictate our laws. I am shaking up the establishment on both sides of the political aisle because I can't be bought. I want to bring America back, to make it great and prosperous again, and to be sure we are respected by our allies and feared by our adversaries. It's time for action. Americans are fed up with politics as usual. And they should be! In this book, I outline my vision to make America great again, including: how to fix our failing economy; how to reform health care so it is more efficient, cost-effective, and doesn't alienate both doctors and patients; how to rebuild our military and start winning wars-instead of watching our enemies take over-while keeping our promises to our great veterans; how to ensure that our education system offers the resources that allow our students to compete internationally, so tomorrow's jobseekers have the tools they need to succeed; and how to immediately bring jobs back to America by closing our doors to illegal immigrants, and pressuring businesses to produce their goods at home. This book is my blueprint for how to Make America Great Again. It's not hard. We just need someone with the courage to say what needs to be said.
Sklep: Libristo.pl 147,60 zł
Biznes
This book is about strategic thinking in Hispanic marketing. The size and economic importance of the Hispanic market in the US are attracting enormous attention. The buying power of the US Hispanic market is now larger than the GDP of the entire country of Mexico, and it is the second largest Hispanic market in the world. Businesses and institutions have launched major initiatives to reach this important segment. Yet, the number of qualified individuals who understand the market is small; and many of those already catering to the market still struggle to learn about its intricacies. This book is a cultural approach to Hispanic marketing. Each of the chapters describes and explains the cultural principles of Latino marketing. Recent case studies help marketers relate to the material pragmatically. The book integrates concepts and practical examples and provides critical guidance to discern between alternative courses of action. This book is not about repeating well-known statistics, but about the Hispanic market as a cultural target. It takes a profound look at the values, beliefs, and emotions of US Hispanics, which impact consumer behaviour. Each of the chapters has been the subject of public presentations and lectures to marketing professionals. It is their positive reactions as well as the authors
Sklep: Albertus.pl 102,27 zł
Książki / Literatura obcojęzyczna
The Conservative Case For TrumpIf you can't stand Hillary Clinton, but wonder if you could vote for Donald Trump, you need to buy this book.In it, you'll learn from conservative icon Phyllis Schlafly - lawyer, bestselling author, and 'sweet- heart of the Silent Majority' - why Donald Trump is worthy of every conservative's vote. Joined by Ed Martin, the former head of the Missouri Republican Party, and Brett Decker, formerly an editorial writer with the Wall Street Journal and the Washington Times, Schlafly presents the real Trump, the Trump she and her colleagues have met with and interviewed, the Trump who promises to be the most conservative president America has had since Ronald Reagan. Like Reagan, Trump, if elected, will inherit an America on the ropes, an America transformed into an unhappy, unprosperous, weakened, and divided nation. He will face in Hillary Clinton a far left ideologue who considers herself above the law. Trump is the antidote to all that - a first-time politician who could actually live up to his campaign slogan to 'Make America Great Again'. In The Conservative Case for Trump, Schlafly reveals: 1. How Trump's appointees to the Supreme Court (on which Schlafly advised him) could be the most consequential in a century 2. How, unlike any other Republican, Trump could actually fix the nation's immigration mess 3. Why his economic platform could spark an economic revival on the scale of the Reagan boom of the 1980s (it is based on much the same plan) 4. How Trump will defend the First Amendment - guaranteeing freedom of speech and Religion -against an ever more dictatorial Left 5. Why Trump's fresh thinking on defense and foreign policy is long overdue - and could send terrorism into rapid retreat Donald Trump is the most controversial Republican presidential candidate since Barry Goldwater, and could be the most conservative and successful since Ronald Reagan. Phyllis Schlafly makes an irrefutable case that needs to be shared with every wavering voter. Nothing less than the future of our country is at stake. If you buy only one political book this year, it has to be The Conservative Case for Trump.
Sklep: Libristo.pl 157,92 zł
Fascism Potomac Books Inc
Książki / Literatura obcojęzyczna
When the Nazis took power in 1933, most Germans did not foresee the oncoming storm. Many were wildly enthusiastic; some were alarmed; most were worried but trusted that things would work out. In short, they felt much as Americans have felt from time to time. "Fascism: Why Not Here?" draws parallels between German culture of the early twentieth century and American culture today, concluding that fascism could arise in America - but not through either of the major political parties. While Fogarty postulates that it would take a confluence of events and circumstances to propel Americans into the arms of fascism, he concludes that it is not entirely unlikely. If the war against terrorism were to become more costly and less effective, if the economy were to tailspin, and if we were to endure several other major terrorist attacks, how would we respond to a political outsider's bold and decisive plan to end partisan bickering and "make America great" again? In examining the similarities and differences between Nazi Germany and America today, Fogarty finds many reasons for hope that Americans would not fall victim to such a chauvinisitic appeal, but he also finds plenty to worry about. He points out that contemporary Americans and Germans of the 1920s and 1930s share many similar values, ideals, fears, and beliefs. Fogarty's strong words of caution will appeal to any reader who is concerned about America's political future and the freedoms we too often take for granted.
Sklep: Libristo.pl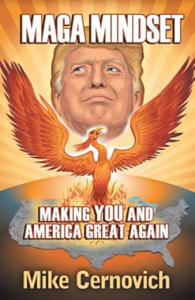 78,77 zł
Książki / Literatura obcojęzyczna
MAGA MINDSET: How to Make YOU and America Great Again is not a traditional political analysis of Donald Trump or the success of his political campaign, which would be boring and useless to you. MAGA Mindset is an overview of the cultural forces that have propelled Trump forward while using the example of his candidacy as a case study for your own life. MAGA MINDSET will give you a deeper understanding of America, the challenges it is facing, and how those challenges created the conditions for Donald Trump's inevitable rise. You will understand how Mike Cernovich was able to successfully predict Donald Trump would be the Republican nominee at a time when all the professional political pundits considered his campaign to be a joke, and why, win or lose, the Trump revolution will continue beyond the 2016 election. In MAGA Mindset you will learn: The cultural forces behind Trump's rise How Trump and other masters of social media are able to drive the news cycle The mindset techniques and strategies YOU need to succeed at life, even when it seems hopeless Mike Cernovich is the bestselling author of GORILLA MINDSET. He is a lawyer, a journalist who has broken several news stories of international interest, and the producer of the film documentary SILENCED.
Sklep: Libristo.pl 204,36 zł
Książki / Literatura obcojęzyczna
"For, Lo! We live in an Iron Age--In the age of Steam and Fire!" wrote a poet mesmerized by the engines that were transforming American transportation, agriculture, and industry during his lifetime. Indeed, by the nineteenth century fire had become America's leitmotif--for good and for ill. "Keeping the flame" was deadly serious: even the slightest lapse of attention could convert a fire from friendly ally to ravaging destroyer. To examine the cultural context of fire in "combustible America," Margaret Hazen and Robert Hazen gather more than a hundred illustrations, most never before published, together with anecdotes and information from hundreds of original sources, including newspapers, diaries, company records, popular fiction, art, and music. What results is an immensely entertaining and encyclopedic history that ranges from stories of the tragic "great fires" of the century to fire imagery in folktales and popular literature. Dealing more with technology than with fire in nature, the book provides a vast amount of information on fire manipulation and prevention in urban life. Hazen and Hazen discuss the people who worked with fire--or against it. Founders, gaffers, blacksmiths, boilers at saltworks, and housewives knew how to "read" a fire and employ it for their purposes. A few dedicated investigators inquired about the scientific nature of heat and flame. And firefighters gradually progressed from "bucket brigades" to "using fire to fight fire" with the newly invented steam engine. The colorful stories of these Americans--the risks they took and the rewards they received--will fascinate not only social historians but also a broad audience of general readers. Originally published in 1992. The Princeton Legacy Library uses the latest print-on-demand technology to again make available previously out-of-print books from the distinguished backlist of Princeton University Press. These paperback editions preserve the original texts of these important books while presenting them in durable paperback editions. The goal of the Princeton Legacy Library is to vastly increase access to the rich scholarly heritage found in the thousands of books published by Princeton University Press since its founding in 1905.
Sklep: Libristo.pl 40,80 zł
Literatura faktu
'Only with the greatest of simplifications, for the sake of convenience, can we say Africa. In reality, except as a geographical term, Africa doesn't exist'. Ryszard Kapuscinski has been writing about the people of Africa throughout his career. In a study that avoids the official routes, palaces and big politics, he sets out to create an account of post-colonial Africa seen at once as a whole and as a location that wholly defies generalised explanations. It is both a sustained meditation on the mosaic of peoples and practises we call 'Africa', and an impassioned attempt to come to terms with humanity itself as it struggles to escape from foreign domination, from the intoxications of freedom, from war and from politics as theft. The Beginning: Collision, Ghana 1958 More than anything, one is struck by the light. Light everywhere. Brightness everywhere. Everywhere, the sun. Just yesterday, an autumnal London was drenched in rain. The airplane drenched in rain. A cold, wind, darkness. But here, from the morning
Sklep: Albertus.pl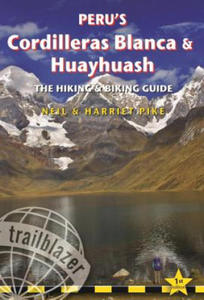 83,66 zł
Książki / Literatura obcojęzyczna
'...the definitive guide to how, where, why and what to do on a cycle expedition...' Adventure Travel Magazine (UK) Every cyclist dreams of making the Big Trip, the Grand Cycle Tour abroad. Whether that s a two-week trip or a year-long journey, the Adventure Cycle-Touring Handbook is the comprehensive manual that will make that dream a reality. Riding across Asia, cycling in Africa or pedaling from Patagonia to Alaska, whether you're planning your own Big Trip or just enjoy reading about other people's adventures, the Handbook is guaranteed to illuminate, entertain and above all, inspire. This fully revised 3rd edition includes: PART 1 Practical information How to prepare for a long-distance trip What to look for in a new bike with reviews of some of the world s best touring- and trekking-bikes Adapting a standard bike for the Big Ride Choosing components, equipment for the road and reviews of camping gear Health precautions, inoculations, visas, money and safety PART 2 Worldwide route outlines Across Europe, Asia, Australasia, North and South America and Africa; recommended routes within countries and overland. Everything from popular routes eg India s Leh-Manali Highway to lesser-known cycle-touring areas such as Mongolia. PART 3 Tales from the Saddle Ten first-hand accounts of spoke-bending biking adventures worldwide. Introduction Why are so many people going bike touring these days? A minority pastime during the heyday of the car, cycling has once again become a popular choice for travelling especially for long overseas trips. The first cycle-touring craze began in the 1870s. Then, as now, the bicycle offered a revolutionary way of touring: you go exactly where you want, when you want, and all under your own steam. This was before the age of the car and walking or riding a horse were the only other options until the bicycle. In 1885 the Rover Safety Bicycle came along, and for all the innovation since then, most modern touring bicycles would be recognizable to a Victorian, as would their derailleur gears. Bike touring is undergoing a boom at the moment but it is really one of many periodic rediscoveries. Bicycle design, components and gear are evolving to suit the changing needs and tastes of people. It s a combination of experimentation and using tried and tested designs, such as the 'diamond' frame of the Rover Safety Bicycle. The Adventure Cycle-Touring Handbook is all about looking at what people are choosing and using: what kind of bikes, what gear and what destinations are being chosen by today s bike tourers. There are many reasons for taking a bike on your next long trip. My own guess as to why bike touring is back in fashion is that many travellers get burned out by backpacking, which really amounts to travelling by bus and train for most of the time. Buses are certainly fast but they go from one noisy town to another, leaving little possibility of exploring the spaces in between, the places where the bus doesn t stop. Others use bikes to go even further off the beaten track: they want to go where buses don t go at all and perhaps where other vehicles cannot get to either. Paul Woloshansky built his own racks to carry extra gear after being told all too often: 'There s a prettier way to go but there s nothing out there at all.' Other adventurers, such as Sweden s Janne Corax (see p122), have said the same thing: there were times when there was no other way of getting to where they wanted to go. You couldn t get there on foot and you couldn t get there in a truck. It was possible only on a bicycle. Half the adventure, though, is in the riding itself. Being out in the fresh air and seeing much more than is possible from a bus or train window is always a good feeling, whether you are wandering around France or riding across India. A lot of today s cycle tourists are interested in the riding but not that interested in bikes. It s a means of transport and a way to carry bags comfortably, while sitting down and enjoying the view. Not everyone is drawn to the high passes of the Andes or the Himalaya but they are all enjoying that same sense of freedom and all that comes with it unexpected discoveries, off-route detours or an impromptu day off when you find a great place to stay. Trips like these are not as arduous as some expeditions but they are every bit as satisfying and they are still adventures, for they allow for spontaneity. And if you are carrying a tent and camping gear, you re prepared for just about any eventuality because you ve always got a place to spend the night. This book looks at the possibilities out there, the different styles of travelling and the basic gear and know-how that you need. We also look at some of the more exciting cycling destinations around the world, complete with suggestions as to which routes to take and what you need to plan a trip in that region. The Adventure Cycle-Touring Handbook does not set out to tell you exactly where to go: it s your adventure, after all. But it s good to have a general idea of a destination and what you re likely to find when you re there and this is what this book aims to do. In the final part of this book we include stories from all around the world, not just about the biking but also about the adventures cyclists had on their journeys. It s the old idea that a bike ride isn t just about the riding but also about the places you were able to get to and the people you got to meet and all because you decided to travel by bicycle."
Sklep: Libristo.pl
Sklepy zlokalizowane w miastach: Warszawa, Kraków, Łódź, Wrocław, Poznań, Gdańsk, Szczecin, Bydgoszcz, Lublin, Katowice
Szukaj w sklepach lub całym serwisie
2. Szukaj na wszystkich stronach serwisu
t1=0.063, t2=0, t3=0, t4=0, t=0.063