krainaksiazek critical university moving higher education forward 20129861
- znaleziono 10 produkty w 2 sklepach 494,29 zł
Książki / Literatura obcojęzyczna
GUNi Series on the Social Commitment of Universities Higher Education in the World 5 Knowledge, Engagement and Higher Education: Contributing to Social Change We are living through a crisis of scale that affects all systems and that requires a new understanding of human progress and a new conscience that supports a new way of being in the world. The fifth edition of the GUNi Report, entitled: Knowledge, Engagement and Higher Education: Contributing to Social Change, explores the critical dimensions in our understanding of the roles and potential roles of knowledge, civil society and higher education institutions (HEIs) as active players in contributing to the creation of more just and sustainable world. The creation and dissemination of relevant knowledge could contribute to transforming the paradigms and beliefs established in social, economic and political systems and to moving to creative and innovative way of thinking and imagining new realities. Knowledge could help in raising ethical awareness and facilitating the civic commitment of people and professionals. In this sense, this Report will call upon policy-makers, scholars and leaders of HEIs around the world to rethink the social responsibility of HE. The Report provides visibility and critically examines the theory and practice of engagement. It approaches the challenge of Community-University Engagement (CUE) in an integrated manner. It explores ways in which engagement enhances teaching and learning, research, knowledge mobilization and dissemination. It approaches engagement in ways that accept the multiple sites and epistemologies of knowledge, as well as the reciprocity and mutuality in learning and education through engagement. The Report offers elements of a vision for a renewed and socially responsible relationship between higher education, knowledge and society. It is a product of three years research, in which 73 authors from all the world regions have contributed. GUNi has previously published four issues of the Higher Education in the World report (2006, 2007, 2008, 2011), plus a synthesis (2009) committed by UNESCO for the II World Conference on Higher Education held in Paris in 2009. www.guninetwork.org
Sklep: Libristo.pl 120,51 zł
Książki / Literatura obcojęzyczna
What is PGCE at M-Level and what can you expect from the course? How can it help you to develop as a professional? Masters-level study is an increasingly prevalent component of PGCE courses and this new edition of the best-selling student guide offers a clear and concise overview of M-level aspects in teacher education. This second edition includes discussion of recent developments in education policy, greater coverage of reflective practice in school-based training and up-to-date advice on how to get a teaching job at the end of your course. With new reflective activities designed to help students develop critical skills, and improved references to additional material, this book is essential reading for students on PGCE courses in primary and secondary education. Keira Sewell is programme director of the Primary PGCE at Southampton University. Contributors to the book are members of the primary and secondary PGCE teams at the University of Southampton and the University of Cumbria. Praise for the book: "Doing your PGCE at M level is a valuable guide designed to enable students to achieve success. Its approach, using clear explanations and case studies enable trainees to engage at a critical level and understand the potential benefits this can bring to them personally and professionally. Moving forward from the first edition in a way that incorporates education policy from recent fast moving times this enables trainees to critique and identify how the education arena is shaped. This new edition also enables trainees to develop many of the key skills of M-Level work; the development of reflective activities to enable deep reflection and critical analysis is a welcome development. This comprehensive text will be a valuable resource for anyone training to be a PGCE teacher." - Tim Roberts, PGCE Programme Director, University of Hertfordshire
Sklep: Libristo.pl 136,07 zł
Książki / Literatura obcojęzyczna
Constrained by shrinking budgets, can colleges do more to improve the quality of education? And can students get more out of college without paying higher tuition? Daniel Chambliss and Christopher Takacs conclude that the limited resources of colleges and students need not diminish the undergraduate experience. "How College Works" reveals the surprisingly decisive role that personal relationships play in determining a student's collegiate success, and puts forward a set of small, inexpensive interventions that yield substantial improvements in educational outcomes. At a liberal arts college in New York, the authors followed a cluster of nearly one hundred students over a span of eight years. The curricular and technological innovations beloved by administrators mattered much less than the professors and peers whom students met, especially early on. At every turning point in students' undergraduate lives, it was the people, not the programs, that proved critical. Great teachers were more important than the topics studied, and even a small number of good friendships--two or three--made a significant difference academically as well as socially. For most students, college works best when it provides the daily motivation to learn, not just access to information. Improving higher education means focusing on the quality of a student's relationships with mentors and classmates, for when students form the right bonds, they make the most of their education.
Sklep: Libristo.pl 29,70 zł
Książki & Multimedia > Filmy Video
Opis - Bear Grylls, ekspert w dziedzinie sztuki przetrwania i niekwestionowana gwiazda Discovery Channel powraca do akcji - tym razem w towarzystwie
Sklep: InBook.pl 131,60 zł
Książki / Literatura obcojęzyczna
'This is a timely and thought-provoking book. Fullan, Hill, and Crevola address the complexity of teaching and leading, and offer a compelling way forward that focuses on learning for all students through personalization, precision teaching, and professional learning for educators. By connecting assessment with learning, leading with teaching and learning, and classrooms instruction with district and government roles and responsibilities, the authors present an integrated approach that promises to 'breakthrough' the sterile standardization that plagues contemporary education' - Dean Fink, Professor, OISE//University of Toronto , and author of Leadership for Mortals (Paul Chapman Publishing, 2005) 'An outstanding book for educators to transform classroom practice and learning strategies. It builds important perspectives on personalizing learning that will inform current practice. Highly recommended' - Brent Davies, Professor, University of Hull, and author of The Essentials of School Leadership (Paul Chapman Publishing, 2005) Redesign classroom instruction to transform learning for both students and teachers!Breakthrough presents a revolutionary new approach to educational reform, breaking away from the conventional paradigm to help educators create focused instruction, transform the classroom experience, and dramatically raise and sustain performance levels for students and teachers alike. This book provides the breakthrough concepts needed for developing precise, validated, data-driven instruction personalized to each and every student. Synthesizing the best of current instructional models, this framework focuses on the Triple P Core Breakthrough Components: Personalization - meaningful, student-centered classroom interactions; Precision - using formative assessments to monitor individual student progress; and Professional Learning - daily, ongoing learning for all educators. Helping educators create expert instructional systems, while breaking through the "prescription trap," the authors introduce unique elements of the Breakthrough model, including: * improvement by design * assessment for learning * critical learning instructional paths * mapping instructional paths * smart use of data to drive instruction * locking in ongoing improvement.Breakthrough establishes the tipping point for moving toward personalized, high-quality instruction and learning in the classroom to ensure continuous improvement and ongoing academic success.
Sklep: Libristo.pl 157,26 zł
Książki / Literatura obcojęzyczna
Employability is central to all university study; in an increasingly competitive graduate job market students enter Higher Education with their eyes already fixed on securing a job - their final destination. Written specifically for students, Developing Employability is an outstanding guide to the skills involved in job-hunting and entering the workplace. Straightforward, practical, and accessible, it allows students to develop, experience, and refine the techniques that will help them stand out from the crowd as they look forward to their future careers. Students are encouraged to engage and progress through the book; reflecting on their own skills and opportunities, and building up a wealth of practical expertise as they prepare to embark on the world of graduate employment for the first time. Developing Employability is not merely focused on students finding a job, but succeeding at work and moving on in their careers. A 'project' woven throughout the book invites students to participate in practical, active learning; this step-by-step guide leads students through creating their own resources, such as personal development plans, e-portfolios, learning logs and CVs ensuring they are well prepared for the world of work. A breadth of invaluable employability skills can be acquired alongside, and aided by, academic study as Developing Employability covers entrepreneurship, social media and non-traditional routes into work, alongside conventional graduate employers. Developing Employability 1/e is supported by an extensive Online Resource Centre, featuring: Student resources: Skills audit form Examples of online application form questions Targeted web links Audio podcasts with practitioners, students and graduates Lecturer resources: Brief notes guiding lecturers on how to run the project Tutorial activities for those who are not running the project Notes on how to guide students in their own skills audit
Sklep: Libristo.pl 157,26 zł
Książki / Literatura obcojęzyczna
'A Sociology of Health charts a way forward for a medical sociology that can make a positive contribution to medical practice and health policy' - Dr Michael Fitzpatrick, East London GP and author of The Tyranny of Health 'This is a very lively book that will stimulate good debate amongst students undertaking sociology of health courses in higher education' - Mathew Jones, Senior Lecturer in Health and Social Policy, University of the West of England A Sociology of Health offers an authoritative and up-to-date introduction to the key issues, perspectives and debates within the field of medical sociology. The book will aid readers' understanding of how sociological approaches are crucial to understanding the impact that health and illness have on the behaviour, attitudes, beliefs, and practices, of an increasingly health-aware population. The book is topical and unique in its approach, combining commentary and analysis of classic debates in medical sociology with contemporary issues in health care policy and practice. The content is wide-ranging, including chapters on: health scares, therapy culture, new dimensions of international health, changes in health care organisation and the feminization of health. Features such as case studies, questions for debate, and further reading sections are used throughout to promote critical reflection and further debate. A Sociology of Health offers readers a fresh approach to the subject, and will be essential reading for all undergraduate students on medical sociology and sociology of health and illness courses, as well as postgraduate students in related health and social care disciplines. David Wainwright is a Senior Lecturer in the School for Health, University of Bath.
Sklep: Libristo.pl 173,98 zł
Książki / Literatura obcojęzyczna
Scholars and policymakers alike agree that innovation in the biosciences is key to future growth. The field continues to shift and expand, and it is certainly changing the way people live their lives in a variety of ways. With a large share of federal research dollars devoted to the biosciences, the field is just beginning to live up to its billing as a source of innovation, economic productivity and growth. Vast untapped potential to imagine and innovate exists in the biosciences given new tools now widely available. In The Biologist's Imagination, William Hoffman and Leo Furcht examine the history of innovation in the biosciences, tracing technological innovation from the late eighteenth century to the present and placing special emphasis on how and where technology evolves. Place is often key to innovation, from the early industrial age to the rise of the biotechnology industry in the second half of the twentieth century. The book uses the distinct history of bioinnovation to discuss current trends as they relate to medicine, agriculture, energy, industry, ecosystems, and climate. Fast-moving research fields like genomics, synthetic biology, stem cell research, neuroscience, bioautomation and bioprinting are accelerating these trends. Hoffman and Furcht argue that our system of bioscience innovation is itself in need of innovation. It needs to adapt to the massive changes brought about by converging technologies and the globalization of higher education, workforce skills, and entrepreneurship. The Biologist's Imagination is both a review of past models for bioscience innovation and a forward-looking, original argument for what future models should take into account.
Sklep: Libristo.pl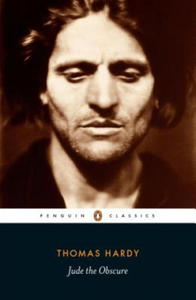 34,43 zł
Książki / Literatura obcojęzyczna
Thomas Hardy's last novel, "Jude the Obscure" is a fearless exploration of the hypocrisy of Victorian society, edited with an introduction by Dennis Taylor in "Penguin Classics". Jude Fawley's hopes of an education at Christminster University are dashed when he is trapped into marrying the wild, earthy Arabella, who later abandons him. Moving to Christminster to work as a stonemason, Jude meets and falls in love with his cousin Sue Bridehead, a sensitive, freethinking "New Woman". Refusing to marry merely for the sake of religious convention, Jude and Sue decide instead to live together, but they are shunned by society, and poverty soon threatens to ruin them. "Jude the Obscure", with its fearless and challenging exploration of class and sexual relationships, caused a public furore when it was first published and marked the end of Hardy's career as a novelist. This edition uses the unbowdlerized first-volume text of 1895, and includes a list for further reading, appendices and a glossary. In his introduction, Dennis Taylor examines biblical allusions and the critique of religion in "Jude the Obscure", and its critical reception that led Hardy to abandon novel writing. Thomas Hardy (1840-1928), born Higher Brockhampton, near Dorchester. Though he saw himself primarily as a poet, Hardy was the author of some of the late eighteenth century's major novels: "The Mayor of Casterbridge" (1886), "Tess of the D'Urbervilles" (1891), "Far from the Madding Crowd" (1874), and "Jude the Obscure" (1895). Amidst the controversy caused by "Jude the Obscure", he turned to the poetry he had been writing all his life. In the next thirty years he published over nine hundred poems and his epic drama in verse, "The Dynasts". If you enjoyed "Jude the Obscure", you might also like Thomas Hardy's "Tess of the D'Urbervilles", also available in "Penguin Classics". "Visceral, passionate, anti-hypocrisy, anti-repression...Hardy reaches into our wildest recesses." ("Evening Standard").
Sklep: Libristo.pl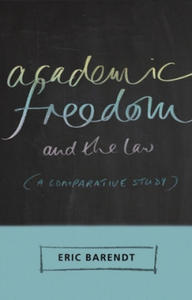 288,36 zł
Książki / Literatura obcojęzyczna
Academic Freedom and the Law: A Comparative Study provides a critical analysis of the law relating to academic freedom in three major jurisdictions: the United Kingdom, Germany and the United States. The book outlines the various claims which may be made to academic freedom by individual university teachers and by universities and other higher education institutions, and it examines the justifications which have been put forward for these claims. Three separate chapters deal with the legal principles of academic freedom in the UK, Germany, and the USA. A further chapter is devoted to the restrictions on freedom of research which may be imposed by the regulation of clinical trials, by intellectual property laws, and by the terms of contracts made between researchers and the companies sponsoring medical and other research. The book also examines the impact of recent terrorism laws on the teaching and research freedom of academics, and it discusses their freedom to speak about general political and social topics unrelated to their work. This is the first comparative study of a subject of fundamental importance to all academics and others working in universities. It emphasises the importance of academic freedom, while pointing out that, on occasion, exaggerated claims have been made to its exercise.
Sklep: Libristo.pl
Sklepy zlokalizowane w miastach: Warszawa, Kraków, Łódź, Wrocław, Poznań, Gdańsk, Szczecin, Bydgoszcz, Lublin, Katowice
Szukaj w sklepach lub całym serwisie
2. Szukaj na wszystkich stronach serwisu
t1=0.054, t2=0, t3=0, t4=0, t=0.054