krainaksiazek discover new york city destination relaxation 20169574
- znaleziono 8 produktów w 3 sklepach 66,94 zł
Książki / Literatura obcojęzyczna
This new, thoroughly updated second edition of Bradt's North York Moors and Yorkshire Wolds, part of the distinctive 'Slow travel' series of guides to UK regions, remains the only full-blown standalone guide available to this region of contrasts, from the magnificent cliffs and beaches of the Heritage Coast and rolling hills of the North York Moors to the tranquil chalk downland of the Wolds. Nestled at the heart of it all is the ancient historic city of York, with its stunning Minster, the largest gothic cathedral in Northern Europe. As well as featuring all the main sights, Bradt's North York Moors and Yorkshire Wolds includes places and aspects of the region not detailed by other guidebooks and, while making a virtue of being selective, covers the whole region in considerable detail. It also includes personal anecdotes and the views of local people as well as tapping into the Yorkshire-based author's considerable knowledge of the region, especially his experiences as an outdoor enthusiast, naturalist and beer connoisseur. With Bradt's North York Moors and Yorkshire Wolds, discover what makes this area tick. The annual Tour de Yorkshire has helped to establish the region as a biking Mecca, while the Yorkshire Nature Triangle in the east is renowned for its birds and wildlife, from adders to barn owls, otters to dolphins. Included in the guide is information on the 10 long-distance paths which cross the area, plus tips on the sandy beaches and rocky coves that make this an ideal family destination. Local food and drink, from seafood to meats, cheeses and breweries, is covered, as are details of whale-watching tours. Also included are details of festivals, steam train journeys as featured in the Harry Potter films, the Georgian opulence of Castle Howard as featured in Brideshead Revisited, sea-bird colonies along the Heritage Coast, the only colony of gannets in England, at Bempton Cliffs, and the tallest standing stone in Britain. Written in an entertaining style combining personal narrative with authoritative information, Bradt's North York Moor and Yorkshire Wolds has all the most up-to-date information you could need for a successful visit.
Sklep: Libristo.pl 67,28 zł
Książki / Literatura obcojęzyczna
For fans of Elizabeth Strout and Anne Tyler comes a brilliantly provocative novel from the Richard and Judy Book Club and Number One bestselling author Anna Quindlen. Anna Quindlen follows her highly-praised novel Miller's Valley - 'reads like a companion to Elizabeth Strout's Olive Kitteridge ', Elisabeth Egan - with a captivating novel about money, class and self-discovery set in the heart of New York where the tensions in a tight-knit neighbourhood-and a seemingly happy marriage-are exposed by an unexpected act of violence. There are days when Nora Nolan thinks that she and her husband, Charlie, lead a charmed life-except when there's a crisis at work, a leak in the roof at home or a problem with their twins at college. And why not? New York City was once Nora's dream destination and her clannish dead-end block has become a safe harbour, a tranquil village amid the urban craziness. The owners watch one another's children grow up. They use the same handyman. They trade gossip and gripes, and they manoeuvre for the ultimate status symbol: a spot in the block's small parking lot. Then one morning, Nora returns from her run to discover that a terrible incident has shaken the neighbourhood, and the enviable dead-end block turns into a potent symbol of a divided city. The fault lines begin to open: in their street, at Nora's place of work in a jewellery museum and, most especially, in her marriage. With an unerring and acute eye that captures beautifully the snap and crackle of modern life, Anna Quindlen explores what it means to be a mother, a wife and a woman at a moment of reckoning . 'Qualities and shades of love are this writer's strong suit, and she has the unusual talent for writing about them with so much truth and heart that one is carried away on a tidal wave of involvement and concern' Elizabeth Jane Howard ' Mesmerizing . Quindlen makes her characters so richly alive, so believable, that it's impossible not to feel every doubt and dream they harbour . . . Overwhelmingly moving ' New York Times
Sklep: Libristo.pl 154,28 zł
Książki / Literatura obcojęzyczna
Need to get out? There are many exciting cities in the United States to drive and fly to, so read on and choose your next vacation destination! Read about these captivating cities and all they have to offer with beauty, entertainment, theater, sports, recreation, relaxation, and more. Choose among cities such as San Francisco, Seattle, New York City, Nashville, Orlando, and many more!Project Webster represents a new publishing paradigm, allowing disparate content sources to be curated into cohesive, relevant, and informative books. To date, this content has been curated from Wikipedia articles and images under Creative Commons licensing, although as Project Webster continues to increase in scope and dimension, more licensed and public domain content is being added. We believe books such as this represent a new and exciting lexicon in the sharing of human knowledge.
Sklep: Libristo.pl 41,90 zł
Książki / Literatura obcojęzyczna
Lonely Planet: The world's leading travel guide publisher Whether exploring your own backyard or somewhere new, discover the freedom of the open road with Lonely Planet's Pacific Coast Highway's Road Trips. Featuring four amazing road trips, plus up-to-date advice on the destinations you'll visit along the way, you can journey through verdant redwood parks or follow bewitching ribbons of coastal highway, all with your trusted travel companion. Jump in the car, turn up the tunes, and hit the road! Inside Lonely Planet's Pacific Coast Highway's Road Trips :Lavish color and gorgeous photography throughout Itineraries and planning advice to pick the right tailored routes for your needs and interests Get around easily - easy-to-read, full-color route maps, detailed directions Insider tips to get around like a local, avoid trouble spots and be safe on the road - local driving rules, parking, toll roads Essential info at your fingertips - hours of operation, phone numbers, websites, prices Honest reviews for all budgets - eating, sleeping, sight-seeing, hidden gems that most guidebooks miss Useful features - including Stretch Your Legs, Detours, Link Your Trip Covers San Francisco, Northern Redwood Coast, Pacific Coast, Big Sur, Santa Barbara County, Los Angeles, Disneyland & Orange County, San Diego and moreThe Perfect Choice: Lonely Planet's Pacific Coast Highway's Road Trips is perfect for exploring the Pacific Coast Highway in the classic American way - by road trip!Planning a Pacific Coast Highway trip sans a car? Lonely Planet's California guide, our most comprehensive guide to California, is perfect for exploring both top sights and lesser-known gems, or check out Discover California, a photo-rich guide to the destination's most popular attractions. Looking for a guide focused on a specific Californian city? Check out Lonely Planet's San Francisco guide and Los Angeles, San Diego & Southern California guide for a comprehensive look at all that these cities have to offer, or Pocket San Francisco and Pocket Los Angeles, handy-sized guides focused on the can't-miss sights for a quick trip.About Lonely Planet: Lonely Planet is a leading travel media company and the world's number one travel guidebook brand, providing both inspiring and trustworthy information for every kind of traveller since 1973. Over the past four decades, we've printed over 145 million guidebooks and phrasebooks for 120 languages, and grown a dedicated, passionate global community of travellers. You'll also find our content online, and in mobile apps, video, 14 languages, 12 international magazines, armchair and lifestyle books, ebooks, and more, enabling you to explore every day. Lonely Planet enables the curious to experience the world fully and to truly get to the heart of the places they find themselves, near or far from home. Follow us on Facebook (facebook.com/lonelyplanet), Twitter (@lonelyplanet), Instagram (Instagram.com/lonelyplanet) and Snapchat (@lonelyplanet). TripAdvisor Travelers' Choice Awards 2012, 2013, 2014, 2015 and 2016 winner in Favorite Travel Guide category 'Lonely Planet guides are, quite simply, like no other.' - New York Times 'Lonely Planet. It's on everyone's bookshelves; it's in every traveller's hands. It's on mobile phones. It's on the Internet. It's everywhere, and it's telling entire generations of people how to travel the world.' - Fairfax Media (Australia)
Sklep: Libristo.pl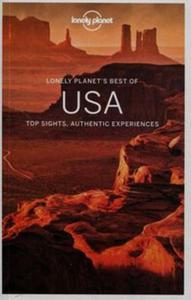 88,10 zł
AmerykaPrzewodniki turystyczne
Lonely Planet?s Best of USA is your passport to the most relevant, up-to-date advice on what to see and skip, and what hidden discoveries await you.Be awed by the Grand Canyon, revel in the glitz and glamour of New York City, or eat your way through the diverse cuisines of New Orleans; all with your trusted travel companion. Discover the best of the USA and begin your journey now! Inside Lonely Planet?s Best of USA: Full-color images throughout Highlights and itineraries help you tailor your trip to your personal needs and interests Insider tips to save time and money and get around like a local, avoiding crowds and trouble spots Essential info at your fingertips - hours of operation, phone numbers, websites, transit tips, prices Honest reviews for all budgets - eating, sight-seeing, going out, shopping, hidden gems that most guidebooks miss Cultural insights give you a richer, more rewarding travel experience - history, art, literature, music, cinema, architecture, landscapes, wildlife, cuisine, wine, outdoor adventures, Native American culture, sports Easy-to-use color maps to help you navigate your destination
Sklep: Booknet.net.pl 94,99 zł
Książki>Atlasy. Mapy. Przewodniki turystyczne>Przewodniki turystyczneKsiążki>Nauki przyrodnicze. Matematyka. Geografia>Geografia>Geogra...
Lonely Planet's Best Of USA Is Your Passport To The Most Relevant, Up-to-date Advice On What To See And Skip, And What Hidden Discoveries Await You. Be Awed By The Grand Canyon, Revel In The Glitz And Glamour Of New York City, Or Eat Your Way Through The Diverse Cuisines Of New Orleans; All With Your Trusted Travel Companion. Discover The Best Of The USA And Begin Your Journey Now! Inside Lonely Planet's Best Of USA: Full-color Images Throughout Highlights And Itineraries Help You Tailor Your Trip To Your Personal Needs And Interests Insider Tips To Save Time And Money And Get Around Like A Local, Avoiding Crowds And Trouble Spots Essential Info At Your Fingertips - Hours Of Operation, Phone Numbers, Websites, Transit Tips, Prices Honest Reviews For All Budgets - Eating, Sight-seeing, Going Out, Shopping, Hidden Gems That Most Guidebooks Miss Cultural Insights Give You A Richer, More Rewarding Travel Experience - History, Art, Literature, Music, Cinema, Architecture, Landscapes, Wildlife, Cuisine, Wine, Outdoor Adventures, Native American Culture, Sports Easy-to-use Color Maps To Help You Navigate Your Destination
Sklep: Gigant.pl 71,95 zł
Książki / Literatura obcojęzyczna
Lonely Planet: The world's leading travel guide publisher Lonely Planet Best of London is your passport to the most relevant, up-to-date advice on what to see and skip, and what hidden discoveries await you. Gallery hop along the Thames, explore dark history and glittering crown jewels in the Tower of London, and sample real ale in historic pubs, all with your trusted travel companion. Discover the best of London and begin your journey now! Inside Lonely Planet's Best of London Travel Guide:Zoom-in maps and images Inbuilt dictionary for quick referencing Full-color maps and images throughout Highlights and itineraries help you tailor your trip to your personal needs and interests Insider tips to save time and money and get around like a local, avoiding crowds and trouble spots Essential info at your fingertips - hours of operation, phone numbers, websites, transit tips, prices Honest reviews for all budgets - eating, sleeping, sight-seeing, going out, shopping, hidden gems that most guidebooks miss Cultural insights give you a richer, more rewarding travel experience - history, art, music, architecture, food & drink, literature, politics. Free, convenient pull-out London map (included in print version), plus over 39 color maps Covers Westminster, the West End, the City, the South Bank, Camden, Islington, Notting Hill, Kensington, Clerkenwell, Shoreditch & Spitalfields, East London, and moreThe Perfect Choice: Lonely Planet's Best of London, our easy-to-use guide, filled with inspiring and colorful photos, focuses on London's most popular attractions for those looking for the best of the best.Looking for a comprehensive guide that recommends both popular and offbeat experiences and extensively covers all of the city's neighborhoods? Check out Lonely Planet's Londonguide. Or check out Pocket London, a handy-sized guide focused on the can't-miss sights for a quick trip. Looking for more extensive coverage? Check out Lonely Planet's Great Britain andEngland guides for a comprehensive look at all England has to offer.About Lonely Planet: Since 1973, Lonely Planet has become the world's leading travel media company with guidebooks to every destination, an award-winning website, mobile and digital travel products, and a dedicated traveller community. Lonely Planet covers must-see spots but also enables curious travellers to get off beaten paths to understand more of the culture of the places in which they find themselves. The world awaits! Lonely Planet guides have won the TripAdvisor Traveler's Choice Award in 2012, 2013, 2014, 2015, and 2016. 'Lonely Planet. It's on everyone's bookshelves; it's in every traveller's hands. It's on mobile phones. It's on the Internet. It's everywhere, and it's telling entire generations of people how to travel the world.' -- Fairfax Media 'Lonely Planet guides are, quite simply, like no other.' - New York Times
Sklep: Libristo.pl 75,14 zł
Książki / Literatura obcojęzyczna
Lonely Planet: The world's leading travel guide publisher Lonely Planet Best of Paris is your passport to the most relevant, up-to-date advice on what to see and skip, and what hidden discoveries await you. Promenade down the Champs Elysees, lose yourself in the Louvre, and work your way through a feast of food and wine, all with your trusted travel companion. Discover the best of Paris and begin your journey now! Inside Lonely Planet's Best of Paris Travel Guide:Zoom-in maps and images Inbuilt dictionary for quick referencing Full-color maps and images throughout Highlights and itineraries help you tailor your trip to your personal needs and interests Insider tips to save time and money and get around like a local, avoiding crowds and trouble spots Essential info at your fingertips - hours of operation, phone numbers, websites, transit tips, prices Honest reviews for all budgets - eating, sleeping, sight-seeing, going out, shopping, hidden gems that most guidebooks miss Cultural insights give you a richer, more rewarding travel experience - food & drink, art, music & nightlife, architecture, history, politics. Free, convenient pull-out Paris map (included in print version), plus over 36 color maps Covers Eiffel Tower, Champs-Elysees, Louvre & Les Halles, Montmartre, Le Marais, Menilmontant, Belleville, Bastille, Latin Quarter, St-Germain & Les Invalides, Montparnasse, and moreThe Perfect Choice: Lonely Planet's Best of Paris , our easy-to-use guide, filled with inspiring and colorful photos, focuses on Paris's most popular attractions for those looking for the best of the best.Looking for a comprehensive guide that recommends both popular and offbeat experiences and extensively covers all of the city's neighborhoods? Check out Lonely Planet's Parisguide. Or check out Pocket Paris, a handy-sized guide focused on the can't-miss sights for a quick trip. Looking for more extensive coverage? Check out Lonely Planet's France guide for a comprehensive look at allFrance has to offer, or Best of France, a photo-rich guide to France's most popular attractions.About Lonely Planet: Since 1973, Lonely Planet has become the world's leading travel media company with guidebooks to every destination, an award-winning website, mobile and digital travel products, and a dedicated traveller community. Lonely Planet covers must-see spots but also enables curious travellers to get off beaten paths to understand more of the culture of the places in which they find themselves. The world awaits! Lonely Planet guides have won the TripAdvisor Traveler's Choice Award in 2012, 2013, 2014, 2015, and 2016. 'Lonely Planet. It's on everyone's bookshelves; it's in every traveller's hands. It's on mobile phones. It's on the Internet. It's everywhere, and it's telling entire generations of people how to travel the world.' -- Fairfax Media 'Lonely Planet guides are, quite simply, like no other.' - New York Times
Sklep: Libristo.pl
Sklepy zlokalizowane w miastach: Warszawa, Kraków, Łódź, Wrocław, Poznań, Gdańsk, Szczecin, Bydgoszcz, Lublin, Katowice
Szukaj w sklepach lub całym serwisie
2. Szukaj na wszystkich stronach serwisu
t1=0.344, t2=0, t3=0, t4=0.043, t=0.344