krainaksiazek dynamic business law 20129010
- znaleziono 9 produktów w 6 sklepach 719,99 zł
Książki Obcojęzyczne>Angielskie>Law>Laws of Specific jurisdictions>Company, commercial & competition law>Company lawKsiążki Obcojęzyczn...
0x014ce75000000000
Sklep: Gigant.pl 811,52 zł
Książki
Sklep: KrainaKsiazek.pl 1013,13 zł
Książki
Sklep: KrainaKsiazek.pl 247,47 zł
Książki
Sklep: KrainaKsiazek.pl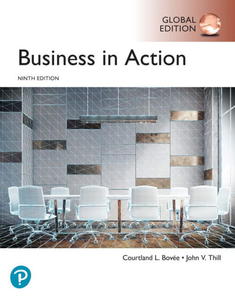 498,54 zł
Podręczniki, artykuły szkolne > Podręczniki do szkół podst. i średnich
Business in Action plus Pearson MyLab Business with Pearson eText, Global Edition   This title is a Pearson Global Edition. The Editorial team at Pearson has worked closely with educators around the world to include content, which is especially relevant to students outside the United States.   This package includes Pearson MyLab Business.   A concise and comprehensive introduction to business Business in Action  remains the premier, comprehensive textbook for important introductory business principles and concepts. Featuring a highly organized, objective-driven structure, the text incorporates relevant, contemporary examples and trends from the business world. Now 16 chapters (down from 20), the  9th Edition  has been streamlined to better match the needs of the course. New material, visuals, and assessment questions cover the full spectrum of contemporary business topics without filler or fluff. So, students can focus on what
Sklep: ksiazkitanie.pl 240,80 zł
Inne 1
Summary Aimed at key decision makers and those responsible for global strategy, this book is about changing markets and the complexity of undertaking business in a fast paced technological and knowledge based age in a dynamic and strategic context. Trends show a renaissance in entrepreneurial activity that is fuelling innovation particularly in the so called BRIC nations of Brazil, Russia, China and India. For example, both China and India have benefited immensely from Foreign Direct Investment (FDI) and as a direct consequence both nation states are reshaping the way global business is conducted and the way investment decisions are made. Evidence would suggest that Europe and the United States are more dependent on the BRIC trading nations for earnings and profits. Geographical distance is no longer a barrier between nations; however, the challenges of ethic diversity in domestic markets are multiplied by the difficulties of delivering goods and services into global markets with different cultures and languages. This book examines the issues associated with undertaking global business in complex and knowledge related markets.Key Features Written by highly knowledgeable and well-respected practitioners and academics in their field Provides practical insight and realistic answers to global and strategic problems Provides progressive constructs of trends and thoughts to take the reader from the current paradigm to the broader yet application-specific view of global business Provides diverse channels of thinking, and gives historical and new perspectives on the factors that drive global strategy Provides insight into the BRIC nations and their rise to prominence within global markets Provides insight into the sociological and political climate that is shaping global markets by examining how nation states and firms conduct business in challenging markets The Authors Dr John McManus is Rushmore Professor in Management Sciences (USA) and Senior Research Fellow at the University of Lincoln (UK). He is the author of several business software and strategy related text books. Prior to becoming an academic, Dr McManus worked within the global software industry. Dr Don White is Dean of Faculty Business and Law, University of Lincoln.Dr White has lectured extensively, on management information systems and has acted as a consultant to the National Health Service (HNS). Neil Botten is Principal Lecturer, Strategic Management at Westminster Business School. He is the author/co-author of several highly successful textbooks. Readership The readership for this book is aimed at key decision makers in multi-national and corporate firms globally in both public and private ownership. Primary audiences include CEO's, senior managers, consultants, researchers and academics. Contents The rapid change in international and global business The market and competitive forces that shape international and global business The socio-cultural forces that shape international and global business The forces that shape strategic effectiveness in global markets Emergent global and international business strategies Managing the strategic process in a global and international business environment Case study: China, India and Russia - a strategic and market perspective within the global software industry Case study: evaluating the commercial aerospace industry of the BRIC nations Conclusions
Sklep: Albertus.pl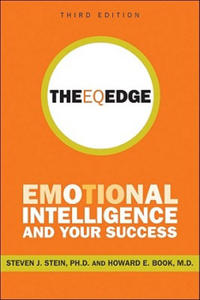 154,13 zł
Książki / Literatura obcojęzyczna
This title is revised and updated with new research into EQ and personal and career success. What is the formula for success at your job? As a spouse? A parent? A Little League baseball coach or behind the bench of a minor hockey team? What does it take to get ahead? To separate yourself from the competition? To lead a less stressful and happier existence? To be fulfilled in personal and professional pursuits? What is the most important dynamic of your makeup? Is it your A) intelligence quotient or B) emotional quotient? If you picked "A", you are partly correct. Your intelligence quotient can be a predictor of things such as academic achievement. But your IQ is fixed and unchangeable. The real key to personal and professional growth is your emotional intelligence quotient, which you can nurture and develop by learning more about EQ from the international bestseller "The EQ Edge". Authors Steven J. Stein and Howard E. Book show you how the dynamic of emotional intelligence works. By understanding EQ, you can build more meaningful relationships, boost your confidence and optimism, and respond to challenges with enthusiasm - all of which are essential ingredients of success. "The EQ Edge" offers fascinating - and sometimes surprising - insights into what it takes to be a top law-enforcement officer, lawyer, school principal, student, doctor, dentist or CEO. You will learn what the top EQ factors are across many different kinds of jobs, from business managers and customer service representatives to HR professionals and public servants. "The EQ Edge" will help you determine which personnel are the right fit for job opportunities and who among your staff are the most promising leaders and drivers of your business. And because all of us have other roles-parent, spouse, caregiver to aging parents, neighbor, friend - "The EQ Edge" also describes how everyone can be more successful in these relationships. "Finally, a practical and usable guide to what emotional intelligence is all about. This book peels the onion on what EQ really is and teaches the reader to assess their own EQ and how to increase it. This is the holy grail for career success". (Michael Feiner, Professor, Columbia Graduate School of Business and author of "The Feiner Points of Leadership").
Sklep: Libristo.pl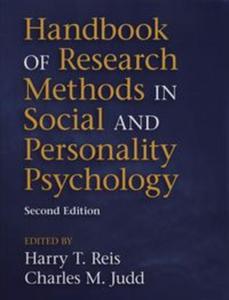 274,00 zł
Książki
This indispensable sourcebook covers conceptual and practical issues in research design in the field of social and personality psychology. Key experts address specific methods and areas of research, contributing to a comprehensive overview of contemporary practice. This updated and expanded second edition offers current commentary on social and personality psychology, reflecting the rapid development of this dynamic area of research over the past decade. With the help of this up-to-date text, both seasoned and beginning social psychologists will be able to explore the various tools and methods available to them in their research as they craft experiments and imagine new methodological possibilities. Reflects rapid changes in social psychology research methods since 2000 Additional chapters emphasize new areas of study and research Highlights methods useful to researchers not only in psychology, but in education, business and law
Sklep: Booknet.net.pl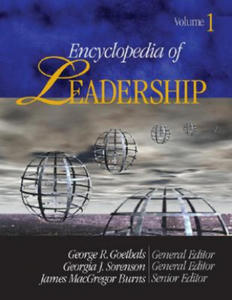 4463,71 zł
Książki / Literatura obcojęzyczna
'The enormous demands on leadership in today's world-the rise of militant followings; the struggle of long-suppressed people to rise to leadership positions; the heightened demand for moral, principled leadership - all these dynamic forces contribute to making this encyclopedia timely - and timeless' - James MacGregor Burns, Williams College, author of Leadership and winner of the Pulitzer Prize and National Book Award 'This authoritative reference source, edited by Pulitzer prize-winning presidential biographer Burns and written by some 400 scholars from 17 countries, comprehensively covers a burgeoning new field of academic study-leadership. Its scope is amazingly broad, reflecting the interdisciplinary applications of the subject. The 373 alphabetically arranged entries are accompanied by 150 photos and other illustrations, with 300 sidebars drawn from a variety of sources. Approximately one third of the entries provide biographical information about men and women who have made significant contributions to the field. Other categories include case studies, leadership studies, followership, women and gender, personal characteristics of model leaders, leadership styles, and leadership theories. The appendixes following the main body of the work include a six-page select bibliography of books related to leadership, a directory of 250 leadership programs with accompanying mission statements, key foreign policy and war speeches of U.S. presidents, and excerpts from sacred texts illuminating "the role of leaders and leadership concepts." Bottom Line: Because of its breadth, ease of navigation, high level of scholarship, clear writing and practical format, this model encyclopedia should help establish leadership as a normative field of study. Highly recommended' - The Library Journal From the earliest times people have been entranced by stories about leaders - about Greek city state rulers, Roman consuls, Chinese emperors, religious potentates, military conquerors, and politicians. Perhaps more importantly, leadership is a challenge and an opportunity facing millions of people in their professional and personal lives. The Encyclopedia of Leadership brings together for the first time everything that is known and truly matters about leadership as part of the human experience. Developed by the award-winning editorial team at Berkshire Publishing Group, the Encyclopedia includes hundreds of articles, written by 400 leading scholars and experts from 17 countries, exploring leadership theories and leadership practice. Over a third of the work - some 500,000 words - is devoted to biographical essays and to case studies focused on leaders (and their followers). Articles and sidebars show leadership in action-in corporations and state houses, schools, churches, small businesses, and nonprofit organizations. Questions the Encyclopedia of Leadership answer: - What is a leader? - What is a great leader? - How does someone become a leader? - What are the types of leadership? - How can leadership theories help us understand contemporary situations? - How can I be a good (and maybe great) leader? The Encyclopedia of Leadership is an unprecedented learning resource. Scholars, students, professionals, and active citizens will turn to the Encyclopedia for guidance on the theory and practice of leadership, for the stories of great leaders, and for the tools and knowledge they need to lead in the 21st century. Key Features: - Four volumes - 400 substantive articles, ranging in length from 1000-6000 words - 200 photographs and other illustrations - 250 sidebars drawn from public records, newspaper accounts, memoirs, and ethnography Article categories: - Biographies - Case studies - Followers and followership - Gender issues - Leadership in different disciplines - Leadership in different domains - Leadership styles - Personality characteristics - Situational factors - Theories and concepts The Encyclopedia of Leadership is an vital tool for librarians with collections in business, management, history, politics, communication, psychology, and a host of other disciplines. Students and teachers in courses ranging from history to psychology, anthropology, and law will also find this an invaluable reference. Editorial Board Laurien Alexandre, Antioch University Bruce Avolio, University of Nebraska, Lincoln Martin Chemers, University of California, Santa Cruz Kisuk Cho, Ewha Womans University Joanne Ciulla, University of Richmond David Collinson, Lancaster University Yiannis Gabriel, Imperial College, London Zachary Green, Alexander Institute and University of Maryland Keith Grint, Oxford University Michael Hogg, University of Queensland Jerry Hunt, Texas Tech University Barbara Kellerman, Harvard University Jean Lipman-Blumen, Claremont Graduate University Larraine Matusak, LarCon Associates Ronald Riggio, Claremont McKenna College J rgen Weibler, Fernuniversitat Hagen Contributors Include Warren Bennis (Management) John Chandler (Higher Education) Cynthia Cherrey (International Leadership Association) Bob Edgerton (Mau Mau Rebellion) Gene Gallagher (Religion) Betty Glad (Camp David Accords and Tyrannical Leadership) Louis Gould (Woodrow Wilson and Lyndon Johnson) Allen Guttmann (Modern Olympics Movement and Women's Movement) Ronald Heifetz (Adaptive Work) Dale Irvin (Ann Lee) David Malone (Billy Graham) Martin Marty (Martin Luther) Kenneth Ruscio (Trust) Robert Solomon (Friedrich Nietzsche) Robert Sternberg (Intelligence and Tacit Knowledge) Fay Vincent (Sports Industry) Gary Yukl (Influence Tactics and Group Performance)
Sklep: Libristo.pl
Sklepy zlokalizowane w miastach: Warszawa, Kraków, Łódź, Wrocław, Poznań, Gdańsk, Szczecin, Bydgoszcz, Lublin, Katowice
Szukaj w sklepach lub całym serwisie
2. Szukaj na wszystkich stronach serwisu
t1=0.023, t2=0, t3=0, t4=0.019, t=0.023