krainaksiazek embrace a life of guidance 20131135
- znaleziono 5 produktów w 2 sklepach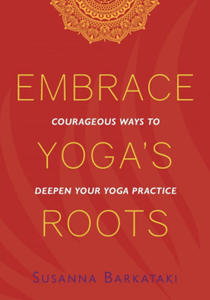 118,21 zł
Książki / Literatura obcojęzyczna
Do you want to be on the cutting edge of the future of yoga? If you desire an authentic yoga practice embracing ancient yogic philosophy and traditions but don't know how to embody that knowledge with integrity in today's modern yoga culture, Embrace Yoga's Roots is your guide to honor and not appropriate yoga. "When we mistake yoga for a workout routine, reduce it to physical fitness or even do some of the deeper aspects of yoga without an eye to the whole system of liberation it offers, we rob ourselves and each other of the potential of this practice," says Susanna Barkataki. Embrace Yoga's Roots explores the past's yogic traditions, brings them alive today, and preserves them for the future by examining what separates us, reflecting on our part, taking action for equity and moving toward liberation together. If you practice, teach or want to learn yoga integrating your ethics and values while respecting ancient yoga philosophy, you have found the essential guide to making that goal a reality. "I can't think of anyone more suited to lead the way to embrace yoga's roots than Susanna. This book should be required reading in yoga teacher trainings across the world." Rachel Brathen - author of the New York Times Bestseller Yoga Girl The Embrace Yoga Roots Framework revealed in this book shares four keys steps to deepen your yoga practice, increase empathy and create unity both personally and with the world. Separation: Learning how colonization, cultural appropriation, and oppression results in trauma for yogis and separation from yoga traditions.Reflection: Understanding the causes of separation and our roles, either supporting separation (knowingly or not) versus creating unity and equity in yoga.Reconnection Exploring specific and concrete skills and solutions for living and practicing yoga as unity, inspiring global transformation.Liberation Integrating a more honorable and ethical practice in your life supporting personal growth by following the ancient teachings. Barkataki shares tools, resources and gentle guidance demonstrating how you can embody a complete yoga practice that includes and extends beyond the physical, the mindful and the sacred to something equitable, inclusive and accessible for everyone on all levels of their being. This book is more than a textbook on yoga's history but a practical guide offering reflective questions for the personal exploration of challenging topics leading to personal and social transformation. Embrace Yoga's Roots shows you how to take this awakened understanding and vital message into your local yoga community, helping to connect you with the yoga community worldwide. Lead the global movement now by honoring and embracing ancient philosophies, practices and lifestyles supporting a unified yogic state.
Sklep: Libristo.pl 147,60 zł
Biznes
This book is about strategic thinking in Hispanic marketing. The size and economic importance of the Hispanic market in the US are attracting enormous attention. The buying power of the US Hispanic market is now larger than the GDP of the entire country of Mexico, and it is the second largest Hispanic market in the world. Businesses and institutions have launched major initiatives to reach this important segment. Yet, the number of qualified individuals who understand the market is small; and many of those already catering to the market still struggle to learn about its intricacies. This book is a cultural approach to Hispanic marketing. Each of the chapters describes and explains the cultural principles of Latino marketing. Recent case studies help marketers relate to the material pragmatically. The book integrates concepts and practical examples and provides critical guidance to discern between alternative courses of action. This book is not about repeating well-known statistics, but about the Hispanic market as a cultural target. It takes a profound look at the values, beliefs, and emotions of US Hispanics, which impact consumer behaviour. Each of the chapters has been the subject of public presentations and lectures to marketing professionals. It is their positive reactions as well as the authors
Sklep: Albertus.pl 68,99 zł
Książki / Literatura obcojęzyczna
Like fellow Dubliner, Lorna Byrne, Patricia Buckley - the author of "My Journey with the Angels" - is a down-to-earth mystic. Patricia is gentle, funny and practical and in the last decade, through her joyous embrace of the angels in her life, she has been able to give hope to countless wounded souls who have come to her seeking guidance. From as early as she can remember, Patricia took for granted that she could speak to angels and dead people. And though her childhood was blighted by poverty, neglect and abuse, the spirit world made her feel secure and cherished. However, after many tough years - during which she was committed to a mental ward, was nearly killed by an abusive boyfriend and eventually became homeless - she gave up on that part of her life. Patricia found love in a good marriage and joy in the birth of her children. And yet for twenty years she remained fragile and dependent on tranquillisers. That was until a chance encounter woke up her hidden spiritual energies and revived her passion for living. The time had come to share her gifts with the world. Patricia shares her story in "My Journey with the Angels" - a heart-breaking memoir of a Dublin childhood, a moving account of how she came to accept her extraordinary gifts, and an inspirational guide - full of examples from her life and work - to the wisdom of the angels.
Sklep: Libristo.pl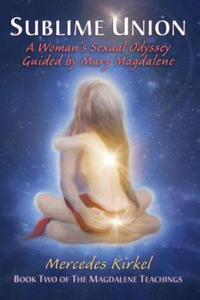 97,30 zł
Książki / Literatura obcojęzyczna
In this best-selling book, author Mercedes Kirkel is led by Mary Magdalene into the practices of sacred sexuality. SUBLIME UNION offers Mary's full instruction, interwoven with Kirkel's stirring story of applying the teachings with her partner. Building on the messages offered in MARY MAGDALENE BECKONS (Book One of The Magdalene Teachings), readers are now given the second key piece to embodying the union of the Divine Feminine and Masculine. Mary sheds light on the path of sacred sexuality--which has remained largely hidden until now--offering the means to greater fulfillment in relationships while uniting spirituality and intimacy. Best of all, the instruction happens in the context of a riveting, real-life account, making this both a sacred sexuality manual and erotic memoir. "SUBLIME UNION is the book we've all been waiting for. I highly recommend this thrilling read." --Christiane Northrup, MD, bestselling author "Women's Bodies, Women's Wisdom" . . . "Mercedes Kirkel is one of the clearest channels of Mary Magdalene known to humankind. SUBLIME UNION is an extraordinary and thorough work." --Michael Mirdad, author "An Introduction to Tantra and Sacred Sexuality" and "Creating Fulfilling Relationships" "Beautifully written and juicy, to put it mildly, SUBLIME UNION is a landmark book--a poignant, courageously vulnerable love story and finely illustrated manual for sexual practice in the realms of communication, energy exchange, and more. I recommend this book highly!" --Saniel Bonder, author "Healing the Spirit/Matter Split" and "While Jesus Weeps" "Awakened sexuality is an opening to the Divine. I applaud Kirkel's courage for sharing her sacred sex life with the world in order to teach this, so people will have an opportunity to have a much more fulfilling and spiritual relationship." -- Joanna Prentis, coauthor "Power of the Magdalene" and "The Magdalene Version" "A multifaceted jewel of a book that shimmers with light and love. Candid and intriguing personal transformation is delicately interwoven with profound wisdom and amplified by valuable energy-raising practices. Compelling and convincing." -- Diana Richardson, author "The Heart of Tantric Sex" and "Slow Sex "Passionate, powerful, and, best of all, extremely practical, SUBLIME UNION can help couples open to the sacredness of sex and love, and heal their bodies, minds, and souls." -- Stephanie Riseley, author "Love From Both Sides" "For those who choose sacred sexuality as a path to touch enlightenment and embrace sublime union, Mary Magdalene and Mercedes Kirkel offer clear and timely guidance pointing the way." -- Claire Heartsong, author "Anna, Grandmother of Jesus" and "Anna, The Voice of the Magdalenes" "These teachings bring illumination to the sacredness of sex for all of us--integrating passion, pleasure, and love in a sacred way." -- Diane Riley, coauthor "Tantric Secrets for Men," author "Sexy and Sacred"
Sklep: Libristo.pl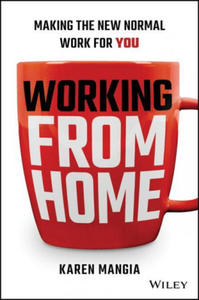 89,89 zł
Książki / Literatura obcojęzyczna
Master the delicate art of working from home with this comprehensive resource.Working from Home: Making the New Normal Work for You provides readers with a detailed strategy on how to turn working from home into a powerful career choice. Author and Salesforce executive Karen Mangia teaches readers how to:* Build the future of work in any kind of space: ideas for your home office that fit anywhere* Create personalized time management routines designed specifically for remote productivity, impact, and balance--even while wearing your sweatpants* Deal with Zoom fatigue, burnout, and isolation, via untapped new strategies for connection and team-building, even when the team is remote* Discover how to deliver powerful virtual presentations and build career impact online, with expert communication strategies designed for an online worldWorking from Home explains in detail how to turn even the smallest of living spaces into the ideal remote work environment. It comprehensively explores how you can make yourself vital to any organization without ever setting foot in an office building. Because success isn't a location: you can move your career forward from anywhere, if you know how to do it. This book will show you how to embrace the new normal and make sure your career doesn't miss a beat.Full of concrete strategies and practical advice, Working from Home is a must-read for anyone who wants to know how to find that elusive work/life balance when working remote. With guidance on how to create a work-from-home culture designed for success, it's a perfect choice for early-in-career professionals, sales leaders, team managers, and business executives looking for fresh ideas on the future of work.
Sklep: Libristo.pl
Sklepy zlokalizowane w miastach: Warszawa, Kraków, Łódź, Wrocław, Poznań, Gdańsk, Szczecin, Bydgoszcz, Lublin, Katowice
Szukaj w sklepach lub całym serwisie
2. Szukaj na wszystkich stronach serwisu
t1=0.02, t2=0, t3=0, t4=0, t=0.02