krainaksiazek essential buddhist teachings a practice guide 20167605
- znaleziono 13 produktów w 3 sklepach 30,33 zł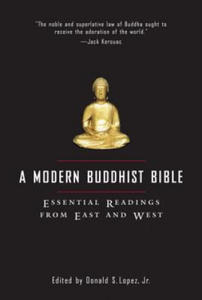 114,21 zł
Książki / Literatura obcojęzyczna
The first book to bring together the key texts of modern Buddhism In the last hundred years, the world, especially the West, has increasingly embraced the teachings of Buddhism. A Modern Buddhist Bible is the first anthology to bring together the writings from Buddhists, both Eastern and Western, that have redefined Buddhism for our era. Forging a universal doctrine from the divergent traditions of China, Sri Lanka, Japan, Burma, Thailand, and Tibet, the makers of modern Buddhism saw it as a return to the origin, as renowned scholar Donald Lopez shows. ModernBuddhism is for them a homeward journey to the vision of Buddha himself. Putting far more stress on meditation and spirituality than on ritual and relics, it embraces the ordination of women and values of science, social justice, tolerance, and individual freedom. A Modern Buddhist Bible includes writing by Jack Kerouac, Allen Ginsberg, William Burroughs, the Dalai Lama, Thich Nhat Hanh, T"ai Hsu, Cheng Yen, Shaku Soen, D. T. Suzuki, Alan Watts, Gary Snyder, Shunryu Suzuki, andothers who have played a role in the rich and complex movement that fused Eastern insight with Western consciousness. Donald S. Lopez, Jr. is professor of Buddhist and Tibetan studies at the University of Michigan. His most recent books are The Story of Buddhism: A Concise Guide to Its History and Teachings and Prisoners of Shangri-La.
Sklep: Libristo.pl 86,47 zł
Książki / Literatura obcojęzyczna
A guide to developing and maintaining a spiritual life on the job, drawn from the teachings and practices of Buddhist tradition. Most people associate Buddhism with developing calmness, kindness, and compassion through meditation. Lewis Richmond
Sklep: Libristo.pl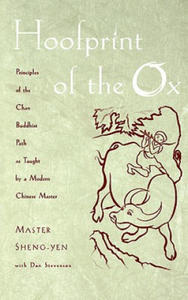 182,36 zł
Książki / Literatura obcojęzyczna
Revered by Buddhists in the United States and China, Master Sheng-yen shares his wisdom and teachings in this first comprehensive English primer of Chan, the Chinese tradition of Buddhism that inspired Japanese Zen. Often mistunderstood as a system of mind games, the Chan path leads to enlightenment through apparent contradiction. while demanding the mental and physical discipline of traditional Buddhist doctrine, it asserts that wisdom (Buddha-nature) is innate and immediate in all living beings, and thus not to be achieved through devotion to the strictures of religious practice. You arrive without departing. Master Sheng-yen provides an unprecedented understanding of Chan, its precepts, and its practice. Beginning with a basic overview of Buddhism and meditation, 'Hoofprint of the Ox' detials the progressive mental exercises traditionally followed by all Buddhists. Known as the Three Disciplines, these procedures develop moral purity, meditiative concentration, and enlightening insight through the 'stilling' of the mind. Master Sheng-yen then expounds Chan Buddhism, recounting its centuries-old history in China and illuminating its fundamental tenets. He contemplates the nature of Buddhahood, specifies the physical and mental prerequisites for beginning Chan practice, and humbly considers what it means to be an enlightened Chan master. Drawing its title from a famous series of pictures that symbolizes the Chan path as the search of an ox-herd for his wayward ox, 'Hoofprint of the Ox' is an inspirational guide to self-discovery through mental transformation. A profound contribution to Western understanding of Chan and Zen, this book is intended for practicing Buddhists as well as anyone interested in learning about the Buddhist path.
Sklep: Libristo.pl 86,30 zł
Książki / Literatura obcojęzyczna
Kensho is the transformative glimpse of the true nature of all things. It is an experience so crucial in Zen practice that it is sometimes compared to finding an inexhaustible treasure because it reveals the potential that exists in each moment for pure awareness free from the projections of the ego. Among the traditional Zen works are a number of important texts focusing on the profound subtleties of this essential Zen awakening and the methods used in its realization. The selections here are taken from: Straightforward Explanation of the True Mind, by Korean Zen teacher Chinul (1158-210), which provides the contextual balance needed to understand kensho by relating it to the broader teachings of the Buddhist scriptures and treatises; several works by Japanese Zen master Hakuin (1786-1769), whose teachings emphasize the techniques used in the cultivation and application of kensho and the importance of going beyond the experience itself to apply Zen insight to the full range of human endeavors; and The Book of Ease, a Chinese koan collection from the twelfth and thirteenth centuries, with commentary showing the practical dimension of classical koan practice. The translator provides extensive introductory notes and detailed commentary on each of the selections to help the reader understand the inner meaning of this essential experience of Zen.
Sklep: Libristo.pl 52,99 zł
Książki Obcojęzyczne>Angielskie>Humanities>Religion & beliefs>Buddhism>Buddhist life & practice
Drawing On His Own Experience, And On Buddhist Teachings, Western Philosophy, Psychology And Literature, Ratnaguna Provides A Practical Guide To Reflection In Its Many Forms. This Is A Book About Reflection As A Spiritual Practice, About Its Importance, And About What We Think And How We Think About It.
Sklep: Gigant.pl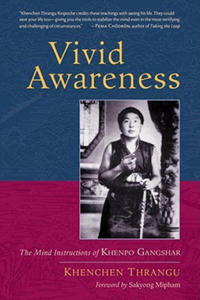 86,13 zł
Książki / Literatura obcojęzyczna
In the summer of 1957, the revered Buddhist teacher and scholar Khenpo Gangshar foresaw the difficulties that would soon fall upon Tibet and began teaching in a startling new way that enabled all those who heard him to use the coming difficulties as the path of Dharma practice. The teaching consisted of the essential points of mahamudra and dzogchen, both view and practice, presented in a way that made them easy for anyone to use, even in the most difficult of circumstances. Khenchen Thrangu Rinpoche was one of the grateful recipients of these teachings, which he regards as among the most important he has ever been given. He transmits them here, for the benefit of all of us who strive to practice in challenging times. They include contemplations on the ephemeral nature of both joy and suffering, meditations for resting the mind, and guidance for cultivating equanimity in any situation.
Sklep: Libristo.pl 99,14 zł
Książki / Literatura obcojęzyczna
CREATIVE VISION and INNER REALITY is a translation of Easing the Beginner's Way: the Essential Points of Creation and Completion, written in verse at the age of twenty-seven by the amazing nineteenth century realized master and profound scholar Jamgön Kongtrul Lodrö Thaye. Born in 1813 in Kham in eastern Tibet, Kongtrul offered this advice based on his own experiential understanding of these two basic methods in Tibetan Buddhist tantric meditation. The aspiring practitioner's way is eased by clear and extremely practical explanations of firstly, the phase of "creation," referring to the gradual imaginative process of recreating, with the aid of mantra and mudra, one's self as the deity and the environment as the mandala, while maintaining the awareness of the lack of real existence of these and all appearances; and secondly, the phase of "completion," referring to the dissolution of the visualization until the mind rests in its natural condition, the inseparability of bliss and emptiness, a state accomplished by, among other methods, concentration on one's so-called vajra body and its channels, winds, and vital essences. Thus, in the first phase of this aspect of Vajrayana teaching the goal is imagined, and in the second it is directly experienced. In reality those who have some familiarity with Mahamudra and Dzogchen, the two systems that represent the ultimate sense and final goal of all teachings, will find in the text a subtle guide to deeper knowledge. This volume contains a second text, Jamgön Kongtrul's Advice to Lhawang Trashi, in which the neophyte meditator is instructed in an inspiring and direct manner on how to recognize the landmarks and pitfalls that may be encountered along the path. An Introduction and substantive notes by the translator are included in this useful and beautiful book. The translator Elio Guarisco is a founding member of the International Shang Shung Institute of Tibetan Studies whose goal is to preserve and deepen the knowledge and understanding of Tibetan cultural traditions and has translated many works by the Institute's founder, guide, and inspiration, Chögyal Namkhai Norbu.
Sklep: Libristo.pl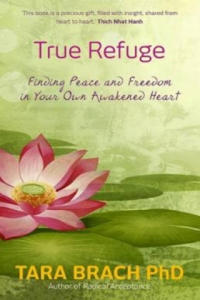 58,39 zł
Książki / Literatura obcojęzyczna
How do you cope when facing life-threatening illness, family conflict, faltering relationships, old trauma, obsessive thinking, overwhelming emotion or inevitable loss? If you're like most people, chances are you react with fear and confusion, falling back on timeworn strategies: anger, self-judgement and addictive behaviours. Though these old, conditioned attempts to control our life may offer fleeting relief, ultimately they leave us feeling isolated and mired in pain. There is another way. Beneath the turbulence of our thoughts and emotions exists a profound stillness, a silent awareness capable of limitless love. Tara Brach, author of the award-winning Radical Acceptance, calls this awareness our true refuge, because it is available to every one of us, at any moment, no exceptions. In this book, Brach offers a practical guide to finding our inner sanctuary of peace and wisdom in the midst of difficulty. Based on a fresh interpretation of the three classic Buddhist gateways to freedom - truth, love and awareness - True Refuge shows us the way not just to heal our suffering, but also to cultivate our capacity for genuine happiness. Through spiritual teachings, guided meditations and inspirational stories of people who discovered loving presence during times of great struggle, Brach invites us to connect more deeply with our own inner life, one another and the world around us. True Refuge is essential reading for anyone encountering hardship or crisis, anyone dedicated to a path of spiritual awakening. The book reminds us of our own innate intelligence and goodness, making possible an enduring trust in ourselves and our lives. We realize that what we seek is within us, and regardless of circumstances, 'There is always a way to take refuge in a healing and liberating presence.'
Sklep: Libristo.pl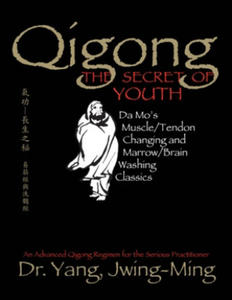 123,80 zł
Książki / Literatura obcojęzyczna
For over one thousand years, Bodhidharma's (Da Mo) timeless classics have been considered the key to enlightenment and long-lasting youth. Now, Dr. Yang, Jwing-Ming, one of the world s leading authorities on Qigong, has translated and written commentaries to make these ancient and profound teachings accessible to everyone. Using ancient Buddhist and Taoist documents as its foundation, this book analyzes and discusses theory and training methods in a modern, scientific manner, and presents safe ways for you to begin your own practice.Improve your health and strength through the Yi Jin Jing (Muscle/Tendon Changing Classic). Work towards longevity & enlightenment with the Xi Sui Jing (Marrow/Brain Washing Classic). Qigong, the Secret of Youth is an invaluable guide for Qigong practitioners and Martial Artists who want to explore deeper levels of internal energy training.Learn the keys to rejuvenating & reconditioning your body.Discover methods for nourishing the brain and bone marrow.Includes Qigong exercises & massage techniques.
Sklep: Libristo.pl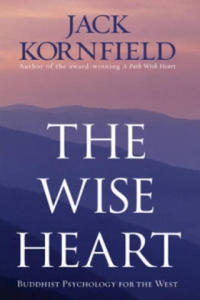 73,63 zł
Książki / Literatura obcojęzyczna
For over 2000 years, Buddhist psychology has offered invaluable insights into the nature of the heart and mind, and transformed the way many people around the world handle life's challenges. But the ancient texts on which these remarkable teachings are based can be difficult to penetrate for modern seekers. Now, drawing on his experience as a monk trained in Thailand, Burma and India, as well as his expert psychology practice, Jack Kornfield provides an accessible, definitive guide to Buddhism for Buddhists and non-Buddhists alike. This important new work is in the tradition of his classic works A Path with Heart and After the Ecstasy, the Laundry, offering practical tools to coping with modern life and dealing with emotions such as fear, anger and shame. Kornfield also shares the illuminating stories of his students and fellow practitioners, as well as his own journey towards enlightenment, including his recovery from a violence-filled childhood. Here is a rare treasure that will give readers greater access to the secret beauty within - and without.
Sklep: Libristo.pl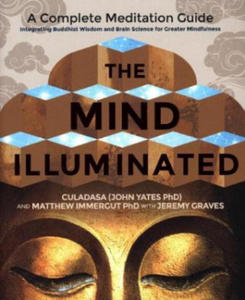 83,05 zł
Książki / Literatura obcojęzyczna
A comprehensive and accessible guide to meditation, providing a stage-based system that helps all levels of meditators establish and deepen their practice. Combines Buddhist teachings with neuroscience.
Sklep: Libristo.pl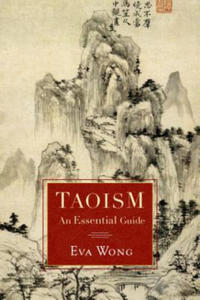 93,66 zł
Książki / Literatura obcojęzyczna
For the first time, the great depth and diversity of Taoist spirituality is introduced in a single, accessible manual. Taoism, known widely today through the teachings of the classic "Tao Te Ching" and the practices of t'ai chi and feng-shui, is less known for its unique traditions of meditation, physical training, magical practice, and internal alchemy. Covering all of the most important texts, figures, and events, this essential guide illuminates Taoism's extraordinarily rich history and remarkable variety of practice. A comprehensive bibliography for further study completes this valuable reference work.
Sklep: Libristo.pl
Sklepy zlokalizowane w miastach: Warszawa, Kraków, Łódź, Wrocław, Poznań, Gdańsk, Szczecin, Bydgoszcz, Lublin, Katowice
Szukaj w sklepach lub całym serwisie
2. Szukaj na wszystkich stronach serwisu
t1=0.661, t2=0, t3=0, t4=0.051, t=0.661