krainaksiazek essential oils learn how to properly apply and use essential oils the right way 20169682
- znaleziono 3 produkty w 1 sklepie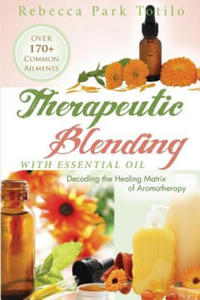 158,14 zł
Książki / Literatura obcojęzyczna
Now you can safely create natural therapeutic blends that will impact your mood and health and best of all, promote well-being. Therapeutic Blending With Essential Oil unlocks the healing power of essential oils and guides you through the intricate matrix of aromatherapy, with a compilation of over 150 common ailments. Each section of this beautifully illustrated book covers a different area of aromatherapy including the history of essential oils as medicine, methods of extraction and distillation, safety and storage tips, blending techniques, aromatic botany, and a comprehensive guide to understanding the chemistry of essential oils and their classification by chemical groups. It also instructs you how to judge an essential oil's quality. Quick reference blending charts offers the reader comprehensive knowledge for convenient application tips and benefits for the entire family. Practical uses for the elderly, women during pregnancy, and children are included in this holistic resource. Discover how to properly formulate a blend for any physical or emotional symptom with four blending techniques including blending by notes, botany, chemistry, or effect. The extensive therapeutic properties matrix helps you determine the right combination of oils to use. With easy to follow customizable recipes, you can make your own personalized massage oils, hand and body lotions, bath gels, compresses, salve ointments, smelling salts, nasal inhalers and more. This exhaustive guide takes all the guesswork out of blending essential oils from how many drops to include in a blend, to working with and measuring thick oils, to how often to apply it for acute or chronic conditions. It also shows you how to create a single blend for multiple conditions. Even if you run out of oil for a favorite recipe, this book shows you how to substitute it with another oil. Other Features included: . Exhaustive Directory of 122 Essential Oils . Convenient Directory of 40 Carrier Oils and Dilution Guides . Over 20 Methods of Use with Simple Everyday Usage Chart . Systematic Approach for Common Ailments for the Muscular and Skeletal System, the Immune System, the Circulatory System, the Reproductive System, the Respiratory System, the Nervous System and for Skin, Hair and Mouth Care . Glossary of Essential Oil Terms
Sklep: Libristo.pl 119,24 zł
Książki / Literatura obcojęzyczna
"Your Right to Know : Vibrational Cleaning Guidebook" presents a Common 'Scents' Way of green cleaning that is exceptional in the marketplace utilizing the most up to date research in aromas and the brain as well as the disinfecting, antiseptic and anti-biotic powers of genuine therapeutic essential oils. Having safe, clean and healing environments has become even more critical today due to the onslaught of environmental pollutants, chemicals and the global epidemics of the antibiotic-resistant bacteria's also known as the superbugs. Environmental toxins can be found everywhere in what we eat, drink, breathe, wash and clean with. The use of dangerous chemicals and neuro toxins found in our typical household and personal care products can easily be replaced. You may not be aware of these toxins, but they are impacting you in how you think, feel and behave - especially children, compromising your immune system, aging you, making you ill and specifically targeting your brain. Food poisoning, hygiene, food preservation and food protection are also a major challenge for us all. Find out ways to use the same disinfecting green essential oil cleaners that can also be your food enhancers and food protectors against common bacterial food poisons. Find out what has been hidden from us for thousands of years- secrets kept from humanity. Learn innovative ways to super-charge your brain - your third eye - at the same time as you enhance your emotional care and well-being. Everyone can attain tremendous insights, healing and awareness using the novel approaches suggested within this guidebook. It is 'your right to know" the truth, NOW!
Sklep: Libristo.pl 216,50 zł
Książki / Literatura obcojęzyczna
A comprehensive guide to everything scientists need to know about data management, this book is essential for researchers who need to learn how to organize, document and take care of their own data. Researchers in all disciplines are faced with the challenge of managing the growing amounts of digital data that are the foundation of their research. Kristin Briney offers practical advice and clearly explains policies and principles, in an accessible and in-depth text that will allow researchers to understand and achieve the goal of better research data management. Data Management for Researchers includes sections on: * The data problem - an introduction to the growing importance and challenges of using digital data in research. Covers both the inherent problems with managing digital information, as well as how the research landscape is changing to give more value to research datasets and code. * The data lifecycle - a framework for data's place within the research process and how data's role is changing. Greater emphasis on data sharing and data reuse will not only change the way we conduct research but also how we manage research data. * Planning for data management - covers the many aspects of data management and how to put them together in a data management plan. This section also includes sample data management plans. * Documenting your data - an often overlooked part of the data management process, but one that is critical to good management; data without documentation are frequently unusable. * Analyzing your data - covers managing information through the analysis process. This section starts by comparing the management of raw and analyzed data and then describes ways to make analysis easier, such as spreadsheet best practices. It also examines practices for research code, including version control systems. * Managing secure and private data - many researchers are dealing with data that require extra security. This section outlines what data falls into this category and some of the policies that apply, before addressing the best practices for keeping data secure. * Short-term storage - deals with the practical matters of storage and backup and covers the many options available. This section also goes through the best practices to insure that data are not lost. * Preserving and archiving your data - digital data can have a long life if properly cared for. This section covers managing data in the long term including choosing good file formats and media, as well as determining who will manage the data in the long-term. * Sharing/publishing your data - the reasons for and against data sharing and some of the practical aspects of sharing. This section covers intellectual property and licenses for datasets, before ending with the altmetrics that measure the impact of shared data. * Collaborations and data - this section addresses how to make data sharing across research groups easier. It covers the practical aspects of systems for collaboration as well as policy concerns like ownership. * Reusing data - as more data are shared, it becomes possible to use outside data in your research. This chapter discusses strategies for finding datasets and lays out how to cite data once you have found it. This book is designed for active scientific researchers but it is useful for anyone who wants to get more from their data: academics, educators, professionals or anyone who teaches data management, sharing and preservation.
Sklep: Libristo.pl
Sklepy zlokalizowane w miastach: Warszawa, Kraków, Łódź, Wrocław, Poznań, Gdańsk, Szczecin, Bydgoszcz, Lublin, Katowice
Szukaj w sklepach lub całym serwisie
2. Szukaj na wszystkich stronach serwisu
t1=0.151, t2=0, t3=0, t4=0.021, t=0.152