krainaksiazek give them me ending the search 20167770
- znaleziono 12 produktów w 4 sklepach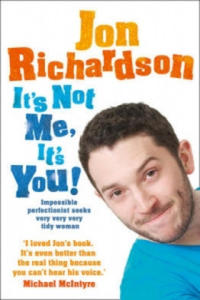 60,54 zł
Książki / Literatura obcojęzyczna
'I loved Jon's book. It's even better than the real thing because you can't hear his voice.' Michael McIntyre A control freak looks for love (women who leave wet teaspoons in sugar bowls need not apply). 'I haven't woken up with a cup of tea by the bed for seven years. It seems such a small thing but it's one of a thousand things I miss about having someone around to take care of me. I have spent my entire adult life getting things the way I want them and all I want now is someone to give it all up for.' Is your filing faultless? Your CDs, apostrophes, cutlery all in the right places? Can you eat a biscuit in the correct way? Then Jon Richardson (single for seven years and counting) could be your ideal man...Living alone in a one bedroom flat in Swindon, Jon has had far too much time on his hands to think. In fact to obsess. About almost everything. Jon's obssessive compulsive personality disorder has seen him arrange the coins in his pockets in ascending size and colour code his bookshelves. It takes him less than 90 seconds to locate a receipt for a pair of shoes he bought in 1997. Over to the filing cabinet and R for receipts, S for shoes. But Jon doesn't want to be like this, in fact he would quite like to share his life with someone. But who could that someone be? Someone like himself, a quarrelsome perfectionist only with breasts and less body hair? Absolutely not. But who exactly is Jon looking for and where will he find her? Faced with a loveless future filled with his own peculiar quirks and perfectionism, Jon sets about his search for The One. The question is, will he mind her keeping the knives to the left of the forks in the cutlery drawer or organising the CDs by genre and not alphabetically?
Sklep: Libristo.pl 54,10 zł
Powieści i opowiadania
Orlando Figes
Sklep: Albertus.pl 45,80 zł
Nauki humanistyczne
Alain de Botton, best-selling author of How Proust can Change Your Life, has set six of the finest minds in the history of philosophy to work on the problems of everyday life. Here then are Socrates, Epicurus, Seneca, Montaigne, Schopenhauer and Nietzsche on some of the things that bother us all; lack of money, the pain of love, inadequacy, anxiety, the fear of failure and the pressure to conform.
Sklep: Albertus.pl 92,53 zł
Książki / Literatura obcojęzyczna
"A book to rival TWILIGHT and VAMPIRE DIARIES, and one that will have you wanting to keep reading until the very last page! If you are into adventure, love and vampires this book is the one for you!" --Vampirebooksite.com (Turned)DESIRED is Book #5 in the #1 Bestselling series THE VAMPIRE JOURNALS, which begins with TURNED (Book #1)! In DESIRED (Book #5 in the Vampire Journals), Caitlin Paine wakes to discover that she has once again traveled back in time. This time, she has landed in eighteenth century Paris, an age of great opulence, of kings and queens-but also of revolution. Reunited with her true love, Caleb, the two of them finally have the quiet, romantic time together that they never had. They spend idyllic time together in the city of Paris, visiting its most romantic sites, as their love grows ever deeper. Caitlin decides to give up the search for her father, so that she can savor this time and place, and spend her life with Caleb. Caleb takes her to his medieval castle, near the ocean, and Caitlin is happier than she ever dreamed. But their idyllic time together is not destined to last forever, and events intercede that force the two of them apart. Caitlin once again finds herself united with Aiden and his coven, with Polly and with new friends, as she focuses again on her training, and on her mission. She is introduced to the lavish world of Versailles, and encounters outfits and opulence beyond what she ever dreamed. With never ending feasts and parties and concerts, Versailles is a world of its own. She is happily reunited with her bother Sam, who is also back in time, and having dreams of their father, too. But all is not as well as it seems. Kyle has traveled back in time, too-this time, with his evil sidekick, Sergei-and he is more determined than ever to kill Caitlin. And Sam and Polly each fall ever deeper into toxic relationships, which just might threaten to destroy everything around them. As Caitlin becomes a true and hardened warrior, she comes closer than ever to finding her father, and the mythical Shield. The climactic, action-packed ending, takes Caitlin through a whirlwind of Paris' most important medieval locations, on a hunt for clues. But surviving this time will demand skills she never dreamed she had. And reuniting with Caleb will require her to make the hardest choices-and sacrifices-of her life.
Sklep: Libristo.pl 10,11 zł
Książki & Multimedia > Książki
Opis - Wspólne głośne czytanie buduje szczególną więź emocjonalną między rodzicami a dziećmi oraz rozbudza w najmłodszych ciekawość świata. Nazwa - Biblioteczka przedszkolaka. Wiersze dla chłopców Autor - Praca zbiorowa Oprawa - Twarda Wydawca - Olesiejuk Kod ISBN - 9788327429148 Kod EAN - 9788327429148 Rok wydania - 2015 Język - polski Seria wydawnicza - Biblioteczka przedszkolaka Format - 19.0x23.0cm Ilość stron - 24 Podatek VAT - 5% Premiera - 2015-04-24
Sklep: InBook.pl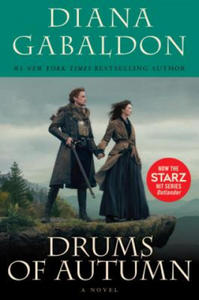 79,69 zł
Książki / Literatura obcojęzyczna
"Unforgettable characters . . . richly embroidered with historical detail . . . I just can't put it down."-The Cincinnati Post In this breathtaking novel, rich in history and adventure, #1 New York Times bestselling author Diana Gabaldon continues the story of Claire Randall and Jamie Fraser that started with the now-classic novel Outlander and continued in Dragonfly in Amber and Voyager. Once again spanning continents and centuries, Gabaldon has created a work of sheer brilliance. What if you knew someone you loved was going to die? What if you thought you could save them? How much would you risk to try? Claire Randall has gone to find Jamie Fraser, the man she loved more than life, and has left half her heart behind with their daughter, Brianna. Claire gave up Jamie to save Brianna, and now Bree has sent her mother back to the mysterious Scottish warrior who was willing to give his life to save them both. But a chilling discovery in the pages of history suggests that Jamie and Claire's story doesn't have a happy ending. Brianna dares a terrifying leap into the unknown in search of her mother and the father she has never met, risking her own future to try to change history . . . and to save their lives. But as Brianna plunges into an uncharted wilderness, a heartbreaking encounter may strand her forever in the past . . . or root her in the place she should be, where her heart and soul belong. "Remarkable-a mix of history, fantasy, romance, and unabashedly ribald storytelling."-The Arizona Republic
Sklep: Libristo.pl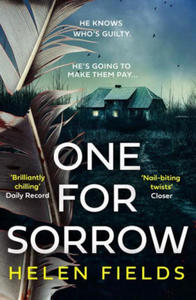 54,60 zł
Książki / Literatura obcojęzyczna
'Omg! Wow! What a great book! Suspense, intrigue, action and a great who-done-it with a crazy twist!! I did not see that coming! What a story!' Reader review 'A breathtaking thriller with a devastating conclusion. I can't stop thinking about it.' - Bestselling author Susi Holliday One for sorrow, two for joyEdinburgh is gripped by the greatest terror it has ever known: a lone bomber is targeting victims across the city, and no one is safe. Three for a girl, four for a boyIn their jobs, DCI Ava Turner and DI Luc Callanach deal with death every day.But when it becomes clear that every bomb is a trap designed to kill them too, the possibility of facing it themselves starts to feel all too real. Five for silver, six for goldWith the body count rising daily and the bomber's methods becoming ever more horrifying, Ava and Luc must race to find out who is behind the attacks - or pay the ultimate price... Seven for a secret never to be told...With twists and turns you'll never see coming, prepare to be gripped by this devastatingly good thriller. Perfect for fans of Stuart MacBride and MJ Arlidge. Readers are OBSESSED with One For Sorrow! 'Oh my goodness, what an absolute cracker.It has everything you want: the plot, the twists, the suspense, the characters, the setting....and that totally amazing ending which dealt me a punch to my abdomen.' 'Please just read this. I could not put it down' 'If only there were more than 5 stars. I could not turn the pages fast enough.' 'Absolutely bloody brilliant! A must-read.' 'I absolutely loved this book.It can be read on its own, but do yourself a favour and read the entire series.' 'Absolutely BRILLIANT! Had me gripped from the very first page and I couldn't put the book down. I am DESPERATE for the next instalment!' 'Wow, this hits you in the feels from page one! If I could give it more than five stars, I would!' 'A masterclass in thriller writing.' 'A wild ride! It sucked me in immediately. My stomach was in knots, and I was up way too late because I could not stop reading.Unputdownable!'
Sklep: Libristo.pl 5,00 zł
Produkty cyfrowe > Oprogramowanie
Hiren's Boot CD - narz
Sklep: AGEMEDIA.pl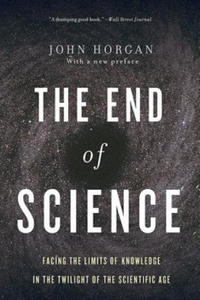 139,85 zł
Książki / Literatura obcojęzyczna
Propelled by a series of interviews with luminaries of modern science such as Stephen Hawking, Thomas Kuhn, Lynn Margulis, Roger Penrose, Francis Crick, Richard Dawkins, Freeman Dyson, Murray Gell-Mann, Stephen Jay Gould, Steven Weinberg, E. O. Wilson, and Karl Popper, science writer John Horgan makes the case that science as we have known it--of startling revelations about heretofore unrecognized aspects of reality--is over. There will be no more discoveries like those of evolution or quantum mechanics; rather, all the big questions that can be answered have been answered, all the knowledge worth pursuing has become known. The point is not that the search for a final "theory of everything" has reached its successful conclusion, but rather that the world cannot give us one. According to Horgan, modern endeavors such as string theory are "ironic" and even "theological" in nature, not scientific, and as a result it is no surprise that no one can think of a means to confirm them. It was a controversial argument in 1996, and it remains one today, still firing up debates in labs and on the internet, not least because--as Horgan details in a lengthy new introduction--ironic science is more prevalent and powerful than ever. Still, while Horgan offers his critique, grounded in the thinking of the world's leading researchers, he offers homage, too. If science is ending, he maintains, it is only because it has done its work so well.
Sklep: Libristo.pl 91,38 zł
Książki / Literatura obcojęzyczna
"Hidden Valley Road contains everything: scientific intrigue, meticulous reporting, startling revelations, and, most of all, a profound sense of humanity. It is that rare book that can be read again and again."-David Grann, author of Killers of the Flower MoonOne of the New York Times' "20 most anticipated books of 2020": the heartrending story of a mid-century American family with twelve children, six of them diagnosed with schizophrenia, that became science's great hope in the quest to understand the disease."An extraordinary case study and tour de force of reporting."-Sylvia Nasar, author of A Beautiful MindDon and Mimi Galvin seemed to be living the American dream. After World War II, Don's work with the Air Force brought them to Colorado, where their twelve children perfectly spanned the baby boom: the oldest born in 1945, the youngest in 1965. In those years, there was an established script for a family like the Galvins - aspiration, hard work, upward mobility, domestic harmony - and they worked hard to play their parts. But behind the scenes was a different story: psychological breakdown, sudden shocking violence, hidden abuse. By the mid-1970s, six of the ten Galvin boys, one after the other, were diagnosed as schizophrenic. How could all this happen to one family?What took place inside the house on Hidden Valley Road was so extraordinary that the Galvins became one of the first families to be studied by the National Institutes of Mental Health. Their story offers a shadow history of the science of schizophrenia, from the era of institutionalization, lobotomy, and the schizophrenogenic mother, to the search for genetic markers for the disease, always amidst profound disagreements about the nature of the illness itself. And unbeknownst to the Galvins, samples of their DNA informed decades of genetic research that continues today, offering paths to treatment, prediction, and even eradication of the disease for future generations.With clarity and compassion, bestselling and award-winning author Robert Kolker uncovers one family's unforgettable legacy of suffering, love and hope."This book tore my heart out. It is a revelation-about the history of mental health treatment, about trauma, foremost about family-and a more-than-worthy follow-up to Robert Kolker's brilliant Lost Girls." -Megan Abbott, Edgar Award-winning author of Dare Me and Give Me Your Hand
Sklep: Libristo.pl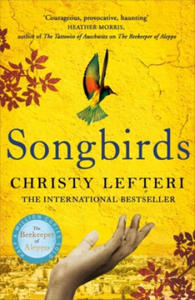 75,86 zł
SONGBIRDS BONNIER ZAFFRE EXPORT
Książki / Literatura obcojęzyczna
'I've never read anything quite like Songbirds - a beautifully crafted novel that sits at the intersection of race and class.' Jodi PicoultShe walks unseen through our world.Cares for our children, cleans our homes.She has a story to tell. Will you listen?Nisha has crossed oceans to give her child a future. By day she cares for Petra's daughter; at night she mothers her own little girl by the light of a phone.Nisha's lover, Yiannis, is a poacher, hunting the tiny songbirds on their way to Africa each winter. His dreams of a new life, and of marrying Nisha, are shattered when she vanishes.No one cares about the disappearance of a domestic worker, except Petra and Yiannis. As they set out to search for her, they realise how little they know about Nisha. What they uncover will change them all.The heartbreaking follow-up to the million copy bestseller, The Beekeeper of Aleppo Praise for Christy Lefteri:'This thought-provoking novel of love loss and redemption is thoroughly sublime.' Caroline Montague'Lefteri is an astonishing weaver of stories.' Daljit Nagra ' . . . broke my heart and kept me turning the pages of her gorgeous novel well into the night.' Alka Joshi, NYT-bestselling author of The Henna Artist and The Secret Keeper of Jaipur'Christy Lefteri has crafted a beautiful novel, intelligent, thoughtful, and relevant.' Benjamin Zephaniah on The Beekeeper of Aleppo' . . . it's impossible not to be moved by Lefteri's plea for humanity and perhaps inspired too.' Observer, on The Beekeeper of Aleppo'Courageous, proactive, haunting.' Heather Morris, on The Beekeeper of Aleppo
Sklep: Libristo.pl 44,80 zł
Powieści i opowiadania
Is Moses Herzog
Sklep: Albertus.pl
Sklepy zlokalizowane w miastach: Warszawa, Kraków, Łódź, Wrocław, Poznań, Gdańsk, Szczecin, Bydgoszcz, Lublin, Katowice
Szukaj w sklepach lub całym serwisie
2. Szukaj na wszystkich stronach serwisu
t1=0.09, t2=0, t3=0, t4=0.012, t=0.09