krainaksiazek global governance and democracy a multidisciplinary analysis 20126515
- znaleziono 11 produktów w 1 sklepie 215,03 zł
Książki / Literatura obcojęzyczna
This book provides an in-depth analysis of the way that Civil Society Organisations (CSOs) define their roles within multilateral institutions, both at the global level and, more specifically, within the European Union framework. The author argues that the use of conceptual categories such as global civil society and global governance is necessary to explain what is currently happening in the international political system in this era of globalisation. The argument is built on the premise that CSOs are significant actors for democratic change in the architecture of world politics, standing out for their capacity to aggregate a varied range of political demands, particularly in waging high-level political/legal campaigns within more closely structured networks and in autonomous forums during major United Nations conferences. On a worldwide level, CSOs are gaining recognition for their political impact, above and beyond formal consultative status. This book shows that the European Union, as a laboratory of innovative multi-level governance, offers many opportunities for CSOs participation, recognising them as an important part of the democratic process.
Sklep: Libristo.pl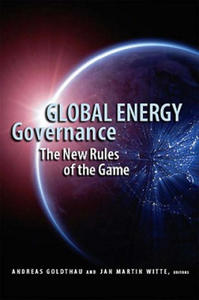 192,85 zł
Książki / Literatura obcojęzyczna
The global market for oil and gas resources is rapidly changing. Three major trends - the rise of new consumers, the increasing influence of state players, and concerns about climate change - are combining to challenge existing regulatory structures, many of which have been in place for a half-century. "Global Energy Governance" analyzes the energy market from an institutionalist perspective and offers practical policy recommendations to deal with these new challenges. Much of the existing discourse on energy governance deals with hard security issues but neglects the challenges to global governance. "Global Energy Governance" fills this gap with perspectives on how regulatory institutions can ensure reliable sources of energy, evaluate financial risk, and provide emergency response mechanisms to deal with interruptions in supply. The authors bring together decisionmakers from industry, government, and civil society in order to address two central questions: What are the current practices of existing institutions governing global oil and gas on financial markets? How do these institutions need to adapt in order to meet the challenges of the twenty-first century? The resulting governance-oriented analysis of the three interlocking trends also provides the basis for policy recommendations to improve global regulation. Contributors include: Thorsten Benner, Global Public Policy Institute, Berlin; William Blyth, Chatham House, Royal Institute for International Affairs, London; Albert Bressand, School of International and Public Affairs, Columbia University; Dick de Jong, Clingendael International Energy Programme; Ralf Dickel, Energy Charter Secretariat; Andreas Goldthau, Central European University, Budapest, and Global Public Policy Institute, Berlin; Enno Harks, Global Public Policy Institute, Berlin; Wade Hoxtell, Global Public Policy Institute, Berlin; Hillard Huntington, Energy Modeling Forum, Stanford University; Christine Jojarth, Center on Democracy, Development, and the Rule of Law, Stanford University; Frederic Kalinke, Department of Politics and International Relations, Oxford University; Wilfrid L. Kohl, School of Advanced International Studies, Johns Hopkins University; Jamie Manzer, Global Public Policy Institute, Berlin. Contributors include: Amy Myers Jaffe, James A. Baker Institute for Public Policy, Rice University; Yulia Selivanova, Energy Charter Secretariat; Tom Smeenk, Clingendael International Energy Programme; Ricardo Soares de Oliveira, Department of Politics and International Relations, Oxford University; Ronald Soligo, Rice University; Joseph A. Stanislaw, Deloitte LLP and The JAStanislaw Group, LLC; Coby van der Linde, Clingendael International Energy Programme; Jan Martin Witte, Global Public Policy Institute, Berlin; Simonetta Zarrilli, Division on International Trade and Commodities, United Nations Conference on Trade and Development.
Sklep: Libristo.pl 120,51 zł
Książki / Literatura obcojęzyczna
How is the world organized politically? How should it be organized? What forms of political organization are required to deal with such global challenges as climate change, terrorism, or nuclear proliferation? Drawing on work in international law, international relations, and global governance, this book provides a clear and wide-ranging introduction to the analysis of global political order -- how patterns of governance and institutionalization in world politics have already changed; what the most important challenges are; and what the way forward might look like. The first section develops three analytical frameworks: a world of sovereign states capable of only limited cooperation; a world of ever-denser international institutions embodying the idea of an international community; and a world in which global governance moves beyond the state and into the realms of markets, civil society and networks. Part II examines five of the most important issues facing contemporary international society: nationalism and the politics of identity; human rights and democracy; war, violence and collective security; the ecological challenge; and the management of economic globalization in a highly unequal world. Part III considers the idea of an emerging multi-regional system; and the picture of global order built around US empire. The conclusion looks at the normative implications. If international society has indeed been changing in the ways discussed in this book, what ought we to do? And, still more crucially, who is the 'we' that is to be at the centre of this drive to create a morally better world? This book is concerned with the fate of international society in an era of globalization and the ability of the inherited society of sovereign states to provide a practically viable and normatively acceptable framework for global political order. It lays particular emphasis on the different forms of global inequality and the problems of legitimacy that these create and on the challenges posed by cultural diversity and value conflict.
Sklep: Libristo.pl 167,69 zł
Książki / Literatura obcojęzyczna
The UN is able to recognize key global challenges, but beset by difficulties in trying to resolve them. In this, it represents the current global political balance, but is also the only international institution that could move it forward. Civil society can be a catalyst for this kind of change. In this book, Nora McKeon provides a comprehensive analysis of UN engagement with civil society. The book pays particular attention to food and agriculture, which now lie at the heart of global governance issues. McKeon shows that politically meaningful space for civil society can be introduced into UN policy dialog. "The United Nations and Civil Society" also makes the case that it is only by engaging with organizations which legitimately speak for the 'poor' targeted by the Millennium Development Goals that the UN can promote equitable, sustainable development and build global democracy from the ground up. This book has strong ramifications for global governance, civil society and the contemporary debate over the future of food.
Sklep: Libristo.pl 220,16 zł
Książki / Literatura obcojęzyczna
This revised edition of Industrial Relations: Theory and Practice follows the approach established successfully in preceding volumes edited by Paul Edwards. The focus is on Britain after a decade of public policy which has once again altered the terrain on which employment relations develop. Government has attempted to balance flexibility with fairness, preserving light-touch regulation whilst introducing rights to minimum wages and to employee representation in the workplace. Yet this is an open economy, conditioned significantly by developing patterns of international trade and by European Union policy initiatives. This interaction of domestic and cross-national influences in analysis of changes in employment relations runs throughout the volume. The structure has been amended slightly. Britain is placed straight away in comparative perspective before attention focuses explicitly on employment relations actors, contexts, processes, and outcomes. Each of the chapters is written by authorities in the field and provides up to date analysis and commentary. A spine of chapters from the preceding volume have been revised and extensively updated and new chapters have been added to refine coverage of issues such as the private sector and developing legal institutions. Overall, a picture emerges of an economy that is in incremental and contested transition. The imperatives of 'globalization' now infuse governance mechanisms that were once responsive principally to domestic agenda and employment standards are set now by the state that once were established through collective bargaining. It is this fragile and emerging model that will be tested significantly through sustained political and economic change. "Completely revised, the latest edition of Industrial Relations provides an invaluable guide to the actors, contexts, processes and significant outcomes within British employment relations. Based on a thorough review of the latest research, it is essential reading for students, academics and those professionally involved in employment relations and human resource management." - Edmund Heery , Cardiff Business School "This is a terrific collection of insightful analyses of British workplace relations in a global context provided by leading scholars. The chapters creatively utilize a multidisciplinary and critical approach that reveals the continuing and unique value of an industrial relations perspective. The volume cleverly assesses how factors including increased demographic diversity, organizational restructuring, globalization, and the reduced coverage of collective bargaining are affecting the nature and evolution of work and workplace relations. It is a must read. - Harry C. Katz , Cornell University, New York "This volume definitely constitutes the most comprehensive and best collection of empirical as well as analytical essays on industrial relations in Great Britain. This substantially revised, enlarged and updated version of its well known predecessors puts the specific national experience in comparative context and international perspective. A truly interdisciplinary volume by leading authorities, this has to be highly recommended for domestic as well as foreign scholars, practitioners and policy makers." - Bernt Keller , University of Konstanz, Germany "With working people facing the worst crisis in generations, this book is a much needed reminder of the crucial importance of employment relations research in Britain. The 3rd edition of Industrial Relations , which coincides with the 40th anniversary of the IRRU at Warwick University, provides a completely updated, cutting-edge analysis by leading scholars on work and employment developments in contemporary Britain. It delivers a most informative view of modern employment, its problems and possibilities. A must for students and practitioners in employment relations, human resource management and industrial sociology." - Professor Carola Frege , London School of Economics and Editor of BJIR
Sklep: Libristo.pl 733,98 zł
Książki / Literatura obcojęzyczna
The four volumes of research surveys and explorations in political science conducted by the Indian Council of Social Science Research (ICSSR) not only provide a summary evaluation of the state of the research and valuable bibliographic guide but also highlight research trends and possible lines of future enquiry. Volume 1, while referring to studies before and after the period 2003-9, focuses more specifically on the literature of this period by analysing four key themes-the social character of the Indian state, political economy, social policy, and law and rights. Volume 2 examines key issues confronting Indian democracy and provides an analytical overview of the changing perceptions of it over the past two decades. It explores literature on the Constitution of India and its institutions, the party system, elections, civil society initiatives, and federalism in India. Volume 3 critically reviews research done on ancient, medieval, and modern Indian political thought. It uses a multidisciplinary approach to explore research on themes such as politics of time and knowledge, ethics and politics, nationalism, and cosmopolitanism. Volume 4 focuses on the transformations occurring in the research, practice, and theories of international relations in India. Acknowledging the broadening scope of the discipline, it looks at traditional as well as new issues such as global governance, international law and norms, development and civil society. It also examines a wide range of theoretical approaches such as realism, critical theory, neo-Marxism, postcolonialism, development theory, and liberalism.
Sklep: Libristo.pl 305,25 zł
Książki / Literatura obcojęzyczna
This book presents a new and stimulating analysis of restructuring by developing a European perspective. Developing the capacity to anticipate change is a complex dynamic, involving the global strategies of firms, and the capacity of the actors at enterprise and territorial levels. The book provides a clear analysis of the capacity of the actors, through different models of industrial relations and corporate governance, to intervene in the process of restructuring. It identifies the conditions of anticipation and the need to better articulate European policies. The research also shows the need to adopt a multilevel and multiplayer approach in order to adapt to the new strategies of the firms. The multidisciplinary approach of the research underlines different perspectives: the political challenges of the European Union, the legal and social implications related to the employees' representatives, trade unions and European works councils, and the sociological dimension in the process of restructuring and of anticipation. The aim is to develop a multilevel and multiactor analysis and to propose guidelines for actions at European level.
Sklep: Libristo.pl 498,10 zł
Książki / Literatura obcojęzyczna
The Handbook on Swedish Politics provides a state of the art analysis of political development in Sweden. Covering all essential aspects of politics in Sweden, this volume provides detailed accounts of policy making, governance, institutional arrangements, foreign relations, electoral behavior, the party system, the public administration, the constitutional framework, and the welfare state. The Handbook shows how many of the features that once were exceptional to Sweden, for example, the welfare state, the consensual policy making, the historical compromise between capital and labor, and the dominance of social democracy, are less prominent today compared to a few decades ago although they are still certainly present. Global forces, increasing affluence, and an ideological shift towards neo-liberalism have contributed to making Sweden more of an average European industrialized democracy. The Handbook is divided into ten thematic Sections with four chapters and an Introduction in each Section. Thus, each theme is studied from different perspectives in order to provide the reader with a more multi-faceted picture of the political development in each theme.
Sklep: Libristo.pl 159,74 zł
Książki / Literatura obcojęzyczna
Liberal internationalism has been the West's foreign policy agenda since the Cold War, and the West has long occupied the top rung of a hierarchical system. In this book, Hilton Root argues that international relations, like other complex ecosystems, exists in a constantly shifting landscape, in which hierarchical structures are giving way to systems of networked interdependence, changing every facet of global interaction. Accordingly, policymakers will need a new way to understand the process of change. Root suggests that the science of complex systems offers an analytical framework to explain the unforeseen development failures, governance trends, and alliance shifts in today's global political economy. Root examines both the networked systems that make up modern states and the larger, interdependent landscapes they share. Using systems analysis -- in which institutional change and economic development are understood as self-organizing complexities -- he offers an alternative view of institutional resilience and persistence. From this perspective, Root considers the divergence of East and West; the emergence of the European state, its contrast with the rise of China, and the network properties of their respective innovation systems; the trajectory of democracy in developing regions; and the systemic impact of China on the liberal world order. Complexity science, Root argues, will not explain historical change processes with algorithmic precision, but it may offer explanations that match the messy richness of those processes.
Sklep: Libristo.pl 576,73 zł
Książki / Literatura obcojęzyczna
The second volume of the "Handbook of Defense Economics" addresses defense needs, practices, threats, and policies in the modern era of globalization. This new era concerns the enhanced cross-border flows of all kinds (e.g., capital and labor flows, revolutionary rhetoric, guerrillas, and terrorists) including the spillovers of benefits and costs associated with public goods and transnational externalities (i.e., uncompensated interdependencies affecting two or more nations). These ever-increasing flows mean that military armaments and armies are less able to keep out security threats.Thus, novel defense and security barriers are needed to protect borders that are porous to terrorists, pollutants, political upheavals, and conflicts. Even increased trade and financial flows imply novel security challenges and defenses. Globalization also underscores the importance of a new set of institutions (e.g., the European Union and global governance networks) and agents (e.g., nongovernmental organizations and partnerships).This volume addresses the security challenges in this age of globalization, where conflicts involve novel tactics, new technologies, asymmetric warfare, different venues, and frightening weapons. Volume 2 contains topics not covered in volume 1 i.e., civil wars, peacekeeping, economic sanctions, the econometrics of arms races, conversion, peace economics, and the interface of trade, peace, and democracy.Volume 2 also revisits topics from volume 1, where there has been a significant advancement of knowledge i.e., conflict analysis, terrorism, arms races, arms trade, military manpower, and arms industries. All of the main securities concerns of today are analyzed. Chapters are written by the leading contributors in the topic areas. It provides up-to-date surveys on the pressing defense issues: theoretical, empirical and policy issues. It includes coverage of theoretical and empirical studies of terrorism. It contains contributions by the leading researchers in the field of defense economics.
Sklep: Libristo.pl 98,33 zł
Oil Curse University Press Group Ltd
Książki / Literatura obcojęzyczna
Countries that are rich in petroleum have less democracy, less economic stability, and more frequent civil wars than countries without oil. What explains this oil curse? And can it be fixed? In this groundbreaking analysis, Michael L. Ross looks at how developing nations are shaped by their mineral wealth - and how they can turn oil from a curse into a blessing. Ross traces the oil curse to the upheaval of the 1970s, when oil prices soared and governments across the developing world seized control of their countries' oil industries. Before nationalization, the oil-rich countries looked much like the rest of the world; today, they are 50 percent more likely to be ruled by autocrats - and twice as likely to descend into civil war - than countries without oil. The Oil Curse shows why oil wealth typically creates less economic growth than it should; why it produces jobs for men but not women; and why it creates more problems in poor states than in rich ones. It also warns that the global thirst for petroleum is causing companies to drill in increasingly poor nations, which could further spread the oil curse. This landmark book explains why good geology often leads to bad governance, and how this can be changed.
Sklep: Libristo.pl
Sklepy zlokalizowane w miastach: Warszawa, Kraków, Łódź, Wrocław, Poznań, Gdańsk, Szczecin, Bydgoszcz, Lublin, Katowice
Szukaj w sklepach lub całym serwisie
2. Szukaj na wszystkich stronach serwisu
t1=0.05, t2=0, t3=0, t4=0, t=0.05