krainaksiazek gluten free baking with from the ground up 20167804
- znaleziono 14 produktów w 1 sklepie 74,66 zł
Książki / Literatura obcojęzyczna
Melt-in-the-mouth Red Velvet Cake; delicate Fondant Fancies; delicious Crab and Dill Tart...For many coeliacs or people allergic or intolerant to gluten and/or dairy, making any of these seems far too difficult. But best-selling author and leading expert in the thriving free-from community, Grace Cheetham shows how easy it is to work with gluten-free flours and grains, and dairy-free products, to transform their culinary lives. Intolerant to both gluten and dairy, Grace has spent years developing delicious recipes from alternative ingredients to inspire those who follow her popular blog. And now with every large supermarket stocking a wide range of these gluten-free and dairy-free ingredients, it's never been easier to bake up a feast! From breads and biscuits to cakes and desserts, and even baked main meals, Grace's new book offers so much variety you'll never feel like you're missing out again. Soft bread with sun-dried tomatoes and fragrant thyme leaves, Carrot and Cardamom Cake with a fluffy lime frosting, or Turkish Lamb Pizzas made with Flatbread - these are just a few of the dishes you can create. What's more, all the irresistible recipes in The Best Gluten-Free and Dairy-Free Baking Recipes take the stress out of baking free-from food - whether you are an experienced cook or just starting out in the kitchen. With stunning photography and design, this book is the ultimate guide to gluten-free and dairy-free baking.
Sklep: Libristo.pl 84,42 zł
Książki / Literatura obcojęzyczna
These outstanding recipes run the gamut of exactly the type of baked goods those managing gluten intolerance crave - with a small twist. Based on extensive feedback, we've learned that gluten-free home bakers prefer small batches and yields from their efforts. The reasons vary from space constraints (since people managing gluten intolerance typically require more products, which take up valuable cupboard, refrigerator and freezer space) to the sheer cost of the ingredients. The high cost of these ingredients often means that the baked goods tend to be enjoyed only by those actually suffering from the intolerance as opposed to other family members, friends and the like. And we've heard time and time again how much people crave variety and the ability to bake something that is quick, is easy to clean up and doesn't require hours of baking in the kitchen. You'd never know that dazzling baked goods like these were glutenfree: Muffins, loaves and mixes, including banana oatmeal muffins, date cashew loaf; Cookies and bars, such as crunch mocha cookies, almond macaroons, citrus squares; Cupcakes, including sour cream fudge cupcakes, mini carrot cakes, amaretto cheesecake; Crisps, crumbles, puddings and cobblers, such as baked pear pudding for two, strawberry rhubarb crisp, creme caramel, peach cobbler; No-knead yeast breads, including lemon millet bread, pumpernickel; Tarts and pastry, including basic pastry, lemon meringue tarts, pumpkin tarts; Holiday baking, including sticky date pudding, Scottish shortbread, classic crepes. The authors also include handy and specially created glossaries for those managing gluten intolerance, including information on equipment, ingredients and techniques.
Sklep: Libristo.pl 79,62 zł
Książki / Literatura obcojęzyczna
From sandwich bread to cookies--you can have it all! Giving up gluten doesn't mean you have to give up homemade breads, muffins, cakes, and other delectable treats. You can make your own! Thousands of gluten-free baking products have hit supermarket shelves recently, but the choices can be overwhelming--and expensive. Unlike other cookbooks that recommend using highly processed mixes or a laundry list of flours, The Everything Gluten-Free Baking Cookbook introduces you to five basic gluten-free flours and the best uses for them. In fact, many of the recipes use only two flours at a time, making them simpler and less expensive. Inside, you'll find recipes for delicious gluten-free dishes like: Vanilla scones Brown sugar pecan coffee cake Gingerbread pancakes Bacon swiss quiche Homemade baked chicken nuggets Easy vegetarian lasagna with spinach Crusty french bread Cheddar garlic biscuits Chunky double chocolate brownies Walnut butterscotch cookies Amish apple crumble pie Whether you're new to the gluten-free lifestyle or looking to expand your gluten-free recipe box, this versatile, reliable resource provides straightforward, delicious dishes that will become family favorites for years to come.
Sklep: Libristo.pl 67,70 zł
Książki / Literatura obcojęzyczna
When Smilla was five years old, she was diagnosed with celiac disease, but this did not stop her from pursing her love for baking. In this book, she proves that being gluten intolerant doesn't mean you have to give up your love for pasta and carbs. Smilla shares some of her favorite recipes, tips and tricks to living gluten free without sacrificing baked goods. Readers will learn how to adapt muffins, brownies, macaroons, pasta and pizza, to their dietary needs. While gluten-free baking is nothing new, Smilla's love and enthusiasm for baking and her personal experience with gluten intolerance makes this book stand out among others of the same subject matter. Readers are sure to fall in love with Smilla and her various fun and delicious recipes.
Sklep: Libristo.pl 84,42 zł
Książki / Literatura obcojęzyczna
Enjoy all the sensational food that is typically avoided in gluten-free diets. Let's face it: two of the worst things about adopting a gluten-free lifestyle is having to give up all your favourite foods and spending loads of extra time in the kitchen. But gluten-free foods don't have to be plain or unappetizing and you don't need to spend hours in the kitchen. All you need is a well-stocked gluten-free pantry and the sensational recipes found in Easy Everyday Gluten-Free Cooking. These recipes offer numerous ideas for healthy, tasty meals. No more cooking separate meals for a friend or family member who has coeliac disease or a wheat allergy - everyone will enjoy this fabulous food. Tasty and innovative meal ideas cover everything from baked goods, pasta dishes, appetizers and family meals to mouth-watering desserts. This book also shows how to take advantage of the ever-widening variety of gluten-free flours that are now available at your local grocer. Outstanding gluten-free recipes are beautifully organized for ease of use and preparation whatever the time of day or occasion: Breakfast and Brunch; Appetizers; Soups, Salads and Dressings; The Main Event; Quick Breads; Bread Machine Recipes; Heavy-Duty Mixer Recipes; Holiday Fare; Delicious Desserts; Sweet Treats. Also included is useful information on maintaining a gluten-free lifestyle - whether you're just beginning or simply need to check in for a quick reference. Sections such as The Gluten-Free Pantry, Handling Gluten-Free Flours and Starches, Gluten Cross-Contamination in the Kitchen, Healthy Choices for Eating Out - Or In! Travelling Gluten-Free Safely and Nutritious School Lunches are invaluable. Adopting a gluten-free style of cooking and baking needn't be a chore - it can fun and surprisingly easy if you have the right recipes and tools. You'll find all this and more in this wonderful cookbook.
Sklep: Libristo.pl 54,13 zł
Paleo Cookies Rockridge University Press
Książki / Literatura obcojęzyczna
Who knew that eating like a caveman could be so delicious? Achieving the best health of your life doesn't mean giving up your favorite dessert. The Paleo diet just got a little bit easier with the help of Paleo Cookies: Gluten-Free Paleo Cookie Recipes for a Paleo Diet. Enjoy 38 delicious Paleo-friendly versions of your favorite cookies. Includes recipes for Paleo Chocolate Chip Cookies, Paleo Gingergread Cookies, Paleo "Sugar" Cookies, Paleo Meringue Cookies and Paleo Coconut Cookies. Provides an extensive list of alternative ingredients and resources for healthy baking Paleo. John Chatham, best-selling author of The Paleo Diet Solution, The Paleo Cookbook, and Paleo Bread provides helpful tips for successfully living and baking Paleo. Offering ingredient alternatives for baking Paleo, from almond flour to coconut oil, Paleo Cookies: Gluten-Free Paleo Cookie Recipes for a Paleo Diet is a concise guide to embracing the Paleo lifestyle and gluten-free cookies. Lose weight; decrease your odds of diabetes, hypertension, heart disease, cancer, and osteoporosis; and enjoy a delicious diet. Paleo Cookies offers readers a tasty and healthful path to living a gluten-free, wheat-free Paleo diet.
Sklep: Libristo.pl 123,16 zł
Książki / Literatura obcojęzyczna
Winner of the Andre Simon Food Book Award 2011 The ultimate baking compendium from Dan Lepard, the country's foremost baking guru. Dan Lepard's innovative and earthy approach has made him the baker that every top chef wants in their kitchen, and with this utterly dependable how-to-bake book you'll be baking cakes, pastries, breads and cookies like never before. Collecting together Dan's best recipes - and mixing science with old-fashioned kitchen wisdom - Dan has tried and tested almost every baking technique out there. Guiding you through the crispest flatbreads, blue cheese and oatmeal biscuits, gluten-free white loaves, savoury leek and smoked haddock pies, caramel sweets, frostings, simple scones and pumpkin and ginger cupcakes, Short and Sweet uses the newest flours and ingredients and has everything from updates on the classics to the latest in baking for intolerances. If baking is therapy then Dan is your life coach. He'll show you how to improve, what to work on, how to take what is just ok right up to brilliant, without a sweat. No wonder he is the country's cutting-edge baker.
Sklep: Libristo.pl 108,26 zł
Książki / Literatura obcojęzyczna
Treats so tasty you won't believe they're gluten-free (and vegan!).Gluten-free, vegan baking doesn't have a great reputation. It's best known for sorry substitutes-muffins that might make a better doorstop than breakfast treat, or cupcakes with runny, dripping icing. Ashley Wittig had been a life-long baker before she went vegan in 2008, and she was determined that a lack of eggs and butter wasn't going to keep her from her favorite treats. So she stationed herself in her kitchen with a mission: to recreate the cookies, muffins and cupcakes she loved without any animal products or gluten. She experimented and tested until each recipe was perfect-the cookies were chewy, the muffins perfectly moist and dense and the cupcakes light as air. Together with her partner, Kevin MacAllister, she started selling her treats at farmer's markets on the weekend, but the reaction was so positive that they quickly decided to open a full-time bakery: Bunner's Bake Shop was born.Three years later, having been voted Toronto's Best Bakery, Bunner's is ready to share their delicious recipes with the whole country. Now anyone, anywhere can make their signature Cinnamon Buns, frost up a delicious French Toast Cupcake, slice into a Pumpkin Cheesecake or serve up an I-Can't-Believe-It's-Gluten-Free Pizza Crust. With Bunner's Bake Shop you don't have to apologize for GF and vegan baking-you can show it off as you enjoy and share delectable treats perfect for every occasion.
Sklep: Libristo.pl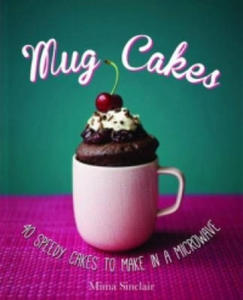 44,36 zł
Książki / Literatura obcojęzyczna
A delicious cake you make in a mug, in a microwave, in less than 10 minutes? Yes, it may sound crazy but it actually works and this latest baking craze is quickly catching on, spreading across blogs and Instagram and Pinterest with photographic proof of baking brilliance. Fancy giving it a try? Here is the definitive mug-cake cookbook that will guarantee you success every time with 40 fantastic, foolproof recipes. Covering everything from everyday classics (carrot, chocolate, vanilla), through more special occasion fare (birthday bonanza, red velvet valentine, black forest gateau) to treats and puds (choc fudge, knickerbocker glory), happy hour (pina colada, Irish cream) and of course not forgetting low-fat, dairy-free, gluten-free, sugar-free cakes to stop you from getting completely carried away...So when you want after-school snacks, easy desserts, unique party nibbles or to treat yourself with a quick cup of tea, make up a mug cake.
Sklep: Libristo.pl 99,49 zł
Książki / Literatura obcojęzyczna
On the cutting edge of kitchen science, Kamozawa and Talbot regularly consult for restaurants to help them solve cooking conundrums. And yet they often find it's the simplest tips that can be the most surprising-and the ones that can help home cooks take their cooking to a new level. Whether you're interested in molecular gastronomy or just want a perfect chicken recipe for dinner tonight,reliable techniques and dishes - no hard-to-find ingredients or break-the-bank equipment required - for real home cooks. Sharing expert advice on everything from making gluten-free baking mixes and homemade cheeses and buttermilk to understanding the finer points of fermentation or sous-vide cooking, Kamozawa and Talbot chronicle their quest to bring out the best in every ingredient. With a focus on recipes and techniques that can help anyone make better meals every day and 75 colour photographs that show both step-bystep processes and finished dishes, Maximum Flavour will encourage you to experiment, taste, play and discover again why cooking and eating are so fascinating and fun. Maximum Flavour will take you back to the basics of cooking and show you how it's done right. It'll show you in step-by-step instructions the best techniques to bring out the flavours of foods, everything from how to create the best fry, to how to cook a danish in the microwave; pick up this book and you will never cook the same way again. With this book, you'll learn: Why steaming potatoes in the pressure cooker before frying them makes for the crispiest French fries Why, contrary to popular belief, you should flip your burgers often as you cook them for the best results How a simple coating of egg white, baking soda, and salt helps create chicken wings that are moist and juicy on the inside with a thin, crackling exterior How to cook steak consistently and perfectly every time How to make easy egg-free ice creams that are more flavourful than their traditional custard-base cousins How to make no-knead Danish that are even better than the ones at your local bakery How to smoke vegetables to make flavourful vegetarian dishes Why p te O choux - or cream puff dough - makes foolproof, light-as-air gnocchi How pressure cooking sunflower seeds can transform them into a creamy risotto How to elevate everyday favourites and give them a fresh new spin with small changes - such as adding nori to a classic tomato salad
Sklep: Libristo.pl 147,82 zł
Książki / Literatura obcojęzyczna
Nigella Collection: a vibrant new look for Nigella's classic cookery books; previously published as Kitchen. 'A little pottering in the kitchen gives me that feeling I find so crucial, of being in a fixed, familiar place in a whirling world. So here it is, from my kitchen to yours: cosy, cocooning food.' The classic family recipe book by Nigella Lawson. Kitchen is packed with feel-good food for cooks and eaters that solves all your everyday cooking quandaries, from what to cook for Sunday lunch or how to give children food they'll eat, to how to rustle up an impromptu dinner party menu or a gluten-free cake. As well as her mouthwatering recipes, Nigella rounds up her kitchen must-haves: essential kitchen equipment and standby ingredients. With luscious photography, easy family recipes, indulgent food writing and a beautiful hardback design, this is a book you will treasure for many years as well as a delicious gift for friends and family. Part 1: Kitchen Quandaries What's for tea? - everyday eating made simple for all ages; Hurry up, I'm hungry! - quick meals and easy suppers for those frantic days; Easy does it - dinner party ideas that won't try your temper; Cook it better - waste-saving recipes; My sweet solution - problem-solving pudding recipes; Off the cuff - quick dinner ideas for feasts from the fridge-freezer and store cupboard. Part 2: Kitchen Comforts Chicken and its place in my kitchen - chicken recipes to soothe the soul; A dream of hearth and home - comforting weekend baking, from muffins and cupcakes to brownies, scones and cakes; At my table - steak, casserole, lasagne and much more: easy suppers to share with friends; The solace of stirring - finding comfort in risotto; The bone collection -ham hocks, spare ribs, braised beef and other meaty treats for the die-hard carnivore; Kitchen pickings - easy cocktails and party food; and The cook's cure for Sunday-night-itis - cosy and substantial supper ideas that require little effort from the cook.
Sklep: Libristo.pl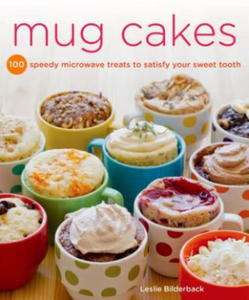 84,59 zł
Mug Cakes Saint Martin`s Press Inc.
Książki / Literatura obcojęzyczna
Mug Cakes contains one hundred cake recipes that you can make in a matter of minutes! Instead of reaching for store-bought mix that can take up to an hour to bake, all you need to make instant cake is a tiny bit of batter, a mug, a fork, and a microwave, then zap, you're done! These quick and tasty treats are the perfect personal serving size for someone who doesn't want to invest their time into baking an entire cake. There are one hundred mouth watering mug cake recipes to please every taste, with a range of flavours from basic Yellow Cake to fancy Chocolate Caramel Fleur de Sel mug cakes, to recipes children will love like S'mores and Root Beer Float, to liquor-infused cakes like Orange Grand Marnier. There are even recipes for cake lovers with special dietary needs, including gluten-free, sugar free, dairy free, and vegan. Additionally, there are recipes for non-cake recipes that you can make in a mug for puddings, pies, and cheesecakes! So if you've got five minutes to spare, grab a mug, mix up a mug cake, and satisfy your sweet tooth instantly!
Sklep: Libristo.pl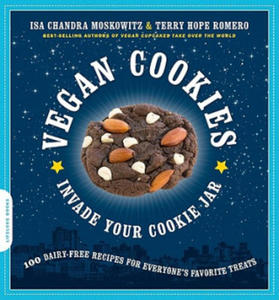 68,86 zł
Książki / Literatura obcojęzyczna
Don't run. Don't hide. Vegan cookies are going to invade your cookie jar, one delicious bite at a time. Join award-winning bakers Isa Chandra Moskowitz and Terry Hope Romero (authors of the hit cookbook Vegan Cupcakes Take Over the World) as they continue their world-domination mission-with dairy- and egg-free batches of everyone's favorite treats. Vegan Cookies Invade Your Cookie Jar includes more than 100 irresistible recipes for cookies, bars, biscotti, brownies, and more. Discover festive desserts that are sure to impress family and friends at any occasion, from birthdays to bake sales. Or simply tempt yourself with: * Magical Coconut Cookie Bars * Chocolate Chip Cream Cheese Brownies * Peanut Butter Crisscrosses * NYC Black & Whites * Key Lime Shortbread Rounds * Call Me Blondies * Macadamia Lace Cookies Throughout the book, Isa and Terry share their best mixing, baking, and decorating techniques and tackle age-old cookie conundrums. Learn the secrets of vegan-izing name-brand favorites (Nutter Betters, anyone?), whipping up gluten-free batches, and even making cookies you can eat for breakfast. When vegan cookies invade your cookie jar, it's yummy to give in!
Sklep: Libristo.pl 110,74 zł
Książki / Literatura obcojęzyczna
Nicole Axworthy and Lisa Pitman, seasoned cooks and long-time vegans, know it's difficult to understand what you're getting from a store-bought item unless you become an expert in analyzing labels. When you're in the supermarket, it's almost impossible to avoid buying a prepared item that doesn't contain animal-based by-products. In their new book, "DIY Vegan: More Than 100 Easy Recipes to Create an Awesome Plant-Based Pantry, " Lisa and Nicole show readers how easy it is to make their own vegan pantry staples at home. Using easy-to-find, whole food ingredients that amp up flavors and nutrition, they've created over one hundred recipes that will stock pantry shelves, refrigerators and freezers: vegan milks, ice creams and butters made from a variety of nuts and seeds, home-ground flours, yummy sauces and spreads, snack foods (including a recipe for incredibly delicious vegan Pop Tarts) and an array of artisanal make-them-yourself cheeses. There's even a recipe for that beloved orange cheese sauce that coats everyone's favorite boxed mac and cheese! All of the recipes are vegan and have gluten-free options and some are from their list of raw food favorites. Whether you are vegan, vegetarian or someone just wanting to kick the packaged-food habit, "DIY Vegan "by Nicole Axworthy and Lisa Pitman will show you how to create an awesome, more compassionate kitchen powered by a pantry filled with healthy, homemade, plant-based staples.
Sklep: Libristo.pl
Sklepy zlokalizowane w miastach: Warszawa, Kraków, Łódź, Wrocław, Poznań, Gdańsk, Szczecin, Bydgoszcz, Lublin, Katowice
Szukaj w sklepach lub całym serwisie
2. Szukaj na wszystkich stronach serwisu
t1=0.057, t2=0, t3=0, t4=0, t=0.058