krainaksiazek grown up stuff 20127925
- znaleziono 7 produktów w 1 sklepie 266,42 zł
Know Your Enemy Addison-Wesley Educational Publishers Inc
Książki / Literatura obcojęzyczna
"The Honeynet guys have always been fighting the good fight: messing with the hackers' heads, learning what they're doing, collecting their tools and tricks, and sharing the knowledge with the rest of the good guys. It's one thing to sit around and try to guess what the hackers are up to, but the Honeynet Project just rolled up their sleeves and went on the offensive in their own unique way. Never before has being a victim been so cool! This book is a great resource for the serious information security professional and the beginning practitioner alike." --Marcus J. Ranum, Senior Scientist, TrueSecure Corp. "The Honeynet Project is one of the best sources, if not the best source, for information about current techniques and trends in the blackhat community. They are also how-to experts in setting up and gathering information--safely--about these attackers. The Honeynet Project's ability and willingness to share cutting-edge information is an immeasurable benefit to the security community." --Jennifer Kolde, security consultant, author, and instructor "Know Your Enemy contains an incredible wealth of information, including legal and sociological topics, that set it apart from other security books. The scope of this book is broad, and while no one book can teach people everything they need to know on such a topic, this one covers the subject better than any other source I know. Know Your Enemy will help security professionals with specific technical information, and it will help more general readers better understand a topic they need to learn about." --William Robinson, former security training program manager at Sun Microsystems, curriculum coordinator for Fire Protection Publications. "This book will be an extremely useful tool in helping a network security administrator or professional assemble the technical tools needed to build, maintain, analyze, and learn from a honeynet within their organization. Each technical chapter goes into great detail on commands, log formats, configuration files, network design, etc. As a professional working with many of these technologies on a daily basis, it is exciting to see all of this information in one place. The knowledge and experience of the authors in working with and developing honeynets has grown noticeably since the first book was published. This is a very positive revision." --Sean Brown, IT Director, Applied Geographics, Inc. "With the drastic increase in the number of attacks, it is important to have more people within the security industry studying attacks and attackers' motives and sharing their results with the community. This book begins by teaching users whether they should install a honeypot, and then gives details and information about honeypots and how they can deploy them." --Kirby Kuehl, Cisco Systems "Know Your Enemy reveals truths about the blackhat community and shows readers how to fight off attacks. The authors contribute their own experiences and offer the curious reader a rainbow of ideas." --Laurent Oudot, security engineer, CEA "The Honeynet Project has been blazing a trail and providing a hard dose of reality that computer security needs. Get behind the fantasy and learn what the hackers are really doing. This is great cutting-edge stuff!" --Marcus J. Ranum, senior scientist, TruSecure Corp. For centuries, military organizations have relied on scouts to gather intelligence about the enemy. In the field of information security, few scouts have ever existed. Very few organizations today know who their enemies are, how they might attack, when they might attack, and, perhaps most important, why they attack. If the blackhat community is the enemy, then the Honeynet Project is a most valuable ally. In this completely revised and greatly expanded follow-up to their groundbreaking book, Know Your Enemy, members of the Honeynet Project, the Alliance, and the community (including Lance Spitzner, Brian Carrier, Anton Chuvakin, Eric Cole, Yannis Corovesis, Max Kilger, and Rob Lee) provide an unrivaled "intelligence report" on those who use the Internet for destructive purposes. They also provide an in-depth guide to honeynets--high-interaction honeypots designed to capture extensive information on exactly how your enemies operate so you can protect your systems from them. Inside, you'll find extensive information on: * How to plan, build, and maintain first- and second-generation, virtual, and distributed honeynets. * How to capture and analyze data through a honeynet, including the latest on reverse engineering and forensics for Windows, UNIX, and networks. * Understanding the enemy, including real examples of incidents and compromised systems, types of attacks, and profiling. Aimed at security professionals, but containing much information that is relevant for those with less technical backgrounds, this book teaches the technical skills needed to study and learn from a blackhat attack.
Sklep: Libristo.pl 52,05 zł
Książki / Literatura obcojęzyczna
Would a proper adult ignore the spilt milk under the fridge for weeks? Would a proper adult take three years to post a solitary Christmas card? Would a proper adult have decades-old underwear in active service? Mike Gayle is nowhere near being a proper adult - even though his tenth wedding anniversary is looming; his second child is due any moment; and in less than twenty-four hours he is going to be officially closer to forty than he is to thirty. Appalled by this lack of maturity, Mike draws up a To-Do list containing every single item he's been meaning to do but just keeps putting off...He's got a lot of stuff that needs doing. But unlike previous To-Do lists, he promises himself that this one will actually get DONE. And along the way, Mike will learn stuff about life (323), love (999), friends (1004) and family (9) and finally work out what it means to be a grown up (846).
Sklep: Libristo.pl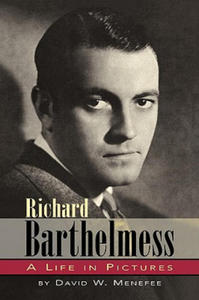 156,99 zł
Książki / Literatura obcojęzyczna
No one will ever forget the scene in D. W. Griffith's Way Down East where Richard Barthelmess as David rescued Anna Moore from certain death on an ice floe as it was about to plummet over a waterfall. The actor risked his life for that stunt, and the exciting sequence still thrills audiences to this day. His effort to fight back and live on became more than the stuff of Hollywood legend. Richard went on to be nominated for an Academy Award as Best Actor for The Noose and The Patent Leather Kid. His signature roles are in many of D. W. Griffith's silent films including Broken Blossoms, Scarlet Days, The Love Flower, and The Idol Dancer. Few people are aware that he was nearly felled by the chaos of Hollywood's transition from silent to talking pictures when he used a voice double to sing for him in Weary River. Despite the setback, his transition to talking pictures and work in The Dawn Patrol, Cabin in the Cotton, and Only Angel's Have Wings proved that his talent was enduring. For the first time, the story is fully told how Alla Nazimova, a famous Russian star, plucked him from obscurity to play in her first film, and how his worldwide fame was nearly snuffed out when he followed America's call to arms and gave up his movie career to assist in the fight against Nazi aggression in World War Two. By the time he returned to civilian life, a new generation had grown up never seeing his work, but his determination to succeed against all odds regained a foothold in films, and he continued to work until retiring to a happy life as a senior citizen. Richard appeared in more than 80 films, and this book reveals them with a richly researched biography, an extensive Filmography, and hundreds of rare portraits, posters, and lobby cards that capture the glamour of Hollywood's Golden Era.
Sklep: Libristo.pl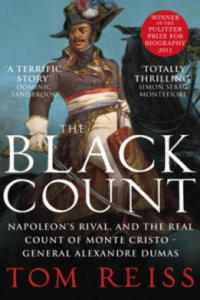 57,04 zł
Książki / Literatura obcojęzyczna
"Completely absorbing". (Amanda Foreman). "Enthralling". (Guardian). "The Three Musketeers! The Count of Monte Cristo! The stories of course are fiction. But here a prize-winning author shows us that the inspiration for the swashbuckling stories was, in fact, Dumas' own father, Alex - the son of a marquis and a black slave...He achieved a giddy ascent from private in the Dragoons to the rank of general; an outsider who had grown up among slaves, he was all for Liberty and Equality. Alex Dumas was the stuff of legend". (Daily Mail). So how did such this extraordinary man get erased by history? Why are there no statues of 'Monsieur Humanity' as his troops called him? The Black Count uncovers what happened and the role Napoleon played in Dumas' downfall. By walking the same ground as Dumas - from Haiti to the Pyramids, Paris to the prison cell at Taranto - Reiss, like the novelist before him, triumphantly resurrects this forgotten hero. "Entrances from first to last. Dumas the novelist would be proud". (Independent). "Brilliant". (Glasgow Herald).
Sklep: Libristo.pl 62,03 zł
Książki / Literatura obcojęzyczna
THE B!TCH IS BACK ...and she's brought The Grit Doctor along for the ride WHAT'S IN YOUR HANDBAG? *To Do lists scrawled on the back of receipts *An unpaid bill *Half a chocolate bar, covered in fluff Is your handbag a metaphor for the rest of your life? Has becoming a capable, poised grown-up turned out to be more complicated than you imagined? If you answered 'yes' to any of these questions, and if you're tired of the crappy stuff in life grinding you down, then it's time to stop whining and GET YOUR SH!T TOGETHER. With this funny, frank and tough-talking guide, Ruth Field and The Grit Doctor will help you: *Tackle daunting problems like a fearless superwoman *Figure out what you want from life and find the courage to GO FOR IT *Learn how to get more sh!t done in less time *Stop feeling bad about your less-than-perfect life. (Because perfection's overrated anyway.) SHE TAUGHT YOU HOW TO RUN, NOW SHE'S GOING TO TEACH YOU HOW TO RUN YOUR LIFE.
Sklep: Libristo.pl 90,80 zł
Książki / Literatura obcojęzyczna
Why do grown men play with trains? Is it a primal attachment to childhood, nostalgia for the lost age of rail travel, or the stuff of flat-out obsession? In this delightful and unprecedented book, Grand Prix legend Sam Posey tracks those who share his "passion beyond scale" and discovers a wonderfully strange and vital culture. Posey's first layout, wired by his mother in the years just after the Second World War, was, as he writes in his Introduction, "a miniature universe which I could operate on my own. Speed and control: I was fascinated by both, as well as by the way they were inextricably bound together." Eventually, when Posey's son was born, he was convinced that building him a basement layout would be the highest expression of fatherhood. Sixteen years and thousands of hours later, this project, "the outgrowth of chance meetings, unexpected friendships, mistakes, illness, latent ambitions, and sheer luck" was completed. But for Posey, the creation of his HO-scale masterpiece based on the historic Colorado Midland, was just the beginning. In "Playing with Trains, Sam Posey ventures well beyond the borders of his layout in northwestern Connecticut, to find out what makes the top modelers tick. He expects to find men "engaged in a genial hobby, happy to spend a few hours a week escaping the pressures of contemporary life." Instead he uncovers a world of extremes-extreme commitment, extreme passion, and extreme differences of approach. For instance, Malcolm Furlow, holed up on his ranch in the wilderness of New Mexico, insists that model railroading is defined by scenery and artistic self-expression. On the other hand, Tony Koester, a New Jersey modeler, believes his"mission" is to replicate, with fanatical precision and authenticity, the way a real railroad operates. Going to extremes himself, Posey actually "test drives" a real steam engine in Strasburg, Pennsylvania, in an attempt to understand the great machines that inspired the models
Sklep: Libristo.pl 101,28 zł
Chicken Watkins Publishing
Książki / Literatura obcojęzyczna
Chicken is a superb meat. Tender and full of flavour, it is fantastically versatile, inexpensive and healthy. Few foods blend as well with different ingredients and flavourings as chicken does. And the humble bird is having a renaissance as the cost of beef, lamb and pork soars. We've all grown up with the iconic roast chicken and much-loved dishes such as chicken soup and coq au vin. But so often we fall back on the same old dishes, time and time again. Marcus Bean has made it his mission to show us how to rediscover chicken, and reinvent our repertoire of chicken recipes. Whether you want to slow-cook, spit-roast, stir-fry or stuff chicken, or you are preparing a confit, casserole or curry, Marcus gives you innovative and inspiring dishes. The book is packed with information, advice on mastering techniques such as smoking and spatchcocking, and truly mouth-watering, memorable recipes. The recipes themselves draw on time-honoured classics and are then given a modern twist. Take a fresh look at burgers, for example, and try a Chicken & Slow-Roast Tomato Burger with Pesto Mayonnaise for a family meal, or serve up a contemporary take on the traditional chicken and mushroom combination, with the Asian Chicken & Mushroom Ballotines, for a show-stopper. Here you'll find everything you need to make a brilliant meal - and rule the roost!
Sklep: Libristo.pl
Sklepy zlokalizowane w miastach: Warszawa, Kraków, Łódź, Wrocław, Poznań, Gdańsk, Szczecin, Bydgoszcz, Lublin, Katowice
Szukaj w sklepach lub całym serwisie
2. Szukaj na wszystkich stronach serwisu
t1=0.292, t2=0, t3=0, t4=0.019, t=0.292