krainaksiazek if not for david i would not understand grace 19902565
- znaleziono 11 produktów w 3 sklepach 6,38 zł
Książki & Multimedia > Książki
Opis - Zamieszczone w zeszycie ćwiczenia i zadania o zróżnicowanym stopniu trudności umożliwiają wielopoziomową pracę, porządkują i utrwalają zdobyte na lekcji wiadomości i umiejętności. Każdy dział rozpoczyna się tabelą, która pomoże uczniowi w dokonaniu samooceny i wskazaniu tych umiejętności, nad którymi musi najbardziej. Uczniowie znajdą zadania rachunkowe jak i te odnoszące się do doświadczeń. Doświadczenia są dla uczniów okazją do lepszego zrozumienia zjawisk zachodzących w przyrodzie. Dział zawsze kończy się blokiem zadań podsumowujących. Szczególne miejsce w zeszycie zajmują mapy myśli są one graficzną ilustracją pojęć oraz zależności między nimi. Ten sposób notowania ułatwia naukę i zwiększa efektywność zapamiętywania. Systematyczna praca z zeszytem umożliwi dobre przygotowanie się zarówno do egzaminu gimnazjalnego, jak i do dalszej edukacji. Nazwa - Świat chemii 2 Zeszyt ćwiczeń Autor - Lewandowska Dorota, Warchoł Anna Oprawa - Miękka Wydawca - WSiP Kod ISBN - 9788302158841 Kod EAN - 9788302158841 Rok wydania - 2016 Język - polski Format - 16.5x23.5cm Ilość stron - 96 Szkoła - Gimnazjum Typ podręcznika - Podręcznik Przedmiot - Chemia Podatek VAT - 5%
Sklep: InBook.pl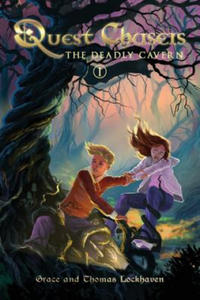 79,88 zł
Quest Chasers Twisted Key Publishing, LLC
Książki / Literatura obcojęzyczna
"Eevie and Tommy brim with personality, energy and emotion, and their spirits soar and plummet dependent on the situation. Female readers will enjoy their witty banter, find Eevie cool and engaging, and perhaps, develop a little crush on Tommy - the kind of boy buddy they wish they had
Sklep: Libristo.pl 40,80 zł
Literatura faktu
'Only with the greatest of simplifications, for the sake of convenience, can we say Africa. In reality, except as a geographical term, Africa doesn't exist'. Ryszard Kapuscinski has been writing about the people of Africa throughout his career. In a study that avoids the official routes, palaces and big politics, he sets out to create an account of post-colonial Africa seen at once as a whole and as a location that wholly defies generalised explanations. It is both a sustained meditation on the mosaic of peoples and practises we call 'Africa', and an impassioned attempt to come to terms with humanity itself as it struggles to escape from foreign domination, from the intoxications of freedom, from war and from politics as theft. The Beginning: Collision, Ghana 1958 More than anything, one is struck by the light. Light everywhere. Brightness everywhere. Everywhere, the sun. Just yesterday, an autumnal London was drenched in rain. The airplane drenched in rain. A cold, wind, darkness. But here, from the morning
Sklep: Albertus.pl 73,35 zł
Książki / Literatura obcojęzyczna
In 2004, Momofuku Noodle Bar opened in a tiny, stark space in Manhattan's East Village. Its young chef-owner, David Chang, worked the line, serving ramen and pork buns to a mix of fellow restaurant cooks and confused diners whose idea of ramen was instant noodles in Styrofoam cups. It would have been impossible to know it at the time-and certainly Chang would have bet against himself-but he, who had failed at almost every endeavour in his life, was about to become one of the most influential chefs of his generation, driven by the question, "What if the underground could become the mainstream?" Chang grew up the youngest son of a deeply religious Korean American family in Virginia. Graduating college aimless and depressed, he fled the States for Japan, hoping to find some sense of belonging. While teaching English in a backwater town, he experienced the highs of his first full-blown manic episode, and began to think that the cooking and sharing of food could give him both purpose and agency in his life. Full of grace, candour, grit, and humour, Eat a Peach chronicles Chang's switchback path. He lays bare his mistakes and wonders about his extraordinary luck as he recounts the improbable series of events that led him to the top of his profession. He wrestles with his lifelong feelings of otherness and inadequacy, explores the mental illness that almost killed him, and finds hope in the shared value of deliciousness. Along the way, Chang gives us a penetrating look at restaurant life, in which he balances his deep love for the kitchen with unflinching honesty about the industry's history of brutishness and its uncertain future. Eat a Peach is an intimate account of the making of a chef, the story of the modern restaurant world that he helped shape, and how he discovered that success can be much harder to understand than failure.
Sklep: Libristo.pl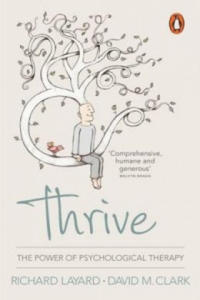 53,01 zł
Książki / Literatura obcojęzyczna
This book offers a ground-breaking argument for better treatment of mental health from Richard Layard (author of Happiness) and David M. Clark. Britain has become a world leader in providing psychological therapies thanks to the work of Richard Layard and David Clark. But, even so, in Britain and worldwide the majority of people who need help still don't get treatment. This is both unjust and a false economy. This book argues for change. It shows that mental ill-health causes more of the suffering in our society than physical illness, poverty or unemployment. Moreover, greater spending on helping people to recover from mental health problems - and stay well - would generate massive savings to national economies, as those who suffer from depression and anxiety disorders account for nearly a half of all disability and are predominantly of working age. Modern talking therapies, such as CBT (Cognitive Behavioural Therapy), are highly effective, and if more sufferers got these treatments, lives would be turned around and the cost would be fully covered by the huge savings. Thrive explores the new effective solutions to the misery and injustice caused by mental illness. It describes how successful psychological treatments have been developed and explains what works best for whom. It also urges us to do all we can to prevent these problems in the first place, through better schools and a better society. And, most importantly, it offers real hope. "This book is an inspiring success story and a stirring call to further action. Its message is as compelling as it is important: the social costs of mental illness are terribly high and the costs of effective treatments are surprisingly low." (Daniel Kahneman). "Extremely easy and pleasurable to read. It's the most comprehensive, humane and generous study of mental illness that I've come across." (Melvyn Bragg). "Remarkable...presents the issues in a style that easy for the professional, the general public, and policy makers to understand." (Aaron T Beck). "Professors Layard and Clark (the Dream Team of British Social Science) make a compelling case for a massive injection of resources into the treatment and prevention of mental illness. This is simply the best book on public policy and mental health ever written." (Martin Seligman). Richard layard is one of the world's leading labour economists, and in 2008 received the IZA International Prize for Labour Economics. A member of the House of Lords, he has done much to raise the public profile of mental health. His 2005 book Happiness has been translated into 20 languages. David M. Clark, Professor of Psychology at Oxford, is one of the world's leading experts on CBT, responsible for much progress in treatment methods. With Richard Layard, he was the main driver behind the UK's Improving Access to Psychological Therapies programme.
Sklep: Libristo.pl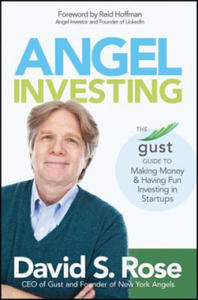 124,36 zł
Książki / Literatura obcojęzyczna
Praise for Angel Investing: "The world of entrepreneurial startups is where the most exciting and creative action is happening in todays business world, which is why I was a strong supporter of the Jobs Act of 2012. No wonder millions of people are wondering how they can get involved as investors. Theres no better place to start than by reading". (David S. Roses Angel Investing. U.S. Senator Charles E. Schumer, Senate Finance Committee). "From the best methods for finding and picking tomorrows big winners to proven techniques for adding value to any business you invest in, Angel Investing provides readers with everything they need to know to get started in this fascinating, fun and lucrative business arena". (David Bach, number 1 New York Times bestselling author of The Automatic Millionaire and Start Late Finish Rich, Angel Investor). "As an angel investor and a long-time fan of David S. Rose, I was delighted to hear he finally captured his wit and wisdom in the pages of a book. Davids witty stories and angel investing principles as well as his unsurpassed knowledge of his field are teaching me so much more about investing than Ive learned over the years doing it!" (Barbara Corcoran, Real Estate Mogul, Shark Tank star, Angel Investor). "This is the most comprehensive and readable guide to angel investing ever written. The chapter on valuation and expectations lays out a clear framework for understanding one of the least well-known pitfalls in the angel world. And its emphasis on creating a win-win relationship with the entrepreneur is at the heart of being a long-term successful angel and continuing to see the best deal flow. I recommend this book to anyone even thinking about making or receiving angel investments. (Howard L. Morgan, Founding Partner, First Round Capital). "Angel Investing is an engaging, easy read, full of real stories and hard numbers, actual cases and a whole lot of good advice. David S. Rose brings tons of real-world knowledge to the subject that makes this required reading for every new angel". (Tim Berry, Author of Business Plan Pro, Entrepreneur, Angel Investor). "Anyone with a checkbook can be an angel investor, but it takes insight to do it well. David S. Rose has written a terrific new book that will help would-be angels make money, rather than lose it. From explaining the value of diversification, to tips on evaluating deals, to offering up plans to attract good deals, Angel Investing will help you move from a money-losing amateur to a money-making professional angel. And if you're an entrepreneur looking for angel money, you should read this book too. It will help you understand what knowledgeable angels are seeking and how they will evaluate you". (Scott Shane, author of Fools Gold? The Truth Behind Angel Investing in America).
Sklep: Libristo.pl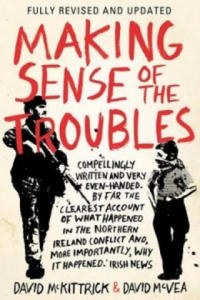 72,62 zł
Książki / Literatura obcojęzyczna
COMPLETELY REVISED AND UPDATED EDITION Making Sense of the Troubles is David McKittrick and David McVea's classic history of the Troubles, now completely revised and updated. First published ten years ago, Making Sense of the Troubles is widely regarded as the most 'comprehensive, considered and compassionate' (Irish Times) history of the Troubles in Northern Ireland. Written by a distinguished journalist and a teacher of history in Northern Ireland, it surveys the roots of the problems from 1921 onwards, the descent into violence in the late 60s, and the three terrible decades that followed. McKittrick and McVea have now fully updated the book to take into account the momentous events of the last ten years, including the disbanding of the IRA, Ian Paisley's deal with the Republicans and the historic power-sharing government in Belfast. 'An updated reissue of a collaborative study published 12 years ago to rave reviews as a frank, accurate and authoritative narrative of events which should be required reading for anyone hoping to understand what had been going on in the North' Irish Independent 'I would strongly advocate that it be made compulsory reading for everyone in Northern Ireland because for the first time it is our history, all of it warts and all, presented in a clear and understandable way' Irish News 'Extraordinarily well-balanced, sane, comprehensive and rich in sober understatement' Glasgow Herald 'Compellingly written and very even-handed. By far the clearest account of what happened in the Northern Ireland conflict and more importantly why it happened' Irish News David McKittrick has reported on the Northern Ireland troubles since the 1970s. After working for the Irish Times and BBC he has been Ireland correspondent of the London Independent since 1985. Awards include the Orwell Prize, correspondent of the year and Belfast journalist of the year. David McVea graduated in politics and modern history from Queen's University, Belfast, and has an MA from Sussex University. He was head of the politics department of a Belfast grammar school where he taught both history and political studies.
Sklep: Libristo.pl 79,10 zł
Literatura faktu
Opus Dei is the most controversial - and unknown - force in the Catholic Church.  Here, John L. Allen uncovers its real nature.  Accused of promoting a right-wing political agenda, of cult-like practices, and immortalized forever in the pages of Dan Brown's The Da Vinci Code, Opus Dei is the most notorious, most talked about - but least known - religious organization of our time.  Granted unlimited access to those within its ranks, and with an investigative eye intent on uncovering closely guarded secrets, John L. Allen finally separates the myths from the facts:  the actual use of the cilice; the reason men and women remain separate; the true extent of Opus Dei's funds.  Built around a wealth of interviews with the heads of Opus Dei in the Vatican and in centres around the world, comparing the attitudes of current members with those of highly critical members and outsiders, Opus Dei is a portrait of a remarkably powerful organization, both inside and outside the Church. One of the most mysterious and controversial religious forces today, and immortalized in Dan Brown
Sklep: Albertus.pl 54,10 zł
Powieści i opowiadania
Orlando Figes
Sklep: Albertus.pl 71,42 zł
Książki / Literatura obcojęzyczna
A military analysis on defence and prediction of war with Russia from one of Britain's highest rankest soldiers and previously Deputy Head of NATO.
Sklep: Libristo.pl 236,80 zł
Biznes
Praise for CHART YOUR WAY TO PROFITS "As a former pit trader and a technical 'newbie,' I have found Tim's new book to be the best resource I've seen for the everyday trader. With its fun and informative style, it has allowed me to understand and appreciate the professional world of technical analysis." -Tom Sosnoff, cofounder and CEO, thinkorswim, inc. "Tim Knight is a chartist's chartist-I can't recommend his work highly enough. Few people have done as much as he has in providing the sort of quality online resources technical traders need in order to make money in the financial markets. Chart Your Way to Profits is a twenty-first-century blueprint on how to use technical tools to achieve trading and investing success." -David Penn, Editor, Technical Analysis of Stocks and Commodities magazine "Tim has written the best guide to leveraging ProphetCharts and technical analysis in the market today. This is a complex subject and can leave new and old investors buried in too much data or impossible learning curves. Tim breaks these complex ideas down into actionable ideas and strategies. I would recommend this book to anyone that wants an education in the latest and best tools and methods professional technicians are using today." -John Jagerson, Vice President of Content, Investools author of Profiting with Forex "Tim Knight presents charting in a clear and straightforward manner with lots and lots of annotated charts-the way it should be. Learning just a few of the techniques presented will help investors get better results, no doubt about it." -Michael Kahn, columnist for "Getting Technical," Barron's Online
Sklep: Albertus.pl
Sklepy zlokalizowane w miastach: Warszawa, Kraków, Łódź, Wrocław, Poznań, Gdańsk, Szczecin, Bydgoszcz, Lublin, Katowice
Szukaj w sklepach lub całym serwisie
2. Szukaj na wszystkich stronach serwisu
t1=0.069, t2=0, t3=0, t4=0, t=0.07