krainaksiazek improving diagnosis in health care 20129114
- znaleziono 6 produktów w 3 sklepach 319,99 zł
Książki Obcojęzyczne>Angielskie>Medicine>Medicine: general issues>Health systems & services
0x0081249b00000000
Sklep: Gigant.pl 718,09 zł
Książki / Literatura obcojęzyczna
This book presents a multispecialty and multidisciplinary approach on Amyloidosis and Fabry disease. These two "rare" diseases are underdiagnosed and have systemic peculiarities that should be emphasized for diagnosis. In both cases, early diagnosis is important for initiating treatment sooner, achieving better prognosis, and improving patients' quality of life.The history of these patients, in general, involves a long journey among health professionals to obtain a diagnosis. Even after a patient is diagnosed, there are still difficulties in understanding these complex diseases, managing complications, and defining specific treatment. Therefore, this work will be a valuable resource for many healthcare professionals, including physicians of various specialties, nurses, physiotherapists, and medical students. It will also be of interest to patients who would like to understand Amyloidosis and Fabry disease.The content will give healthcare professionals a clinical perspective and provide insights on proper care. Readers will be able to recognize the symptoms related to each disease and will be guided during diagnosis and treatment. Chapters include an overview on clinical course, and will address neurological, ophthalmological, dermatological, gastrointestinal, hematological and cardiology manifestations, orthopedic care, mutations, expressiveness according to epigenetics and multidisciplinary treatment. Chapter authors from around the world will contribute sharing their experience in managing these diseases.
Sklep: Libristo.pl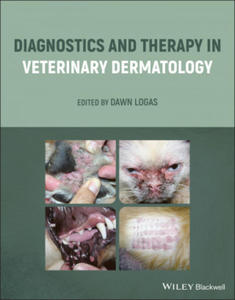 835,34 zł
Książki / Literatura obcojęzyczna
Diagnostics and Therapy in Veterinary Dermatology presents thorough coverage of the latest discoveries, drugs, and treatments for dermatologic conditions in animals. Chapters written by experts in each respective area of veterinary dermatology contain up-to-date information on new diagnostic tools and tests, autoimmune diseases, parasitic and fungal infections, medical management of acute and chronic conditions, alternative dermatologic therapies, and more.Offering practical solutions for both specialist and general practice veterinarians dealing with dermatology cases, this wide-ranging resource also addresses antibiotic resistance and misuse, the availability of foods for elimination diet trials, problems with generic drugs, emerging infectious diseases, and other important problems currently facing the profession. Throughout the text, veterinary practitioners are provided with real-world guidance on improving how they work up their dermatology cases and strengthening communication between the primary care veterinarian and the dermatologist. Edited by a leading board-certified dermatologist, this volume:* Focuses on cats and dogs* Includes numerous high-quality clinical photographs illustrating all key concepts* Covers topics such as how to use your nursing staff to the fullest, the One Health movement, and how changing climate is increasing the spread of certain dermatologic diseases* Discusses approaches for building a better working relationship between clients, primary care veterinarians and dermatologists* Provides insights on the future of technology in the diagnosis and treatment of dermatologic diseasesCovering the very latest developments in the field, Diagnostics and Therapy in Veterinary Dermatology is essential reading for veterinary dermatologists, veterinary students, and any veterinary general practitioner with a dermatology caseload.
Sklep: Libristo.pl 104,07 zł
Książki / Literatura obcojęzyczna
"We are the keepers of an intuitive intelligence so powerful it can tell us how to heal." In her groundbreaking new book, Dr. Judith Orloff leads readers to the heart of a radical revolution in health care: the union of medicine and intuition, of body, mind, and soul. We're all born with the gift of intuition; many of us have long ago blocked that "indisputable sense of rightness" which is our truest inner compass. Dr. Orloff's guide will show you how to recapture, nurture, and affirm your intuitive ability, so that you can utilize it to help heal yourself. Intuition plays an indispensable role in self-diagnosis, pain control, immune response, and recovery from acute and chronic illness; it can lead you to breakthroughs in anxiety, panic, depression, and other emotional blockages, even when traditional psychotherapy has failed. Intuition also offers insights into the use of medications and the selection of the right healer for your needs. Further, it is integral for sexual healing, since sexuality is a potent connector and energy source for clarifying spirituality and improving vitality. Dr. Orloff introduces five practical steps she uses in her own life and teaches to patients which illustrate how to harness the power of intuition to heal. You'll learn to clarify your beliefs, listen to your body's messages, access inner guidance, sense subtle energy, and interpret your dreams. Practicing these steps you'll recognize early warning signals and act on them to help prevent illness. You'll have skills to uncover important information from meditation and remote viewing (a way of intuitively tuning in) to make sense of confusing signals. The insights you'll gain from these tools willlend reason, compassion, and meaning to events such as illness, loss, or despair. Following Dr. Orloff's simple, clear instructions, illustrated with examples from her own experience and psychiatric practice, you'll recapture a sense of vision that will bring vibrance to a
Sklep: Libristo.pl 263,66 zł
Medycyna > English Division
This volume assists practicing mental health professionals in expanding their knowledge about nutritional and herbal interventions that can be attempted as alternatives to prescription medications. Designed to provide guidance for non-medical caregivers treating children and adolescents who present with emotional and/or behavioral difficulties such as such as depression, anxiety, ADHD, sleep difficulties, impulsivity, distractibility, and other psychological and psychiatric disorders, the volume provides a comprehensive discussion of naturopathic solutions based on existing research. In areas where research is not extensive, conclusions are provided about potentially beneficial effects based on the specific pharmacologic action of the compounds. Dosage for specific age groups, schedules of administration, dietary considerations (i.e., whether or not to take the supplement with food), monitoring for response and adverse effects, signs of dangerous reactions, and the need to control interactions with other compounds (i.e., prescription medications) are thoroughly reviewed with regard to each supplement discussed in the book. This title reviews specific psychological disorders (i.e. ADHD, depression, mania, anxiety, sleep difficulties, tic behaviors and autism) and the available data about their treatment with the use of nutritional and herbal supplements. It provides rationale for the use of every specific compound with detailed recommendations tailored for each age group with regard to the dosage, frequency of administration, possible dangers and monitoring for side effects. It discusses claims of efficacy used to market various products and ground those claims within fully vetted scientific research. It also discusses neurobiology, pharmacodynamics and pharmokinetics in detailed but accessible language. Non-medical clinicians with limited knowledge of medicine and pharmacology come away with understanding of key issues involved in. It fully covers assessment, diagnosis & treatment of children and adolescents, focusing on evidence-based practices. It consolidates broadly distributed literature into single source and specifically relates evidence-based tools to practical treatment, saving clinicians time in obtaining and translating information and improving the level of care they can provide. It features detailed how-to explanation of practical evidence-based treatment techniques. It gives reader firm grasp of how to more effectively treat patients Material related to diversity (including race, ethnicity, gender and social class) integrated into each chapter. It prepares readers for treating the wide range of youth they will encounter in practice.
Sklep: Ksiazki-medyczne.eu 883,35 zł
Książki / Literatura obcojęzyczna
For more than 40 years, DiSaia and Creasman Clinical Gynecologic Oncology has been the leading reference for diagnosis and treatment of gynecologic cancers, providing physicians and trainees alike with expert guidance on clinical presentations and management. The fully revised 10th Edition remains the most readable, most comprehensive text in the field. Under outstanding editorial leadership from Dr. William Creasman and featuring a
Sklep: Libristo.pl
Sklepy zlokalizowane w miastach: Warszawa, Kraków, Łódź, Wrocław, Poznań, Gdańsk, Szczecin, Bydgoszcz, Lublin, Katowice
Szukaj w sklepach lub całym serwisie
2. Szukaj na wszystkich stronach serwisu
t1=0.014, t2=0, t3=0, t4=0, t=0.015