krainaksiazek islam in the book of revelation 20167285
- znaleziono 11 produktów w 2 sklepach 126,93 zł
Książki / Literatura obcojęzyczna
Many existing introductions to Islam focus predominantly on the Middle East and on historical background at the expense of Islam as a lived faith. Assessing Islam as a truly global phenomenon, Catharina Raudvere engages thoroughly with history (explaining the significance of the revelation of the Prophet Muhammad and the origins of the different Sunni and Shi'a groups within Islam), while also giving full and comprehensive coverage to Muslim ritual life and Islamic ethics. She discusses moral debates and modern lifestyle issues such as halal consumption, interfaith dialogue and controversy over the wearing of the veil. Diaspora communities are considered with a view to showing how norms and doctrines are understood - and sometimes contradicted - in social and ritual practice. In addition, the author focuses on the meaning and continuing application to modern life of the Quran and hadith as sources for Islamic theology (kalam) and jurisprudence (fiqh). The book gives much attention to questions of universal values, Islam and democracy, gender issues, women's rights and pluralism, contrasting the thinking of Wahabism and radical Islamism with liberal reformist voices within Islam. "Islam: An Introduction" offers undergraduate students of religion and general readers a balanced, sensitive and well informed appraisal of the world's most intensively discussed religious and cultural traditions.
Sklep: Libristo.pl 824,11 zł
Książki / Literatura obcojęzyczna
This comparative history of political thought examines what the Western and Islamic approaches to politics had in common and where they diverged. The book considers how various ancient and medieval thought-patterns did or did not lead to modern developments; and how sacred monarchy, the legitimacy of the state, and the role of the people were looked upon in each culture. The author focuses on the period from the rise of Islam to the European Reformation, but his analysis extends to the main genres of political thought up to the present. He argues that until the mid-eleventh century, Europe, Islam, and the Byzantine world had more in common than is commonly thought. What made the West different was the papal revolution of the late eleventh century, Europe's twelfth-century 'renaissance', and the gradual secularization of political thought which followed. At the same time, Islam, after an early blossoming, interpreted its own revelation more and more narrowly. This volume throws light on why the West and Islam each developed their own particular kind of approach to government, politics and the state, and on why these are so different.
Sklep: Libristo.pl 11,15 zł
Książki & Multimedia > Książki
Opis - Pierwsze na świecie świadectwo ofiary zbrodni honorowej. Miała siedemnaście lat i zakochała się: zhańbiła rodzinę. Więc rodzina wydała na nią wyrok śmierci... Pokochała go pierwszą miłością. Myślała, że się z nią ożeni. Ale ukochany zniknął, a ona odkryła, że jest w ciąży. A w jej świecie to najcięższa zbrodnia... W zapomnianej przez Boga wiosce w Cisjordanii kobiety są warte mniej niż zwierzęta domowe. Tu mężczyzna jest panem życia i śmierci żony, córki, siostry. Brat może bezkarnie zabić siostrę, matka - córkę, kolejną bezużyteczną dziewczynkę, jaka się urodzi. Tu kobiecie odbiera się godność, a nawet życie zgodnie z odwiecznym obyczajem i uświęconą tradycją. A śmierć jest karą dla dziewczyny, która zhańbi rodzinę. Tak jak Souad. Wyrok wydaje jej ojciec. Szwagier dokonuje egzekucji. Oblewa Souad benzyną i podpala... SOUAD przeżyła - cudem, ale rodzina usiłowała zabić ją nawet w szpitalu. Na zawsze jednak pozostanie straszliwie okaleczona - na ciele i duszy. I wciąż musi się ukrywać; dopóki żyje, jej rodzinę okrywa hańba. Spalona żywcem, opublikowana pod pseudonimem szokująca opowieść o piekle, jakim było jej dzieciństwo i młodość, stała się międzynarodowym bestsellerem. Wydana w 37 w krajach książka przerywa tabu milczenia wobec istniejącej nadal w krajach muzułmańskich barbarzyńskiej tradycji. Nieludzkiego obyczaju, prawa mężczyzn, na mocy którego co najmniej pięć tysięcy kobiet pada co roku ofiarą zbrodni honorowej. Nazwa - Spalona Żywcem Wyd. Kieszonkowe Autor - Souad Oprawa - Miękka Wydawca - Amber Kod ISBN - 9788324159406 Kod EAN - 9788324159406 Wydanie - 1 Rok wydania - 2016 Tłumacz - 31182,maria rostworowska; Format - 110 x 175 x 14 Ilość stron - 224 Podatek VAT - 5% Premiera - 2016-06-23
Sklep: InBook.pl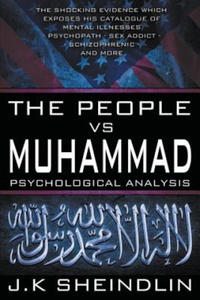 146,04 zł
Książki / Literatura obcojęzyczna
In The People vs Muhammad, #1 International Bestselling author JK Sheindlin psychologically analyses the founding father of Islam, while putting him on trial for crimes against humanity. Is Islam a "religion of peace"? Was Muhammad the true and final prophet of God? Is the Quran the fulfilment of the Bible, and legitimately continuing the traditions of the Judeo-Christian scriptures? Perhaps one of the most audacious, shocking, unthinkable and highly controversial ideas to ever be conceived, The People vs Muhammad places the founding father of Islam on trial for crimes against humanity, and to challenge his self-proclaimed authority. With the growing threat of home-grown Muslim jihadist terrorist attacks and the ominous cataclysm of a global holy war, there's no doubt Islam has become a burdensome issue which has our own western governments perplexed. This book series intends to investigate the true ideology of Islam, to ascertain with reason and logic the legitimacy of Muhammad's claim and core teachings of his cult. Throughout this series, author J.K Sheindlin carefully analyses the Quran and the Islamic texts legalistically to expose the shocking truth pertaining to Muhammad's advocation for: Pedophilia, honor killings, sex slavery, prostitution, racism, extortion, murder, psychological indoctrination, intellectual terrorism, censorship, grand larceny, racketeering, domestic violence, gender inequality, and much more! In this powerful series, the first installment Psychological analysis delves deep into Muhammad's past and uncovers disturbing facts which undoubtedly prove to be the origins of his multiple psychopathological disorders. Using entirely the Islamic sources in reference to contemporary psychiatric-medical archives, J.K Sheindlin details Muhammad's extensive catalogue of mental illnesses which include: Psychopathy, Gynophobia, Napoleon Complex, Schizophrenia, Narcissistic Personality Disorder, Messiah-God Complex, Obsessive Compulsive Disorder, Athazagorophobia, Oedipus Complex, Sex-addiction, Pedophilia, and Necrophilia. Furthermore, the author also hypothesizes a convincing argument based on medical science, which debunks Muhammad's first revelation. These external factors being: Volcanic gas inhalation, sensory deprivation, starvation, dehydration, brain damage and Syphilis. Written to provoke a rational response from both Muslim and western readers, the verdict is ultimately decided by the public to determine if Muhammad's claim to prophethood is legitimate.
Sklep: Libristo.pl 295,77 zł
Książki / Literatura obcojęzyczna
The melodious recitation of the Quran is a fundamental aesthetic experience for Muslims, and the start of a compelling journey of ideas. In this important new book, the prominent German writer and Islamic scholar Navid Kermani considers the manner in which the Quran has been perceived, apprehended and experienced by its recipients from the time of the Prophet to the present day. Drawing on a wide range of Muslim sources, from historians, theologians and philosophers to mystics and literary scholars, Kermani provides a close reading of the nature of this powerful text. He proceeds to analyze ancient and modern testimonies about the impact of Quranic language from a variety of angles. Although people have always reflected on the reception of texts, images and sounds that they find beautiful or moving, Kermani explains that Islam provides a particularly striking example of the close correlation, grounded in a common origin, between art and religion, revelation and poetry, and religious and aesthetic experience. This major new book will enhance the dialogue between Islam and the West and will appeal to students and scholars of Islam and comparative religion, as well as to a wider readership interested in Islam and the Quran.
Sklep: Libristo.pl 46,61 zł
Książki / Literatura obcojęzyczna
Everything related to Islam and Muslims is covered by Islamic Studies. This research oriented book deals with the subject of Islamic Studies. It presents a simple introduction to Islam, the Quran, the Prophet Muhammad and the Spirituality etc. It includes the key aspects of the Quran. It gives an outline of Islamic ideology in a systematic way. It is a beautiful combination of reason and revelation. In this book the author focuses on continuing relevance of the Quran in the modern life. It has been devised to meet the requirement of contemporary world regarding Islam and the Quran.
Sklep: Libristo.pl 141,85 zł
Książki / Literatura obcojęzyczna
We live in perilous times: the truths of Christianity are under daily attack. Anti-religious books are everywhere - even in "Christian" bookstores. Consider The God Delusion by Richard Dawkins, God is not great by Christopher Hitchens, or The End of Faith by Sam Harris. These books and others are converting America to a secular, atheist state. Plus, Islam is growing worldwide. Fewer people identify themselves as Christians than in the past, a decrease of 10 to 20 percent in just the last few years. Young people are leaving the church in record numbers, as many as 70 percent in a decade. Intellectual skepticism is growing at an unprecedented pace as the truths of the Gospels are under daily assault. What can we do? Clearly we must confront these attacks and beat them at their own game: reason and science. James Harrison shows us how to do this in The Pattern & The Prophecy: God's Great Code. At the core of all the sciences is mathematics. The author proves God put as much mathematics into His Word as he placed in His Works. Everyone knows the number of the Antichrist, but who knows the number of Christ or the number of Jesus? And how is Jesus' number related to Noah, to being born again, and the resurrection. And since fishermen never count fish, what is the purpose of exactly 153 fish from John 21:11? Harrison reveals all this and much, much more proving mathematics lies at the heart of God's Holy Word from Genesis 1:1 to Revelation 22:21, the Bible's first and last verses. Armed with this absolute certainty Christians can convert any non-believer. As Isaiah 54:17 says, "No weapon forged against you will prevail." After reading this book, you will be an expert on the Bible's patterns, numbers, and symbolism. You have never read like this before - a book that comes along once in a lifetime to change lives forever. This book is destined to become an American classic. Look for yourself! Included are many color photographs, numerous illustrations, bibliography, proofs, and three indexes: scriptural, number, and subject. Easy to read and informative, this book will enrich the spiritual life of every Christian. This book has garnered a consistent string of rave reviews - here are two: The author, guided by the Holy Spirit, connects Old Testament dates and history and connects them to New Testament reality, straight forward to our days. With even-handed treatment that presents different views in an organized and logical form, The Pattern & The Prophecy is a great resource for putting the information into an easy to understand format and teaching eschatology. The author is simply brilliant, a scrupulous scholar, and his point of view is based primarily on the Canonized Holy Scriptures although he is not afraid to gain insights from other sources of information. This particular book plows new ground. I need to re-read it. I think it's worth the time and effort. Very thought provoking! A must read for those who want to know the truth in a beautiful new eBook format. Gerry, Alabama, Teacher If you want more understanding as you read the Bible, read this book. It proves that God is the Master Mathematician. Actually, I'm not any good at math at all, but I understand the basic concept Harrison is writing about. As a matter of fact, its easy to do this yourself. For example: In Chapter 8 I read that "153" is Jesus' celestial number, so I found out on my own that the word "lamb(s)" is in the Old Testament 153 times (Jesus is the "Lamb" of God that takes the sin away from the world)! Also, regarding the 144,000 Jews that will be saved after the rapture, I counted Jerusalem in the New Testament and it's in there 144 times! I love this book! Go for it - you can find your own pieces of the "God" puzzle as I have. God is letting us in on so many things. Don't miss out!
Sklep: Libristo.pl 70,13 zł
Książki / Literatura obcojęzyczna
This is the book for those who are seeking an understanding of the roots of the religious and political conflict in Northern Nigeria. This book is for those who want to understand the role of ethnic communities in peacemaking. Complementing ethnic commitments, the book also explores the dynamic ways ethnic loyalties can fray the fabric needed for healthy ethnic diversity. The issues of unity within diversity are addressed forthrightly. This book is for those who want to explore the essential nature of Islam as a peace movement. Complementing that quest, the author also explores the essence of the gospel as a movement for reconciliation. This book is for those who seek a realistic understanding of the nature of conflict and its seemingly intractable stranglehold on societies enmeshed in Muslim-Christian discord. This book is for those who are enlivened and challenged by narratives that unlock the central themes of political and spiritual engagement. Horrible accounts of conflict are described. Also included are accounts of earnest quest for peacemaking in times like these. This book is for those who are committed to the quest for a way for political and spiritual resources to enhance peacemaking cooperation. It is a quest for a way for political, economic, and religious themes to flow together in creating healthy civil society wherein both Muslim and Christian will work together in a quest for collegial relations. This book is for those who are earnestly committed to walking the way of Jesus in embracing the suffering love revealed in the open and inviting arms of the Lamb of God on the cross. This book is a revelation of the reconciling love of Jesus, bringing hope within broken hearts.
Sklep: Libristo.pl 79,48 zł
Książki / Literatura obcojęzyczna
Prophet or messiah, the figure of Jesus serves as both the bridge and the barrier between Christianity and Islam. In this accessible and thoughtful book, Muslim scholar and popular commentator Mona Siddiqui takes her reader on a personal, theological journey exploring the centrality of Jesus in Christian-Muslim relations. Christain and Muslim scholars have used Jesus and Christological themes for polemical and dialogical conversations from the earliest days to modern times. The author concludes with her own reflections on the cross and its possible meaning in her Muslim faith. Through a careful analysis of selected works by major Christian and Muslim theologians during the formative, medieval, and modern periods of both religions, Siddiqui focuses on themes including revelation, prophecy, salvation, redemption, sin, eschatology, law, and love. How did some doctrines become the defining characteristics of one faith and not the other? What is the nature of the theological chasm between Christianity and Islam? With a nuanced and carefully considered analysis of critical doctrines the author provides a refreshingly honest counterpoint to contemporary polemical arguments and makes a compelling contribution to reasoned interfaith conversation.
Sklep: Libristo.pl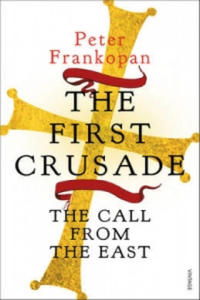 58,35 zł
Książki / Literatura obcojęzyczna
"The First Crusade" is one of the best-known and most written-about events in history but in this new book Dr Peter Frankopan asks vital questions that have never been posed before. This is the only book to address the history of the "First Crusade" from the perspective of the east, examining the role of the Byzantine Empire and its ruler, Emperor Alexios I Komnenos. Peter Frankopan's focus on the imperial city of Constantinople and events in Asia Minor is the result of a major reinterpretation of eastern sources which reveal the crucial role of Byzantium in the "Genesis" and execution of the "First Crusade". Frankopan's revelation of a close cooperation between the pope in Rome and the emperor in Constantinople constitutes an important revision and brand new evidence of the history of the Church. This book questions the traditional view that the Catholic and Orthodox churches had broken definitively in 1054. Rather than viewing the Crusades as a conflict between Christianity and Islam, the book reveals a complex triangular relationship between the west, Byzantium and the Muslim world. So, "The First Crusade" constitutes a paradigm shift - it radically re-shapes our understanding of the aims, expectations, and long-term implications of the "First Crusade" and the Crusades as a whole. Most importantly it answers why was there a "First Crusade"?
Sklep: Libristo.pl 137,16 zł
Książki / Literatura obcojęzyczna
This book was written so that Muslims can understand the basic concepts in the Torah, and how it relates to the Qur'an, and discover many similarities without minimizing differences. It also allows Jews reading this book to understand the Qur'anic point of view and understand the emphasis that the Qur'an placed on the Children of Israel and their efforts and struggles, and why they were favored by God at one time over other nations because of their faith and patient perseverance despite the diffi culties they encountered. Muslims believe in the Torah as a Divine revelation from God to Moses, God's messenger to the Children of Israel. The Qur'an explains how God rescued the Children of Israel from their oppression and bondage in Egypt and describes God's many blessings over them. We learn from their good example and avoid the mistakes they made. God is always true to his covenant, it is man who disobeys God and wrongs his own soul. The Qur'an gives us guidelines that govern the relationship between Muslims and non-Muslims. We are ordered to treat non-Muslims with kindness and justice and respect their right to their faith and not force anyone to become a Muslim against his will. We are to work together to improve life for all. There are many misconceptions about Islam, the Qur'an and Muhammad, and this book clears some of these misconceptions
Sklep: Libristo.pl
Sklepy zlokalizowane w miastach: Warszawa, Kraków, Łódź, Wrocław, Poznań, Gdańsk, Szczecin, Bydgoszcz, Lublin, Katowice
Szukaj w sklepach lub całym serwisie
2. Szukaj na wszystkich stronach serwisu
t1=0.491, t2=0, t3=0, t4=0.019, t=0.491