krainaksiazek it was a privilege to care for her 20167425
- znaleziono 7 produktów w 1 sklepie 48,59 zł
Książki / Literatura obcojęzyczna
Straw into Gold Illness, Loss, and Hardship as a Path to Inner Peace Diane LaRae Bodach This book is a journey about being human, about opening to life in whatever form it takes and extending loving kindness to oneself and others no matter what. It tells the story of many who have endured great physical and emotional losses in the form of chronic illness, pain and disability as well as through relationships and identities that, once held dear, are stripped away. Diane LaRae Bodach is brutally honest, yet wholly compassionate, in her self-examination, and in the telling of her spiritual and physical journey through life, including chronic illness, cancer, and impending death. Her experiences and wisdom, her willingness to be with life and self exactly as they are, and to open to all that comes her way -- no matter how difficult -- can benefit us all. Although this book journeys through intense pain and loss, the ultimate teaching is that whoever you are, and no matter what life presents, love, compassion and joy are always possible; suffering is optional. ISBN: 978-1-57733-223-7 Endorsements "A beautifully written, searingly honest, and profoundly moving account of one woman's journey through chronic illness and suffering, and the life lessons she learned." Jim Dreaver, author of End Your Story, Begin Your Life "I had the unique privilege of working closely with Diane during the last year of her life as part of her integrative health care team. Diane was a gifted writer and poet, an out-of-the-box spirit who would come in for her vitamin infusion dressed in a long blue wig with wild sunglasses. She never lost her sense of humor throughout the ravages of dealing with chronic illness and then cancer. In her last month of life, she presided over her 'living' wake, a wild and wonderful dress-up party outdoors, with Diane in her bed on the throne under the spreading oak tree. Her unique talents make her story not only touching, but exquisitely and subtly expressed. During her last days, we took turns reading to her aloud to put the final touches on her editing, with many tears of sadness and joy being shed. This book is a treasure." Elaine Weil, Nurse Practitioner, Amitabha Medical Clinic and Healing Center, Sebastopol, CA "Many years of illness and pain prepared Diane for her last adventure with friends to the Sonoma Coast. Propped up on many pillows and blankets she ate dark chocolate and ripe raspberries while singing 'Give yourself to Love' and experienced the total joy we shared with her so often throughout her dying process." Tom Meyskens, lover of spoken poetry, fellow Love Choir member and friend "Diane fully engaged in her life and her death. She didn't want to miss anything. Though debilitated, weak, and living with chronic pain, she traveled with us to Mexico and went on by herself to another retreat, sending us home with a suitcase of homeopathic drugs and other heavy items. She camped, canoed, and attended musical festivals during her last throws with cancer with a 'little' help from her friends. At her request, we have spread her ashes in beautiful places where the people she loves go and can be with her. She was a great teacher. She shared her joy and her tears, her life and her death with grace, honesty, and openness. Straw into Gold shares Diane's amazing journey and imparts the wisdom of a woman who inspired many with the way she moved beyond illness, hardship, and dying to embrace love and life." Linda Mollenhauer-Meyskens, Life coach and close friend
Sklep: Libristo.pl 48,28 zł
Książki / Literatura obcojęzyczna
Straw into Gold Illness, Loss, and Hardship as a Path to Inner Peace Diane LaRae Bodach This book is a journey about being human, about opening to life in whatever form it takes and extending loving kindness to oneself and others no matter what. It tells the story of many who have endured great physical and emotional losses in the form of chronic illness, pain and disability as well as through relationships and identities that, once held dear, are stripped away. Diane LaRae Bodach is brutally honest, yet wholly compassionate, in her self-examination, and in the telling of her spiritual and physical journey through life, including chronic illness, cancer, and impending death. Her experiences and wisdom, her willingness to be with life and self exactly as they are, and to open to all that comes her way -- no matter how difficult -- can benefit us all. Although this book journeys through intense pain and loss, the ultimate teaching is that whoever you are, and no matter what life presents, love, compassion and joy are always possible; suffering is optional. ISBN: 978-1-57733-223-7 Endorsements "A beautifully written, searingly honest, and profoundly moving account of one woman's journey through chronic illness and suffering, and the life lessons she learned." Jim Dreaver, author of End Your Story, Begin Your Life "I had the unique privilege of working closely with Diane during the last year of her life as part of her integrative health care team. Diane was a gifted writer and poet, an out-of-the-box spirit who would come in for her vitamin infusion dressed in a long blue wig with wild sunglasses. She never lost her sense of humor throughout the ravages of dealing with chronic illness and then cancer. In her last month of life, she presided over her 'living' wake, a wild and wonderful dress-up party outdoors, with Diane in her bed on the throne under the spreading oak tree. Her unique talents make her story not only touching, but exquisitely and subtly expressed. During her last days, we took turns reading to her aloud to put the final touches on her editing, with many tears of sadness and joy being shed. This book is a treasure." Elaine Weil, Nurse Practitioner, Amitabha Medical Clinic and Healing Center, Sebastopol, CA "Many years of illness and pain prepared Diane for her last adventure with friends to the Sonoma Coast. Propped up on many pillows and blankets she ate dark chocolate and ripe raspberries while singing 'Give yourself to Love' and experienced the total joy we shared with her so often throughout her dying process." Tom Meyskens, lover of spoken poetry, fellow Love Choir member and friend "Diane fully engaged in her life and her death. She didn't want to miss anything. Though debilitated, weak, and living with chronic pain, she traveled with us to Mexico and went on by herself to another retreat, sending us home with a suitcase of homeopathic drugs and other heavy items. She camped, canoed, and attended musical festivals during her last throws with cancer with a 'little' help from her friends. At her request, we have spread her ashes in beautiful places where the people she loves go and can be with her. She was a great teacher. She shared her joy and her tears, her life and her death with grace, honesty, and openness. Straw into Gold shares Diane's amazing journey and imparts the wisdom of a woman who inspired many with the way she moved beyond illness, hardship, and dying to embrace love and life." Linda Mollenhauer-Meyskens, Life coach and close friend
Sklep: Libristo.pl 36,71 zł
Książki / Literatura obcojęzyczna
Woods had his perfect life mapped out for him. Rise up the ranks of the family business. Marry the rich girl of his parents' dreams. Pretend that wealth and privilege was all he'd ever wanted. Then a girl named Della breezed into town, a beautifully imperfect stranger who captured his heart and opened his eyes to a new kind of future. Woods is ready and willing to sacrifice everything for her when the sudden death of his father leaves him with his mother to care for and a business to manage. Della is determined to be strong for Woods, even as she's quietly falling to pieces. No matter how far from home she's run, the ghosts of her past have never stopped haunting her. Struggling to hide her true feelings from Woods, Della fears she can't be his rock without dragging him down into the darkness with her. But is she strong enough to let go of the last thing holding her together?
Sklep: Libristo.pl 48,45 zł
Aristocratic Affair Bantam Books (Transworld Publishers a division of...
Książki / Literatura obcojęzyczna
The life of Harriet Spencer, Countess of Bessborough, was one of both respectability and high scandal. The aristocracy of the eighteenth century were the A-list celebrities of the day; their lives, loves, fashions and misfortunes avidly reported in the press. They dominated the political world as well as the social, and Harriet was at the very heart of this powerful clique. She was born into the wealth and privilege of the Spencer family - and was the great-great-great-aunt of Diana, Princess of Wales. Following in the train of her sister, the charismatic Georgiana, Duchess of Devonshire, Harriet became one of the most glamorous and influential women of the Regency age. At a time when marriage was an aristocratic woman's only career choice, Harriet made an excellent match, to Frederick, Viscount Duncannon. But the marriage proved unhappy and Harriet soon embarked on a series of illicit affairs, including one with the charismatic playwright Richard Sheridan. In Naples she met and fell in love with the handsome young aristocrat Lord Granville Leveson Gower, a man twelve years her junior. And so began the affair that became the last, untold story of enduring love in the Regency period, an open secret within just a tiny circle. It only ended when Granville married her niece, Georgiana's daughter, taking into his care the two illegitimate children he had by Harriet. Harriet's was a life intertwined with public scandal, royal intrigue and high political drama. She was petted and spoiled by Marie Antoinette; she witnessed the French Revolution and George III's madness. She successfully dodged the Prince Regent's amorous advances; quarrelled bitterly with Byron, when her daughter Caroline Lamb embarked on a scandalous affair with him; and travelled through war-torn Europe during the rise and fall of Napoleon. She survived her sister Georgiana by twenty years, living to see the Battle of Waterloo and the coronation of George IV. "An Aristocratic Affair" opens a window on aristocratic life at its most intimate, and brings one of the Regency period's most colourful characters vividly to life.
Sklep: Libristo.pl 81,18 zł
Książki / Literatura obcojęzyczna
"I chose you to be her mom." When faced with a diagnosis that says your child will never be "normal" or that he or she will always have "special needs," you don't feel chosen. You feel fearful, angry
Sklep: Libristo.pl 81,18 zł
Książki / Literatura obcojęzyczna
Charlie Hoskins was a self-made man. Born poor as a church mouse, he was relentless in his pursuit of money to the point of being universally hated. Oh, he was admired for his rags-to-riches story. He was admired for being a good businessman. But Charlie never learned tact and made many enemies in the process of realizing his goals. He didn't care that in order to accomplish his dreams, he trampled on those of others. So it didn't surprise Josiah Reynolds when someone decided to kill Charlie. The only thing that bothered her was that her lawyer and friend, Shaneika Mary Todd, might have done the dirty deed! Join Josiah as she discovers the truth in a world that hides its secrets among antebellum mansions and million dollar horses grazing in emerald pastures. This is the world of the Bluegrass . . . a world of wealth, privilege, and now murder!
Sklep: Libristo.pl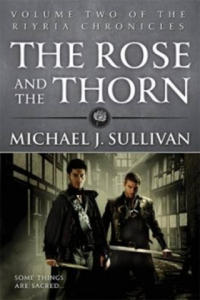 46,13 zł
Książki / Literatura obcojęzyczna
Two thieves want answers. Riyria is born. For more than a year, Royce Melborn has tried to forget Gwen DeLancy, the woman who saved him and his partner Hadrian Blackwater when all other doors were closed against them. Unable to stay away any longer, they return to Medford to a very different reception - she refuses to see them. Once more she is shielding them, this time from the powerful noble who abused her. She was right to suspect Royce wouldn't care about rank and privilege or fear any repercussions from reprisal. What she didn't realise is what he was capable of - until now.
Sklep: Libristo.pl
Sklepy zlokalizowane w miastach: Warszawa, Kraków, Łódź, Wrocław, Poznań, Gdańsk, Szczecin, Bydgoszcz, Lublin, Katowice
Szukaj w sklepach lub całym serwisie
2. Szukaj na wszystkich stronach serwisu
t1=0.296, t2=0, t3=0, t4=0.019, t=0.296