krainaksiazek judicial review in an objective legal system 20131391
- znaleziono 12 produktów w 4 sklepach 98,10 zł
Inne 1
Eddey & Darbyshire, now in its seventh edition, continues to provide a concise and highly readable introduction to the contemporary legal system of England and Wales. The author draws on her considerable experience to provide an engaging, thought-provoking and even entertaining approach to this area of law, making it an ideal undergraduate text. Since the last edition the pace of change in the English Legal System has been on an unprecedented scale. This seventh edition has been completely rewritten and restructured to take account of major statutory developments including: * Civil Procedure Rules 1998-1999 and an evaluation of Woolf Reforms in practice * The remodelling of the delivery of legal services 1998-2002 * The Crime and Disorder Act 1998, the Narey reforms, and changes to criminal procedure consequent on the Human Rights Act 1998 * Lord Justice Auld's Criminal Courts Review * Changes in the Lord Chancellor's system of judicial appointments and an assessment of the growing controversy over the appointments system * A new chapter on The Human Rights Act 1998 and the impact of the Convention on the English Legal System * An additional chapter on keeping up-to-date with the English Legal System, including details of relevant publications and websites * Online updates to the textbook can be found at www sweetandmaxwell.co.uk/academic Eddey & Darbyshire is essential reading for undergraduate students of law, those studying law at A2 or AS Levels, as well as students on non-vocational courses.
Sklep: Albertus.pl 324,60 zł
Książki / Literatura obcojęzyczna
This book presents a comparative constitutional analysis of the system of constitutional review in more than 150 countries. It describes different models of constitutional review and the bodies that hold this special and exclusive decision-making power on constitutional matters. It classifies the constitutional review bodies as special bodies responsible for protecting the constitutionality for which they hold a certain legal superiority in relation to other branches of power. Their review quite often covers legislative acts that are the highest legal instruments of a specific legal and political system. This gives the constitutional review body a special status with power to provide constitutional review under the system of the separation of powers, especially in relation to the legislative power that it may even annul statutes adopted by the legislative body. The book includes a French Summary, tables and map presenting Constitutional/Judicial Review around the world.
Sklep: Libristo.pl 773,26 zł
Książki / Literatura obcojęzyczna
This volume critically discusses the§relationship between democracy and constitutionalism. It does so with a view to§respond to objections raised by legal and political philosophers who are§sceptical of judicial review based on the assumption that judicial review is an§undemocratic institution. The book builds on earlier literature on the moral§justification of the authority of constitutional courts, and on the current§attempts to develop a system on "weak judicial review". Although different in§their approach, the chapters all focus on devising institutions, procedures§and, in a more abstract way, normative conceptions to democratize§constitutional law. These democratizing strategies may vary from a radical§objection to the institution of judicial review, to a more modest proposal to§justify the authority of constitutional courts in their "deliberative§performance" or to create constitutional juries that may be more aware of a§community's constitutional morality than constitutional courts are. The book connects abstract theoretical§discussions about the moral justification of constitutionalism with concrete§problems, such as the relation between constitutional adjudication and§deliberative democracy, the legitimacy of judicial review in international§institutions, the need to create new institutions to democratize§constitutionalism, the connections between philosophical conceptions and§constitutional practices, the judicial review of constitutional amendments, and§the criticism on strong judicial review.§§
Sklep: Libristo.pl 368,46 zł
Książki / Literatura obcojęzyczna
This book presents a comprehensive theory of legal interpretation, by a leading judge and legal theorist. Currently, legal philosophers and jurists apply different theories of interpretation to constitutions, statutes, rules, wills, and contracts. Aharon Barak argues that an alternative approach - purposive interpretation - allows jurists and scholars to approach all legal texts in a similar manner while remaining sensitive to the important differences. Moreover, regardless of whether purposive interpretation amounts to a unifying theory, it would still be superior to other methods of interpretation in tackling each kind of text separately.Barak explains purposive interpretation as follows: All legal interpretation must start by establishing a range of semantic meanings for a given text, from which the legal meaning is then drawn. In purposive interpretation, the text's "purpose" is the criterion for establishing which of the semantic meanings yields the legal meaning. Establishing the ultimate purpose - and thus the legal meaning - depends on the relationship between the subjective and objective purposes; that is, between the original intent of the text's author and the intent of a reasonable author and of the legal system at the time of interpretation. This is easy to establish when the subjective and objective purposes coincide.But when they don't, the relative weight given to each purpose depends on the nature of the text. For example, subjective purpose is given substantial weight in interpreting a will; objective purpose, in interpreting a constitution. Barak develops this theory with masterful scholarship and close attention to its practical application. Throughout, he contrasts his approach with that of textualists and neotextualists such as Antonin Scalia, pragmatists such as Richard Posner, and legal philosophers such as Ronald Dworkin. This book represents a profoundly important contribution to legal scholarship and a major alternative to interpretive approaches advanced by other leading figures in the judicial world.
Sklep: Libristo.pl 72,30 zł
Inne 1
Constitutionally, the right to amend the Constitution in India lies with Parliament alone. In recent years, however, and in an atmosphere of judicial activism, the Supreme Court has gone beyond its role as interpreter of the Constitution, becoming its arbiter. There is thus scope in India's federal structure for an impasse between the Supreme Court and Parliament which will not be resolved by referring to the Constitution. Written against this background, this collection of essays by eminent parliamentarians, jurists, legal experts and journalists examines various aspects of this important issue, including: - the doctrine of `basic structure', and the complex responses to and consequences of this doctrine; - judicial review in India, in relation to the superiority of Parliament in the UK and the virtually unlimited scope of judicial review by the US Supreme Court; - `due process of law' and its applicability in India; - the electoral system and the threat of majoritarianism; - federalism in India: Parliament and the state legislatures; - The Supreme Court's creativity in interpreting the Constitution but the continuing absence of clear constitutional principles despite this. - the Court's role as the protector of fundamental rights. Written in an accessible style, this book is a of interested to academic reseearchers and practitioners in government studies, constitutional issues, law and politics.
Sklep: Albertus.pl 279,09 zł
Książki / Literatura obcojęzyczna
Relying on religious traditions that are as old as their faith itself, many devout Christians turn to prayer rather than medicine when their children fall victim to illness or injury. Faith healers claim that their practices are effective in restoring health - more effective, they say, than modern medicine. But, over the past century, hundreds of children have died after being denied the basic medical treatments furnished by physicians because of their parents' intense religious beliefs. The tragic deaths of these youngsters have received intense scrutiny from both the news media and public authorities seeking to protect the health and welfare of children. When Prayer Fails: Faith Healing, Children, and the Law is the first book to fully examine the complex web of legal and ethical questions that arise when criminal prosecutions are mounted against parents whose children die as a result of the phenomenon known by experts as religion-based medical neglect. Do constitutional protections for religious liberty shield parents who fail to provide adequate medical treatment for their sick children? Are parents likewise shielded by state child-neglect faith laws that seem to include exemptions for healing practices? What purpose do prosecutions really serve when it's clear that many deeply religious parents harbor no fear of temporal punishment? Peters offers a review of important legal cases in both England and America from the 19th century to the present day. He devotes special attention to cases involving Christian Science, the source of many religion-based medical neglect deaths, but also considers cases arising from the refusal of Jehovah's witnesses to allow blood transfusions or inoculations. Individual cases dating back to the mid-19th century illuminate not only the legal issues at stake but also the profound human drama of religion-based medical neglect of children. Based on a wide array of primary and secondary source materials - among them judicial opinions, trial transcripts, police and medical examiner reports, news accounts, personal interviews, and scholarly studies - this book explores efforts by the legal system to balance judicial protections for the religious liberty of faith-healers against the state's obligation to safeguard the rights of children.
Sklep: Libristo.pl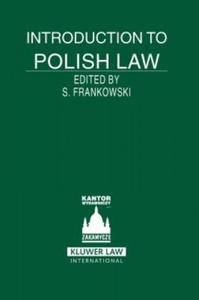 1277,51 zł
Książki / Literatura obcojęzyczna
During two decades encompassing three epochal events - the collapse of European communism in 1989, NATO membership in 1999, and accession to the European Union in 2004 - the legal system of Poland has emerged with remarkable maturity and stability. In an exemplary blend of its democratic heritage from the era between the World Wars, proven effective legislation from the communist era, and the vibrant 1997 Constitution, Polish law dramatically reflects new social, economic and political realities.With eleven lucid chapters written by fifteen academic experts from the Warsaw University School of Law and Administration, each in his or her respective field of law, this deeply informed but succinct and practical volume is the ideal starting point for research whenever a question of Polish law arises. The authors clearly explain the legal concepts, customs and rules surrounding such essential elements as the following: - principles and practices of constitutional law; - administrative law and procedure; - civil procedure; - courts and special judicial bodies; - judicial review; - enforcement of foreign judgments; - family, succession and inheritance matters; - formation and conduct of corporations and partnerships; - contract formation, interpretation and termination; - environmental protection; - harmonizing Polish economic law with EU standards; - competition law and regulatory framework of market processes; - special regulation of energy, telecommunications and financial markets; - copyrights, patents, utility models and industrial designs; - licence agreements; - the labour relationship and types of employment contracts; and, - criminal law and procedure.Each chapter includes its own detailed bibliography.English-speaking legal practitioners and academics have here an ideal introduction to the basic institutions, principles and rules of Polish law. Encompassing all the major fi
Sklep: Libristo.pl 21,49 zł
Sensacja. Thriller. Kryminał
NO. 1 INTERNATIONAL BESTSELLER
Sklep: Polishbookstore.pl 85,32 zł
Książki / Literatura obcojęzyczna
Seminar paper from the year 2008 in the subject Law - Comparative Legal Systems, Comparative Law, grade: 29/30, University of Trento, course: Seminar zum russischen Recht, language: English, abstract: This assignment deals with the law of succession in Russian Federation and Germany. The law of succession does not seem very interesting to the majority of the law students and wrongly so! It is one of the oldest areas of law which roots go back almost to the Stone Age. It is based on the fundamental human right of property since it obviously does not exist in societies where the individual right to own and to transfer the ownership is not recognized by law or custom. In addition, this topic never stops being actual because nowadays almost everyone is confronted with it sooner or later by inheriting and/or bequeathing. In case of Russia, we can additionally observe the particular situation of a state challenged to establish a new legal system after the collapse of the Soviet Union taking into account human rights in a relatively short period of time. The law of succession as part of legal order had also to be adapted to the new reality determined by the free market economy and developed rapidly. Finally, Germany is one of the leading European countries with a very elaborated codification and broad scope of the judicial review whose example among others is bound to influence the Russian legal experts searching for time-tested patterns and trying to combine foreign experience with the peculiarities of the own country in order to create modern legislation.In the following, we will overview the historic development of the law of inheritance both in Germany and Russia. After this, we will analyze the current legal situation in both countries, attempting to establish its relationship with the respective constitutional law as well as trying to show the similarities and find possible explanations for the differences. The conclusion will then summarize the findings obtained.
Sklep: Libristo.pl 626,82 zł
Książki / Literatura obcojęzyczna
This book provides an introduction to the laws of the Middle East, defining the contours of a field of study that deserves to be called 'Middle Eastern law'. It introduces Middle Eastern law as a reflection of legal styles, many of which are shared by Islamic law and the laws of Christian and Jewish Near Eastern communities. It offers a detailed survey of the foundations of Middle Eastern law, using court archives and an array of legal sources from the earliest records of Hammurabi to the massive compendia of law in the Islamic classical age through to the latest decisions of Middle Eastern high courts. It focuses on the way legislators and courts conceive of law and apply it in the Middle East. It builds on the author's extensive legal practice, with the aim of introducing the Middle Eastern law's main sources and concepts in a manner accessible to non-specialist legal scholars and practitioners alike. The book begins with an exploration of the depth and variety of Middle Eastern law, introducing the concepts of shari'a, fiqh, and qanun, (which all mean 'law'), and dwelling on Islamic law as the 'common law' of the Middle East. It provides a historical introduction to the contemporary Middle East, exploring political systems, constitutional law, judicial review, the laws of tort and obligations, commercial law (including Islamic banking, company law, capital markets, and commercial arbitration); and examines legislative reform in family law and the position of women in the legal system. The author considers the interaction between Islamic and Western laws and includes a bibliography designed for further research into the jurisdictions and themes explored throughout the book.
Sklep: Libristo.pl 3,07 zł
Książki & Multimedia > Książki
Opis - Kolorowanka. Literkowy świat Kreatywne kolorowanki to seria zeszytów z naklejkami dla dzieci od lat 3. Przyklejaj naklejki i koloruj według wzoru, rysuj po śladzie. To wspaniała zabawa. Nazwa - Kreatywne kolorowanki z naklejkami Literkowy świat Autor - Praca zbiorowa Oprawa - Miękka Wydawca - Avanti Kod ISBN - 9788365276100 Kod EAN - 9788365276100 Rok wydania - 2015 Język - polski Format - 14.5x21.0cm Ilość stron - 32 Podatek VAT - 5% Premiera - 2016-06-06
Sklep: InBook.pl 387,54 zł
Książki / Literatura obcojęzyczna
This text embodies cutting-edge tools necessary for limping financial systems. It outlines clearly, that such financial systems require political impulsion to propel their private sectors. Ensuring a proper cohabitation between private sector development and financial system development would require an efficient functioning judicial system- thus, the importance of legal systems to financial development and consequently economic growth. The transmission mechanism from increase in investment to increase demand and supply of investment finance does not only depend on the amelioration of the legal system but rather on the quality of the amelioration. From a step by step review of the era of financial repression to financial liberalisation and later, an indepth analysis of the process of financial deepening in the CEMAC zone, the author has outlined why many financial systems remain shallow and he went futher to propose strageties to make financial systems engines of growth.The case of the CEMAC zone is not different from other developing economies or regions.
Sklep: Libristo.pl
Sklepy zlokalizowane w miastach: Warszawa, Kraków, Łódź, Wrocław, Poznań, Gdańsk, Szczecin, Bydgoszcz, Lublin, Katowice
Szukaj w sklepach lub całym serwisie
2. Szukaj na wszystkich stronach serwisu
t1=0.525, t2=0, t3=0, t4=0.049, t=0.525