krainaksiazek language rich insights from multilingual schools 20166935
- znaleziono 4 produkty w 1 sklepie 507,43 zł
Książki / Literatura obcojęzyczna
What are the features of the school environment that make students' of color incorporation greater at some schools than at others? Prudence L. Carter seeks to answer this basic but bedeviling question through a rich comparative analysis of the organizational and group dynamics in eight schools located within four cities in the United States and South Africa-two nations rebounding from centuries of overt practices of racial and social inequality. Stubborn Roots provides insight into how school communities can better incorporate previously disadvantaged groups and engender equity by addressing socio-cultural contexts and promoting "cultural flexibility." It also raises important and timely questions about the social, political, and philosophical purposes of multiracial schooling that have been greatly ignored by many, and cautions against narrow approaches to education that merely focus on test-scores and resources. "There are simply not enough texts that look comparatively at the two foremost experiments with questions of race, culture, and class in the English-speaking world, the United States and South Africa. Prudence Carter's work is simultaneously scholarly and compassionate. It helps us see, in these two benighted but globally important societies, how easily things break, but also how well, when structures are in place and when human agency takes flight, individuals and the groups to which they belong flourish and grow." - Crain Soudien, Professor of Education, University of Cape Town "In this ambitious mixed-method study, Carter analyzes the social and symbolic boundaries that account for disparate educational experiences by race in the United States and South Africa. Resources are only part of the answer; equally important, she argues, are the cultural and institutional conditions that make students feel they are valued contributors of the community. Thus, school policies about hairstyle, dress codes, tracking, extracurricular activities, and language use are among the important dimensions that enable or discourage engagement in students. Educators, policymakers, and scholars alike have much to learn from this agenda-setting work." -Michele Lamont, Harvard University Author of The Dignity of Working Men: Morality and the Boundaries of Race, Class and Immigration "Prudence Carter's remarkable book shines a light on the often invisible patterns that perpetuate educational disparity in both the United States and South Africa. Stubborn Roots reveals how racial and ethnic divides are often reinforced, even in supposedly 'integrated' schools and even when many people of good will, try to eradicate them. Carter's insights illuminate how educators and schools can address these issues by becoming increasingly attuned to the socio-cultural worlds in which their students live. This book paves the way for the changes needed for historically disadvantaged groups to receive equitable, high-quality educations." -Linda Darling-Hammond, Charles Ducommun Professor of Education, Stanford University
Sklep: Libristo.pl 278,18 zł
Książki / Literatura obcojęzyczna
This is an up-to-the-moment, engaging, multicultural introduction to education and teaching and the challenges and opportunities they present. Together, the four authors bring a rich blend of theory and practical application to this groundbreaking text. Jeannie Oakes is a leading education researcher and former director of the UCLA teacher education program. Martin Lipton is an education writer and consultant and has taught in public schools for 31 years. Lauren Anderson and Jamy Stillman are former public school teachers, now working as teacher educators. This unique, comprehensive foundational text considers the values and politics that pervade the U.S. education system, explains the roots of conventional thinking about schooling and teaching, asks critical questions about how issues of power and privilege have shaped and continue to shape educational opportunity, and presents powerful examples of real teachers working for equity and justice. Taking the position that a hopeful, democratic future depends on ensuring that all students learn, the text pays particular attention to inequalities associated with race, social class, language, gender, and other social categories and explores teachers role in addressing them. The text provides a research-based and practical treatment of essential topics, and it situates those topics in relation to democratic values; issues of diversity; and cognitive, sociocultural, and constructivist perspectives on learning. The text shows how knowledge of education foundations and history can help teachers understand the organization of today s schools, the content of contemporary curriculum, and the methods of modern teaching. It likewise shows how teachers can use such knowledge when thinking about and responding to headline issues like charter schools, vouchers, standards, testing, and bilingual education, to name just a few. Central to this text is a belief that schools can and must be places of extraordinary educational quality and institutions in the service of social justice. Thus, the authors address head-on tensions between principles of democratic schooling and competition for always-scarce high-quality opportunities. Woven through the text are the voices of a diverse group of teachers, who share their analyses and personal anecdotes concerning what teaching to change the world means and involves. Click Here for Book Website Pedagogical Features: Digging Deeper sections referenced at the end of each chapter and featured online include supplementary readings and resources from scholars and practitioners who are addressing issues raised in the text. Instructor s Manual offers insights about how to teach course content in ways that are consistent with cognitive and sociocultural learning theories, culturally diverse pedagogy, and authentic assessment.New to this Edition: "
Sklep: Libristo.pl 128,40 zł
Książki / Literatura obcojęzyczna
What are the features of the school environment that make students' of color incorporation greater at some schools than at others? Prudence L. Carter seeks to answer this basic but bedeviling question through a rich comparative analysis of the organizational and group dynamics in eight schools located within four cities in the United States and South Africa-two nations rebounding from centuries of overt practices of racial and social inequality. Stubborn Roots provides insight into how school communities can better incorporate previously disadvantaged groups and engender equity by addressing socio-cultural contexts and promoting "cultural flexibility." It also raises important and timely questions about the social, political, and philosophical purposes of multiracial schooling that have been greatly ignored by many, and cautions against narrow approaches to education that merely focus on test-scores and resources. "There are simply not enough texts that look comparatively at the two foremost experiments with questions of race, culture, and class in the English-speaking world, the United States and South Africa. Prudence Carter's work is simultaneously scholarly and compassionate. It helps us see, in these two benighted but globally important societies, how easily things break, but also how well, when structures are in place and when human agency takes flight, individuals and the groups to which they belong flourish and grow." - Crain Soudien, Professor of Education, University of Cape Town "In this ambitious mixed-method study, Carter analyzes the social and symbolic boundaries that account for disparate educational experiences by race in the United States and South Africa. Resources are only part of the answer; equally important, she argues, are the cultural and institutional conditions that make students feel they are valued contributors of the community. Thus, school policies about hairstyle, dress codes, tracking, extracurricular activities, and language use are among the important dimensions that enable or discourage engagement in students. Educators, policymakers, and scholars alike have much to learn from this agenda-setting work." -Michele Lamont, Harvard University Author of The Dignity of Working Men: Morality and the Boundaries of Race, Class and Immigration "Prudence Carter's remarkable book shines a light on the often invisible patterns that perpetuate educational disparity in both the United States and South Africa. Stubborn Roots reveals how racial and ethnic divides are often reinforced, even in supposedly 'integrated' schools and even when many people of good will, try to eradicate them. Carter's insights illuminate how educators and schools can address these issues by becoming increasingly attuned to the socio-cultural worlds in which their students live. This book paves the way for the changes needed for historically disadvantaged groups to receive equitable, high-quality educations." -Linda Darling-Hammond, Charles Ducommun Professor of Education, Stanford University
Sklep: Libristo.pl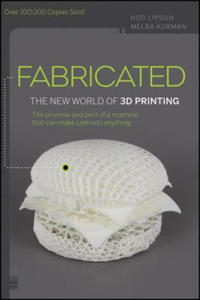 156,44 zł
Książki / Literatura obcojęzyczna
Fabricated tells the story of 3D printers, humble manufacturing machines that are bursting out of the factory and into schools, kitchens, hospitals, even onto the fashion catwalk. Fabricated describes our emerging world of printable products, where people design and 3D print their own creations as easily as they edit an online document. A 3D printer transforms digital information into a physical object by carrying out instructions from an electronic design file, or 'blueprint.' Guided by a design file, a 3D printer lays down layer after layer of a raw material to 'print' out an object. That's not the whole story, however. The magic happens when you plug a 3D printer into today's mind-boggling digital technologies. Add to that the Internet, tiny, low cost electronic circuitry, radical advances in materials science and biotech and voila! The result is an explosion of technological and social innovation. Fabricated takes the reader onto a rich and fulfilling journey that explores how 3D printing is poised to impact nearly every part of our lives. Readers will meet pioneering teachers, small businesses, artists, surgeons and researchers who are applying 3D printing and innovative design software to expand the limits of what they do Non-experts will learn the basics of 3D printing technologies and design software as explained in lucid, non-technical language Readers will learn about weird and wonderful applications of 3D printing such as printing food, dental crowns and someday...replacement heart valves, organs and joints Readers will gain insight into a whole new level of intellectual property challenges as 3D printers enable people to make copies -- even 'edit' -- commercial products and works of art Readers with a taste for science fiction will glimpse a not-so-distant 3D printed future that's taking shape as leading researchers explore ways to 3D print smart materials and ready-made robots Aimed at people who enjoy books on business strategy, popular science and novel technology, Fabricated will provide readers with practical and imaginative insights to the question 'how will this technology change my life?' Based on hundreds of hours of research and dozens of interviews with experts from a broad range of industries, Fabricated offers readers an informative, engaging and fast-paced introduction to 3D printing now and in the future.
Sklep: Libristo.pl
Sklepy zlokalizowane w miastach: Warszawa, Kraków, Łódź, Wrocław, Poznań, Gdańsk, Szczecin, Bydgoszcz, Lublin, Katowice
Szukaj w sklepach lub całym serwisie
2. Szukaj na wszystkich stronach serwisu
t1=0.209, t2=0, t3=0, t4=0.019, t=0.21