krainaksiazek leadership dynamics building effective teams 20169534
- znaleziono 13 produktów w 2 sklepach 109,94 zł
Książki
Sklep: KrainaKsiazek.pl 97,51 zł
Książki
Sklep: KrainaKsiazek.pl 209,73 zł
Książki / Literatura obcojęzyczna
Remarkably little is known about effective leadership teams are in UK charities. This publication answers these questions by investigating, for the first time in detail by interviewing 100 of the top charities.
Sklep: Libristo.pl 862,11 zł
Książki / Literatura obcojęzyczna
Theory and Practice of Multicultural Teams (TPMT) will help students understand the most current theory and practice perspectives relevant to multicultural teams, and apply these theories as team members and/or managers, facilitators and leaders. It is designed for classroom use in management and organizational behavior courses where students at the graduate and certificate level are developing skills to work in teams. It is intended to be a core text but may be used as a supplemental text as well.§TPMT is unique in that it utilizes a tri-lens approach: cultural differences, social identity, and individual personality differences. The initial four chapters written by the co-editors provide a comprehensive and integrative overview of the importance of multicultural teamwork theory and practice; current trends; a conceptual framework for team effectiveness; approaches to understanding the impact of culture, social identity and personality on teamwork; and the developmental stages of teams. The remaining chapters written by others focus on major team processes: group dynamics, leadership, communication, conflict, and problem solving/decision making. The examples and ideas are global, inclusive of all sectors, and relate to virtual and face-to-face teams. Each of the chapters contains relevant competencies, and assessments.
Sklep: Libristo.pl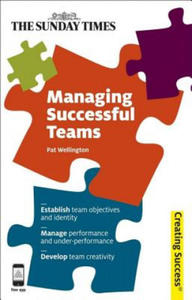 67,54 zł
Książki / Literatura obcojęzyczna
With the shift of emphasis from the West to emerging economies such as China, Brazil and India, organisations need to restructure to adapt to the new global economy. Teams and projects are increasingly being scattered all over the world, and a manager operating in this environment can't connect face to face with people in their team. Not only will managers need to adapt to develop their skills for new environments, they will have to work better, quicker and faster. "Managing Successful Teams" prepares you to meet the challenges of building and leading teams, showing you how to improve performance and achieve the best results. Offering valuable advice and instant strategies, it covers each aspect of managing teams in new cultural shifts, including developing team creativity and innovation, realigning the team's identity with your leadership style and effective team leadership. The only book on the market to incorporate emerging trends and shifts in business practice, "Managing Successful Teams" addresses the practical and realistic issues you face in your everyday working life.
Sklep: Libristo.pl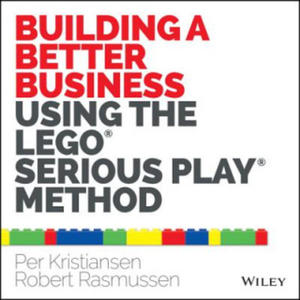 108,26 zł
Książki / Literatura obcojęzyczna
Unleash innovation potential with creative, serious play Building a Better Business Using the LEGO(R) SERIOUS PLAY(R) Method delivers a creative approach to enhancing innovation and improving business performance, with the focus on unleashing play. Written by the two original Master Trainers for LEGO SERIOUS PLAY (LSP), the book outlines how LSP can develop teams, people, relationships and business . Based on the merging of play with organizational development, systems thinking and strategy development, LSP can foster improved meetings, faster innovation processes, team growth, and better communication. The belief that everyone intends to "do good" and has the potential to do it is at the heart of LSP. The method nurtures the idea that everyone in an organization can contribute to discussions and outcomes. Building with LEGO bricks is a type of creative play that triggers a different kind of thought process, unleashing imagination and potential that is frequently untapped by the logical mind. The book explains this hands-on, minds-on approach, and discusses the theory as well as the practical implementation of LSP. Topics include: Observation of internal and external interaction dynamics Fostering a free and honest exchange of opinions Suspending hierarchy for better, more effective communication Facilitating change by encouraging exploration The LEGO SERIOUS PLAY method is employed by start-ups and multinational corporations alike to maximize synergy among teams and throughout organizations. For leaders looking to boost effectiveness and see better results, Building a Better Business Using the LEGO(R) SERIOUS PLAY(R) Method is a comprehensive introduction to this creative management technique.
Sklep: Libristo.pl 94,52 zł
Książki / Literatura obcojęzyczna
Master the 12 disciplines of powerful leadership and lead your organization to greatness§In 12 Disciplines of Leadership Excellence , bestselling author and motivational expert Brian Tracy teams up with global leadership development expert Dr. Peter Chee to reveal simple, straightforward principles you can use to make lasting positive changes in your organization.§Beginning with the assertion that leaders are made, not born, the authors show you how to make the personal changes necessary for getting yourself on track to leadership greatness.§It's about discipline. From creativity, character, and caring to competitiveness, control, and clarity, these 12 disciplines are essential to equipping you and your people to excel and exceed even their own expectations. Tracy and Chee explain how you can master each and every one.§Read 12 Disciplines of Leadership Excellence and learn the simple secrets to becoming an effective leader in a time when high-performing inspirational leaders are needed most.§We've all heard the phrase born leader. Leadership experts Brian Tracy and Dr. Peter Chee are here to debunk the myth that you either have it or you don't. That leadership is a talent bestowed on some and not on others. That in order to lead effectively, you have to have it in your genes.§The authors assert that great leaders are made, not born. Everyone has the ability to shape himself or herself into the kind of person who enables and uplifts others to reach their highest potential--and in 12 Disciplines of Leadership Excellence, they reveal exactly how to achieve it.§It all starts with discipline. In this groundbreaking book, the authors break down great leadership into 12 disciplines, including:§Clarity . . . about who you are, where you are going, and how to get there§Control . . . build and bolster your sense of personal responsibility and self-mastery§Character . . . dedicate yourself to passionately build trust with honesty and integrity§Competence . . . commit to constant never-ending improvement and learning§Caring . . . because when you care, your people care in building great working relationships§Courage . . . moving out of your comfort zone to embrace change and make tough decisions §One at a time. Don't try to take on too much at once. Choose a discipline and live it until it becomes a habit of excellence. Then move to the next one. It will take time--but all life-improving endeavors do.§Read this practical, inspirational guide and every day you will take one more step to becoming a highly effective leader.§
Sklep: Libristo.pl 120,34 zł
Książki / Literatura obcojęzyczna
This book explains why virtually all children can achieve proficiency or higher, gives educators the tools to help them achieve those levels of learning. The notion that schools are "waiting for Superman" or Wonder Woman to rescue them is at best a fantasy and at worst, damaging to schools and school systems that advance this type of flawed thinking. This is why in this book the reader will be encouraged to embrace the concept that only through building effective teams (collective instructional leadership) will schools begin to realize their stated goal-educate all students. It may take a village to raise children but it takes collective instructional leadership to educate them. This book takes great care to ask the questions that policymakers, educators, parents, students and the larger community want answered: *Can you handle the truth? *Why is team leadership needed? *How do campuses improve their team dynamics? *What methods do high performing nations use to excel? *What strategies really work in high poverty schools? *Where do American schools rank on the rigor scale? *What is trust and how is it developed? *What are campus learning disabilities? *How do beliefs about human capacity affect student achievement levels? *What methods motivate students to work hard? *What do we really mean when we say, "All children can learn"? The Pyramid Approach was designed by Dr. George Woodrow, Jr. for use by educators. The Pyramid is research-based; it aligns theory with professional practice. In addition, it strives to take what we know and provide a practical framework to effectively apply that same knowledge in ways that promotes student achievement. The Pyramid Approach calls attention to the need for a systematic framework that recognizes the interconnectedness among research methods.
Sklep: Libristo.pl 188,05 zł
Książki / Literatura obcojęzyczna
"Leading Through Leaders: Driving Strategy, Execution and Change" will help you improve your business results by overcoming the challenges of uncertainty, complexity, imperfect decision-making and communication, and staff disengagement. Whilst focused on building collective leadership as a strategic capability, the author provides the means for effective individual leadership: a coherent framework of principles, process and behaviour to create the conditions for success, and the systemic and dynamic integration and alignment of leaders and engaged teams at all levels. Based on the author's 27 years of leadership and consulting experience, and illustrated with case studies and learning from clients such as Cisco, Best Western, ABN AMRO, Pfizer and the NHS, this book provides unique insights into 'effective leadership' in some of the world's best known enterprises. "Leading Through Leaders" presents an integrated suite of proven and durable principles and tools, and the leadership psychology, that may be adapted and used by any leader. It provides businesses with the intellectual firepower to rise above the fog and clutter of operational issues and focus on strategic priorities, with the confidence that junior leaders and their teams are fully engaged and aligned at the tactical level.
Sklep: Libristo.pl 135,74 zł
Książki / Literatura obcojęzyczna
The proven model that offers powerful and elegant strategies for leaders How Great Leaders Think: the Art of Reframing uses compelling, contemporary examples to show how more complex thinking is the key to better leadership. Leaders who understand what's going on around them see what they need to do to achieve the results they want. Bolman and Deal's influential four-frame model of leadership and organizations-developed in their bestselling book, Reframing Organizations: Artistry Choice and Leadership- offers leaders an accessible guide for understanding four major aspects of organizational life: structure, people, politics, and culture. Tapping into the complexity enables leaders to decode the messy world in which they live, see more options, tell better stories, and find strategies that are more effective. Case examples of leaders like Jeff Bezos at Amazon, Howard Schultz at Starbucks, Tony Hsieh at Zappos, Ursula Burns at Xerox, and the late Steve Jobs at Apple provide concrete lessons that readers can put to use in their own leadership. The book's lessons include: How to use structural tools to organize teams and organizations for better results How to build motivation and morale by aligning organizations and people How to map the terrain and build a power base to navigate the political dynamics in organizations How to develop a leadership story that shapes culture, provides direction, and inspires commitment to excellence
Sklep: Libristo.pl 263,53 zł
Książki / Literatura obcojęzyczna
This book presents systematically six types of schools, with different improvement capacities. Different schools have different capacities for school improvement, depending on the school infrastructure, norms and routines for the improvement process, improvement roles, and improvement history. The organisation of the improvement capacity is understood on the basis of sensemaking processes among teachers and school leaders. The book focuses on the challenges for each type of school in their improvement work, and which situations and circumstances they need to take into account. The school types are illustrated with detailed descriptions of six schools, coming from an evaluation of a Norwegian school development program. The book fills a need in school organisations to have concrete illustrations from similar schools of how teacher teams are organised, how leadership is exercised and processes are organised in their efforts of improving the organisation and building a complex and effective capacity. Schools improvement capacity has become an important feature in school management and leadership as well as in research as western states have decentralised governance to the local level. The expectations on school leaders as well as on teachers are high when it comes to improve their schools to raise student outcome. Accounts of professional school cultures and professional learning communities often describe in an overall perspective the ideal school where such an improvement capacity is in work. However, accounts of the many ways of organising the capacity which perhaps are not all in all ideal or effective also contribute to the knowledge of the local school process.§
Sklep: Libristo.pl 138,88 zł
Książki / Literatura obcojęzyczna
"International Management English" is a ground-breaking new series developed by York Associates, who have been preparing professionals for international work for over 30 years. The series covers four key aspects of international business operations: Leading People, Managing Projects, Managing Change and Working Virtually. "Leading People" deals with the challenges facing those who run professional teams, covering all aspects of communication and people management from developing one's own leadership skills through to getting the best from others. "Leading People" contains eight units, focusing on: Becoming a better manager; Building a team; Getting and giving direction; Organising teams; Defining roles; Providing support; Giving and receiving feedback; and Representing a team. In every unit "Leading People" provides comprehensive training in the skills proven to be necessary to communicate successfully in the world of international business: relevant language skills, communicative ability, people management skills and intercultural competence. This training is delivered through extensive speaking and listening activities, professional input, skills practice, intercultural awareness-raising and case study discussions. In addition the book provides: an audio CD; a learning diary; a needs analysis; unit-by-unit glossaries of key words and phrases; tips for more effective language learning and how to improve performance at work; and the opportunity to develop a personal action plan.
Sklep: Libristo.pl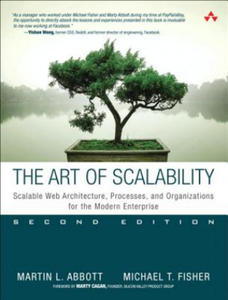 188,71 zł
Książki / Literatura obcojęzyczna
A Comprehensive, Proven Approach to IT Scalability from Two Veteran Software, Technology, and Business Executives In this second edition of The Art of Scalability, AKF Partners cofounders Martin L. Abbott and Michael T. Fisher cover everything product, technology and business leaders must know to build products that can scale smoothly to meet any business requirement. Drawing on their unparalleled experience managing some of the world's highest-transaction-volume Web sites, the authors provide detailed models and best-practice approaches available in no other book. Unlike previous books on scalability, The Art of Scalability doesn't limit its coverage to technology. Writing for both technical and nontechnical decision-makers, this book covers everything that impacts scalability, including architecture, processes, people, and organizations. This second edition has been edited to improve readability and includes new and updated content, a new chapter on Agile architecture, and new case studies. Throughout, the authors address a broad spectrum of real-world challenges, from performance testing to IT governance. Using their tools and guidance, organizations can systematically overcome obstacles to scalability and achieve unprecedented levels of technical and business performance. New and Updated Coverage includes
Sklep: Libristo.pl
Sklepy zlokalizowane w miastach: Warszawa, Kraków, Łódź, Wrocław, Poznań, Gdańsk, Szczecin, Bydgoszcz, Lublin, Katowice
Szukaj w sklepach lub całym serwisie
2. Szukaj na wszystkich stronach serwisu
t1=0.05, t2=0, t3=0, t4=0, t=0.05