krainaksiazek leadership dynamics building effective teams 20169534
- znaleziono 9 produktów w 2 sklepach 109,94 zł
Książki
Sklep: KrainaKsiazek.pl 97,51 zł
Książki
Sklep: KrainaKsiazek.pl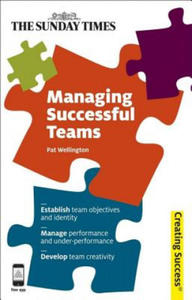 84,98 zł
Książki / Literatura obcojęzyczna
With the shift of emphasis from the West to emerging economies such as China, Brazil and India, organisations need to restructure to adapt to the new global economy. Teams and projects are increasingly being scattered all over the world, and a manager operating in this environment can't connect face to face with people in their team. Not only will managers need to adapt to develop their skills for new environments, they will have to work better, quicker and faster. "Managing Successful Teams" prepares you to meet the challenges of building and leading teams, showing you how to improve performance and achieve the best results. Offering valuable advice and instant strategies, it covers each aspect of managing teams in new cultural shifts, including developing team creativity and innovation, realigning the team's identity with your leadership style and effective team leadership. The only book on the market to incorporate emerging trends and shifts in business practice, "Managing Successful Teams" addresses the practical and realistic issues you face in your everyday working life.
Sklep: Libristo.pl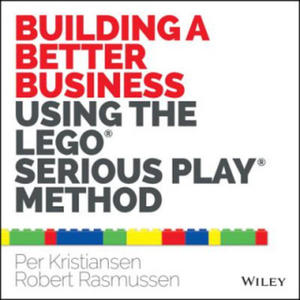 109,42 zł
Książki / Literatura obcojęzyczna
Unleash innovation potential with creative, serious play Building a Better Business Using the LEGO(R) SERIOUS PLAY(R) Method delivers a creative approach to enhancing innovation and improving business performance, with the focus on unleashing play. Written by the two original Master Trainers for LEGO SERIOUS PLAY (LSP), the book outlines how LSP can develop teams, people, relationships and business . Based on the merging of play with organizational development, systems thinking and strategy development, LSP can foster improved meetings, faster innovation processes, team growth, and better communication. The belief that everyone intends to "do good" and has the potential to do it is at the heart of LSP. The method nurtures the idea that everyone in an organization can contribute to discussions and outcomes. Building with LEGO bricks is a type of creative play that triggers a different kind of thought process, unleashing imagination and potential that is frequently untapped by the logical mind. The book explains this hands-on, minds-on approach, and discusses the theory as well as the practical implementation of LSP. Topics include: Observation of internal and external interaction dynamics Fostering a free and honest exchange of opinions Suspending hierarchy for better, more effective communication Facilitating change by encouraging exploration The LEGO SERIOUS PLAY method is employed by start-ups and multinational corporations alike to maximize synergy among teams and throughout organizations. For leaders looking to boost effectiveness and see better results, Building a Better Business Using the LEGO(R) SERIOUS PLAY(R) Method is a comprehensive introduction to this creative management technique.
Sklep: Libristo.pl 116,75 zł
Książki / Literatura obcojęzyczna
This book explains why virtually all children can achieve proficiency or higher, gives educators the tools to help them achieve those levels of learning. The notion that schools are "waiting for Superman" or Wonder Woman to rescue them is at best a fantasy and at worst, damaging to schools and school systems that advance this type of flawed thinking. This is why in this book the reader will be encouraged to embrace the concept that only through building effective teams (collective instructional leadership) will schools begin to realize their stated goal-educate all students. It may take a village to raise children but it takes collective instructional leadership to educate them. This book takes great care to ask the questions that policymakers, educators, parents, students and the larger community want answered: *Can you handle the truth? *Why is team leadership needed? *How do campuses improve their team dynamics? *What methods do high performing nations use to excel? *What strategies really work in high poverty schools? *Where do American schools rank on the rigor scale? *What is trust and how is it developed? *What are campus learning disabilities? *How do beliefs about human capacity affect student achievement levels? *What methods motivate students to work hard? *What do we really mean when we say, "All children can learn"? The Pyramid Approach was designed by Dr. George Woodrow, Jr. for use by educators. The Pyramid is research-based; it aligns theory with professional practice. In addition, it strives to take what we know and provide a practical framework to effectively apply that same knowledge in ways that promotes student achievement. The Pyramid Approach calls attention to the need for a systematic framework that recognizes the interconnectedness among research methods.
Sklep: Libristo.pl 156,80 zł
Książki / Literatura obcojęzyczna
The proven model that offers powerful and elegant strategies for leaders How Great Leaders Think: the Art of Reframing uses compelling, contemporary examples to show how more complex thinking is the key to better leadership. Leaders who understand what's going on around them see what they need to do to achieve the results they want. Bolman and Deal's influential four-frame model of leadership and organizations-developed in their bestselling book, Reframing Organizations: Artistry Choice and Leadership- offers leaders an accessible guide for understanding four major aspects of organizational life: structure, people, politics, and culture. Tapping into the complexity enables leaders to decode the messy world in which they live, see more options, tell better stories, and find strategies that are more effective. Case examples of leaders like Jeff Bezos at Amazon, Howard Schultz at Starbucks, Tony Hsieh at Zappos, Ursula Burns at Xerox, and the late Steve Jobs at Apple provide concrete lessons that readers can put to use in their own leadership. The book's lessons include: How to use structural tools to organize teams and organizations for better results How to build motivation and morale by aligning organizations and people How to map the terrain and build a power base to navigate the political dynamics in organizations How to develop a leadership story that shapes culture, provides direction, and inspires commitment to excellence
Sklep: Libristo.pl 638,47 zł
Książki / Literatura obcojęzyczna
As a facility manager, you're concerned with building quality into your operation but possibly unsure about how to go about it in a systematic way. Perhaps it's because a Total Quality Management program seems too imposing and costly for your department to undertake. Or maybe you're leery of certain aspects of such a concerted effort, like measuring quality or marketing facility services, because they've never been adequately explained to you. Possessing considerable backgrounds in facility management, Stormy Friday and Dave Cotts understand these uncertainties. In "Quality Facility Management", they have pooled their knowledge and experience to develop a comprehensive resource that demystifies the quality movement and shows you how to apply the old-fashioned but enduring commonsense principles of quality management often overshadowed by TQM. Flecked with humor and written as if the authors were simply talking to you, this refreshing new book identifies the five major elements underpinning any effective quality facility management program and takes you step by step through each one in a detailed yet accessible way. Gradually, you learn how to put these elements all together and - by incorporating selected modern techniques - devise a program to meet your specific situation. With the help of real-world examples, checklists, and other how-to aids, "Quality Facility Management" reveals: Why customers must be the driving force behind your quality effort, how you can exceed customers' performance expectations, and how you can effectively recover from service mistakes; How quality facility management has its roots in TQM, what constitutes the major aspects of a TQM program, and how you can implement quality facility management without a full-blown TQM program; and, Which aspects of your operation need to be measured and evaluated, which measuring tools should be used, and how to get your customers involved in the measurement process. This title also reveals: How to develop a facility marketing plan that increases awareness of your services, improves your image as a provider, and acts as an "insurance policy" in retaining the support of senior management in the face of organizational upheaval; and How to engineer a program of continuous quality improvement by assuming a specific leadership role, empowering frontline staff, instituting effective customer service training, and partnering with vendors. The final chapter provides a bounty of practical case histories of companies that are realizing quality facility management right now, including major organizations like Celestica, Bell Atlantic, Hewlett-Packard, and Lockheed. Here, you'll find ample evidence of quality tools and strategies at work - from interior preventive maintenance crews to staff productivity improvements, infrastructure planning teams to customer satisfaction programs. Indeed, whether you're in the public or private sector, in a large or small facility, part of an in-house organization or a contracted firm, "Quality Facility Management" enables you to plan, organize, staff, direct, and evaluate for quality, so that you maximize your department's responsiveness to customers and your value to top management. Quality facility management is the only way to do business. Here's the only way to do quality facility management. Facility managers want to answer the call for quality but many feel they don't have the resources or guidance to make it an essential feature of their operation. Total Quality Management programs require too much of them and various aspects of the quality effort, whether it's quality measurement or facility marketing, seem hard to carry out or even beside the point. Finally there's a sensible guide that enables you to build quality into your department simply by applying basic, old-fashioned quality principles and selected modern techniques - "Quality Facility Management". With the assistance of examples, checklists, and other handy tools, this invigorating resource reveals the five key aspects of quality facility management and shows you how to bring them all together to develop a program that fits your particular circumstances. Emphasizing why your customers are the driving force behind your quality efforts, "Quality Facility Management" helps you: surpass customers' performance expectations and recover effectively from even the most damaging mistakes; provide quality facility management without implementing a formal TQM program; accurately measure critical aspects of your operation and act effectively on that feedback; devise a facility marketing plan that enhances your department's image with customers and top management; and, put a program of continuous quality improvement into effect through leadership, staff training and empowerment, vendor collaborations, and other proven means. Packed with case studies of facility managers who are building quality into their operation, Friday and Cotts' "Quality Facility Management" illustrates how your quest for quality can dramatically upgrade customer and senior management satisfaction - without draining department resources.
Sklep: Libristo.pl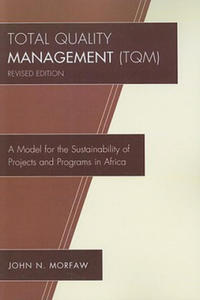 287,84 zł
Książki / Literatura obcojęzyczna
Total Quality Management and Project Management have a symbiotic relationship in their planning, design, analysis, implementation, monitoring, and evaluation, as well as other related processes. This book accentuates the relationship between Total Quality Management and Project Management and other contemporary management concepts. These contemporary concepts include Six Sigma Methodology, International Organization for Standardization (ISO), Capacity Building, Business Re-engineering, Knowledge Management, Configuration Management, SWOT Analysis, and Total Quality Leadership, as well as fundamental business management concepts such as leadership dynamics, quality assurance, quality control, and continuous quality improvement. The book evaluates and analyzes the relationship between Total Quality Management and Human Resource Management, Public Relations Management, Marketing Management, Risk Management, Project Proposal Writing, and Resource Coordination and Management. Total Quality Management gives an exploratory overview of the contributions of certain national and international organizations that operate in Africa towards an effective and efficient delivery of products and services, especially on the implementation of capacity building programs in Africa, such as The World Bank, AfDB, CDC, PAID, ACBF, UNDP, AAPAM, CAFRAD, NEPAD, and others.
Sklep: Libristo.pl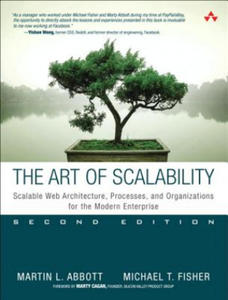 261,33 zł
Książki / Literatura obcojęzyczna
A Comprehensive, Proven Approach to IT Scalability from Two Veteran Software, Technology, and Business Executives In this second edition of The Art of Scalability, AKF Partners cofounders Martin L. Abbott and Michael T. Fisher cover everything product, technology and business leaders must know to build products that can scale smoothly to meet any business requirement. Drawing on their unparalleled experience managing some of the world's highest-transaction-volume Web sites, the authors provide detailed models and best-practice approaches available in no other book. Unlike previous books on scalability, The Art of Scalability doesn't limit its coverage to technology. Writing for both technical and nontechnical decision-makers, this book covers everything that impacts scalability, including architecture, processes, people, and organizations. This second edition has been edited to improve readability and includes new and updated content, a new chapter on Agile architecture, and new case studies. Throughout, the authors address a broad spectrum of real-world challenges, from performance testing to IT governance. Using their tools and guidance, organizations can systematically overcome obstacles to scalability and achieve unprecedented levels of technical and business performance. New and Updated Coverage includes
Sklep: Libristo.pl
Sklepy zlokalizowane w miastach: Warszawa, Kraków, Łódź, Wrocław, Poznań, Gdańsk, Szczecin, Bydgoszcz, Lublin, Katowice
Szukaj w sklepach lub całym serwisie
2. Szukaj na wszystkich stronach serwisu
t1=0.023, t2=0, t3=0, t4=0, t=0.024