krainaksiazek living true to your self reclaim your power break free live the life of your dreams 20130919
- znaleziono 8 produktów w 2 sklepach 11,15 zł
Książki & Multimedia > Książki
Opis - Pierwsze na świecie świadectwo ofiary zbrodni honorowej. Miała siedemnaście lat i zakochała się: zhańbiła rodzinę. Więc rodzina wydała na nią wyrok śmierci... Pokochała go pierwszą miłością. Myślała, że się z nią ożeni. Ale ukochany zniknął, a ona odkryła, że jest w ciąży. A w jej świecie to najcięższa zbrodnia... W zapomnianej przez Boga wiosce w Cisjordanii kobiety są warte mniej niż zwierzęta domowe. Tu mężczyzna jest panem życia i śmierci żony, córki, siostry. Brat może bezkarnie zabić siostrę, matka - córkę, kolejną bezużyteczną dziewczynkę, jaka się urodzi. Tu kobiecie odbiera się godność, a nawet życie zgodnie z odwiecznym obyczajem i uświęconą tradycją. A śmierć jest karą dla dziewczyny, która zhańbi rodzinę. Tak jak Souad. Wyrok wydaje jej ojciec. Szwagier dokonuje egzekucji. Oblewa Souad benzyną i podpala... SOUAD przeżyła - cudem, ale rodzina usiłowała zabić ją nawet w szpitalu. Na zawsze jednak pozostanie straszliwie okaleczona - na ciele i duszy. I wciąż musi się ukrywać; dopóki żyje, jej rodzinę okrywa hańba. Spalona żywcem, opublikowana pod pseudonimem szokująca opowieść o piekle, jakim było jej dzieciństwo i młodość, stała się międzynarodowym bestsellerem. Wydana w 37 w krajach książka przerywa tabu milczenia wobec istniejącej nadal w krajach muzułmańskich barbarzyńskiej tradycji. Nieludzkiego obyczaju, prawa mężczyzn, na mocy którego co najmniej pięć tysięcy kobiet pada co roku ofiarą zbrodni honorowej. Nazwa - Spalona Żywcem Wyd. Kieszonkowe Autor - Souad Oprawa - Miękka Wydawca - Amber Kod ISBN - 9788324159406 Kod EAN - 9788324159406 Wydanie - 1 Rok wydania - 2016 Tłumacz - 31182,maria rostworowska; Format - 110 x 175 x 14 Ilość stron - 224 Podatek VAT - 5% Premiera - 2016-06-23
Sklep: InBook.pl 84,15 zł
Książki / Literatura obcojęzyczna
Are tired of living a mediocre life? Do you wish you knew the secrets to finding your true path and truly living a wonderful life? Whether you want to (1) start designing the life of your dreams, (2) learn world class success strategies, or (3) know how to be mentally, physically and spiritually powerful, then this is the book for you! Are you tired of going nowhere? Life is a journey. Along the way you can choose to acquire skills that help you get better and enjoy life more. To be happier and more fulfilled you need to discover how to be your best every day! I have taken the best strategies from around the world that can help you grow and thrive as individuals and put them in this book. In the following pages you will learn the best ways to promote your consistent personal growth. Reach your true potential. Life is so much more interesting when you are living it to the fullest, actively choosing to discover new paths while sharpening our skills and expanding our horizons. Instead of growing inward and becoming increasingly self-absorbed, life is best lived in community, learning from the lives of those around us and discovering how to emulate their strengths. Life becomes even more intriguing when you latch onto the things that make you feel most alive. In their pursuit you will find your greatest personal growth and come closest to realizing your true potential. Heal old wounds so you can live in the present with joy and happiness. Of course there must be obstacles; life would be too easy without them! Even in the midst of the greatest of difficulties, we continue to grow, Sometimes our growth is enhanced by the struggle; always, there are things to be learned when life is hard. However, the greatest obstacles to our personal growth are usually internal. Fear, anger, and caution are the largest. Yet, even these can be overcome in your pursuit to be the best you that is possible. This book offers concrete solutions for re-framing the greatest of life's obstacles and turning them into opportunities for growth. You will also discover the power of forgiveness so you can focus fully on the present with joy and a pure heart. Design the life that you want to live. You don't have to do what others want or expect you to. This is your life. In this book I will show you how to map out your own customized life growth journey. You are the one who best knows your strengths and weaknesses. That means you are the only one who can plan out specific steps to work on weaknesses and work on strengths to promote your growth. Included is a plan that you can follow to design the life of your dreams. Don't drift along in life or let others control it for you; learn how to make your plan and get going. What will you learn about personal growth? Why personal growth let's you live happier and longer. How you can further your personal growth with successful, practical strategies. How to use a personal growth journal to guide you towards your life goals. How to utilize mentors and role models to help you grow. How to flourish in the four key areas of your life. You Will Also Discover: Strategies and exercises for increasing your personal growth. Resources for boosting your productivity and motivation. Mental strategies used by the best in the world. Inspiring life lessons from world-famous individuals. Lay the foundation for a life that you want to have. Take control: Buy It Now!
Sklep: Libristo.pl 115,36 zł
Książki / Literatura obcojęzyczna
Ever wonder what it is that keeps holding you back? Deep within the constructs of your brain, a superimposed identity has been formed. This "glitch", embedded in your neural network through the evolution of brain development, is an acquired Persona which perpetuates itself by constantly creating problems and limitations in your life. The Personal thinks for you, acts for you, and even learns for you, but it is NOT the real YOU! In this revolutionary book, you will discover which of the six major types of Personas you have unwittingly acquired, and you will learn how to free yourself from the power it has over you. Like a remedy for an illness, The Evolutionary Glitch serves as a guide to confronting and rising above the root of your problems Drawing on ancient wisdom as well as the latest discoveries in neurobiology and quantum physics, The Evolutionary Glitch will radically change the way you see yourself and the world around you. Learn the skills you need to... Uproot the Persona you have acquired Break the problem-causing patterns in your life Follow the "signs" in your life Identify your true nature Do what you were born to do If you are ready to discover what is hidden behind the mask of your Personal, free yourself from your problems, and live your life with purpose and direction, The Evolutionary Glitch could be the most important book you've ever read. Leading edge thinkers praise The Evolutionary Glitch "Albert Garoli gives us the insight needed so we can make the changes within ourselves and create our own world that is problem-free." --Irene Watson, author of Rewriting Life Scripts "Garoli dives into new inspiring self-improvement methods that will empower and motivate readers to succeed in all aspects of their lives." --Robin Marvel, host of Living Out Loud Radio, author of Awakening Consciousness "Garoli's worldly experiences unite Eastern philosophies with physiology in a reference-based compendium of information for self-improvement." --Laurie Zelinger, PhD, author of Please Explain Anxiety to Me About the Author Albert Garoli, M.D. has studied Traditional Chinese Medicine and Accupuncture in Sri Lanka and China as well as learning Electroacupuncture and Homotoxicology in Germany. After decades of further research, Garoli's theory of the Autonomic Digital Reflex (ADR) has provided specific insights in the tremendous importance of genetic interaction and interdependence, as well as the subconscious processes we battle. You can learn more about Garoli at www.TheEvolutionaryGlitch.com From Loving Healing Press www.LovingHealing.com SEL031000 Self-Help : Personal Growth - General PSY023000 Psychology : Personality FAM027000 Family and Relationships : Interpersonal Relations
Sklep: Libristo.pl 140,85 zł
Książki / Literatura obcojęzyczna
Chakra Evolution is a guidebook to transform your life with new chakra energy. Discover the new major chakras that have emerged, giving you the opportunity to 'know' with deep intuitive certainty, and the ability to protect your body, mind and spirit from the turmoil, emotions and energy around you. Miraculous new gifts to consciously manifest your dreams are emerging with the skills to develop and focus these new chakras. Patricia Wall provides the tools and insights you need to accelerate your personal growth through love and without turmoil. Learn to feel and use the power of love in ways you never imagined. Gain deeper understanding and self-worth Gain new and deeper insight and awareness to allow truly satisfying relationships Release emotional and physical pain, including hidden pain, without turmoil Live your best life Make peace with your darkest fears and most wounded self to express the love you are Feel the joy and satisfaction of fulfilling your purpose Inspire and achieve the changes you want Feel the true inner peace that comes with deeper spiritual connection and knowing Be more than you thought possible. Be the person you are meant to be. Create an amazing life of fulfillment and love with the new tools of evolved chakra energy. For each of the nine (yes, nine!) major chakras you are given information, insights and tools for the evolved energy, and how to work with that energy for your personal transformation. Learn how to identify and release 'stuckness' and blocks with love and without turmoil. Release challenges and resistance to change as your best self emerges. Discover how right and natural it is to love you when you feel right inside. As you evolve and achieve congruency with your higher self, your life will reflect your inner peace and love. Your ideas of joy will have to grow to accommodate the new possibilities of joy and love, and your continued evolution. Learn how to radiate your evolved energy to evolve your circumstances and your relationships with joy and connection. Readers say
Sklep: Libristo.pl 94,57 zł
Książki / Literatura obcojęzyczna
Everywhere people are asking, I believe miracles are possible, but how do I attract them and live a life of Heaven on Earth every day? This evolutionary book is the much-needed answer. Author Sylvia Vowless' life hasn't always been wonderful and miracle-filled. Since her humble beginnings she's overcome many obstacles, fears, and limiting beliefs to make her dreams a reality. Through years of study and testing, she has learned to create a super-charged life, and in this guidebook she shares life-changing principles and powerful techniques to help you do the same. The Miracle Eff ect offers a goldmine of innovative spiritual tools and bullet-proof strategies to take control of your life and make miracles a habit, opening up previously unknown realms of breath-taking possibilities for you. Referencing Ancient Wisdom with current scientific insights, as well as A Course in Miracles and writer Dr Wayne Dyer's philosophy, it offers practical instruction and encouraging true stories of everyday experiences to empower you to live your latent divine potential. With authority, eloquence and humor, Sylvia takes you on a stunning journey to transform your reality, through four simple yet all-inclusive steps: . know who you really are . clear obstacles to embodying your highest spiritual power . learn secrets and laws of manifestation success . design and live the life of your dreams Sylvia shows that by honoring your divinity and living fearlessly and confidently from your I AM Higher Self, you can learn to manifest your deepest desires with ease and certainty. Follow her unique directions, and be inspired by how she walks her talk to deliver extraordinary teachings that have changed the lives of thousands of people worldwide. Imagine living your Heaven on Earth as a miracle-magnet!
Sklep: Libristo.pl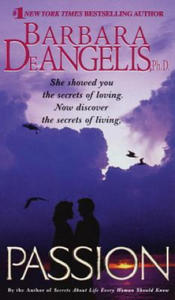 76,96 zł
Książki / Literatura obcojęzyczna
USE THE POWER OF PASSION TO LIVE THE LIFE YOU'VE ALWAYS WANTEDEvery day holds the promise to be wonderful. Every life has the potential to be great. Every person has the power to live each moment to the fullest. The secret is in living life with passion.In this wise and uplifting book, bestselling author and renowned relationships expert Barbara De Angelis shows you how to reclaim the passion within you-and how to use it to transform your career, your relationships, even the lives of those you love. Drawing on her years of experience helping men and women learn new ways of living and loving, Barbara De Angelis has written an inspirational classic, a book to touch the heart and nourish the soul. In it she shows you how to: -- Tab into your own source of passion-- Renew the fire of intimate relationships-- Break down the walls of indifference around your heart-- Attract a partner to truly share your passion -- in and out of the bedroom-- Learn the secrets for developing true charisma-- Discover how to unleash your full potential-- Become fulfilled and excited by your daily life . . . at work, home, or in a lover's arms
Sklep: Libristo.pl 136,65 zł
Książki / Literatura obcojęzyczna
All of us find ourselves, at one time or another facing the unexpected and asking "How did I get here?" Whether because of disappointments in love, crises in health, family or finances, professional dissatisfaction, or events beyond your control, life doesn't look like you expected or intended it to. HOW DID I GET HERE? is a groundbreaking inspirational handbook for anyone of any age going through change, challenge or reevaluation in any aspect of their lives. It is about finding your way to renewed hope and happiness from wherever you are. Renowned transformational teacher Barbara De Angelis masterfully guides you through an understanding of your own life lessons, and teaches you how to successfully use whatever you're going through as a springboard for regeneration and rebirth. We live in turbulent times of profound change, and many of us find ourselves at emotional and spiritual crossroads. HOW DID I GET HERE? offers illuminating teachings and practical, innovative techniques that free you to move forward into a life of renewed optimism, true contentment and courageous awakening. With her remarkable blend of timeless wisdom, practical techniques and down-to-earth advice, Barbara De Angelis helps you to: *Recognize and understand the significant transitions, turning points, and wake-up calls on your path *Transform fear into courage, confusion and into vision, and self-doubt into confidence *Turn what appear to be dead ends into doorways *Reclaim your passion and purpose for living and loving *Discover freedom, fulfillment and authenticity from the inside out Written with Barbara De Angelis' trademark eloquence, honesty and compassion, andcontaining the treasures of her own thirty-five year quest for enlightenment, HOW DID I GET HERE is a more than uplifting, intimate and moving--it is a true transformational manual for achieving emotional and spiritual rebirth that will change your life.
Sklep: Libristo.pl 77,81 zł
Książki / Literatura obcojęzyczna
Friedrich Nietzsche wrote, "God is dead."  In short, he is not so much dead as irrelevant to modern, self-actualized, successful humanity. In his irrelevance, God is no longer feared, respected or trusted. In this state he is incapable of bringing fulfillment, purpose, and meaning to one human soul. żżOr is he?ż After exiling God to the far reaches of human existence, we have found that purpose, meaning, and fulfillment aren't so easy to come by. Furthermore, we have found that once banished, God is impervious to our edicts and demands. He will not be forced to appear in the courts of human reason so we can question the nature of his being, his essence, his desires. He will not submit to our cross-examinations concerning his intentions and then decide whether he is worthy of our allegiance. żIdentity Theft seeks to re-discover the Living God who is beyond us but became us so we might know and walk in intimacy with him. It is straight talk about disappointment, freedom, obedience, experience, and perspective. In this age of damaging consumerism, it attempts to rise above the clamor of rampant self-gratification and clearly say, "God's not dead. He's just not in the place we put him." Reclaim your true identity in Christ and be set free to live the life God has for you!
Sklep: Libristo.pl
Sklepy zlokalizowane w miastach: Warszawa, Kraków, Łódź, Wrocław, Poznań, Gdańsk, Szczecin, Bydgoszcz, Lublin, Katowice
Szukaj w sklepach lub całym serwisie
2. Szukaj na wszystkich stronach serwisu
t1=0.412, t2=0, t3=0, t4=0.019, t=0.412