krainaksiazek looking back no regrets memoirs from the heart 20168915
- znaleziono 4 produkty w 2 sklepach 97,49 zł
Muzyka>Jazz
1. Your Mother's Son-in-law 2. Riffin' The Scotch 3. I Wished On The Moon 4. What A Little Moonlight Can Do 5. Miss Brown To You 6. A Sunbonnet Blue (And A Yellow Straw Hat) 7. What A Night, What A Moon, What A Girl 8. I'm Painting The Town Red 9. It's Too Hot For Words 10. Twenty-four Hours A Day 11. Yankee-doodle Never Went To Town 12. Eeny Meeny Miney Mo 13. If You Were Mine 14. These 'N' That 'N' Those 15. You Let Me Down 16. Spreadin' Rhythm Around 17. Life Begins When You're In Love 18. It's Like Reaching For The Moon 19. These Foolish Things 101. I Cried For You 102. Guess Who 103. Did I Remember? 104. No Regrets 105. Summertime 106. Billie's Blues (I Love My Man) 107. A Fine Romance 108. I Can't Pretend 109. One, Two, Button Your Shoe 110. Let's Call A Heart A Heart 111. Easy To Love 112. With Thee I Swing 113. The Way You Look Tonight 114. Who Loves You? 115. Pennies From Heaven 116. That's Life I Guess 117. I Can't Give You Anything But Love 118. One Never Knows, Does One? 119. I've Got My Love To Keep Me Warm 201. If My Heart Could Only Talk 202. Please Keep Me In Your Dreams 203. He Ain't Got Rhythm 204. This Year's Kisses 205. Why Was I Born? 206. I Must Have That Man 207. The Mood That I'm In 208. You Showed Me The Way 209. Sentimental & Melancholy 210. My Last Affair 211. Carelessly 212. How Could You? 213. Moanin' Low 214. Where Is The Sun? 215. Let's Call The Whole Thing Off 216. They Can't Take That Away From Me 217. I Don't Know If I'm Coming Or Going 218. Sun Showers 219. Yours & Mine 301. I'll Get By 302. Mean To Me 303. Foolin' Myself 304. Easy Living 305. I'll Never Be The Same 306. Me, Myself & I 307. A Sailboat In The Moonlight 308. Born To Love 309. Without Your Love 310. Getting Some Fun Out Of Life 311. Who Wants Love? 312. Trav'lin' All Alone 313. He's Funny That Way 314. Nice Work If You Can Get It 315. Things Are Looking Up 316. My Man 317. Can't Help Lovin' That Man 318. My First Impression Of You 319. When You're Smiling 401. I Can't Believe That You're In Love With Me 402. If Dreams Come True 403. Now They Call It Swing 404. On The Sentimental Side 405. Back In Your Own Backyard 406. When A Woman Loves A Man 407. You Go To My Head 408. The Moon Looks Down & Laughs 409. If I Were You 410. Forget If You Can 411. Having Myself A Time 412. Says My Heart 413. I Wish I Had You 414. I'm Gonna Lock My Heart (And Throw Away The Key) 415. The Very Thought Of You 416. I Can't Get Started (With You) 417. I've Got A Date With A Dream 418. You Can't Be Mine 419. Everybody's Laughing 501. Here It Is Tomorrow Again 502. Say It With A Kiss 503. April In My Heart 504. I'll Never Fail You 505. They Say 506. You're So Desirable 507. You're Gonna See A Lot Of Me 508. Hello, My Darling 509. Let's Dream In The Moonlight 510. That's All I Ask Of You 511. Dream Of Life 512. What Shall I Say 513. It's So Easy To Blame The Weather 514. More Than You Know 515. Sugar 516. You're Too Lovely To Last 517. Under A Blue Jungle Moon 518. Everything Happens For The Best 519. Why Did I Always Depend On You 601. Long Gone Blues 602. Some Other Spring 603. Our Love Is Different 604. Them There Eyes 605. Swing! Brother, Swing! 606. Night & Day 607. The Man I Love 608. You're Just A No Account 609. You're A Lucky Guy 610. Ghost Of Yesterday 611. Body & Soul 612. What Is This Going To Get Us? 613. Falling In Love Again 614. I'm Pulling Through 615. Tell Me More & More 616. Laughing At Life 617. Time On My Hands 618. I'm All For You 619. I Hear Music 701. The Same Old Story 702. Practice Makes Perfect 703. St. Louis Blues 704. Loveless Love 705. Let's Do It 706. Georgia On My Mind 707. Romance In The Dark 708. All Of Me 709. I'm In A Low Down Groove 710. God Bless The Child 711. Am I Blue 712. Solitude 713. Jim 714. I Cover The Waterfront 715. Love Me Or Leave Me 716. Gloomy Sunday 717. Wherever You Are 718. Mandy Is Two 719. It's A Sin To Tell A Lie 801. Trav'lin' Light 802. Do Nothing Till You Hear From Me 803. How Am I To Know 804. My Old Flame 805. I'll Get By 806. I Cover The Waterfront 807. I'll Be Seeing You 808. I'm Yours 809. Embraceable You 810. As Time Goes By 811. He's Funny That Way 812. Lover Come Back To Me 813. Billie's Blues (I Love My Man) 814. On The Sunny Side Of The Street 815. Lover Man (Oh, Where Can You Be?) 816. No More 817. That Old Devil Called Love 901. Don't Explain 902. You Better Go Now 903. What Is This Thing Called Love? 904. Good Morning Heartache 905. No Good Man 906. Big Stuff 907. Baby, I Don't Cry Over You 908. I'll Look Around 909. The Blues Are Brewin' 910. Guilty 911. Deep Song 912. There Is No Greater Love 913. Easy Living 914. Solitude 915. Weep No More 916. Girls Were Made To Take Care Of Boys 917. Porgy 918. My Man
Sklep: Gigant.pl 71,42 zł
Książki / Literatura obcojęzyczna
A stunning standalone from a master of suspense, a compelling story of survival and betrayal set in a world after 'The Fever'.Nico Storm and his father Willem drive a truck filled with essential supplies through a desolate land. They are among the few in South Africa - and the world, as far as they know - to have survived a devastating virus which has swept through the country. Their world turned upside down, Nico realises that his superb marksmanship and cool head mean he is destined to be his father's protector, even though he is still only a boy.But Willem Storm, though not a fighter, is both a thinker and a leader, a wise and compassionate man with a vision for a new community that survivors will rebuild from the ruins. And so Amanzi is founded, drawing Storm's 'homeless and tempest-tost' - starting with Melinda Swanevelder, who they rescued from brutal thugs, Hennie Flaai, with his vital Cessna plane, Beryl Fortuin with her ragtag group of orphans and Domingo, the man with the tattooed hand. And then there is Sofia Bergman, the most beautiful girl that Nico has ever seen, who changes everything. So the community grows - and with each step forward, as resources increase, so do the challenges they must face - not just from the attacks of biker brigands, but also from within...Nico will find experience hardship and heartbreak and have his loyalty tested to its limits as he undergoes an extraordinary rite of passage in this new world. Looking back as he writes in memoirs later in life, he recounts the events that led to the greatest rupture of all - the murder of his father.Internationally bestselling crime writer Deon Meyer has delivered a gripping epic like nothing else he has written before, yet still with that consummate skill to make you care about his characters, and to keep the pages turning, breathless with anticipation - and surprise at its twists.
Sklep: Libristo.pl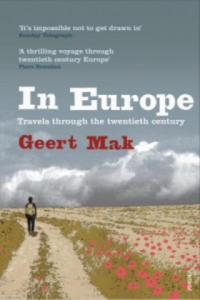 52,48 zł
Książki / Literatura obcojęzyczna
Geert Mak spent the year 1999 criss-crossing the continent, tracing the history of Europe from Verdun to Berlin, St Petersburg to Auschwitz, Kiev to Srebrenica. He set off in search of evidence and witnesses, looking to define the condition of Europe at the verge of a new millennium. The result is mesmerising: Mak's rare double talent as a sharp-eyed journalist and a hugely imaginative historian makes "In Europe" a dazzling account of that journey, full of diaries, newspaper reports and memoirs, and the voices of prominent figures and unknown players; from the grandson of Kaiser Wilhelm II to Adriana Warno in Poland, with her holiday job at the gates of the camp at Birkenau.But Mak is above all an observer. He describes what he sees at places that have become Europe's well-springs of memory, where history is written into the landscape. At Ypres he hears the blast of munitions from the Great War that are still detonated twice a day. In Warsaw he finds the point where the tram rails that led to the Jewish ghetto come to a dead end in a city park. And in an abandoned creche near Chernobyl, where tiny pairs of shoes still stand in neat rows, he is transported back to the moment time stood still in the dying days of the Soviet Union. Mak combines the larger story of twentieth-century Europe with details that suddenly give it a face, a taste and a smell. His unique approach makes the reader an eyewitness to his own half-forgotten past, full of unknown peculiarities, sudden insights and touching encounters. "In Europe" is a masterpiece; it reads like the epic novel of the continent's most extraordinary century.
Sklep: Libristo.pl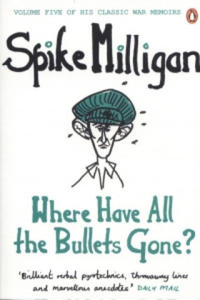 46,34 zł
Książki / Literatura obcojęzyczna
"Where Have All the Bullets Gone?" is volume five of Spike Milligan's outrageous, hilarious, legendary War Memoirs. 'Back to those haunting days in Italy in 1944, at the foot of Mount Vesuvius, with lava running in great red rivulets down the slope towards us, and Jock taking a drag on his cigarette and saying, "I think we've got grounds for a rent rebate."' The fifth volume of Spike Milligan's unsurpassed account of life as a Bombardier in World War Two sees our hero dispatched from the front line to psychiatric hospital and from there to a rehabilitation camp. Considered loony (and 'unfit to be killed in combat by either side'), he becomes embroiled in his own private battle with melancholy. But it is music, wit and a little help from his friends - including one Gunner Harry Secombe - that help carry him through to his first stage appearances..."Desperately funny, vivid, vulgar". ("Sunday Times"). "Milligan is the Great God to all of us". (John Cleese). "The Godfather of Alternative Comedy". (Eddie Izzard). "That absolutely glorious way of looking at things differently. A great man". (Stephen Fry). Spike Milligan was one of the greatest and most influential comedians of the twentieth century. Born in India in 1918, he served in the Royal Artillery during WWII in North Africa and Italy. At the end of the war, he forged a career as a jazz musician, sketch-show writer and performer, before joining forces with Peter Sellers and Harry Secombe to form the legendary "Goon Show". Until his death in 2002, he had success as on stage and screen and as the author of over eighty books of fiction, memoir, poetry, plays, cartoons and children's stories.
Sklep: Libristo.pl
Sklepy zlokalizowane w miastach: Warszawa, Kraków, Łódź, Wrocław, Poznań, Gdańsk, Szczecin, Bydgoszcz, Lublin, Katowice
Szukaj w sklepach lub całym serwisie
2. Szukaj na wszystkich stronach serwisu
t1=0.183, t2=0, t3=0, t4=0.042, t=0.183