krainaksiazek managing and leading people through organizational change the theory and practice of sustaining change through people 20129867
- znaleziono 14 produktów w 2 sklepach 183,41 zł
Książki / Literatura obcojęzyczna
Tremendous forces for change are radically reshaping the world of work. Disruptive innovations, radical thinking, new business models and resource scarcity are impacting every sector. Although the scale of expected change is not unprecedented, what is unique is the pervasive nature of the change and its accelerating pace which people in organizations have to cope with. Structures, systems, processes and strategies are relatively simple to understand and even fix. People, however, are more complex. Change can have a different impact on each of them, all of which can cause different attitudes and reactions. Managing and Leading People Through Organizational Change is written for leaders with the key responsibility of managing people through transitions. Managing and Leading People through Organizational Change provides a critical analysis of change and transformation in organizations from a theoretical and practical perspective. It addresses the individual, team and organizational issues of leading and managing people before, during and after change, using case studies and interviews with people from organizations in different sectors across the globe. This book demonstrates how theory can be applied in practice through practical examples and recommendations, focusing on the importance of understanding the impact of the nature of change on individuals and engaging them collaboratively throughout the transformation journey.
Sklep: Libristo.pl 229,99 zł
Książki Obcojęzyczne>Angielskie>Economics, finance, business & management>Business & management>Management & management techniques>Mana...
0x007d0eef00000000
Sklep: Gigant.pl 154,61 zł
Książki / Literatura obcojęzyczna
Bookshelves abound with theoretical analyses, how-to guides, and personal success stories by famous corporate leaders, public officials, even athletic coaches, expounding on how to lead from the top. But what about those in the middle who are increasingly tasked with trying to reshape, reorient, or recreate the capabilities of an organization? Leading Change from the Middle takes you on the journeys traveled by Kurt Mayer, an information technology executive in the Department of Defense trying to build a new IT system in record time with limited resources, and Stephen Wang, a mid-level leader in city government trying to build a capability for supporting commercial agriculture. Kurt and Stephen have to navigate complex organizational and stakeholder landscapes in which they often have few decision rights and few resources - a common scenario for mid-level leaders. One succeeds; one does not. While following Kurt and Stephen, the book introduces a new approach for increasing the likelihood of successfully leading change. This new approach breaks down into three core strategies: First, identify all relevant stakeholders and partition them into four categories: superordinates, subordinates, customers, and complementors/blockers (those who control needed resources but over whom the leaders have no authority). Second, for each stakeholder category, identify Communications, Strategies, and Tactics (referred to as CoSTS). Third, don't stimulate negative emotions that make people DEAF - Disrespect, Envy, Anger, and Fear - to efforts to produce change. As the book follows the journeys of Kurt and Stephen, it walks through the details of each strategy. In presenting this material in a concise, accessible, and applicable format that translates theory to practice, Nickerson provides an important service for leaders trying to build extraordinary capabilities for their organizations - from the middle.
Sklep: Libristo.pl 138,88 zł
Książki / Literatura obcojęzyczna
"International Management English" is a ground-breaking new series developed by York Associates, who have been preparing professionals for international work for over 30 years. The series covers four key aspects of international business operations: Leading People, Managing Projects, Managing Change and Working Virtually. "Leading People" deals with the challenges facing those who run professional teams, covering all aspects of communication and people management from developing one's own leadership skills through to getting the best from others. "Leading People" contains eight units, focusing on: Becoming a better manager; Building a team; Getting and giving direction; Organising teams; Defining roles; Providing support; Giving and receiving feedback; and Representing a team. In every unit "Leading People" provides comprehensive training in the skills proven to be necessary to communicate successfully in the world of international business: relevant language skills, communicative ability, people management skills and intercultural competence. This training is delivered through extensive speaking and listening activities, professional input, skills practice, intercultural awareness-raising and case study discussions. In addition the book provides: an audio CD; a learning diary; a needs analysis; unit-by-unit glossaries of key words and phrases; tips for more effective language learning and how to improve performance at work; and the opportunity to develop a personal action plan.
Sklep: Libristo.pl 419,47 zł
Książki / Literatura obcojęzyczna
This revised edition of the best-selling text in the field includes a guiding framework of organizational analysis emphasizing the integration and coordination of the domains of the organization with the motivations, work attitudes, and behaviors of the people who lead them. Includes new research and practice from the US and internationally in collaboration and networks, innovation, process improvement through IT, open government and citizen participation, customer service, and a provides a greater emphasis on management practice through illustrative examples of those who are leading successful change efforts.
Sklep: Libristo.pl 167,69 zł
Książki / Literatura obcojęzyczna
Written specifically for executives and MBA students, the third edition of this successful textbook provides a step-by-step guide to designing an organization, from diagnosis, to design and implementation. It provides comprehensive coverage of the key aspects of organizational design, including goals, strategy, process, people, coordination, control, and incentives. Following a new diamond model, fully tested in practice, the book guides readers through an integrated methodology for organizational assessment and planning. It includes a new chapter on project managing organizational change on a practical level, new case studies, extended discussions of new organizational forms, architecture design and knowledge systems, and new practical steps for implementation and change. An accompanying website gives free access to a selection of excel models, and features additional case studies, worksheets and templates, and a downloadable questionnaire for analyzing and diagnosing current organizations.
Sklep: Libristo.pl 277,77 zł
Książki / Literatura obcojęzyczna
This book presents innovative strategies for sustainable, socially responsible enterprise management from leading thinkers in the fields of corporate citizenship, nonprofit management, social entrepreneurship, impact investing, community-based economic development and urban design. The book's integration of research and practitioner perspectives with focused best practice examples offers an in-depth, balanced analysis, providing new insights into the social issues that are most relevant to organizational stakeholders. This integrated focus on sustainable social innovation differentiates the book from academic research monographs on stakeholder theory and practitioner guides to managing traditional Corporate Social Responsibility (CSR) programs. Managing for Social Impact features 15 contributed chapters written by thought leaders, industry analysts, and managers of global and local organizations who are engaged with innovative models of sustainable social impact. The editors also provide a substantive introductory chapter describing a new strategic framework for enhancing the Return on Social Innovation (ROSI) through four pillars of social change: Open Circles, Focused Purpose Sharing, Mutuality of Success, and a Persistent Change Perspective.
Sklep: Libristo.pl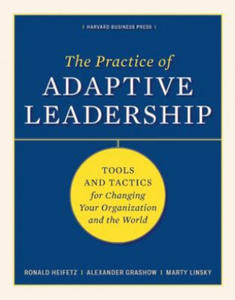 144,68 zł
Książki / Literatura obcojęzyczna
When change requires you to challenge people's familiar reality, it can be difficult, dangerous work. Whatever the context--whether in the private or the public sector--many will feel threatened as you push though major changes. But as a leader, you need to find a way to make it work. Ron Heifetz first defined this problem with his distinctive theory of adaptive leadership in Leadership Without Easy Answers. In a second book, Leadership on the Line, Heifetz and coauthor Marty Linsky highlighted the individual and organizational dangers of leading through deep change in business, politics, and community life. Now, Heifetz, Linsky, and coauthor Alexander Grashow are taking the next step: The Practice of Adaptive Leadership is a hands-on, practical guide containing stories, tools, diagrams, cases, and worksheets to help you develop your skills as an adaptive leader, able to take people outside their comfort zones and assess and address the toughest challenges. The authors have decades of experience helping people and organizations create cultures of adaptive leadership. In today's rapidly changing world, The Practice of Adaptive Leadership can be your handbook to meeting the demands of leadership in the midst of complexity.
Sklep: Libristo.pl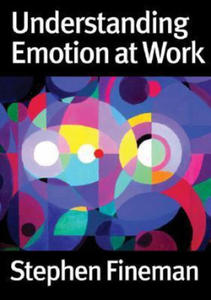 188,71 zł
Książki / Literatura obcojęzyczna
'Most folks in organizations dichotomize reason and emotion, often treating emotion as an uncommon or marginal occurrence. Written in a clear and lively style, Steve Fineman's book, Understanding Emotion at Work, dispels this notion as he demonstrates how emotions infuse most practices in organizational life, including leading, decision making, organizational change, gender relations, stress, and downsizing. Sprinkled with vivid examples, Fineman captures the positive benefits of emotions at work as well as the darker side of feelings and despair. Scholars, students and practitioners alike will glean important insights from the lens of emotion that Fineman brings to the subtleties of organizational life' - Linda L Putnam, Texas A&M University 'Stephen Fineman has written a wise and engaging text about emotions and how they play out in and around organizations. He underscores, with a range of fine examples, thoughtful commentary and careful scholarship, the essential role of emotions in organizational life. He applies his lens to such issues as recruitment, leadership, decision making and change. He extends the reach of emotions into the virtual world of work and he makes apparent the heavy costs to people and their organizations of toxic emotions that stem from bullying,harassment and downsizing. A must-read in any curriculum dealing with the study of organization' - Peter Frost, Edgar F. Kaiser Professor of Organizational Behaviour, Faculty of Commerce and Business Administration, University of British Columbia, Canada Author of Toxic Emotions at Work HBS Press 2003 'Going to work can be a great joy, a great pain, or a mixture of the two. This clearly written, engaging and authoritative book demonstrates the vital necessity of understanding how emotions permeate work organisations at every level and in every situation. No student of work and its organisation can afford to neglect this important area of study. And no writer on work and organisation is better placed to go to the heart of these matters than Stephen Fineman' - Professor Tony J Watson, Professor of Organisational and Managerial Behaviour, Nottingham Business School 'In this book, Professor Stephen Fineman has done more of what he does best writing eloquently and perceptively about emotions in organizations. In this case, he is writing directly for students, both undergraduates and postgraduates, and uses a wide range of disciplinary insights to show how emotions are inextricably embedded in organizational life. His book helps to launch students on a voyage of self-discovery to learn for themselves how emotions impact upon them and their colleagues. As someone who has long challenged the "emotion-less" view of emotion that characterizes much of the research on this phenomenon, he uses his considerable skills to convey the importance, richness and nuance of emotion. Nor does he shrink away from tackling the darker side of organizational emotional life challenging students to reflect on the agony, as well as the ecstasy, that passionate emotions can cause. This book is a valuable resource for teachers wanting to introduce students to organizations, and a fascinating and astute aid for students interested in learning about them - Professor Cynthia Hardy, Department of Management, University of Melbourne 'Organizational life is shot through with emotions, spawning a growing interest in topics ranging from emotional intelligence to violence at work. Stephen Fineman provides a much-needed survey of these topics, capturing their sprawling breadth without sacrificing depth. Moreover, he succeeds in conveying the everyday feel of emotions in organizational life in a way that is both engaging and informative' - Blake Ashforth, Jerry and Mary Ann Chapman Professor of Business, W P Carey School of Business, Arizona State University Understanding Emotion at Work gets to the heart of what binds and breaks organizations: emotion. It explores beyond the surface of work to the rich emotional life bubbling underneath, showing what employees and managers constantly deal with but are often ill-equipped to do so. This is the first introductory book on emotions and it's aimed specifically at students of management and organization studies. Written accessibly, it avoids pat prescriptions, but leaves the reader with challenging questions about the intrisic nature of emotions to the design and management of organizations. Drawing on a rich discipline-field, including psychology, sociology and organizational theory, Stephen Fineman explores a number of familiar and not so familiar work arenas. He examines the way emotion penetrates leadership, decision-making and organizational change as well as newer topics like the virtual side of organizations. Finally, he addresses the darker side of emotion in the context of bullying, violence, sexual harassment and downsizing. Understanding Emotion at Work will shed light on this growing subject for advanced undergraduates and postgraduates studying organizational behaviour, HRM or organizational psychology.
Sklep: Libristo.pl 287,04 zł
Książki / Literatura obcojęzyczna
"This book is a great how-to manual for people who want to bring the benefits of improved user experience to their companies. It's thorough yet still accessible for the smart businessperson. I've been working with user-centered design for over twenty years, and I found myself circling tips and tricks." -Harley Manning, vice president & research director, customer experience, Forrester Research "Some argue that the big advances in our impact on user experience will come from better methods or new technologies. Some argue that they will come from earlier involvement in the design and development process. The biggest impact, however, will come as more and more companies realize the benefits of user-centered design and build cultures that embrace it. Eric offers a practical roadmap to get there." -Arnie Lund, connected experience labs technology leader and human-systems interaction lab manager, GE Global Research "User experience issues are a key challenge for development of increasingly complex products and services. This book provides much-needed insights to help managers achieve their key objectives and to develop more successful solutions." -Aaron Marcus, president, Aaron Marcus and Associates, Inc. "This handy book should be required reading for any executive champions of change in any development organization making products that demand a compelling user experience. It does an excellent job in laying the foundation for incorporating user experience engineering concepts and best practices into these corporations. In today's competitive economy, business success will greatly depend on instituting the changes in design methods and thinking that are so clearly and simply put forth in this most practical and useful book." -Ed Israelski, director, human factors, AbbVie "If you're tasked with building a user-experience practice in a large organization, this book is for you (and your boss). Informed by years of case studies and consulting experience, Eric Schaffer provides the long view, clearly describing what to expect, what to avoid, and how to succeed in establishing user-centered principles at your company." -Pat Malecek, former user experience manager, AVP, CUA, A.G. Edwards & Sons, Inc. "For those of us who have evangelized user experience for so many years, we finally have a book that offers meaningful insights that can only come from years of practical experience in the real world. Here is a wonderful guide for all who wish to make user experience a 'way of life' for their companies." -Felica Selenko, Ph.D., former principal technical staff member, AT&T "Dr. Schaffer's mantra is that the main differentiator for companies of the future will be the ability to build practical, useful, usable, and satisfying user experiences. This is a book that provides the road map necessary to allow your organization to achieve these goals." -Colin Hynes, president, UX Inc. Computer hardware no longer provides a competitive edge. Software has become a broadly shared commodity. A new differentiator has emerged in information technology: user experience (UX). Executives recognize that the customer satisfaction that applications and websites provide directly impacts a company's stock price. While UX practitioners know how to design usable, engaging applications that create good user experiences, establishing that process on an industrial scale poses critical IT challenges for an organization. * How do you build user-centered design into your culture?* What infrastructure do you need in order to make UX design faster, cheaper, and better?* How do you create the organizational structure and staffing solution that will support UX design over time? Institutionalization of UX shows how to develop a mature, user-centered design practice within an enterprise. Eric Schaffer guides readers step by step through a solid methodology for institutionalizing UX, providing practical advice on the organizational change, milestones, toolsets, infrastructure, staffing, governance, and long-term operations needed to achieve fully mature UX engineering. First published in 2004 as Institutionalization of Usability, this new, expanded edition looks beyond the science of usability to the broader, deeper implications of UX: Once customers can use your applications and websites easily, how does your organization ensure that those engagements are satisfying, engaging, and relevant? Contextual innovation expert Apala Lahiri contributes a new chapter on managing cultural differences for international organizations. Whether you are an executive leading the institutional-ization process, a manager supporting the transition of your organization's UX practice, or an engineer working on UX issues, this guide will help you build a mature and sustainable practice in UX design.
Sklep: Libristo.pl 220,16 zł
Książki / Literatura obcojęzyczna
This revised edition of Industrial Relations: Theory and Practice follows the approach established successfully in preceding volumes edited by Paul Edwards. The focus is on Britain after a decade of public policy which has once again altered the terrain on which employment relations develop. Government has attempted to balance flexibility with fairness, preserving light-touch regulation whilst introducing rights to minimum wages and to employee representation in the workplace. Yet this is an open economy, conditioned significantly by developing patterns of international trade and by European Union policy initiatives. This interaction of domestic and cross-national influences in analysis of changes in employment relations runs throughout the volume. The structure has been amended slightly. Britain is placed straight away in comparative perspective before attention focuses explicitly on employment relations actors, contexts, processes, and outcomes. Each of the chapters is written by authorities in the field and provides up to date analysis and commentary. A spine of chapters from the preceding volume have been revised and extensively updated and new chapters have been added to refine coverage of issues such as the private sector and developing legal institutions. Overall, a picture emerges of an economy that is in incremental and contested transition. The imperatives of 'globalization' now infuse governance mechanisms that were once responsive principally to domestic agenda and employment standards are set now by the state that once were established through collective bargaining. It is this fragile and emerging model that will be tested significantly through sustained political and economic change. "Completely revised, the latest edition of Industrial Relations provides an invaluable guide to the actors, contexts, processes and significant outcomes within British employment relations. Based on a thorough review of the latest research, it is essential reading for students, academics and those professionally involved in employment relations and human resource management." - Edmund Heery , Cardiff Business School "This is a terrific collection of insightful analyses of British workplace relations in a global context provided by leading scholars. The chapters creatively utilize a multidisciplinary and critical approach that reveals the continuing and unique value of an industrial relations perspective. The volume cleverly assesses how factors including increased demographic diversity, organizational restructuring, globalization, and the reduced coverage of collective bargaining are affecting the nature and evolution of work and workplace relations. It is a must read. - Harry C. Katz , Cornell University, New York "This volume definitely constitutes the most comprehensive and best collection of empirical as well as analytical essays on industrial relations in Great Britain. This substantially revised, enlarged and updated version of its well known predecessors puts the specific national experience in comparative context and international perspective. A truly interdisciplinary volume by leading authorities, this has to be highly recommended for domestic as well as foreign scholars, practitioners and policy makers." - Bernt Keller , University of Konstanz, Germany "With working people facing the worst crisis in generations, this book is a much needed reminder of the crucial importance of employment relations research in Britain. The 3rd edition of Industrial Relations , which coincides with the 40th anniversary of the IRRU at Warwick University, provides a completely updated, cutting-edge analysis by leading scholars on work and employment developments in contemporary Britain. It delivers a most informative view of modern employment, its problems and possibilities. A must for students and practitioners in employment relations, human resource management and industrial sociology." - Professor Carola Frege , London School of Economics and Editor of BJIR
Sklep: Libristo.pl 94,36 zł
Książki / Literatura obcojęzyczna
Effective Management in Long-term Care Organisations is a unique combination of up-to-date management theory and practice designed for students and new care managers in nursing homes, residential homes and the variety of care settings in the community. This accessible and interactive text covers relevant theory and practice. It is written by people with a wide experience as managers and educators in the social care sector. Focusing on key themes including Managing People, Managing the Workplace and Managing Change, the book includes: * the examination of roles; * the vital topics of decision making and leadership; * team building and how groups work. Other key topics explored include appraisal, quality and information management, skill mix, financial management, negotiation and conflict, recruitment and selection, workforce planning and strategic planning, all in relation to relevant legislation. Case studies are used for illuminating principles and exercises and activities will enable the reader to work through all the sections using a step-by-step process that ensures skills and principles of one subject are understood before moving onto the next.
Sklep: Libristo.pl 140,87 zł
Książki / Literatura obcojęzyczna
In a time when the global and national economies seem to favor so few and harm so many, when the threats to the common good are so prevalent and so deep, how do people of faith think about these issues and act with those who are most vulnerable? Living the Catholic Social Tradition: Cases and Commentary addresses these challenges through contemporary theory and research conducted within the framework of the rich Catholic social tradition. Co-editors Kathleen Maas Weigert and Alexia Kelley combine four essays from leading scholars with eight concrete case studies based on community social justice projects across the country. This unique combination of theory and reflective practice provides university students and adult learners with a framework for understanding the Catholic social tradition and a demonstration of its positive social impact on the people it serves. The reader first learns about the challenges facing Catholic universities in educating the current generation about the Catholic social tradition. The next essays provide insights into the ways in which the tradition frames and contributes to social change; approaches to understanding the key concepts and documents that make up the tradition; and an understanding of the forces confronting change agents in major metropolitan areas. Undertaken by younger scholars and activists, the eight case studies tackle the issues that grass roots groups and visionary leaders face as they try to bring about positive change in their communities. Living the Catholic Social Tradition will help readers assess and address different social justice issues within the framework of Catholic social thought. In that process, readers are called upon to think how they might not only contribute to the tradition, but develop it further, thus bringing the Catholic social tradition alive in contemporary times.
Sklep: Libristo.pl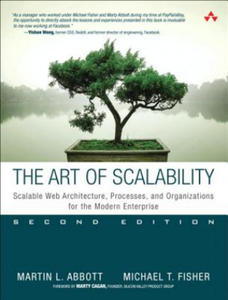 188,71 zł
Książki / Literatura obcojęzyczna
A Comprehensive, Proven Approach to IT Scalability from Two Veteran Software, Technology, and Business Executives In this second edition of The Art of Scalability, AKF Partners cofounders Martin L. Abbott and Michael T. Fisher cover everything product, technology and business leaders must know to build products that can scale smoothly to meet any business requirement. Drawing on their unparalleled experience managing some of the world's highest-transaction-volume Web sites, the authors provide detailed models and best-practice approaches available in no other book. Unlike previous books on scalability, The Art of Scalability doesn't limit its coverage to technology. Writing for both technical and nontechnical decision-makers, this book covers everything that impacts scalability, including architecture, processes, people, and organizations. This second edition has been edited to improve readability and includes new and updated content, a new chapter on Agile architecture, and new case studies. Throughout, the authors address a broad spectrum of real-world challenges, from performance testing to IT governance. Using their tools and guidance, organizations can systematically overcome obstacles to scalability and achieve unprecedented levels of technical and business performance. New and Updated Coverage includes
Sklep: Libristo.pl
Sklepy zlokalizowane w miastach: Warszawa, Kraków, Łódź, Wrocław, Poznań, Gdańsk, Szczecin, Bydgoszcz, Lublin, Katowice
Szukaj w sklepach lub całym serwisie
2. Szukaj na wszystkich stronach serwisu
t1=0.063, t2=0, t3=0, t4=0, t=0.063