krainaksiazek managing and leading people through organizational change the theory and practice of sustaining change through people 20129867
- znaleziono 8 produktów w 3 sklepach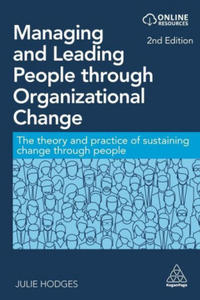 231,62 zł
Książki / Literatura obcojęzyczna
Sklep: Libristo.pl 229,99 zł
Książki Obcojęzyczne>Angielskie>Economics, finance, business & management>Business & management>Management & management techniques>Mana...
0x007d0eef00000000
Sklep: Gigant.pl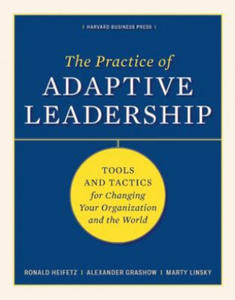 145,33 zł
Książki / Literatura obcojęzyczna
When change requires you to challenge people's familiar reality, it can be difficult, dangerous work. Whatever the context--whether in the private or the public sector--many will feel threatened as you push though major changes. But as a leader, you need to find a way to make it work. Ron Heifetz first defined this problem with his distinctive theory of adaptive leadership in Leadership Without Easy Answers. In a second book, Leadership on the Line, Heifetz and coauthor Marty Linsky highlighted the individual and organizational dangers of leading through deep change in business, politics, and community life. Now, Heifetz, Linsky, and coauthor Alexander Grashow are taking the next step: The Practice of Adaptive Leadership is a hands-on, practical guide containing stories, tools, diagrams, cases, and worksheets to help you develop your skills as an adaptive leader, able to take people outside their comfort zones and assess and address the toughest challenges. The authors have decades of experience helping people and organizations create cultures of adaptive leadership. In today's rapidly changing world, The Practice of Adaptive Leadership can be your handbook to meeting the demands of leadership in the midst of complexity.
Sklep: Libristo.pl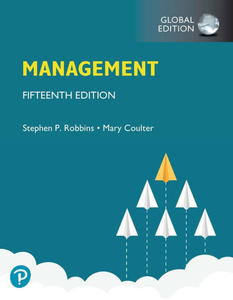 472,54 zł
Kultura i rozrywka > Ksią
Management, Global Edition
Sklep: ksiazkitanie.pl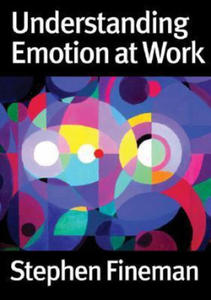 236,32 zł
Książki / Literatura obcojęzyczna
'Most folks in organizations dichotomize reason and emotion, often treating emotion as an uncommon or marginal occurrence. Written in a clear and lively style, Steve Fineman's book, Understanding Emotion at Work, dispels this notion as he demonstrates how emotions infuse most practices in organizational life, including leading, decision making, organizational change, gender relations, stress, and downsizing. Sprinkled with vivid examples, Fineman captures the positive benefits of emotions at work as well as the darker side of feelings and despair. Scholars, students and practitioners alike will glean important insights from the lens of emotion that Fineman brings to the subtleties of organizational life' - Linda L Putnam, Texas A&M University 'Stephen Fineman has written a wise and engaging text about emotions and how they play out in and around organizations. He underscores, with a range of fine examples, thoughtful commentary and careful scholarship, the essential role of emotions in organizational life. He applies his lens to such issues as recruitment, leadership, decision making and change. He extends the reach of emotions into the virtual world of work and he makes apparent the heavy costs to people and their organizations of toxic emotions that stem from bullying,harassment and downsizing. A must-read in any curriculum dealing with the study of organization' - Peter Frost, Edgar F. Kaiser Professor of Organizational Behaviour, Faculty of Commerce and Business Administration, University of British Columbia, Canada Author of Toxic Emotions at Work HBS Press 2003 'Going to work can be a great joy, a great pain, or a mixture of the two. This clearly written, engaging and authoritative book demonstrates the vital necessity of understanding how emotions permeate work organisations at every level and in every situation. No student of work and its organisation can afford to neglect this important area of study. And no writer on work and organisation is better placed to go to the heart of these matters than Stephen Fineman' - Professor Tony J Watson, Professor of Organisational and Managerial Behaviour, Nottingham Business School 'In this book, Professor Stephen Fineman has done more of what he does best writing eloquently and perceptively about emotions in organizations. In this case, he is writing directly for students, both undergraduates and postgraduates, and uses a wide range of disciplinary insights to show how emotions are inextricably embedded in organizational life. His book helps to launch students on a voyage of self-discovery to learn for themselves how emotions impact upon them and their colleagues. As someone who has long challenged the "emotion-less" view of emotion that characterizes much of the research on this phenomenon, he uses his considerable skills to convey the importance, richness and nuance of emotion. Nor does he shrink away from tackling the darker side of organizational emotional life challenging students to reflect on the agony, as well as the ecstasy, that passionate emotions can cause. This book is a valuable resource for teachers wanting to introduce students to organizations, and a fascinating and astute aid for students interested in learning about them - Professor Cynthia Hardy, Department of Management, University of Melbourne 'Organizational life is shot through with emotions, spawning a growing interest in topics ranging from emotional intelligence to violence at work. Stephen Fineman provides a much-needed survey of these topics, capturing their sprawling breadth without sacrificing depth. Moreover, he succeeds in conveying the everyday feel of emotions in organizational life in a way that is both engaging and informative' - Blake Ashforth, Jerry and Mary Ann Chapman Professor of Business, W P Carey School of Business, Arizona State University Understanding Emotion at Work gets to the heart of what binds and breaks organizations: emotion. It explores beyond the surface of work to the rich emotional life bubbling underneath, showing what employees and managers constantly deal with but are often ill-equipped to do so. This is the first introductory book on emotions and it's aimed specifically at students of management and organization studies. Written accessibly, it avoids pat prescriptions, but leaves the reader with challenging questions about the intrisic nature of emotions to the design and management of organizations. Drawing on a rich discipline-field, including psychology, sociology and organizational theory, Stephen Fineman explores a number of familiar and not so familiar work arenas. He examines the way emotion penetrates leadership, decision-making and organizational change as well as newer topics like the virtual side of organizations. Finally, he addresses the darker side of emotion in the context of bullying, violence, sexual harassment and downsizing. Understanding Emotion at Work will shed light on this growing subject for advanced undergraduates and postgraduates studying organizational behaviour, HRM or organizational psychology.
Sklep: Libristo.pl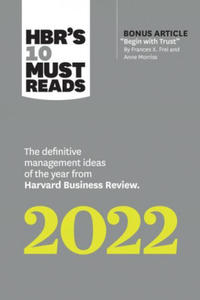 103,59 zł
Książki / Literatura obcojęzyczna
A year's worth of management wisdom, all in one place.We've reviewed the ideas, insights, and best practices from the past year of Harvard Business Review to keep you up-to-date on the most cutting-edge, influential thinking driving business today. With authors from Frances Frei to Morton T. Hansen and company examples from UPS to Apple, this volume brings the most current and important management conversations right to your fingertips.This book will inspire you to:Build trust the most essential form of capital a leader hasAdopt the best practices for hybrid workNavigate the challenges of workplace anxietyReconsider your approach to innovation by challenging everyday notions of valueAssess whether to team up with a rival and how to manage the relationshipBreak through the organizational barriers that impede gender and racial equityLead with a commitment to sustainabilityThis collection of articles includes "Begin with Trust," by Frances Frei and Anne Morriss; "Cultural Innovation," by Douglas Holt; "The Rules of Co-opetition," by Adam Brandenburger and Barry Nalebu ; "Negotiating Your Next Job," by Hannah Riley Bowles and Bobbi Thomason; "Leading Through Anxiety," by Morra Aarons-Mele; "When Machine Learning Goes Off the Rails," by Boris Babic, I. Glenn Cohen, Theodoros Evgeniou, and Sara Gerke; "Getting Serious About Diversity," by Robin J. Ely and David A. Thomas; "How to Promote Racial Equity in the Workplace," by Robert Livingston; "Our Work-from-Anywhere Future," by Prithwiraj Raj) Choudhury; "A More Sustainable Supply Chain," by Veronica H. Villena and Dennis A. Gioia; and "How Apple Is Organized for Innovation," by Joel M. Podolny and Morten T. Hansen.HBR's 10 Must Reads paperback series is the definitive collection of books for new and experienced leaders alike. Leaders looking for the inspiration that big ideas provide, both to accelerate their own growth and that of their companies, should look no further. HBR's 10 Must Reads series focuses on the core topics that every ambitious manager needs to know: leadership, strategy, change, managing people, and managing yourself. Harvard Business Review has sorted through hundreds of articles and selected only the most essential reading on each topic. Each title includes timeless advice that will be relevant regardless of an ever-changing business environment.
Sklep: Libristo.pl 94,75 zł
Książki / Literatura obcojęzyczna
From zero to home office - master plan for collaborative working from anywhereIn these times, the home office is timelier than ever before. The current corona crisis is forcing people to go straight to the home office from now on. With digital change and an increasingly flexible working environment, an ideal environment for working from home is emerging right now. This book takes up this potential for employers and employees and presents it in a compact form for all those who want to start from scratch in the home office.For some it is everyday life. For others it is a change-over. Half of all jobs already take place at the computer. A study by the US elite university Stanford even found out that employees are significantly more productive from home.This practice book: "From Zero to Home Office - Master Plan for Collaborative Working from Anywhere" provides managers and employees with optimal solutions for working together from home. Whether in self and task management, collaborative teamwork or in online meetings. Readers will find tangible solutions and checklists for all of these as well as access to further online help.The topics are dealt with:-The 5 most important tips to get started in your home office-In-depth information and methods that simplify online collaboration-Comparative overview of common tools and their collaboration features-Checklists for checking your own stand and additional materialsAbout the authors:Ulrike and Andreas Dolle are proven experts in the field of change management, corporate success and relevant future topics. As managing partners, they lead the education and consulting company ADM, as well as "commumo, the digital vision company". Since 2014, they and their companies have been completely digitalized and live mobility, agility and innovation in the digital space with their team and all partners. The book "From Zero to Home Office" is a consistent practice guidebook that supports management, leadership, as well as employees in the implementation of this modern way of working and brings speed to a reliable implementation.the ADM Institute is leading in this market for yearsReliable and structured procedures are essential for a completely digital team. That's why I warmly recommend the techniques and methods taught by ADM. It is important to develop and implement the path together and to accompany it through a defined procedure, and this is precisely the field in which the ADM Institute has been leading the market for many years!Ulrich Seibold, Vice President Channels & Ecosystem DACH and Vice President GreenLake DACH Hewlett-Packard GmbH >> HPE
Sklep: Libristo.pl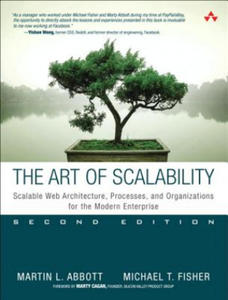 261,33 zł
Książki / Literatura obcojęzyczna
A Comprehensive, Proven Approach to IT Scalability from Two Veteran Software, Technology, and Business Executives In this second edition of The Art of Scalability, AKF Partners cofounders Martin L. Abbott and Michael T. Fisher cover everything product, technology and business leaders must know to build products that can scale smoothly to meet any business requirement. Drawing on their unparalleled experience managing some of the world's highest-transaction-volume Web sites, the authors provide detailed models and best-practice approaches available in no other book. Unlike previous books on scalability, The Art of Scalability doesn't limit its coverage to technology. Writing for both technical and nontechnical decision-makers, this book covers everything that impacts scalability, including architecture, processes, people, and organizations. This second edition has been edited to improve readability and includes new and updated content, a new chapter on Agile architecture, and new case studies. Throughout, the authors address a broad spectrum of real-world challenges, from performance testing to IT governance. Using their tools and guidance, organizations can systematically overcome obstacles to scalability and achieve unprecedented levels of technical and business performance. New and Updated Coverage includes
Sklep: Libristo.pl
Sklepy zlokalizowane w miastach: Warszawa, Kraków, Łódź, Wrocław, Poznań, Gdańsk, Szczecin, Bydgoszcz, Lublin, Katowice
Szukaj w sklepach lub całym serwisie
2. Szukaj na wszystkich stronach serwisu
t1=0.044, t2=0, t3=0, t4=0.012, t=0.044