krainaksiazek modern american grotesque literature and photography 20130276
- znaleziono 6 produktów w 2 sklepach 23,00 zł
HUMANISTYKA
The volume focuses on cultural/ideological/literary constructions and manifestations of the body in British and American literature of the nineteenth and the twentieth century. The authors of the articles share the contention that the body is not a neutral subject of critical investigation, for it involves our existence and shapes human reality. Autorzy artykułów zebranych w tomie The Body skupiają się na kulturowych, ideologicznych i literackich konstrukcjach i manifestacjach cielesności w literaturze anglojęzycznej dziewiętnastego i dwudziestego wieku. Łączy ich przekonanie, że ciało nie jest neutralnym przedmiotem krytycznej analizy, gdyż angażuje i kształtuje każdy wymiar ludzkiego doświadczania. Praca adresowana jest do zarówno do badaczy, jak i studentów literatur i kultur krajów angielskiego obszaru językowego oraz do wszystkich humanistów zainteresowanych problematyką ciała i cielesności. Contents Jacek Gutorow
Sklep: ksiegarnia.edu.pl 252,15 zł
Książki / Literatura obcojęzyczna
Inventing American Still Life, 1800-1960 offers a fresh look at the myriad ways that American artists of the 19th and 20th centuries - both familiar names and recently rediscovered artists - approached the subject of still-life painting. A stunning array of works, some never before published, are beautifully illustrated in more than 250 colour images. Four thematic essays address the connections between still life and other aspects of American culture, including literature and philosophy; the intersections among still-life painting, natural-history illustration, and commercial photography; the Philadelphia region's defining impact and lasting influence on American still life; and the reception of still life by American critics and art historians from its earliest days to the present. Among the works featured are Raphaelle Peale's celebrated Blackberries (c. 1813), Severin Roesen's majestic Flower Still Life with Bird's Nest (1853), William Michael Harnett's landmark trompe l'oeil painting After the Hunt (1885), and Charles Sheeler's modern masterpiece Rolling Power (1939).
Sklep: Libristo.pl 66,80 zł
Książki / Literatura obcojęzyczna
At her death in 1964, O'Connor left behind a body of unpublished essays and lectures as well as a number of critical articles that had appeared in scattered publications during her too-short lifetime. The keen writings comprising Mystery and Manners, selected and edited by O'Connor's lifelong friends Sally and Robert Fitzgerald, are characterized by the directness and simplicity of the author's style, a fine-tuned wit, understated perspicacity, and profound faith. The book opens with "The King of the Birds," her famous account of raising peacocks at her home in Milledgeville, Georgia. Also included are: three essays on regional writing, including "The Fiction Writer and His Country" and "Some Aspects of the Grotesque in Southern Fiction"; two pieces on teaching literature, including "Total Effect and the 8th Grade"; and four articles concerning the writer and religion, including "The Catholic Novel in the Protestant South." Essays such as "The Nature and Aim of Fiction" and "Writing Short Stories" are widely seen as gems. This bold and brilliant essay-collection is a must for all readers, writers, and students of modern American literature.
Sklep: Libristo.pl 214,89 zł
Książki / Literatura obcojęzyczna
The Garden in the Machine explores the evocations of place, and particularly American place, that have become so central to the representational and narrative strategies of alternative and mainstream film and video. Scott MacDonald contextualizes his discussion with a wide-ranging and deeply informed analysis of the depiction of place in nineteenth- and twentieth-century literature, painting, and photography. Accessible and engaging, this book examines the manner in which these films represent nature and landscape in particular, and location in general. It offers us both new readings of the films under consideration and an expanded sense of modern film history. Among the many antecedents to the films and videos discussed here are Thomas Cole's landscape painting, Thoreau's Walden, Olmsted and Vaux's Central Park, and Eadweard Muybridge's panoramic photographs of San Francisco. MacDonald analyzes the work of many accomplished avant-garde filmmakers: Kenneth Anger, Bruce Baillie, James Benning, Stan Brakhage, Nathaniel Dorsky, Hollis Frampton, Ernie Gehr, Larry Gottheim, Robert Huot, Peter Hutton, Marjorie Keller, Rose Lowder, Marie Menken, J.J. Murphy, Andrew Noren, Pat O'Neill, Leighton Pierce, Carolee Schneemann, and Chick Strand. He also examines a variety of recent commercial feature films, as well as independent experiments in documentary and such contributions to independent video history as George Kuchar's Weather Diaries and Ellen Spiro's Roam Sweet Home. MacDonald reveals the spiritual underpinnings of these works and shows how issues of race, ethnicity, gender, and class are conveyed as filmmakers attempt to discover forms of Edenic serenity within the Machine of modern society. Both personal and scholarly, The Garden in the Machine will be an invaluable resource for those interested in investigating and experiencing a broader spectrum of cinema in their teaching, in their research, and in their lives.
Sklep: Libristo.pl 149,97 zł
Książki / Literatura obcojęzyczna
Following in the paw- and hoof-prints of I-5's best-selling The Original Dog Bible and The Original Horse Bible comes The Original Cat Bible, the ultimate resource for cat owners and lovers from the editors of Cat Fancy magazine. This new 500-page volume promises to be the most complete and authoritative book of its kind, authored by award-winning writer Sandy Robins with special veterinary chapters by Dr. Arnold Plotnick and an extensive breed section by Sarah Hartwell and Lorraine Shelton. The Original Cat Bible delves deeply into all things feline, from the domestication of cats and the development of pure breeds to the anatomy and genetics of felines. Between its two covers, it bequeaths a wealth of information to the cat fanciers, detailing all aspects of cat care and ownership, bejeweled with fun tidbits and trivia to entertain even the most discerning of feline lovers. The book begins with a detailed history of the modern cat, including the noble big cats of the wild and the small domesticated cats adored indoors by millions around the world. In her venture into the modern-day world of cats, the author discusses the genesis of cat welfare and rescue, as well as concerns about stray and feral cats in our communities, explaining the problems and offering practical solutions. From a more universal perspective, the text explores the feline's place in world religions, the cat-laden folklore of Asia, Europe and North America, cats in religion, popular culture through the ages (literature, art, cartoons, and movies), and contemporary social media (YouTube, blogs, and Facebook). The Original Cat Bible discusses the development of cat breeds and the genetics of purebred cats. While the establishment of purebred cats is a fairly modern development, some breeds have existed in a "pure form" for many centuries. In order to explain the significance of specific breeds, the author describes the essential physical characteristics of the cat, including body types, coat types, colors, and patterns. Guest authors Hartwell and Shelton, both highly regarded experts in the purebred cat world, present seventy-five breeds of cat from the familiar Siamese and Persian to the lesser known Australian Mist and Pixie Bob, describing their origins, breed standards, personalities, all accompanied by dazzling color photography. The book features expansive coverage of every recognized cat breed in the world, plus many experimental and new breeds that have come and gone. Robins resumes the discussion of cat ownership, covering important topics such as finding a kitten, choosing between breeders and shelters, achieving the right feline match for your family, bringing the cat into a new home, cat-proofing and safety around the house, and shopping for supplies for the new cat (accessories ranging from litter boxes and beds to harnesses and cat trees). New owners will value the information about introducing the cat to family and other pets, the importance of selecting a qualified veterinarian, securing veterinary insurance, and establishing an immunization schedule with your vet. Information about kitten health concerns, including viral diseases and parasites, and complementary therapies and holistic medicine, diagnostic tests and new technologies available is thorough and detailed. A user-friendly, very readable chapter on grooming follows, offering advice on caring for the coats of kittens, adults and older cats, purchasing grooming tools, learning techniques, and establishing a regimen for brushing and bathing, nail, eye, ear and teeth care. The feeding chapter begins with a fascinating and entertaining history of pet food in America and then goes on to discuss such important topics as the nutritional requirements of cats at all life stages, the choice between commercial diets and natural foods, food allergies, and special care of obese and pregnant cats. In introducing the elaborate section on healthcare, renowned veterinarian Dr. Arnold Plotnick presents an overview of feline anatomy, including the basics of the body, skin, coat, ears, eyes, teeth, paws, and bodily systems. The chapter on external conditions, diseases and disorder covers over eighty specific feline diseases (categorized by anatomical region), followed by a chapters on infectious diseases and internal and external parasites; reproductive care, puberty, mating, and pregnancy; and serious life-threatening disorders (diabetes, cancer, and hyperthyroidism). A chapter on senior cats offers readers information on health issues with older cats (arthritis, cognitive dysfunction, vision and hearing loss), common behavior issues, as well grief counseling upon the loss of a beloved cat. A section on fun with cats includes the various activities and enrichment exercises owners can do with their cats, as well as cat agility and cat shows (covering both major American cat registries, the Cat Fanciers Association and The International Cat Association). Further topics in this expansive volume include traveling with cats, pet-care options for owners (kitty day care, pet sitters, and boarding), dealing with emergencies, first aid, and disaster planning, finding a lost cat, relocating with cats and preventing loss during a move. The Original Cat Bible offers the gospel on cat behavior and training, and preaches that cats can indeed be trained! The author offers a compendium on feline communication, including body language and vocalizations, and a training course that advocates socialization and positive-reinforcement training (remote control training, redirection, and clicker training). In addressing problem behaviors, the author puts forward solutions for dozens of commonly encountered nuisances, such as litter box messes, scratching, aggression, separation anxiety and pica. The final section of the book celebrates cats at work in the community, from therapy cats in nursing homes and rest-home facilities to cats working as greeters and library and book-store assistants. Readers will delight in the section about celebrity cats. Cats have made a splash working professionally as actors and models in the entertainment worlds of movies, television, and advertising. For readers wishing to work with cats themselves, the book discusses a variety of career paths as veterinarians, vet assistants, groomers, trainers and behaviorists, massage therapists, cat sitters, animal-control officers, and photographers. The book has an expansive resource section including websites, books, and periodicals, and is fully indexed.
Sklep: Libristo.pl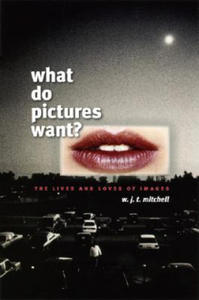 120,37 zł
Książki / Literatura obcojęzyczna
Why do we have such extraordinarily powerful responses toward the images and pictures we see in everyday life? Why do we behave as if pictures were alive, possessing the power to influence us, to demand things from us, to persuade us, seduce us, or even lead us astray? According to W. J. T. Mitchell, we need to reckon with images not just as inert objects that convey meaning but as animated beings with desires, needs, appetites, demands, and drives of their own. "What Do Pictures Want?" explores this idea and highlights Mitchell's innovative and profoundly influential thinking on picture theory and the lives and loves of images. Ranging across the visual arts, literature, and mass media, Mitchell applies characteristically brilliant and wry analyses to Byzantine icons and cyberpunk films, racial stereotypes and public monuments, ancient idols and modern clones, offensive images and found objects, American photography and aboriginal painting. Opening new vistas in iconology and the emergent field of visual culture, he also considers the importance of Dolly the Sheep--who, as a clone, fulfills the ancient dream of creating a living image--and the destruction of the World Trade Center on 9/11, which, among other things, signifies a new and virulent form of iconoclasm. "What Do Pictures Want?" offers an immensely rich and suggestive account of the interplay between the visible and the readable. A work by one of our leading theorists of visual representation, it will be a touchstone for art historians, literary critics, anthropologists, and philosophers alike. "A treasury of episodes--generally overlooked by art history and visual studies--that turn on images that 'walk by themselves' and exert their own power over the living."--Norman Bryson, "Artforum "
Sklep: Libristo.pl
Sklepy zlokalizowane w miastach: Warszawa, Kraków, Łódź, Wrocław, Poznań, Gdańsk, Szczecin, Bydgoszcz, Lublin, Katowice
Szukaj w sklepach lub całym serwisie
2. Szukaj na wszystkich stronach serwisu
t1=0.316, t2=0, t3=0, t4=0.043, t=0.316