krainaksiazek modern american grotesque literature and photography 20130276
- znaleziono 6 produktów w 2 sklepach 23,00 zł
HUMANISTYKA
The volume focuses on cultural/ideological/literary constructions and manifestations of the body in British and American literature of the nineteenth and the twentieth century. The authors of the articles share the contention that the body is not a neutral subject of critical investigation, for it involves our existence and shapes human reality. Autorzy artykułów zebranych w tomie The Body skupiają się na kulturowych, ideologicznych i literackich konstrukcjach i manifestacjach cielesności w literaturze anglojęzycznej dziewiętnastego i dwudziestego wieku. Łączy ich przekonanie, że ciało nie jest neutralnym przedmiotem krytycznej analizy, gdyż angażuje i kształtuje każdy wymiar ludzkiego doświadczania. Praca adresowana jest do zarówno do badaczy, jak i studentów literatur i kultur krajów angielskiego obszaru językowego oraz do wszystkich humanistów zainteresowanych problematyką ciała i cielesności. Contents Jacek Gutorow
Sklep: ksiegarnia.edu.pl 239,43 zł
Książki / Literatura obcojęzyczna
Inventing American Still Life, 1800-1960 offers a fresh look at the myriad ways that American artists of the 19th and 20th centuries - both familiar names and recently rediscovered artists - approached the subject of still-life painting. A stunning array of works, some never before published, are beautifully illustrated in more than 250 colour images. Four thematic essays address the connections between still life and other aspects of American culture, including literature and philosophy; the intersections among still-life painting, natural-history illustration, and commercial photography; the Philadelphia region's defining impact and lasting influence on American still life; and the reception of still life by American critics and art historians from its earliest days to the present. Among the works featured are Raphaelle Peale's celebrated Blackberries (c. 1813), Severin Roesen's majestic Flower Still Life with Bird's Nest (1853), William Michael Harnett's landmark trompe l'oeil painting After the Hunt (1885), and Charles Sheeler's modern masterpiece Rolling Power (1939).
Sklep: Libristo.pl 256,34 zł
Camera Works Oxford University Press Inc
Książki / Literatura obcojęzyczna
Camera Works is about the impact of photography and film on modern art and literature. For many artists and writers, these new media offered hope of new means of representation, neither linguistic nor pictorial, but hovering in a kind of utopian space between. At the same time, the new media introduced a dramatic element of novelty into the age-old evidence of the senses. For the avant-garde, the challenges of the new media were the modern in its most concentrated form, but even for aesthetically unadventurous writers they constituted an element of modern experience that could hardly be ignored. Camera Works thus traces some of the more utopian projects of transatlantic avant-garde, including the Readie machine of Bob Brown, which was to turn stories and poems into strips of linguistic film. The influence of photography and film on the avant-garde is traced from the early days of Camera Work, through the enthusiasm of Eugene Jolas and the contributors to his magazine transition, to the crisis created by the introduction of sound in the late 1920's. Subseguent chapters describe the entirely new kind of sensory enjoyment brought into modern American fiction by the new media. What Fitzgerald calls "spectroscopic gayety," the enjoyable diorientation of the senses by machine perception, turns out to be a powerful force in much American fiction. The revolutionary possibilities of this new spectatorship and its limitations are pursued through a number of examples, including Dos Passos, James Weldon Johnson, and Hemingway. Together, these chapters offer a new and substantially different account of the relationship between modern American literature and the mediatized society of the early twentieth century. With a comprehensive introduction and detailed particular readings, Camera Works substantiates a new understanding of the formal and historical bases of modernism. It argues that when modern literature and art respond to modernity, on a formal level, they are responding to the intervention of technology in the transmission of meaning, an intervention that unsettles all the terms in the essential relationship of human consciousness to the world of phenomena.
Sklep: Libristo.pl 57,96 zł
Książki / Literatura obcojęzyczna
At her death in 1964, O'Connor left behind a body of unpublished essays and lectures as well as a number of critical articles that had appeared in scattered publications during her too-short lifetime. The keen writings comprising Mystery and Manners, selected and edited by O'Connor's lifelong friends Sally and Robert Fitzgerald, are characterized by the directness and simplicity of the author's style, a fine-tuned wit, understated perspicacity, and profound faith. The book opens with "The King of the Birds," her famous account of raising peacocks at her home in Milledgeville, Georgia. Also included are: three essays on regional writing, including "The Fiction Writer and His Country" and "Some Aspects of the Grotesque in Southern Fiction"; two pieces on teaching literature, including "Total Effect and the 8th Grade"; and four articles concerning the writer and religion, including "The Catholic Novel in the Protestant South." Essays such as "The Nature and Aim of Fiction" and "Writing Short Stories" are widely seen as gems. This bold and brilliant essay-collection is a must for all readers, writers, and students of modern American literature.
Sklep: Libristo.pl 214,89 zł
Książki / Literatura obcojęzyczna
The Garden in the Machine explores the evocations of place, and particularly American place, that have become so central to the representational and narrative strategies of alternative and mainstream film and video. Scott MacDonald contextualizes his discussion with a wide-ranging and deeply informed analysis of the depiction of place in nineteenth- and twentieth-century literature, painting, and photography. Accessible and engaging, this book examines the manner in which these films represent nature and landscape in particular, and location in general. It offers us both new readings of the films under consideration and an expanded sense of modern film history. Among the many antecedents to the films and videos discussed here are Thomas Cole's landscape painting, Thoreau's Walden, Olmsted and Vaux's Central Park, and Eadweard Muybridge's panoramic photographs of San Francisco. MacDonald analyzes the work of many accomplished avant-garde filmmakers: Kenneth Anger, Bruce Baillie, James Benning, Stan Brakhage, Nathaniel Dorsky, Hollis Frampton, Ernie Gehr, Larry Gottheim, Robert Huot, Peter Hutton, Marjorie Keller, Rose Lowder, Marie Menken, J.J. Murphy, Andrew Noren, Pat O'Neill, Leighton Pierce, Carolee Schneemann, and Chick Strand. He also examines a variety of recent commercial feature films, as well as independent experiments in documentary and such contributions to independent video history as George Kuchar's Weather Diaries and Ellen Spiro's Roam Sweet Home. MacDonald reveals the spiritual underpinnings of these works and shows how issues of race, ethnicity, gender, and class are conveyed as filmmakers attempt to discover forms of Edenic serenity within the Machine of modern society. Both personal and scholarly, The Garden in the Machine will be an invaluable resource for those interested in investigating and experiencing a broader spectrum of cinema in their teaching, in their research, and in their lives.
Sklep: Libristo.pl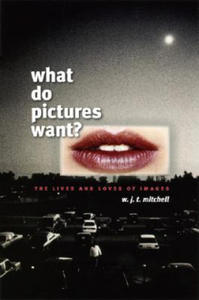 128,69 zł
Książki / Literatura obcojęzyczna
Why do we have such extraordinarily powerful responses toward the images and pictures we see in everyday life? Why do we behave as if pictures were alive, possessing the power to influence us, to demand things from us, to persuade us, seduce us, or even lead us astray? According to W. J. T. Mitchell, we need to reckon with images not just as inert objects that convey meaning but as animated beings with desires, needs, appetites, demands, and drives of their own. "What Do Pictures Want?" explores this idea and highlights Mitchell's innovative and profoundly influential thinking on picture theory and the lives and loves of images. Ranging across the visual arts, literature, and mass media, Mitchell applies characteristically brilliant and wry analyses to Byzantine icons and cyberpunk films, racial stereotypes and public monuments, ancient idols and modern clones, offensive images and found objects, American photography and aboriginal painting. Opening new vistas in iconology and the emergent field of visual culture, he also considers the importance of Dolly the Sheep--who, as a clone, fulfills the ancient dream of creating a living image--and the destruction of the World Trade Center on 9/11, which, among other things, signifies a new and virulent form of iconoclasm. "What Do Pictures Want?" offers an immensely rich and suggestive account of the interplay between the visible and the readable. A work by one of our leading theorists of visual representation, it will be a touchstone for art historians, literary critics, anthropologists, and philosophers alike. "A treasury of episodes--generally overlooked by art history and visual studies--that turn on images that 'walk by themselves' and exert their own power over the living."--Norman Bryson, "Artforum "
Sklep: Libristo.pl
Sklepy zlokalizowane w miastach: Warszawa, Kraków, Łódź, Wrocław, Poznań, Gdańsk, Szczecin, Bydgoszcz, Lublin, Katowice
Szukaj w sklepach lub całym serwisie
2. Szukaj na wszystkich stronach serwisu
t1=0.303, t2=0, t3=0, t4=0.044, t=0.304