krainaksiazek neurology and neurosurgery illustrated international edition 20128288
- znaleziono 6 produktów w 1 sklepie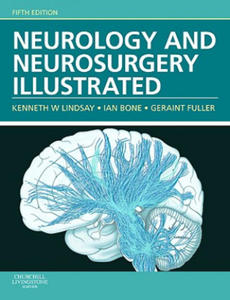 313,69 zł
Książki / Literatura obcojęzyczna
New edition of a highly successful illustrated guide to neurology and neurosurgery for medical students and junior doctors. Updated and revised in all areas where there have been developments in understanding of neurological disease and in neurological and neurosurgical management. This revision has also incorporated current guidelines, particularly recommendations from National Institute for Health and Clinical Excellence.
Sklep: Libristo.pl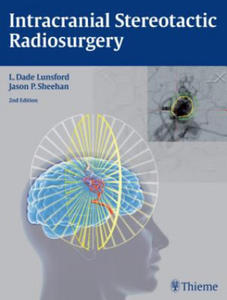 862,11 zł
Książki / Literatura obcojęzyczna
Second Edition Reflects Considerable Technological and Evidence-Based Advancements in Intracranial Stereotactic Radiosurgery§§The field of stereotactic radiosurgery (SRS) has witnessed considerable growth and refinements, since publication of the first edition. Ongoing technological advancements have led to improvements in speed, accuracy, precision, and delivery yielding better clinical outcomes. The base of knowledge has increased exponentially through the treatment of thousands of patients; symposiums, medical societies, and journals devoted to SRS; and multicenter trials initiated on national and international fronts.§§This second edition is again authored by renowned experts in neurosurgery, neurology, physics, and radiation oncology, many of whom are pioneers of radiosurgery. Throughout more than 30 detailed chapters, these authors share their vast expertise on this highly precise, minimally invasive form of radiation therapy.§§The first few chapters lay a foundation for understanding the differentiations in types of SRS technology: Leksell Gamma Knife
Sklep: Libristo.pl 392,82 zł
Książki / Literatura obcojęzyczna
Brain Injury: Applications from War and Terrorism is a single-authored book written by a world-class neuroradiologist with extensive experience in traumatic brain injury (TBI). It features six graphic-intense chapters depicting and expounding upon the complexity of TBI. Culled from nearly three decades of studying civilian TBI and five years of intensive study of TBI sustained from combat, terrorism, and natural disasters, this work is an exhaustive and innovative authority on the current approaches and applications of civilian and combat TBI. The text is sectored into six chapters based on pathophysiology, each augmented with numerous images and illustrations. The book gives special attention to neuroimaging, but is reinforced with relevant clinical correlation. This monograph is unique because it is first in class as an omnibus for the radiologist, neurologist, neurosurgeon, maxillofacial surgeon, emergency physician, pediatrician, ophthalmologist, and the rehabilitation team. Accompanied by detailed high resolution illustrations with meticulous annotation, Brain Injury: Applications from War and Terrorism contains over 500 curated radiological and clinical images that enhance the concepts detailed in each chapter. Complete with up-to-date references, it is a state of the art resource guide for any member of the team of professionals caring for those who have sustained a traumatic brain injury. In the foreword, Bob Woodruff writes - "After the September 11 attacks, [Dr. Gean] realized the significant void in our understanding of brain Injury caused by war and terrorism (and) she was motivated to devote the last four years of her academic pursuits to understanding the similarities and differences between civilian TBI and TBI suffered in war, terrorism, and natural disasters...". "This extraordinary, magnificently illustrated and unique single-authored textbook, Brain Injury: Applications from War and Terrorism, is the culmination of Dr. Gean's dedication and experience. It's really not just a book - it is a telegraphed documentary of a lifelong conviction to recognizing and responding to TBI by an acknowledged global expert." (Alisa Gean, MD Brief Biography). Alisa D. Gean, MD is a Professor of Radiology, Neurology, and Neurosurgery at the University of California, San Francisco (UCSF). Dr. Gean obtained both her BS and MD degrees at Stanford University. Following medical school, she did an Internship in Internal Medicine at San Francisco Children's Hospital, now called California Pacific Medical Center (CPMC). She then moved to Boston where she completed a 4-year Residency program in Diagnostic Radiology and a 2-year Fellowship in Neuroradiology, both at Massachusetts General Hospital, Harvard Medical School. Dr. Gean joined the faculty at UCSF in 1989 as the Chief of Neuroradiology at San Francisco General Hospital. Her primary professional interest is in the field of central nervous system trauma. She also has devoted special attention to the areas of stroke and HIV disease. The sheer volume of patients, the extremes of illness, and the unique circumstances of the vulnerable patient population presenting to San Francisco General Hospital have provided her with a wealth of experience and expertise in central nervous system injury and disease. Dr. Gean lectures nationally and internationally on the topic of traumatic brain injury (TBI), and she is a founding member of the Brain and Spine Injury Center ("BASIC") at UCSF. She has written extensively on the topic of TBI, and is the sole author of the internationally recognized textbook, "Imaging of Head Trauma". She has consulted with the National Institutes of Health (NIH), the National Institute of Neurological Disorders and Stroke (NINDS), the Centers for Disease Control (CDC), the Department of Defense, and the National Football League on the topic of head injury. A senior member of the American Society of Neuroradiology, Dr. Gean obtained her Certification of Added Qualifications (CAQ) in 1996 and was recertified in 2006. Dr. Gean serves as a National Medical Board Examiner for the American Board of Radiology for both the certification of trainees at the Board examination level as well as for post-fellowship certification at the CAQ level. Dr. Gean has previously held positions as a San Francisco mayoral delegate to the Philippines, Vietnam, and China, and she continues to volunteer as a neuroradiology consultant to the Asia/Pacific Rim. Dr. Gean has delivered over 200 national and international invited lectures, written 4 books, 24 book chapters, and over 100 peer-reviewed manuscripts and scientific abstracts. Dr. Gean's editorial activities include JAMA, American Journal of Neuroradiology, Radiology, Journal of Trauma, Journal of Neurotrauma, Annals of Neurology, Journal of Neuro-AIDS, and the Journal of Computed Assisted Tomography. In 2008, Dr. Gean volunteered her clinical expertise at Landstuhl Regional Medical Center in Germany to study combat TBI suffered in the Iraq and Afghanistan conflicts. Through this experience, she has devoted her recent academic pursuits to understanding the similarities and differences between civilian and battlefield brain injury. In recognition of that work, Dr. Gean has recently finished another single-authored textbook titled Brain Injury: Applications from War and Terrorism.
Sklep: Libristo.pl 428,57 zł
Książki / Literatura obcojęzyczna
Updated throughout and extensively illustrated, the Fifth Edition of Neuroradiology Companion is an ideal one-volume resource covering the fundamentals of neuroradiology for residents, fellows, and practitioners. More than 1,400 high-quality images depict key disorders of the brain, spine, and head and neck.  Each disorder is presented in a concise, consistent manner, with bulleted Key Facts, six to eight images that show the most common findings, and suggested readings. This concise volume can be read cover-to-cover during neuroradiology rotations and also used for daily consultation in the reading room.Key Features:*The latest clinical information brings you up to date with new advances in radiology, as well as basic current concepts of neuropathology, neurosurgery, and neurology.*Updated protocols for CT, MRI, myelography, digital subtraction angiography, and sedation and anxiolysis, as well as new information on contrast media reactions, keep you current with recent changes in the field.*Suggested Reading resources have been thoroughly updated, and the newly streamlined text makes it even easier to access key information.*More than 800 new images clearly depict recent cases and highlight subtle findings.Now with the print edition, enjoy the bundled interactive eBook edition, which can be downloaded to your tablet and smartphone or accessed online and includes features like:*Complete content with enhanced navigation*Powerful search tools and smart navigation cross-links that pull results from content in the book, your notes, and even the web*Cross-linked pages, references, and more for easy navigation*Highlighting tool for easier reference of key content throughout the text*Ability to take and share notes with friends and colleagues*Quick reference tabbing to save your favorite content for future use
Sklep: Libristo.pl 790,93 zł
Książki / Literatura obcojęzyczna
While conventional magnetic resonance, X-ray-based, ultrasound, and nuclear medicine techniques are widely used to facilitate diagnosis, inform therapeutic decision-making, provide information regarding prognosis, and monitor therapeutic response in neurologic diseases, their practical value in acute clinical care is not as yet well-defined and the potential future development is not fully appreciated. This book provides a comprehensive survey of best practice for specialists and trainees in neurology, emergency medicine, neuroradiology, radiology, neurosurgery, and critical care. The symptom-based approach guides the choice of the available imaging tools for efficient, accurate, and cost-effective diagnosis to support immediate management of common and complex neurological disorders in the acute setting. Effective examination algorithms are included that integrate neurological and imaging concepts with the practical demands and constraints of emergency care. Written by leading international authorities, the book is extensively illustrated and contains many helpful case-histories.
Sklep: Libristo.pl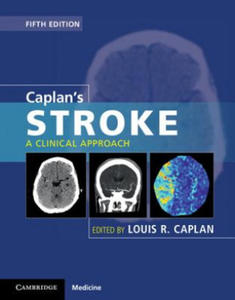 419,30 zł
Książki / Literatura obcojęzyczna
This updated, revised and expanded fifth edition of the market-leading clinical guide on stroke covers causes, prevention, clinical features, evaluation and management in a comprehensive yet accessible manner. While it retains the uniform organization, accessible style and patient-oriented focus of previous editions, its scope has been extended to cover the most recent research, providing a fully up-to-date account of the features of cerebrovascular disease, stroke syndromes, complications, and recovery and rehabilitation. Joined by an international team of experts in the field, Caplan offers a widened coverage of each chapter topic, illustrated by using a large number of real-world clinical examples. Not previously included, this new edition now also contains a chapter on the genetics of stroke. Generously illustrated by figures of anatomy and pathology and brain and vascular imaging, this is a must-have for medical specialists and consultants, as well as trainees, in neurology, stroke medicine, internal medicine and neurorehabilitation.
Sklep: Libristo.pl
Sklepy zlokalizowane w miastach: Warszawa, Kraków, Łódź, Wrocław, Poznań, Gdańsk, Szczecin, Bydgoszcz, Lublin, Katowice
Szukaj w sklepach lub całym serwisie
2. Szukaj na wszystkich stronach serwisu
t1=0.033, t2=0, t3=0, t4=0, t=0.033