krainaksiazek real fit food 20130987
- znaleziono 12 produktów w 4 sklepach 140,66 zł 105,75 zł 72,49 zł
Książki Obcojęzyczne>Angielskie>Lifestyle, sport & leisure>Cookery / food & drink etc>Health & wholefood cookeryKsiążki Obcojęzyczne>An...
Sklep: Gigant.pl 53,00 zł
Książki / Literatura obcojęzyczna
Following on from the huge success of her previous titles, Wilderness Weekends (2015) and Britains Best Small Hills (2016), outdoor guru Phoebe Smith returns with her top tips about wilderness cooking on a single stove, including fifty recipes for breakfast, lunch, dinner, dessert and snacks. She also adds that secret extra ingredient to each recipe an incredible sense of place from moorland to coast, woodland, mountains or riverside. This innovative title is packed with advice on how to get the most out of walking in wild places, wild camping and wild cooking. Heading out into the wilds is incredible, but the food you eat when you go wild can be unimaginative all pre-packed, dehydrated camping meals crammed with salt and colouring. This book, the first written specifically for wild campers, teaches you the tricks to make the tastiest food with limited ingredients and all at the lightest weight so that you can be assured of good food that wont break your back. Bradts Wilderness Cookbook also includes countryside safety tips, information about understanding the countryside and suggestions and instructions for things to make on the fly, be it an item of cutlery or a driftwood den. The basics of foraging are also covered, from using sphagnum moss to clean your pots to finding cockles to add to your stew or bilberries to mix into your porridge. No matter where you are, what type of terrain youre covering or what season it is, this inspirational new title will have a recipe to fit the moment, from Turmeric Pitta Eggs or Cinnamon Lemon Muffins for breakfast to Brunch Burritos or Super Couscous for lunch, Campfire Rosemary and Nettle Mushrooms for dinner and, to round off, Real Ale Pancakes or Campfire Tarts for dessert. With Bradts Wilderness Cookbook, you can ensure the wild food you prepare offers maximum taste and energy for minimum kit, weight and hassle.
Sklep: Libristo.pl 88,56 zł
Książki / Literatura obcojęzyczna
Develop your own personal weight loss plan based on sound expert advice Total Body Diet for Dummies is your expert-led guide to losing weight -- and keeping it off -- the healthy way. It's easy to fall into the trap of fad diets with their promises of fast results and little effort, but fad diets are often ineffective at best, or downright dangerous at worst. This book gives you the benefit of expertise instead, putting Academy of Nutrition and Dietetics guidelines right at your fingertips. You'll learn why physical activity, calorie counting, and psychological support are the cornerstones of successful and lasting weight loss, and why you should track your food intake, exercise, and sleep. You'll learn all about the various tools that can help you reach your goals, including mindful eating, wearable technology and mobile apps, and how to choose the right ones for you. Written by a registered dietitian nutritionist, these easy-to-follow and simple-to-apply tips will help you develop a customized weight loss plan without upending your day-to-day life or breaking your budget. Conflicting guidance and questionable sources can make it that much harder to lose weight successfully without the help of a knowledgeable professional. This book cuts through the noise to bring you real guidance based on real research, with true expert advice to help you: * Lose weight for good in a mindful way * Become lean, strong, and healthy * Stay on track with wearable tech * Feel better and get energized Losing weight is not about 'magical' foods or self-deprivation. It's about your overall pattern of food intake, and most foods can fit into a healthy pattern in moderation. You just need to learn how to do it mindfully. Total Body Diet for Dummies is the supportive, informative guide you need to get right on track to a healthier you.
Sklep: Libristo.pl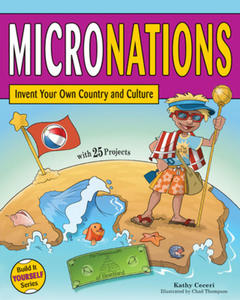 92,64 zł
Książki / Literatura obcojęzyczna
For anyone who's ever dreamed of ruling over their own empire, here's your chance! Micronations are imaginary countries that have a lot of the same things as real ones: laws, customs, history, and their own flags, coins, and postage stamps. Micronations: Invent Your Own Country and Culture takes readers step-by-step to create their own unique realm, using examples from real nations, micronations, and fictional lands. What makes a country a country? What symbols and systems define a country and help it function? Learn about geography and government, technology and the environment, art and culture, and the literary device of "world-building" used in works like The Hobbit and Harry Potter. Activities show readers how to create authentic-looking artifacts and documents such as maps, currency, passports, a declaration of independence, and a constitution. Kids get to invent their own language, music, games, clothing, food, and holidays to fit their micronation's tradition. Whether they create a land of time travel where every city exists in a different epoch or an underwater monarchy (motto: "Bubbles, bubbles and more bubbles") whose chief export is fish, Micronations: Invent Your Own Country and Culture will engage kids' imagination and teach make-believe rulers how the real world works.
Sklep: Libristo.pl 84,55 zł
Książki / Literatura obcojęzyczna
From the author of Eat to Win, Eat to Lose, the first book to reveal the powerful health benefits of the latest diet trend known as souping with a 3-day detox, a 3-week diet plan and more than 50 delicious recipes.Step aside, juicing the next big diet sensation is souping, as in big, steaming bowls filled with real, satisfying ingredients. Unlike the high sugar, low-fiber juice cleanses that have been so popular, souping is just the opposite low-sugar, high fiber, and filling! In Power Souping, nutritionist-to-the-stars Rachel Beller shares what makes a soup diet effective, which recipes to try and what soups to avoid, and how to fit soups into an action plan for life.In her upbeat, conversational style, Rachel first outlines a rapid, 3-day weight-loss plan and shares her invaluable Wholesome Threesome rule: centering every meal around: (1) two handfuls of vegetables; (2) protein; (3) healthy fats. Along the way she offers tips to make shopping and cooking quick and easy, as well as secrets to perking up soups to make them even more nutritious and delicious.After 3 days (and 3 fewer pounds), Rachel dives into 21 days of soup-powered meals. This 3-week weight-loss strategy follows hard and fast rules of eating real foods, three square meals plus snacks, no fasting, and no overly processed junk food. Power Souping features 50 delicious, easy-to-make recipes for the entire 3 weeks, plus a handy list of approved convenience foods for those on the go. And since commitment doesn t mean eating just soup for the rest of your life, Rachel provides key methods to integrate flavorful favorites into everyday eating for the next 3 months and beyond.More effective and sustainable than juice-based diets, Power Souping is not only a practical weight-loss handbook, but a healthy guide for life."
Sklep: Libristo.pl 36,60 zł
Powieści i opowiadania
'When people ask me what I do for a crust and I tell them that I'm a novelist, they immediately assume that my life is a non-stop carousel of limos, television appearances, hair-dos, devoted fans, stalkers and all the glitzy paraphernalia of being a public figure. It's time to set the record straight. I write alone, in a darkened bedroom, wearing my PJs, eating bananas, my laptop on a pillow in front of me ...' Her novels are adored by millions around the world
Sklep: Albertus.pl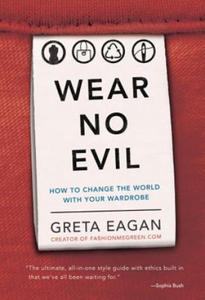 85,43 zł
Książki / Literatura obcojęzyczna
Have you ever wondered, "How can I inherently do good while looking good?" Wear No Evil has the answer, and is the timely handbook for navigating both fashion and ethics. It is the style guide with sustainability built in that we've all been waiting for. As a consumer, you regain your power with every purchase to support the causes and conditions you already advocate in other areas of your life (such as local or organic food), while upholding your sense of self through the stylish pieces you use to create your wardrobe. Featuring the Integrity Index (a simplified way of identifying the ethics behind any piece of fashion) and an easy to use rating system, you'll learn to shop anywhere while building your personal style and supporting your values- all without sacrifice. Fashion is the last frontier in the shift towards conscious living. Wear No Evil provides a roadmap founded in research and experience, coupled with real life style and everyday inspiration. Part 1 presents the hard-hitting facts on why the fashion industry and our shopping habits need a reboot. Part 2 moves you into a closet-cleansing exercise to assess your current wardrobe for eco-friendliness and how to shop green. Part 3 showcases eco-fashion makeovers and a directory of natural beauty recommendations for face, body, hair, nails, and makeup. Style and sustainability are not mutually exclusive. They can live in harmony. It's time to restart the conversation around fashion--how it is produced, consumed, and discarded--to fit with the world we live in today. Pretty simple, right? It will be, once you've read this book. Wear No Evil gives new meaning--and the best answers--to an age-old question: "What should I wear today?"
Sklep: Libristo.pl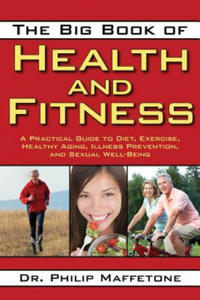 100,59 zł
Książki / Literatura obcojęzyczna
Taking control of your health and well-being is a necessary and personal journey. From teens and parents fighting obesity in America, to aging baby boomers refusing to go quietly into the dark night - everyone can stay fit, healthy, and active for many years to come! This book lays out a sensible and holistic road map that makes health and fitness an ingrained part of your lifestyle, and an easy-to-achieve goal for both men and women at any age. For more than three decades, Dr. Maffetone has been treating and advising patients, coaching athletes, lecturing worldwide, and writing books about the importance of self-health care. Topics covered in his latest book include how to make healthy dietary choices, obtain the best nutrition from real food, avoid illness and disease, and learn to listen to your body. Also learn the dangers of common dietary supplements, fat-burning exercise for weight loss, reducing stress, controlling inflammation, having a healthy and fulfilling sex life, and much more. Maffetone expertly guides the reader step by step through each topic and provides simple health surveys to help you better understand how the body works and what to safely do if a problem or symptom arises during your fitness or dietary regimen.
Sklep: Libristo.pl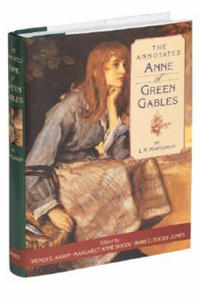 261,73 zł
Książki / Literatura obcojęzyczna
Since its publication in 1908, Anne of Green Gables has been a continuous international best-seller, enjoying successful television adaptations, and captivating children and adults alike with the irresistible charms of its remarkable heroine, Anne Shirley. This wildly imaginative, red-headed chatterbox tries to fit into the narrow confines of Victorian expectations, but her exuberant spirit keeps leaping delightfully beyond the bounds. Indeed, when Maud Montgomery decided to reject the sermonizing formulas of the children's books of her day, she brought to life a character much closer to Jane Eyre, David Copperfield, and Tom Sawyer-also orphans, like Anne-than to the self-sacrificing, conformist heroines then in demand. In doing so, Montgomery subtly questioned the values of her society-the stifling restraints of its religion and most especially its treatment of women-while giving readers all the pleasures of her considerable story-telling gifts. Now, in this first fully annotated edition of Anne of Green Gables, readers will appreciate more clearly than ever before the scope and depth of this extraordinary novel. Editors Margaret Anne Doody, Mary Doody Jones, and Wendy Barry provide a richly illustrated, completely revised text, along with hundreds of notes describing the real-life characters and settings Anne encounters, the autobiographical connections between Anne and Maud Montgomery, and the book's astonishing range of literary, biblical, and mythological references. Additional essays offer fascinating background information on such topics as the geography and settlement of Prince Edward's Island (where Anne takes place); the education, orphanages, music, and literature of Anne's time; and the horticulture, homemade artifacts, and food preparation that are so prevalent in the story. Margaret Anne Doody supplies a comprehensive introduction, which situates the novel in its literary and social contexts, explores those aspects of Montgomery's life most relevant to the story, examines revisions in the manuscripts, and provides an overall sense of both the impulses that drove Montgomery to write Anne of Green Gables and the larger concerns it dramatizes so compellingly. This edition also contains a chronology of Montgomery's life, an extensive bibliography, songs and poems that appear in the text, and a selection of original reviews of the book. This wealth of material enables readers to grasp the marvelous multi-layeredness of the novel and to understand more fully its place in both its own time and in ours. Elegantly and beautifully designed, with generous illustrations from previous editions, photographs of the places the novel inhabits, and explanatory drawings that reproduce the texture of Anne's world, The Annotated Anne of Green Gables is a major event in the publishing history of one of the world's most charming stories.
Sklep: Libristo.pl
63,46 zł
Książki / Literatura obcojęzyczna
The idea behind the Paleo, or 'caveman', diet is simple - eat the food we humans were genetically and biologically meant to eat, as our hunter-gatherer ancestors once did, and we can all experience near-effortless weight loss, increased vitality and greatly improved health. But does it really make sense to restrict yourself to the limited range of foods available to our ancestors? Although we share a lot in common with them, we each have our own genes, tastes and health goals. In this groundbreaking book, leading expert Chris Kresser offers his unique solution - a 3-step plan that will fit your body, your lifestyle and your specific health issues. Start by following the basic Paleo plan for 30 days and enjoy a satisfying diet of lean meat, fish, non-starchy vegetables, some fruit, nuts and seeds but avoid grains, dairy, sugar and refined foods. After this 30-day plan, Chris helps you re-introduce certain foods in moderation to find out what agrees with you and what doesn't. So what are you waiting for? You can enjoy life more, look slimmer and feel more vital. And because Chris advocates an 80/20 approach - we all have to live in the real world after all - you can still enjoy your favourite treats from time to time. In addition to dietary advice, the plan also includes guidance on fine-tuning your sleep, exercise and response to stress - all crucial elements in living a life that suits our natural design.
Sklep: Libristo.pl
Sklepy zlokalizowane w miastach: Warszawa, Kraków, Łódź, Wrocław, Poznań, Gdańsk, Szczecin, Bydgoszcz, Lublin, Katowice
Szukaj w sklepach lub całym serwisie
2. Szukaj na wszystkich stronach serwisu
t1=0.574, t2=0, t3=0, t4=0.043, t=0.574