krainaksiazek revelations poems on life 20168183
- znaleziono 5 produktów w 1 sklepie 179,66 zł
Książki / Literatura obcojęzyczna
Description: In this volume, Shepherd selects from these, and from other unpublished works, to shape a series of poems that seek to portray and even illuminate, to some extent, the life of the spirit. They begin by tracing the progress of a typical year--January through December--but also by noting, and celebrating at times, the high points of ""The Christian Year"": Lent-Easter, Pentecost, Thanksgiving, Advent-Christmas, and Epiphany. Other, more generally themed, less calendar-related poems follow, including poems that reflect on the September 11, 2001 attack on the World Trade Center--an attack in which several of the author's parishioners and friends were killed. This is a book to be dipped into, rather than read right through. It should provide fertile soil for the practice of daily prayer and meditation. Endorsements: ""Barrie Shepherd's accessible poems invite belief and assent, as 'with bright and beckoning uncertainty' he explores 'the task of noticing / whatever has been there from the beginning' . . . While admitting that 'we had not known that dark could be so deep,' he is ever available to 'all the holiness that hides in daily things.' These poems extend and transcend Barrie Shepherd's revelations of reality. In their honesty, range, and clarity, they offer pleasures as well as truths."" --Daniel Hoffman, author of Brotherly Love, and Poet Laureate of the United States, 1973-1974 ""If 'the Christian faith needs a fresh vocabulary and new images to recapture that initial astonishment, to express its radical, world-shattering impact,' then Between Mirage and Miracle is a good place to begin to fill that need from the seemingly endless hints of holy connections, perspectives, and even revelations . . . This one you will find to be a good friend with whom you will want to have frequent, enriching conversations."" --James Forbes, Union Theological Seminary ""Barrie Shepherd counsels us not to read these poems from beginning to end. I could not honor his advice. They are like the dark, bright blackberries that grow near his Maine island cottage--sweet, tart, and deliciously ripe. For forty years, this poet has been gathering clusters of wonder in the brambly terrain of daily life. His practiced eye helps us see in the illusion-filled and miracle-starved landscape of ordinary circumstances, extraordinary things concealed in plain sight."" --John S. Mogabgab, founding editor of Weavings Journal ""You'll laugh and you'll cry. Ours is not a poetry magazine, but when Barrie Shepherd submits his poems they often find their way into print. Theology with verve. Pictures painted in words. Pithy sayings and extended dramas. All these and more await you as you ponder page after page of this collection of poems."" --Jack Haberer, editor of The Presbyterian Outlook About the Contributor(s): J. Barrie Shepherd, Minister Emeritus of The First Presbyterian Church in New York City, has preached and lectured extensively across the United States and Canada, the United Kingdom, Europe, and Africa. He was named William Belden Noble lecturer at Harvard in 1995 and Lyman Beecher Lecturer at Yale in 2002. Author of fourteen books, including Faces By the Wayside (Cascade Books, 2012), Shepherd's poetry appears frequently in such magazines as Weavings, The Christian Century, and The New Republic.
Sklep: Libristo.pl 87,83 zł
Książki / Literatura obcojęzyczna
These meditations, cosmic-toned, yet utterly visceral, demonstrate Michelle Bitting's continuing growth and power as a poet of love, loss, the daily and deeply human experience, together with a maturing eye to understanding greater mythological tropes. Woven throughout her contemplation of the terrible beauty and struggle of family dynamics, corporeal desire, the injustices and revelations of life in the 21st century, thrums a vital connectivity to the mystic and mythological strains of the past, newfangled to the present in a way that ultimately sheds light on what it is to be alive and conscious of who we're called to be. To read Michelle's poetry is to take a wild, passionate ride through the rubble of the quotidian, to be shocked by sensual discovery and awakened to a relentless curiosity for both the surreal and historical. These poems travel-an expansion in service of communion with the world, confrontation and acceptance of self.
Sklep: Libristo.pl 125,04 zł
Książki / Literatura obcojęzyczna
Leading artists, theorists, and writers exhume the dystopian and utopian futures contained within the present "I am the supercommunity, and you are only starting to recognize me. I grew out of something that used to be humanity. Some have compared me to angry crowds in public squares; others compare me to wind and atmosphere, or to software." Invited to exhibit at the 56th Venice Biennale, e-flux journal produced a single issue over a four-month span, publishing an article a day both online and on site from Venice. In essays, poems, short stories, and plays, artists and theorists trace the negative collective that is the subject of contemporary life, in which art, the internet, and globalization have shed their utopian guises but persist as naked power, in the face of apocalyptic ecological disaster and against the claims of the social commons. "I convert care to cruelty, and cruelty back to care. I convert political desires to economic flows and data, and then I convert them back again. I convert revolutions to revelations. I don't want, I want to leave, and then disperse myself everywhere and all the time."
Sklep: Libristo.pl 55,56 zł
Książki / Literatura obcojęzyczna
Biographical writing about Eliot is in a more confused and contested state than is the case with any other major twentieth-century writer. No major biography has been released since the publication of his early poems, "Inventions of the March Hare," in 1996, which radically altered the reading public's perception of Eliot. There have been attempts to turn the American woman Emily Hale into the beloved woman of Eliot's middle years; and Eliot has also been blamed for the instability of his first wife and declared a closet homosexual. This biography frees Eliot from such distortions, as well as from his cold and unemotional image. It offers a sympathetic study of his first marriage which does not attempt to blame, but to understand; it shows how Eliot's poetry can be read for its revelations about his inner world. Eliot once wrote that every poem was an epitaph, meaning that it was the inscription on the tombstone of the experience which it commemorated. His poetry shows, however, that the deepest experiences of his life would not lie down and die, and that he felt condemned to write about them.
Sklep: Libristo.pl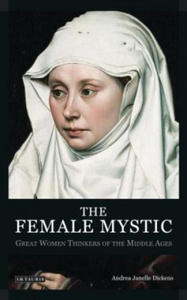 121,52 zł
Książki / Literatura obcojęzyczna
The Middle Ages saw a flourishing of mysticism that was astonishing for its richness and distinctiveness. The medieval period was unlike any other period of Christianity in producing people who frequently claimed visions of Christ and Mary, uttered prophecies, gave voice to ecstatic experiences, recited poems and songs said to emanate directly from God and changed their ways of life as a result of these special revelations. Many recipients of these alleged divine gifts were women. Yet the female contribution to western Europe's intellectual and religious development is still not well understood. Popular or lay religion has been overshadowed by academic theology, which was predominantly the theology of men. This timely book rectifies the neglect by examining a number of women whose lives exemplify traditions which were central to medieval theology but whose contributions have tended to be dismissed as 'merely spiritual' by today's scholars. In their different ways, visionaries like Richeldis de Faverches (founder of the Holy House at Walsingham, or 'England's Nazareth'), the learned Hildegard of Bingen, Hadewijch of Brabant (exemplary voice of the Beguine tradition of love mysticism), charismatic traveller and pilgrim Margery Kempe and anchoress Julian of Norwich all challenged traditional male scholastic theology. Designed for the use of undergraduate student and general reader alike, this attractive survey provides an introduction to thirteen remarkable women and sets their ideas in context.
Sklep: Libristo.pl
Sklepy zlokalizowane w miastach: Warszawa, Kraków, Łódź, Wrocław, Poznań, Gdańsk, Szczecin, Bydgoszcz, Lublin, Katowice
Szukaj w sklepach lub całym serwisie
2. Szukaj na wszystkich stronach serwisu
t1=0.211, t2=0, t3=0, t4=0.019, t=0.211