krainaksiazek revelations poems on life 20168183
- znaleziono 8 produktów w 1 sklepie 147,48 zł
Książki / Literatura obcojęzyczna
In 1995, Stanley Kunitz received the National Book Award in Poetry for Passing Through: The Later Poems, New and Selected. The citation for the award read in part: "In his genius, great clarity is joined to great generosity. His work shines with humanity, humor, precision, and passion." Now, combining both early and later poems, including Selected Poems (which won the Pulitzer Prize), Kunitz presents us with the gift of his life's work in poetry. The early poems, long unavailable in any edition, sound themes that have always engaged Kunitz: life's meaning, the relation of time to eternity, kinship with nature, and loss, most poignantly that of his father. Despite the power of his poems about loss, Kunitz ardently celebrates life. Perpetually curious, eager for fresh revelations, he fully lives up to his own advice to younger poets "to persevere, then explore. Be explorers all your life."
Sklep: Libristo.pl 179,66 zł
Książki / Literatura obcojęzyczna
Description: In this volume, Shepherd selects from these, and from other unpublished works, to shape a series of poems that seek to portray and even illuminate, to some extent, the life of the spirit. They begin by tracing the progress of a typical year--January through December--but also by noting, and celebrating at times, the high points of ""The Christian Year"": Lent-Easter, Pentecost, Thanksgiving, Advent-Christmas, and Epiphany. Other, more generally themed, less calendar-related poems follow, including poems that reflect on the September 11, 2001 attack on the World Trade Center--an attack in which several of the author's parishioners and friends were killed. This is a book to be dipped into, rather than read right through. It should provide fertile soil for the practice of daily prayer and meditation. Endorsements: ""Barrie Shepherd's accessible poems invite belief and assent, as 'with bright and beckoning uncertainty' he explores 'the task of noticing / whatever has been there from the beginning' . . . While admitting that 'we had not known that dark could be so deep,' he is ever available to 'all the holiness that hides in daily things.' These poems extend and transcend Barrie Shepherd's revelations of reality. In their honesty, range, and clarity, they offer pleasures as well as truths."" --Daniel Hoffman, author of Brotherly Love, and Poet Laureate of the United States, 1973-1974 ""If 'the Christian faith needs a fresh vocabulary and new images to recapture that initial astonishment, to express its radical, world-shattering impact,' then Between Mirage and Miracle is a good place to begin to fill that need from the seemingly endless hints of holy connections, perspectives, and even revelations . . . This one you will find to be a good friend with whom you will want to have frequent, enriching conversations."" --James Forbes, Union Theological Seminary ""Barrie Shepherd counsels us not to read these poems from beginning to end. I could not honor his advice. They are like the dark, bright blackberries that grow near his Maine island cottage--sweet, tart, and deliciously ripe. For forty years, this poet has been gathering clusters of wonder in the brambly terrain of daily life. His practiced eye helps us see in the illusion-filled and miracle-starved landscape of ordinary circumstances, extraordinary things concealed in plain sight."" --John S. Mogabgab, founding editor of Weavings Journal ""You'll laugh and you'll cry. Ours is not a poetry magazine, but when Barrie Shepherd submits his poems they often find their way into print. Theology with verve. Pictures painted in words. Pithy sayings and extended dramas. All these and more await you as you ponder page after page of this collection of poems."" --Jack Haberer, editor of The Presbyterian Outlook About the Contributor(s): J. Barrie Shepherd, Minister Emeritus of The First Presbyterian Church in New York City, has preached and lectured extensively across the United States and Canada, the United Kingdom, Europe, and Africa. He was named William Belden Noble lecturer at Harvard in 1995 and Lyman Beecher Lecturer at Yale in 2002. Author of fourteen books, including Faces By the Wayside (Cascade Books, 2012), Shepherd's poetry appears frequently in such magazines as Weavings, The Christian Century, and The New Republic.
Sklep: Libristo.pl 127,55 zł
Książki / Literatura obcojęzyczna
'A name creates life patterns', Allison Adelle Hedge Coke writes, 'which form and shape a life; my life, like my name, must have been formed many times over then handed to me to realize'. "Rock, Ghost, Willow, Deer" is Hedge Coke's narrative of that realization, the award-winning poet and writer's searching account of her life as a mixed-blood woman coming of age off-reservation, yet deeply immersed in her Cherokee and Huron heritage.In a style at once elliptical and achingly clear, Hedge Coke describes her schizophrenic mother and the abuse that often overshadowed her childhood; the torments visited upon her, the rape and physical violence; and those she inflicted on herself, the alcohol and drug abuse. Yet she managed to survive with her dreams and her will, her sense of wonder and promise undiminished.The title "Rock, Ghost, Willow, Deer" refers to the life-revelations that brought Hedge Coke through her trials, the melding of language and experience that has brought order to her life. In this book, Hedge Coke shares the insights she has gathered along the way, insights that touch on broader Native issues such as modern life in the diaspora; the threat of alcohol, drug abuse, and violence; and the ongoing onslaught on self amid a complex, mixed heritage. Allison Adelle Hedge Coke is the author of "Dog Road Woman: Poems", winner of the American Book Award. She is the coeditor of "Voices of Thunder" and "It's Not Quiet Anymore".
Sklep: Libristo.pl 84,70 zł
Książki / Literatura obcojęzyczna
Biographical writing about Eliot is in a more confused and contested state than is the case with any other major twentieth-century writer. No major biography has been released since the publication of his early poems, "Inventions of the March Hare," in 1996, which radically altered the reading public's perception of Eliot. There have been attempts to turn the American woman Emily Hale into the beloved woman of Eliot's middle years; and Eliot has also been blamed for the instability of his first wife and declared a closet homosexual. This biography frees Eliot from such distortions, as well as from his cold and unemotional image. It offers a sympathetic study of his first marriage which does not attempt to blame, but to understand; it shows how Eliot's poetry can be read for its revelations about his inner world. Eliot once wrote that every poem was an epitaph, meaning that it was the inscription on the tombstone of the experience which it commemorated. His poetry shows, however, that the deepest experiences of his life would not lie down and die, and that he felt condemned to write about them.
Sklep: Libristo.pl 87,83 zł
Książki / Literatura obcojęzyczna
These meditations, cosmic-toned, yet utterly visceral, demonstrate Michelle Bitting's continuing growth and power as a poet of love, loss, the daily and deeply human experience, together with a maturing eye to understanding greater mythological tropes. Woven throughout her contemplation of the terrible beauty and struggle of family dynamics, corporeal desire, the injustices and revelations of life in the 21st century, thrums a vital connectivity to the mystic and mythological strains of the past, newfangled to the present in a way that ultimately sheds light on what it is to be alive and conscious of who we're called to be. To read Michelle's poetry is to take a wild, passionate ride through the rubble of the quotidian, to be shocked by sensual discovery and awakened to a relentless curiosity for both the surreal and historical. These poems travel-an expansion in service of communion with the world, confrontation and acceptance of self.
Sklep: Libristo.pl 102,31 zł
Książki / Literatura obcojęzyczna
Leading artists, theorists, and writers exhume the dystopian and utopian futures contained within the present "I am the supercommunity, and you are only starting to recognize me. I grew out of something that used to be humanity. Some have compared me to angry crowds in public squares; others compare me to wind and atmosphere, or to software." Invited to exhibit at the 56th Venice Biennale, e-flux journal produced a single issue over a four-month span, publishing an article a day both online and on site from Venice. In essays, poems, short stories, and plays, artists and theorists trace the negative collective that is the subject of contemporary life, in which art, the internet, and globalization have shed their utopian guises but persist as naked power, in the face of apocalyptic ecological disaster and against the claims of the social commons. "I convert care to cruelty, and cruelty back to care. I convert political desires to economic flows and data, and then I convert them back again. I convert revolutions to revelations. I don't want, I want to leave, and then disperse myself everywhere and all the time."
Sklep: Libristo.pl 90,85 zł
Książki / Literatura obcojęzyczna
In "I Still Want It", Derrick Jaxn delivers a life-changing collection of poems immersed in raw, passionate, but brave vulnerability. Dark truths of his lustful past, revelations during his ongoing battle with heartbreak, and empowering words of wisdom leave readers with a renewed faith in a love they may have lost hope in finding. His signature way with words seasons all 178 pages of "I Still Want It" which will not only evoke a cocktail of emotions but leave the unforgettable and gratifying taste that Derrick is known for in his previous titles.
Sklep: Libristo.pl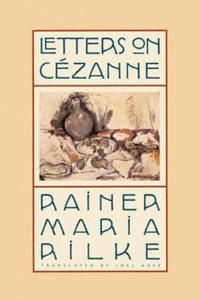 77,06 zł
Książki / Literatura obcojęzyczna
Rilke's prayerful responses to the french master's beseeching art "For a long time nothing, and then suddenly one has the right eyes." Virtually every day in the fall of 1907, Rainer Maria Rilke returned to a Paris gallery to view a Cezanne exhibition. Nearly as frequently, he wrote dense and joyful letters to his wife, Clara Westhoff, expressing his dismay before the paintings and his ensuing revelations about art and life. Rilke was knowledgeable about art and had even published monographs, including a famous study of Rodin that inspired his "New Poems." But Cezanne's impact on him could not be conveyed in a traditional essay. Rilke's sense of kinship with Cezanne provides a powerful and prescient undercurrent in these letters -- passages from them appear verbatim in Rilke's great modernist novel, "The Notebooks of Malte Laurids Brigge." "Letters on Cezanne" is a collection of meaningfully private responses to a radically new art.
Sklep: Libristo.pl
Sklepy zlokalizowane w miastach: Warszawa, Kraków, Łódź, Wrocław, Poznań, Gdańsk, Szczecin, Bydgoszcz, Lublin, Katowice
Szukaj w sklepach lub całym serwisie
2. Szukaj na wszystkich stronach serwisu
t1=0.332, t2=0, t3=0, t4=0.019, t=0.332