krainaksiazek so damn beautiful the complete series 20129788
- znaleziono 10 produkty w 4 sklepach 289,99 zł
Muzyka>Rhythm & Blues / Soul
1. Jones, Booker T. - I Was Born To Love You 2. Hayes, Isaac - Precious, Precious 3. Isbell, Alvertis - Send Peace & Harmony Home 4. Jones, Booker T. - Soul Limbo 5. Floyd, Eddie - I've Never Found A Girl (To Love Me 6. Bramlett, Delaney - It's Been A Long Time Coming 7. Crawford, Dave - What A Man 8. Davis, B.b. - I Like Everything About You 9. Daye, Johnny - Stay Baby Stay 10. Jones, Booker T. - Private Number 11. Crutcher, Bettye - So Nice 12. Banks, Homer - Long Walk To D.c. 13. Hayes, Isaac - Give 'Em Love 14. Floyd, Eddie - Funky Mississippi 15. Spector, Phil - Lovin' Feeling 16. Ragni, Gerome - Where Do I Go? 17. Cropper, Steve - Bed Of Roses 18. Cooke, Sam - Bring It On Home To Me 19. Banks, Homer - It's Unbelievable (How You Control 20. Davis, Don - Who's Making Love 21. Merriwether, Arthur - Mighty Cold Winter 22. Frontiere, Dominic - Hang 'Em High 23. Floyd, Eddie - You're Leaving Me 24. Alexander, James - Copy Cat 25. Bell, William - I Forgot To Be Your Lover 26. Ashford, Nickolas - Running Out 27. Hayes, Isaac - My Baby Specializes 28. Hayes, Isaac - I'll Understand 101. Banks, Homer - The Ghetto 102. King, Albert - Blues Power 103. Elliot, Richard - The Echo 104. Arnold, Calvin - Funky Way 105. Banks, Homer - Take Care Of Your Homework 106. Banks - I Like What You're Doing (To Me) 107. Cropper, Steve - I've Got To Have Your Love 108. Hayes, Isaac - Let 'Em Down Baby 109. Jones, Booker T. - Love Is Here Today & Gone Tomor 110. Hayes, Isaac - It Ain't Long Enough 111. Hayes, Isaac - Mellow Way You Treat Your Man 112. Jones, Booker T. - Private Number 113. Dunn, Donald - Time Is Tight 114. Jones, Booker T. - Double Or Nothing 115. Redding, Otis - (Sittin On ) The Dock Of The Bay 116. Hutchinson, Sheila - So I Can Love You 117. Jones, Allen - Don't Stop Dancing (To The Music) ( 118. Turbinton, Wilson - One More Chance 119. Dotson, Jimmy - I Wanna Be Good (To You) 120. Miller, Art - Finger Lickin' Good 121. Hayes, Isaac - Tighten Up My Thang 122. Bell, William - My Whole World Is Falling Down 123. Clinton Jr., George - Testify (I Wonna) 124. Jones, Allan - Drowning On Dry Land 125. Rakes, Pal - Do The Cissy 126. Jones, Booker T. - Don't Tell Your Mama (Where You 201. Simon, Paul - Mrs. Robinson 202. Floyd, Eddie - Love's Sweet Sensation 203. Crutcher, Bettye - Just Because Your Love Is Gone 204. Barnes, J.j. - Chains Of Love 205. Jones, Booker T. - Happy 206. Banks, Homer - The Challenge 207. Banks, Homer - Soul-a-lujah 208. Floyd, Eddie - Never, Never Let You Go 209. Wilson, Clyde - Just Keep On Lovin' Me 210. Floyd, Eddie - I Need You Woman 211. Frierson, Johnnie - I've Got A Feeling 212. Banks, Homer - It's Time To Pay For The Fun (We've 213. Banks, Homer - I Could Never Be President 214. Webb, Jimmy - By The Time I Get To Phoenix 215. Hager, Joan - Long & Lonely World 216. Barry, John - Midnight Cowboy 217. Thomas, Carla - I've Fallen In Love With You 218. Jones, Booker T. - Slum Baby 219. Hayes, Isaac - The Best Part Of A Love Affair 220. By The Time I Get To Phoenix 221. Hayes, Isaac - Original Version 222. Bacharach, Burt - Walk On By 223. Hooker, John Lee - Tupelo (Part 1) 224. Cropper, Steve - Water 225. Hayes, Isaac - The Sweeter He Is (Part 1) 226. Briggs, Freddy - You're Driving Me (To The Arms Of 301. Jones, Allen - Open Up Your Heart (Let Me In) 302. Floyd, Eddie - Why Is The Wine Sweeter (On The Oth 303. Stewart, Randall - When Will We Be Paid 304. Hooker, John Lee - Grinder Man 305. Jones, Booker T. - Born Under A Bad Sign 306. Womack, Bobby - What You Gonna Do 307. Chalmers, Sandra - I'm So Glad 308. Bridges, Fred - Beautiful Feelings (Single Mix) 309. Banks, Homer - Your Love Was Strange 310. Isbell, Alvertis - Love Bones 311. Bramlett, Bonnie - Hard To Say Goodbye 312. Barnes, J.j. - Got To Get Rid Of You 313. Milner, Reggie - Habit Forming Love 314. Lewis, Robert - My Thing Is A Moving Thing 315. Hayes, Isaac - Stealing Love 316. Hayes, Isaac - When Tomorrow Comes 317. King, Albert - Wrapped Up In Love Again (Vocal) 318. Thomas, Jr., Rufus - Do The Funky Chicken 319. Jones, Booker T. - California Girl 320. Hayes, Bernie - Tribute To A Black Woman (Part 1) 321. Alexander, James - Sang & Dance 322. Hayes, Isaac - Hold On I'm Coming 323. Banks, Homer - Love's Gonna Tear Your Playhouse Do 324. Hines, Earnest - Help Me Put Out The Flame (In My 325. Banks, Homer - Black Boy 401. Banks, Homer - Bracing Myself For The Fall 402. Bryant, Boudleaux - All I Have To Do Is Dream 403. Darling, Jean - Singing About Love 404. Banks, Homer - Goodies 405. Hester, Tony - Just The Way You Are Today 406. Willis, Aaron - The Creeper Returns 407. Davis, Don - Guide Me Well (45 Version) 408. Scharf, Stuart - Give A Damn 409. Hughes, Jimmie - Steal Away 410. Briggs, Freddie - Your Sweet Lovin' 411. Butler, William - I Forget To Remember 412. Lee, Larry - Can't See You When I Want To 413. Hathaway, Donny - Never Be True 414. King, Albert - Can't You See What You're Doing To 415. Ward, William Thomas - Sixty Minute Man (Part 2) 416. Richardson, Jape - Preacher & The Bear 417. Harrison, George - Something 418. Briggs, Freddie - Seeing Is Believin' 419. Hester, Tony - You're My Only Temptation 420. Soule, George - What I Don't Know Won't Hurt Me 421. Dixon, Willie - Right, Tight & Out Of Sight 422. Anderson, John W. - (What's Under) The Natural Do 501. White, Ronald - My Girl 502. Jordan, David - I Have Learned To Do Without You 503. Harper - Play The Music Tornados 504. Carter, Calvin - Lonely Soldier 505. Willis, Vince - Heart Association 506. Butler, Jerry - I Stand Accused 507. Kooper, Al - Brand New Day 508. Briggs, Freddie - Sweeter Tomorrow 509. Anderson, Gene - Cool Strut 510. Rice, Bonny - You Put The Sunshine Back In My Worl 511. Bloom, Bobby - Montego Bay 512. Robinson, Rudy - Got It Together (Parts 1 & 2) 513. Lewis, Ramsey - Wade In The Water 514. Tate, Tommy - You're Movin' Much Too Fast 515. Cropper, Steve - The Best Years Of My Life 516. Snyder, Arthur - I Am Somebody (Part 2) 517. Levine - I Loved You Like I Love My Very Life 518. Pashkot, Jim - Soul Machine 519. Nixon, Tom - (Follow Her) Rules & Regulations 520. Thomas, Jr., Rufus - (Do The) Push & Pull (Part 1) 521. Lumbus, Carl - Love Changes 522. Porter, David - Put Your World In My World (Best O 523. Crutcher - Love Is Plentiful 601. Barry - Heavy Makes You Happy (Sha-na-boom Boom) 602. Parker, Deanie - Who Took The Merry Out Of Christm 603. Banks, Homer - Too Many Lovers 604. Staples, Pervis - Black Christmas 605. Hayes, Isaac - The Mistletoe & Me 606. Hunter, Ivy - Ask The Lonely 607. Davis, Don - Jody's Got Your Girl & Gone 608. Lebeau, Roni - Finish Me Off 609. Floyd, Eddie - Oh, How It Rained 610. Bacharach, Burt - The Look Of Love 611. Triplett - Electrified Love 612. Cropper, Steve - Melting Pot 613. Drapkin, Christina - That's The Way I Like It (I L 614. Washington, Carrol - Mr. Big Stuff 615. Crutcher, Bettye - You Make Me Want To Love You 616. Dozier, Lamont - Stop! In The Name Of Love 617. Davis, Melvin - I Don't Wanna Lose You 618. Bridges, Jo - (Girl) I Love You 619. Thomas, Jr., Rufus - The World Is Round 620. Crutcher, Bettye - A Penny For Your Thoughts 621. Davis, Clifton - Never Can Say Goodbye 622. Rice, Mack - I Don't Want To Be Like My Daddy 701. Robinson, Jr., William - You've Got To Earn It 702. Barnes, J.j. - Hold On To It 703. Hester, Tony - Whatcha See Is Whatcha Get 704. Dixon, Willie - Born Too Late 705. Hughes, Jimmy - Just Ain't Strong As I Used To Be 706. Briggs, Dorothy - That Other Woman Got My Man & Go 707. Porter, David - If You Think It (You May As Well D 708. Arnold, Calvin - Shame On The Family Name 709. Cropper, Steve - Blood Is Thicker Than Water 710. Hester, Tony - Hijackin' Love 711. Van Peebles, Melvin - Sweetback's Theme 712. Floyd, Eddie - The Breakdown (Part 1) 713. Crutcher, Bettye - Pin The Tail On The Donkey 714. Moore, Leon - Them Hot Pants 715. Smith - If That Ain't A Reason (For You Woman To L 716. Banks, Homer - It's Good To Be Careful (But It's B 717. Cobb, Joe - Where Would You Be Today 718. Nix, Don - Everybody Wants To Go To Heaven 719. Reese, William Lloyd - Got To Get Away From It All 720. Terry, A. - Love's Creeping Up On Me 721. Hayes, Isaac - Show Me How 722. Lebeau, Roni - If I Give It Up, I Want It Back 723. Crutcher, Bettye - A Woman Named Trouble 801. Giles, Elbert W. - Losing Boy 802. Ingram, Luther - Respect Yourself (Single Edit) 803. Jewel, S. - I'll Kick A Brick (About My Man) 804. Broussard, Joseph - You Think You're Hot Stuff 805. Bell, William - All For The Love Of A Woman 806. Hayes, Isaac - Theme From Shaft 807. Dunn, Donald Duck - Jamaica, This Morning 808. Arnold, Calvin - Gone! The Promises Of Yesterday 809. Lance, Major - Girl, Come On Home 810. Clinton, George - (Let Hurt Put You In The) Loser' 811. Brown, W. - My Baby Love 812. March, Myrna - How Do You Move A Mountain 813. Ellis, T. - Black Nasty Boogie (Part 6) 814. Rice, Bonny - Do The Funky Penguin (Part 1) 815. Banks, Homer - You've Got A Cushion To Fall On 816. Hester, Tony - Get Up & Get Down 817. Banks, Homer - Son Of Shaft 818. Mitchell, Phillip - Don't Cha Mess With My Money, 819. Cropper, Steve - I Can Smell That Funky Music 820. Kaye - A Sadness For Things 821. Campbell, Milton - That's What Love Will Make You 822. Barker, Kent - Standing In For Jody
Sklep: Gigant.pl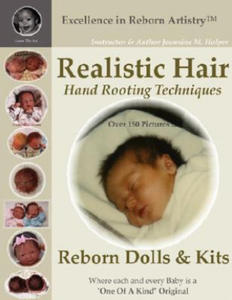 243,91 zł
Książki / Literatura obcojęzyczna
Create Beautiful Heirloom Reborn Babies with Realistic Hair Now includes over 150 Full Color Pictures A very popular Case Study, #6 in the Excellence in Reborn ArtistryT Series to reborn dolls and kits. This book takes you through the steps involved to create a Reborn with Realistic Hand Rooted Hair. It features hair rooting techniques used on several reborn dolls so you can see both Mohair and Human Hair Hand Rooting Techniques. Includes the Basic Hand-Rooting, Mini-Rooting, Micro-Rooting and the Ultra-Micro technique on Hair, Eyebrows and Lashes. These easy techniques can be used on Vinyl and Silicon-Vinyl dolls. Includes Supplies List, Step by Step Instructions, and even a short section on wig application, as well as more Tips & Techniques. Combine this book with the companion "Movie on CD" for a complete package; located at www.lulu.com/content/1700563
Sklep: Libristo.pl 43,35 zł
Książki / Literatura obcojęzyczna
From New York Times bestselling New Adult author Monica Murphy comes the exhilarating conclusion to Drew and Fable's story - the star-crossed young romance that began in One Week Girlfriend; perfect for fans of Jessica Sorensen, Abbi Glines and Jamie McGuire's Beautiful Disaster. Lost. Everything in my life can be summed up by that one sickening word. My football coach blames me for our season-ending losses. So does the rest of the team. I wasted two whole months drowning in my own despair, like a complete loser. And I lost my girlfriend - Fable Maguire, the only girl who ever mattered - because I was afraid that being with me would only hurt her. But now I realise that I'm the one who's truly lost without her. And even though she acts like she's moved on and everything's fine, I know she still thinks about me just as much as I think about her. I know her too well. She's so damn vulnerable, all I want to do is be there to help her...to hold her...to love her. I just need her to give me one more chance. We may be lost without each other, but together, we're destined to find a love that lasts for ever. Look out for the next emotional and compelling new romance in Monica Murphy's One Week Girlfriend series, Three Broken Promises!
Sklep: Libristo.pl 11,15 zł
Książki & Multimedia > Książki
Opis - Pierwsze na świecie świadectwo ofiary zbrodni honorowej. Miała siedemnaście lat i zakochała się: zhańbiła rodzinę. Więc rodzina wydała na nią wyrok śmierci... Pokochała go pierwszą miłością. Myślała, że się z nią ożeni. Ale ukochany zniknął, a ona odkryła, że jest w ciąży. A w jej świecie to najcięższa zbrodnia... W zapomnianej przez Boga wiosce w Cisjordanii kobiety są warte mniej niż zwierzęta domowe. Tu mężczyzna jest panem życia i śmierci żony, córki, siostry. Brat może bezkarnie zabić siostrę, matka - córkę, kolejną bezużyteczną dziewczynkę, jaka się urodzi. Tu kobiecie odbiera się godność, a nawet życie zgodnie z odwiecznym obyczajem i uświęconą tradycją. A śmierć jest karą dla dziewczyny, która zhańbi rodzinę. Tak jak Souad. Wyrok wydaje jej ojciec. Szwagier dokonuje egzekucji. Oblewa Souad benzyną i podpala... SOUAD przeżyła - cudem, ale rodzina usiłowała zabić ją nawet w szpitalu. Na zawsze jednak pozostanie straszliwie okaleczona - na ciele i duszy. I wciąż musi się ukrywać; dopóki żyje, jej rodzinę okrywa hańba. Spalona żywcem, opublikowana pod pseudonimem szokująca opowieść o piekle, jakim było jej dzieciństwo i młodość, stała się międzynarodowym bestsellerem. Wydana w 37 w krajach książka przerywa tabu milczenia wobec istniejącej nadal w krajach muzułmańskich barbarzyńskiej tradycji. Nieludzkiego obyczaju, prawa mężczyzn, na mocy którego co najmniej pięć tysięcy kobiet pada co roku ofiarą zbrodni honorowej. Nazwa - Spalona Żywcem Wyd. Kieszonkowe Autor - Souad Oprawa - Miękka Wydawca - Amber Kod ISBN - 9788324159406 Kod EAN - 9788324159406 Wydanie - 1 Rok wydania - 2016 Tłumacz - 31182,maria rostworowska; Format - 110 x 175 x 14 Ilość stron - 224 Podatek VAT - 5% Premiera - 2016-06-23
Sklep: InBook.pl 93,70 zł
Książki / Literatura obcojęzyczna
"With The Rise of the Red Queen, Bourne Morris is poised to become the queen of academic mysteries and suspense." - Gigi Pandian, USA Today Bestselling Author of the Jaya Jones Treasure Hunt Mysteries "Red Solaris is intelligent, tough, and vulnerable, a tricky combination to pull off, yet Bourne Morris does so beautifully and has given us a lead character we care deeply about. The Rise of the Red Queen, second in the series, grabs you by the throat and the heart on page one and never lets go." - Annette Dashofy, USA Today Bestselling Author of the Zoe Chambers Mysteries "Intriguing characters, a complex, inventive plot with nail-biting suspense-I finished it at two in the morning!" - Jeanne M. Dams, Author of the Dorothy Martin Mysteries "Morris has written another delicious pleasure, providing intrigue, plenty of campus drama, and strong female characters. Academic in-fighting, Red's ambition to become the new Dean, and her detective love interest keep the pages turning." - Karen Penner-Johnson, Emerita Professor, Kansas State University "Journalism dean, Meredith "Red" Solaris is pulled into another mystery when a student goes missing from campus...With Red's job on the line, she's finding it hard to put all her energies into the search. But somehow, she will have to find the strength, because time is running out for the missing young woman. This series gets better with each book. Red is a multi-dimensional, believable heroine." - Books for Avid Readers "The story involved me quickly, the suspense mounting so high that when my e-reader battery ran low, the warning buzzer made me jump. Morris has created a complete mystery with suspense and emotions burning like a Nevada sunset." - Mark Bacon, Author of Death in Nostalgia City A beautiful student is missing. Did she leave on impulse, or was it something more sinister? When the young woman's grandfather pleads for help, journalism dean Meredith "Red" Solaris agrees to help search for the student, but doesn't know she may have to risk everything to find her. Worse yet, without solid evidence, Red and Detective Joe Morgan have little basis for investigation. Murky university politics-and Red's own struggle to keep her job-thwart efforts to find a girl held captive by a man willing to steal what he cannot win. Related subjects include: women sleuths, murder mystery series, whodunit mysteries (whodunnit), book club recommendations. Books in the Red Solaris Mystery Series: . THE RED QUEEN'S RUN (#1) . THE RISE OF THE RED QUEEN (#2) Part of the Henery Press Mystery Series Collection, if you like one, you'll probably like them all... Author Bio: Bourne Morris began writing at Bennington College where she studied under the late poet laureate, Howard Nemerov. After college, she worked at McCall's Magazine and then went to Ogilvy & Mather, New York during the "Mad Men" era. David Ogilvy and his colleagues treated her wonderfully, promoted her several times and then sent her west to become head of their agency in Los Angeles. She had a splendid run in advertising. In 1983, she joined the University of Nevada Reno as a full professor in Journalism where she taught until 2009. She learned about campus politics when she served as chair of the faculty senate. She retired to write mysteries in 2009 after an equally wonderful teaching career.
Sklep: Libristo.pl 67,52 zł
Książki / Literatura obcojęzyczna
This is the third book in the best-selling series by BBC garden-writer and broadcaster Tony Russell on the finest gardens of the British Isles. In this book he travels to Wales, which is home to a remarkable collection of unique and beautiful gardens. Through sensitive text and evocative photography Tony captures the very essence of the fifty finest gardens in the Principality, providing the reader with a unique understanding of each garden's history, personalities, design, plants and architecture. From the mountains of Snowdonia to Swansea Bay and from the Isle of Anglesey to the Wye Valley, Wales is a country of contrasts; something clearly portrayed in this splendid book. Here you will find sympathetically restored ninteenth-century gardens such as Plas Cadnant and Aberglasney alongside modern-day horticultural masterpieces including The National Botanic Garden of Wales and the recently created world's largest garden maze - situated in the breath-taking scenery of the Conwy Valley. British Empire inspired gardens are here in abundance including Bodnant, Plas Newydd and Plas Tan Y Bwlch, so too the superb plant collections of Powys Castle and Dyffryn. However no book on Welsh gardens would be complete without the inclusion of the stuff of wild imagination and fairy-tale, the Italianesque landscapes of Portmeirion, the Alice-in-Wonderland-like garden rooms, follies and topiary of Plas Brondanw and the labyrinths, grottoes and sunken ferneries of Dewstow. All the gardens featured in this book are open to the public for at least part of each year. The Finest Gardens in Wales raises the bar for books on Welsh gardens and will undoubtedly become a tried and tested favourite for those who live in Wales as well as those who spend their holidays in this glorious part of the British Isles. Also in this series The Cotswolds' Finest Garden; The Finest Gardens of South-West England
Sklep: Libristo.pl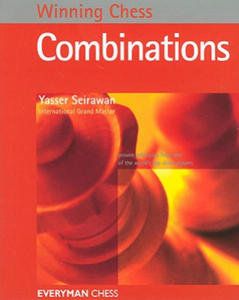 81,19 zł
Książki / Literatura obcojęzyczna
Combinations are the central element in chess; they make the game so magical and captivating. The beautiful point of sacrificing a queen, the strongest piece, in order to checkmate with a lowly pawn brings a smile of joy to all chess lovers. Virtually all chess games possess a combination, either one hidden in the shadows of analysis carefully avoided or one that provides a decisive blow. "Winning Chess Combinations" is a unique work that doesn't merely repeat the wonderfully rich and vast numbers of combinations, asking readers to solve a particular diagrammed position; it is a work that is far more realistic. A combination involves a sacrifice upsetting the balance of forces, but will it work or tragically boomerang? The reader is invited to solve this critical question by identifying the advantages that a specific position holds which might make the combination successful. "Winning Chess Combinations" is the seventh in Yasser Seirawan's highly acclaimed "Winning Chess" series - probably the best-selling series of chess books ever published. A complete guide to chess combinations, this book includes stunning sacrifices. It is ideal for the improving player.
Sklep: Libristo.pl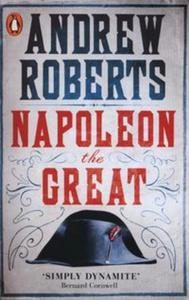 72,00 zł
Książki
From Andrew Roberts, author of the Sunday Times bestseller The Storm of War, this is the definitive modern biography of NapoleonNapoleon Bonaparte lived one of the most extraordinary of all human lives. In the space of just twenty years, from October 1795 when as a young artillery captain he cleared the streets of Paris of insurrectionists, to his final defeat at the (horribly mismanaged) battle of Waterloo in June 1815, Napoleon transformed France and Europe. After seizing power in a coup d'état he ended the corruption and incompetence into which the Revolution had descended. In a series of dazzling battles he reinvented the art of warfare; in peace, he completely remade the laws of France, modernised her systems of education and administration, and presided over a flourishing of the beautiful 'Empire style' in the arts. The impossibility of defeating his most persistent enemy, Great Britain, led him to make draining and ultimately fatal expeditions into Spain and Russia, where half a million Frenchmen died and his Empire began to unravel.More than any other modern biographer, Andrew Roberts conveys Napoleon's tremendous energy, both physical and intellectual, and the attractiveness of his personality, even to his enemies. He has walked 53 of Napoleon's 60 battlefields, and has absorbed the gigantic new French edition of Napoleon's letters, which allows a complete re-evaluation of this exceptional man. He overturns many received opinions, including the myth of a great romance with Josephine: she took a lover immediately after their marriage, and, as Roberts shows, he had three times as many mistresses as he acknowledged.Of the climactic Battle of Leipzig in 1813, as the fighting closed around them, a French sergeant-major wrote, 'No-one who has not experienced it can have any idea of the enthusiasm that burst forth among the half-starved, exhausted soldiers when the Emperor was there in person. If all were demoralised and he appeared, his presence was like an electric shock. All shouted "Vive l'Empereur!" and everyone charged blindly into the fire.'The reader of this biography will understand why this was so.
Sklep: Booknet.net.pl 64,19 zł
Książki / Literatura obcojęzyczna
It
Sklep: Libristo.pl 58,19 zł
Książki / Literatura obcojęzyczna
With bright, modern, full colour illustrations, anyone can quickly learn to crochet, master new stitches and make a selection of cute and easy first crochet projects with Hello Crochet! With this book safely at your side for guidance even those who have never picked up a crochet hook before will soon be making gorgeous projects while learning new techniques. Each of the 15 projects in the book will teach you a new stitch, technique, or trick. And with each pattern you complete, you will build on and consolidate crochet techniques already learned in the preceding projects, until you have mastered a wide repertoire of skills and completed and enviable collection of crocheted items. So pick up your hook and give it a go - it really is that easy! Hello Crochet! is a part of the brand new Make Me! series - a collection of books packed with easy and beautiful craft projects.
Sklep: Libristo.pl
Sklepy zlokalizowane w miastach: Warszawa, Kraków, Łódź, Wrocław, Poznań, Gdańsk, Szczecin, Bydgoszcz, Lublin, Katowice
Szukaj w sklepach lub całym serwisie
2. Szukaj na wszystkich stronach serwisu
t1=0.462, t2=0, t3=0, t4=0.042, t=0.462