krainaksiazek starting a business for dummies uk edition 20128562
- znaleziono 11 produktów w 1 sklepie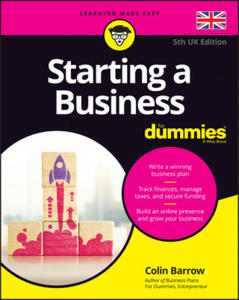 125,02 zł
Książki / Literatura obcojęzyczna
Launch your new business with confidence and skill using the latest guidance from the UK's most trusted small business guruStarting a business is one of those courageous and audacious decisions that many of us dream about. If you're ready to take the leap and turn your great idea into action, or you already have, you'll need to arm yourself with the best strategies you can find. In Starting a Business For Dummies: UK Edition, business growth expert Colin Barrow, MBA, provides these strategies as he walks you through every critical step in launching your company.From writing your first business plan to surviving and thriving in your first year, and everything in between, you'll learn how to go from concept to revenue, handle the post-Brexit United Kingdom regulatory and tax environment and utilise public grants and incentives to help get you off the ground. You'll also:* Understand how the UK business landscape has been impacted by Brexit and COVID-19 and the practical steps you can take to adapt* Finance your new venture with grants from the UK government and enjoy brand-new tax incentives aimed at R&D and innovation* Find your inspiration with motivating case studies of real-world successes who conquered every challenge the market threw at themYou've spent your life building the skills you'll need for this moment. Let Starting a Business For Dummies: UK Edition show you how to apply them for maximum effect as you grow your company from an idea into an unstoppable juggernaut.
Sklep: Libristo.pl 124,84 zł
Książki / Literatura obcojęzyczna
The gold standard for eBay users who want to get serious about selling Want to turn your eBay use into a steady revenue stream? Come to where everyone starts, with a copy of the latest edition of Starting an eBay Business For Dummies . EBay superstar author Marsha Collier packs the fourth edition of her mega-selling book with everything you need to know, from how to tap the explosive power of social media for promoting your business to the very latest on eBay's fees and payment structure, how to maintain your own customer service center, ways to build an audience, and much more. Shows you how to lay the foundation for a business by setting up a store and reviews legal requirements and restrictions Helps you price and source your merchandise Explores how to attract an audience using social media through your own site Gives you a quick MBA in budgeting, money transactions, customer service, shipping, and more Offers insight on other sellers who have been successful on eBay and what you can learn from them Kick-start your eBay business and get profitable with this must-have guide from eBay superstar Marsha Collier.
Sklep: Libristo.pl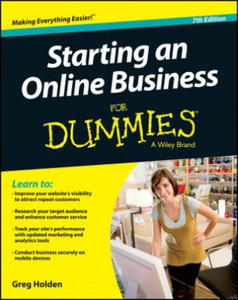 116,38 zł
Książki / Literatura obcojęzyczna
Mind your business with this updated edition of the bestselling online business how-to guide Have a computer, an Internet connection, and a dream? Then, you're already on your way to starting your very own online business. This fun and friendly guide can help you turn your big idea into big bucks whether you're expanding your real-world storefront online or creating your own virtual startup. Starting an Online Business For Dummies, 7th Edition will show you how to identify a market need, choose a web hosting service, implement security and privacy measures, open up shop, and start promoting to the world. Covers the latest trends and techniques for online discoverability - from social media marketing to search engine rankings, online couponing to optimization for mobile devices,and beyond Highlights business issues that are of particular concern to online entrepreneurs Walks you through the best practices of successful online businesses, including customer service, marketing, analytics, and website optimization tools Provides advice on choosing an e-commerce platform, protecting your domain name, securing trademarks, working with vendors and distributors, and keeping your customer's personal data safe There's no time like now to start a new endeavor and no guide like Starting an Online Business For Dummies, 7th Edition to get your online business going.
Sklep: Libristo.pl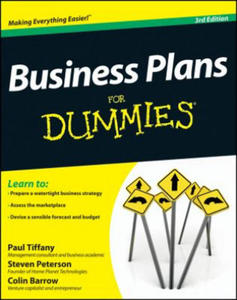 94,00 zł
Książki / Literatura obcojęzyczna
This is your one-stop guide to creating a winning business plan from scratch. Whether you're starting a new business or growing an established one, you'll need a solid business plan to get you where you want to go. Revised for today's rocky economic climate, this edition of the UK's bestselling business plan guide gives you what you need to map out your business strategy and stay on course including a complete sample plan that you can easily adapt for your business! This title helps to: chart your course assess the current state of your business and where you'd like to take it, and establish clear, achievable objectives; get to know your customers learn the latest techniques for getting a better idea of who your customers are and what they want; scope out the competition find out who your competitors are and what it'll take to get your share of the market pie (and theirs); sort out your finances construct a value chain, examine your cash flow and calculate a sensible budget; enter the Dragons' Den convince bankers, investors, venture capitalists and other funding sources your business is a good investment; and, read the tea leaves learn to decipher changing cultural, political and technological trends and to alter your strategies as needed. Open the book and find: tips on developing a sure-fire business strategy; how to set realistic objectives; forecasting and budgeting strategies; keys to writing a motivational mission statement; how to decipher the latest consumer trends; advice on building your brand and brand loyalty; tips for seeing and seizing opportunities before the competition; and, ways to adapt your plan to economic change. Learn to: prepare a watertight business strategy; assess the marketplace; and, devise a sensible forecast and budget.
Sklep: Libristo.pl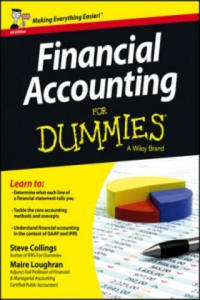 104,34 zł
Książki / Literatura obcojęzyczna
Your plain--English guide to financial accounting for students and trainees. Financial Accounting For Dummies provides students who are studying finance, accounting and business with the basic concepts, terminology, and methods to interpret, analyse, prepare and evaluate financial statements. Covers concepts accountants and other business professionals use to prepare reports; mergers and acquisitions purchase and pooling; free cash flow; and financial statement analysis. Whether you're a student on your way to earning a degree, working towards your ACCA qualification, or a trainee just starting out in your accounts career, Financial Accounting For Dummies gives you a wealth of information to grasp the subject. This UK version is adapted to take in UK accounting practice and international reporting standards Provides a firm grounding in interpreting, analysing, preparing and evaluating corporate financial statements Includes easy--to--understand explanations and real-life examples to consolidate learning
Sklep: Libristo.pl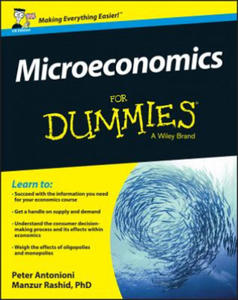 115,62 zł
Książki / Literatura obcojęzyczna
Microeconomics is all about the behaviour of individual people and individual firms. That sounds pretty straightforward, but gets more complicated quickly. And if you're like most people, you're not an economist. But if you're a business student at university, the odds you need to get to grips with microeconomics. That's where we come in. Microeconomics For Dummies, UK Edition is the plain-English guide that can help you succeed with your studies. Toning down the jargon and replacing with clear, concise explanations and real-world examples, Microeconomics For Dummies introduces you to all the key concepts, such as: supply, demand, and equilibrium; consumer decision making process; elasticity; costs of production; competition and monopolies. So, if you're frustrated with that 1,000-page textbook that weighs a ton, Microeconomics For Dummies, UK Edition, is the perfect alternative.
Sklep: Libristo.pl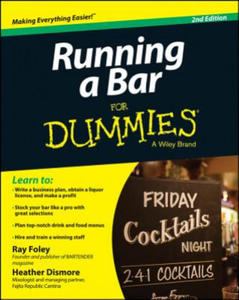 88,93 zł
Książki / Literatura obcojęzyczna
Get insider details on how to operate a successful bar Running a Bar For Dummies, 2 nd Edition shows established and future bar owners how to establish and maintain a successful business. Using clear, concise language, this For Dummies guide contains all the information you need to start your bar off on the right foot. From grand opening to last call, you'll discover the insider tricks that keep the business end running smoothly and the customers happily engaged. With updated information on marketing and social media, the book walks you step by step through the entire process, revealing the nitty-gritty details most new bar owners only discover after starting. The bar business continues to grow; however, securing running capital and having knowledge about the business are cited as the two biggest reasons new bars fail. Running a Bar For Dummies, 2 nd Edition shines a light on these issues to help bar owners prepare properly. The book helps you find your way through the maze of licensing and permits, developing a business plan, and preparing for your grand opening, plus offers clear, no-nonsense guidance on dealing with tough customers. Every step of the way, Running a Bar For Dummies, 2 nd Edition is a reference you can count on. Understand the bar business and important legal issues Stock the necessities, including equipment and inventory Promote your business using marketing and social media Manage expenses and control cash flow When run correctly, a bar can be an extremely profitable business, but the key to success is knowing exactly what you're getting into. By recognizing common problems and teach you how to adapt quickly to changing conditions, Running a Bar For Dummies, 2 nd Edition provides the information you need to develop those skills, and get your bar started.
Sklep: Libristo.pl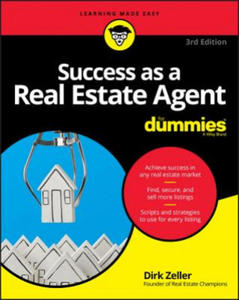 104,34 zł
Książki / Literatura obcojęzyczna
Make your fortune in the real estate business With home prices jumping nationwide, the real estate market is clearly starting to show stabilization. In the latest edition of Success as a Real Estate Agent For Dummies, expert author Dirk Zeller shows you how to become a top-performing agent. Whether it's lead generation via blogging or social media channels, you'll discover key ways to communicate and prospect in a new online world. Inside, you'll find the latest coverage on being successful selling high-value homes, how to sell short sales to buyers without scaring them off, dealing with residential and commercial real estate, how to use third parties to drive leads and create exposure like Trulia, Realtor.com, and Zillow, and much more. Features tips and tricks for working with buyers Includes must-haves for successful real estate agents Offers tried-and-true tactics and fresh ideas for finding more projects Gives you the skills to close more deals Whether you're looking to rev up your real estate business, deciding whether to specialize in commercial or residential real estate, or just interested in fine-tuning your skills, Success as a Real Estate Agent For Dummies has you covered.
Sklep: Libristo.pl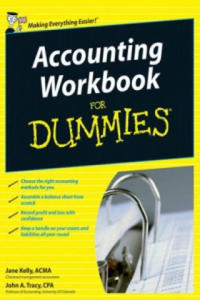 83,66 zł
Książki / Literatura obcojęzyczna
Want to become an accountant? Own a small business but need help balancing your books? Worried about managing your finances under the cloud of the recession? This hands-on workbook gets you up to speed with the basics of business accounting, including reading financial reports, establishing budgets, controlling cash flow, and making wise financial decisions. The question and answer sections encourage you to find your own solutions to challenging accounting problems - and there's plenty of space to scribble your workings out! Accounting Workbook For Dummies is the only book that makes truly light work of the financial fundamentals that many businesspeople try to bluff their way through every day. Accounting Workbook For Dummies, UK Edition covers: Part I: Business Accounting Basics Chapter 1: Elements of Business Accounting Chapter 2: Financial Effects of Transactions Chapter 3: Getting Started in the Bookkeeping Cycle Chapter 4: The Bookkeeping Cycle: Adjusting and Closing Entries Part II: Preparing Financial Statements Chapter 5: The Effects and Reporting of Profit Chapter 6: Reporting Financial Condition in the Balance Sheet Chapter 7: Coupling the Profit & Loss Statement and Balance Sheet Chapter 8: Reporting Cash Flows and Changes in Owners' Equity Chapter 9: Choosing Accounting Methods Part III: Managerial, Manufacturing, and Capital Accounting Chapter 10: Analysing Profit Behavior Chapter 11: Manufacturing Cost Accounting Chapter 12: Figuring Out Interest and Return on Investment Part IV: The Part of Tens Chapter 13: Ten Things You Should Know About Business Financial Statements Chapter 14: A Ten-Point Checklist for Management Accountants Main changes in the UK edition include: UK Accounting practice Currency UK institutions - Inland Revenue and Customs and Excise etc National Insurance, PAYE UK taxation and VAT Partnerships and Limited company information UK legal practice UK specific forms UK specific case studies
Sklep: Libristo.pl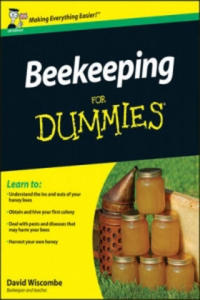 83,66 zł
Książki / Literatura obcojęzyczna
A honey of a guide to getting started in beekeeping - from sourcing your bees to harvesting your sweet reward
Sklep: Libristo.pl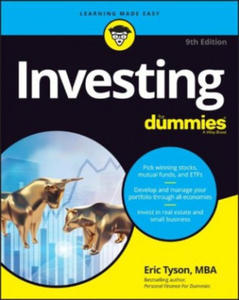 94,00 zł
Książki / Literatura obcojęzyczna
The best-selling investing guide offers new information, new insights, and new perspectivesThere's nothing better than having your money make more money--and getting to that place isn't as complicated as you've been led to believe. With some common sense, careful planning, and the right advice, you too can watch your money accumulate like it's growing on trees.In the Ninth Edition of Investing for Dummies, best-selling author and nationally renowned personal finance expert Eric Tyson shows you how to make your money work for you with rock-solid advice that's stood the test of time. Steering clear of flashy get-rich-quick schemes, Tyson offers a slow-and-steady approach that can work for everyone from young professionals just starting their careers to baby boomers who want to bulk up their nest eggs just before retirement.In the book, you will:* Get started with investing by exploring your investment choices, weighing risk vs. return, and get your financial house in order* Discover the parts that stocks, bonds, real estate, and small business can play in your portfolio* Learn to choose the right periodicals, radio, tv, and web resources that keep you informed and help you avoid the hypeWith updated coverage of new developments like the Tax Cuts and Jobs Act and their impact on investments, along with the growing trend amongst brokers toward zero- and low-fee stock trades, the Ninth Edition of Investing For Dummies is the latest can't-miss guide to investing your money like a boss.
Sklep: Libristo.pl
Sklepy zlokalizowane w miastach: Warszawa, Kraków, Łódź, Wrocław, Poznań, Gdańsk, Szczecin, Bydgoszcz, Lublin, Katowice
Szukaj w sklepach lub całym serwisie
2. Szukaj na wszystkich stronach serwisu
t1=0.061, t2=0, t3=0, t4=0, t=0.062