krainaksiazek the death of the big men and the rise of the big shots 20128243
- znaleziono 6 produktów w 3 sklepach 180,22 zł
Książki / Literatura obcojęzyczna
In 1994, the Pacific island village of Matupit was partially destroyed by a volcanic eruption. This study focuses on the subsequent reconstruction and contests over the morality of exchanges that are generative of new forms of social stratification. Such new dynamics of stratification are central to contemporary processes of globalization in the Pacific, and more widely. Through detailed ethnography of the transactions that a displaced people entered into in seeking to rebuild their lives, this book analyses how people re-make sociality in an era of post-colonial neoliberalism without taking either the transformative power of globalization or the resilience of indigenous culture as its starting point. It also contributes to the understanding of the problems of post-disaster reconstruction and development projects.
Sklep: Libristo.pl 11,15 zł
Książki & Multimedia > Książki
Opis - Pierwsze na świecie świadectwo ofiary zbrodni honorowej. Miała siedemnaście lat i zakochała się: zhańbiła rodzinę. Więc rodzina wydała na nią wyrok śmierci... Pokochała go pierwszą miłością. Myślała, że się z nią ożeni. Ale ukochany zniknął, a ona odkryła, że jest w ciąży. A w jej świecie to najcięższa zbrodnia... W zapomnianej przez Boga wiosce w Cisjordanii kobiety są warte mniej niż zwierzęta domowe. Tu mężczyzna jest panem życia i śmierci żony, córki, siostry. Brat może bezkarnie zabić siostrę, matka - córkę, kolejną bezużyteczną dziewczynkę, jaka się urodzi. Tu kobiecie odbiera się godność, a nawet życie zgodnie z odwiecznym obyczajem i uświęconą tradycją. A śmierć jest karą dla dziewczyny, która zhańbi rodzinę. Tak jak Souad. Wyrok wydaje jej ojciec. Szwagier dokonuje egzekucji. Oblewa Souad benzyną i podpala... SOUAD przeżyła - cudem, ale rodzina usiłowała zabić ją nawet w szpitalu. Na zawsze jednak pozostanie straszliwie okaleczona - na ciele i duszy. I wciąż musi się ukrywać; dopóki żyje, jej rodzinę okrywa hańba. Spalona żywcem, opublikowana pod pseudonimem szokująca opowieść o piekle, jakim było jej dzieciństwo i młodość, stała się międzynarodowym bestsellerem. Wydana w 37 w krajach książka przerywa tabu milczenia wobec istniejącej nadal w krajach muzułmańskich barbarzyńskiej tradycji. Nieludzkiego obyczaju, prawa mężczyzn, na mocy którego co najmniej pięć tysięcy kobiet pada co roku ofiarą zbrodni honorowej. Nazwa - Spalona Żywcem Wyd. Kieszonkowe Autor - Souad Oprawa - Miękka Wydawca - Amber Kod ISBN - 9788324159406 Kod EAN - 9788324159406 Wydanie - 1 Rok wydania - 2016 Tłumacz - 31182,maria rostworowska; Format - 110 x 175 x 14 Ilość stron - 224 Podatek VAT - 5% Premiera - 2016-06-23
Sklep: InBook.pl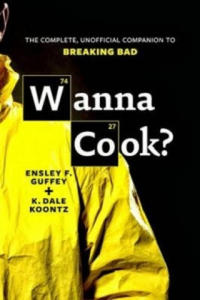 71,76 zł
Książki / Literatura obcojęzyczna
"I am not in danger ...I am the danger." With those words, Breaking Bad's Walter White solidified himself as TV's greatest antihero. Wanna Cook? explores the most critically lauded series on television with analyses of the individual episodes and ongoing storylines. From details like stark settings, intricate camerawork, and jarring music to the larger themes, including the roles of violence, place, self-change, legal ethics, and fan reactions, this companion book is perfect for those diehards who have watched the Emmy Award - winning series multiple times as well as for new viewers. Wanna Cook? elucidates without spoiling, and illuminates without nit-picking. A must have for any fan's collection. Excerpt. (c) Reprinted by permission. All rights reserved. From Wanna Cook's Episode Guide 1.01 Pilot/Breaking Bad Original air date: January 20, 2008 Written and directed by: Vince Gilligan "I prefer to see [chemistry] as the study of change ...that's all of life, right? It's the constant, it's the cycle. It's solution - dissolution, just over and over and over. It is growth, then decay, then - transformation! It is fascinating, really." - Walter White We meet Walter White, Jesse Pinkman, and Walt's family. Walt is poleaxed by some tragic news. With nothing to lose, Walt decides to try to make one big score, and damn the consequences. For that, however, he needs the help of Jesse Pinkman, a former student of Walt's turned loser meth cook and drug dealer. From the moment you see those khakis float down out of a perfectly blue desert sky, you know that you're watching a show like nothing else on television. The hard beauty and stillness of the American Southwest is shattered by a wildly careening RV driven by a pasty white guy with a developing paunch wearing only a gas mask and tighty-whities. What the hell? Like all pilots, this one is primarily exposition, but unlike most, the exposition is beautifully handled as the simple background of Walter's life. The use of a long flashback as the body of the episode works well, in no small part due to Bryan Cranston's brilliant performance in the opening, which gives us a Walter White so obviously, desperately out of his element that we immediately wonder how this guy wound up pantsless in the desert and apparently determined to commit suicide-by-cop. After the opening credits, the audience is taken on an intimate tour of Walt's life. Again, Cranston sells it perfectly. The viewer is presented with a middle-aged man facing the back half of his life from the perspective of an early brilliance and promise that has somehow imploded into a barely-making-ends-meet existence as a high school chemistry teacher. He has to work a lousy second job to support his pregnant wife and disabled teenage son and still can't afford to buy a hot water heater. Executive producer and series creator Vince Gilligan, along with the cast and crew (Gilligan & Co.), take the audience through this day in the life of Walt, and it's just one little humiliation after another. The only time Walt's eyes sparkle in the first half of the episode is when he is giving his introductory lecture to his chemistry class. Here Walt transcends his lower-middle-class life in an almost poetic outpouring of passion for this incredible science. Of course, even that brief joy is crushed by the arrogant insolence of the archetypal high school jackass who stays just far enough inside the line that Walt can't do a damn thing about him. So this is Walt and his life, as sad sack as you can get, with no real prospects of improvement, a brother-in-law who thinks he's a wuss, and a wife who doesn't even pay attention during birthday sex. Until everything changes. The sociologist and criminologist Lonnie Athens would likely classify Walt's cancer diagnosis as the beginning of a "dramatic self change," brought on by something so traumatic that a person's self - the very thoughts, ideas, and ways of understanding and interacting with the world - is shattered, or "fragmented," and in order to survive, the person must begin to replace that old self, those old ideas, with an entirely new worldview. (Athens and his theories are discussed much more fully in the previous essay, but since we warned you not to read that if you don't want to risk spoilage, the basic - and spoiler-free - parts are mentioned here.) Breaking Bad gives us this fragmentation beautifully. Note how from the viewer's perspective Walt is upside down as he is moved into the MRI machine, a motif smoothly repeated in the next scene with Walt's reflection in the top of the doctor's desk. Most discombobulating of all, however, is the consultation with the doctor. At first totally voiceless behind the tinnitus-like ambient soundtrack and faceless except for his chin and lips, the doctor and the news he is imparting are made unreal, out of place, and alien. As for Walt, in an exquisite touch of emotional realism, all he can focus on is the mustard stain on the doctor's lab coat. How many of us, confronted with such tragic news, have likewise found our attention focused, randomly, illogically, on some similar mundanity of life? It is from this shattered self that Walt begins to operate and things that would have been completely out of the question for pre-cancer Walt are now actual possibilities - things like finding a big score before he dies by making and selling pure crystal meth. Remember that Walt is a truly brilliant chemist, and knows full well what crystal meth is and what it does to people who use it. He may not know exactly what he's getting into, but he knows what he is doing. Enter Jesse Pinkman (Aaron Paul, best known previously for his role on Big Love), a skinny white-boy gangster wannabe, who under the name "Cap'n Cook" makes a living cooking and selling meth. He's also an ex-student of Walt's, and after being recognized by his former teacher during a drug bust, Walt has all the leverage he needs to coerce Jesse into helping him. Why does he need him? Because, as Walt says, "you know the business, and I know the chemistry." Symbolizing just how far beyond his old life Walt is moving, he and Jesse park their battered RV/meth lab in the desert outside of Albuquerque, far from the city and any signs of human life. All that is there is a rough dirt road and a "cow house" in the distance. The desert is a place without memory, a place outside of things, where secrets can be kept, and meth can be cooked. This is where Walt lives now. It is in this desert space that Walt becomes a killer, albeit in self defense. Ironically, the one thing that Walt views as holding the keys to the secret of life - chemistry - becomes the means to end lives. Walt, a father, teacher, and an integral part of an extended family - in other words, an agent of life and growth - has now become a meth cook, using chemical weapons to kill his enemies. Walter White has become an agent of death. The transformation is just beginning, but already Skyler (Anna Gunn, previously known for her roles on The Practice and Deadwood) is having some trouble recognizing her husband: "Walt? Is that you?" LAB NOTES Highlight: Jesse to Walt: "Man, some straight like you - giant stick up his ass all of a sudden at age what? Sixty? He's just going to break bad?" Did You Notice: This episode has the first (but not the last!) appearance of Walt's excuse that he's doing everything for his family. There's an award on the wall in Walt's house commemorating his contributions to work that was awarded the Nobel Prize back in 1985. The man's not a slouch when it comes to chemistry, so what's happened since then? At Walt's surprise birthday party, Walt is very awkward when he handles Hank's gun. Speaking of Hank (Dean Norris, whose other roles were in the TV series Medium, and the movies Total Recall, and Little Miss Sunshine), he waits until the school bus has left the neighborhood before ordering his team into the meth lab, showing what a good and careful cop he is. Maybe it's just us, but J.P. Wynne High School (where Walt teaches chemistry) seems to have the most well-equipped high school chemistry lab in the country. As Walt receives his diagnosis, the doctor's voice and all other sounds are drowned out by a kind of numbing ringing, signifying a kind of psychic overload that prevents Walt from being fully engaged with the external world. This effect will be used again several times throughout the series. Walt literally launders his money to dry it out, foreshadowing what's to come. Shooting Up: Thanks to John Toll, who served as cinematographer for the first season of Breaking Bad, the show has one of the most distinctive opening shots ever. Just watch those empty khaki pants flutter across a clear sky. Breaking Bad loves certain camera angles and this section is where we'll point out some of the shots that make the show stand out. Look at that taped non-confession Walt makes for his family when he thinks the cops are coming for him. We're used to watching recordings of characters - shows are filmed (or taped), but here, we're watching him recording himself on tape. Who's the real Walt? Title: Many pilot episodes share the name with the title of the show and Breaking Bad's pilot is no exception. Vince Gilligan, who grew up in Farmville, Virginia, has stated that "breaking bad" is a Southernism for going off the straight and narrow. When you bend a stick until it breaks, the stick usually breaks cleanly. But sometimes, sticks (and men) break bad. You can wind up in the hospital with a splinter in your eye, or you can wind up in Walter White's world. Either way, it's no kind of good. Interesting Facts: Show creator Vince Gilligan's early educational experience was at J. P. Wynne Campus School in Farmville, Virginia. He recycled the name for the high school in Breaking Bad. SPECIAL INGREDIENTS What Is Crystal Meth, Anyway? While there is some evidence that methamphetamine can be found naturally in several species of acacia plants, commercial meth making involves chemistry, not agriculture. The history of the drug dates back to 1893 when Japanese chemist Nagai Nagayoshi first synthesized the substance from ephedrine. The name "methamphetamine...
Sklep: Libristo.pl 152,94 zł
Książki / Literatura obcojęzyczna
Source: Wikipedia. Pages: 161. Chapters: Meat Puppets, The Replacements, Melvins, Descendents, Bad Religion, Dwarves, Rise Against, Social Distortion, Shai Hulud, Corrosion of Conformity, Hüsker Dü, Redd Kross, Dirty Rotten Imbeciles, MDC, Bury Your Dead, Murphy's Law, Spite, Coalesce, Hatebreed, U.S. Bombs, Poison Idea, Malignus Youth, NJ Bloodline, Negative Approach, Endpoint, Los Crudos, World Burns to Death, Agnostic Front, Violent Apathy, Indecision, Youth of Today, 7 Seconds, Killing the Dream, The Dicks, Starkweather, Blame Game, Uncle Slam, The Yuppie Pricks, Cro-Mags, Die Kreuzen, Trash Talk, Cojoba, Dag Nasty, Strongarm and the Bullies, Plow United, Backstabbers Incorporated, Iron Cross, The Fartz, Rites of Spring, Manic Hispanic, The Wage of Sin, Steel Pole Bath Tub, Charles Bronson, One Life Crew, As Friends Rust, Death Threat, Birthright, The Meatmen, Breakdown, Stretch Arm Strong, Thought Riot, Big Boys, The Casualties, Zero Boys, Title Fight, Toxic Reasons, Schoolyard Heroes, Verse, The Piss Shivers, Necros, The Dream Is Dead, Razors in the Night, From Ashes Rise, Superjoint Ritual, Flag of Democracy, Zegota, Champion, Culture, Look What I Did, Pro-Pain, Only Crime, 25 ta Life, Paint It Black, Modern Life Is War, Zeke, Allegiance, Bloodlet, Strike Under, Final Warning, In/Humanity, Heroin, The Nerve Agents, Love is Red, Swing Kids, MK-ULTRA, Akimbo, Gray Matter, To Kill the King, Really Red, Limp Wrist, Violent Society, R.A.M.B.O., International Superheroes of Hardcore, Dropdead, Hazen Street, Wasted Youth, Kid Dynamite, Impetigo, God Is My Co-Pilot, Septic Death, Time Flies, Sincebyman, The Plague, Light Pupil Dilate, Guyana Punch Line, 88 Fingers Louie, Anti-Scrunti Faction, Blacklisted, Kiss It Goodbye, Pagan Babies, Factory 81, Down to Nothing, Iron Lung, 0DFx, This Runs Through, Four Walls Falling, Millions, Cold As Life, New Mexican Disaster Squad, The Letters Organize, Casey Jones, Urban Waste, Assholeparade, The Warriors, Sinking Ships, The Fix, Cold World, Ceremony, Christ on Parade, Kinghorse, Arson Anthem, Life's Blood, Here I Come Falling, Cast Iron Hike, Assjack, Pulling Teeth, Swiz, Ringworm, Fury of Five, Future Primitive, Cruel Hand, Naked Violence, Vatican Commandos, Count Me Out, Dead Men's Theory, White Cross, Solger, Blight, Doomriders, A18, Finest Hour, Knockabouts, Bhopal Stiffs, The Landlords, Lewd Acts, Complete Failure, Balboa, Combatwoundedveteran, Capitalist Casualties, Farside, State of Conviction, Now Soldiers, Tiny Hawks, Team Robespierre, The Submissives, Raid, Wind of Change, Snake Nation, Abi Yoyos, Koro, Self Decay, The Prevaricators, Dresden 45, The Finger, Skarhead, The Boat People, Sex Vid, The Young Aborigines, Loose Change. Excerpt: Bad Religion is an American punk rock band founded in 1979 by Jay Bentley (bass), Greg Graffin (vocals), Brett Gurewitz (guitars), and Jay Ziskrout (drums). They are often credited for being involved in the revival of punk rock and inspiring several subsequent punk bands during the late 1980s, as well as influencing a large number of other punk and rock musicians throughout their career. In the 32 years since its inception, Bad Religion has had numerous lineup changes, and Graffin has been the only constant member, although the band currently features three of the original members. Bad Religion has released fifteen studio albums, two EPs, three compilation albums, two live recordings, and two DVDs since their formation. Almost all of their albums were rel...
Sklep: Libristo.pl 56,77 zł
Arizona Forgotten Books
Książki / Literatura obcojęzyczna
Excerpt from Arizona: Being a Book of Words From Many Pens, About the Grand Canyon of the Grand Canyon of Arizona The following description of the Grand Canyon region is condensed from an article written ten years ago by Mr. C. A. Higgins, and published in pamphlet form by the passenger department of the Santa Fe. Mr. Higgins (who, at the time of his sudden death in 1900, occupied the position of Assistant General Passenger Agent of the A. T. S. F. Ry. in special charge of advertising) knew the Grand Canyon more intimately than most men who have written of it. He had descended all the trails and had camped for weeks in the inner gorge and along the rim. He had visited it with artists, lecturers, explorers and scientists. He had read everything of value written about it. This research, acquaintance and experience took root in a well-trained mind, keen for facts and tenacious of impressions. He was a most lovable man, who appreciated books, music, pictures, poetry and nature. Enjoying such things, he loved the Grand Canyon there is no other word so well expresses the relation. And being a lover, he wrote from the heart. Mr. Higgins also loved the great Southwest, big with historic, scenic and human interest. His grasp of the ancient and modern in Indian life (facilitated by membership in one of the most exclusive Moki secret societies), would ultimately have made him prominent among ethnologists. His painstaking, his direct sympathy, his helpfulness to men of science, were unexampled. He caught the deeper significance of symbol and design; their translation revealed to him the meaning of the past and the purpose of the present among these children of the desert. His researches among the dwellers in the skylight cities of Arizona were as fruitful in practical results as his kindred study of the Grand Canyon. The Colorado is one of the great rivers of North America. Formed in southern Utah by the confluence of the Green and Grand, it intersects the northwestern corner of Arizona, and, becoming the eastern boundary of Nevada and California, flows southward until it reaches tidewater in the Gulf of California, Mexico. It drains a territory of 300,000 square miles, and, traced back to the rise of its principal source, is 2,000 miles long. At two points. Needles and Yuma on the California boundary, it is crossed by a railroad. Elsewhere its course lies far from Caucasian settlements and far from the routes of common travel, in the heart of a vast region fenced on the one hand by arid plains or deep forests and on the other by formidable mountains. The early Spanish explorers first reported it to the civilized world in 1540, two separate expeditions becoming acquainted with the river for a comparatively short distance above its mouth, and another, journeying from the Moki Pueblos northwestward across the desert, obtaining the first view of the Big Canyon, failing in every effort to descend the canyon wall, and spying the river only from afar. Again, in 1776, a Spanish priest traveling southward through Utah struck off from the Virgin River to the southeast and found a practicable crossing at a point that still bears the name "Vado de los Padres." About the Publisher Forgotten Books publishes hundreds of thousands of rare and classic books. Find more at www.forgottenbooks.com This book is a reproduction of an important historical work. Forgotten Books uses state-of-the-art technology to digitally reconstruct the work, preserving the original format whilst repairing imperfections present in the aged copy. In rare cases, an imperfection in the original, such as a blemish or missing page, may be replicated in our edition. We do, however, repair the vast majority of imperfections successfully; any imperfections that remain are intentionally left to preserve the s
Sklep: Libristo.pl 54,10 zł
Powieści i opowiadania
Orlando Figes
Sklep: Albertus.pl
Sklepy zlokalizowane w miastach: Warszawa, Kraków, Łódź, Wrocław, Poznań, Gdańsk, Szczecin, Bydgoszcz, Lublin, Katowice
Szukaj w sklepach lub całym serwisie
2. Szukaj na wszystkich stronach serwisu
t1=0.268, t2=0, t3=0, t4=0.019, t=0.268