krainaksiazek the potentate an out of body travel book 20168928
- znaleziono 11 produktów w 4 sklepach 38,29 zł 54,79 zł
Książki / Literatura obcojęzyczna
This book opens with the author's experience with the 'Lucid Light Stimulator' in Switzerland. This presents him with his first experience of 'astral travel'. From this he takes the reader on a historical, theological and mystical journey through the history of the out-of-body experience in all its varieties and forms. The second half of the book discusses the science behind the experience. It reviews some of the latest research in the fields of psychology, neurology and neuro-chemistry. It then attempts a short explanation of why quantum physics may be the unlikely source of answers to the mystery of the out-of-body experience. The final section presents the author's new model of how exotic-sounding concepts such as Bose-Einstein Condensates, Einstein Rosen Bridges, Zero-Point Energy, microtubules and coherent light can be used to present a totally new explanation of how Astral Travel really does involve a journey - into inner, not outer, space.
Sklep: Libristo.pl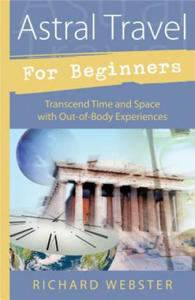 67,70 zł
Książki / Literatura obcojęzyczna
What you've done thousands of times in your sleep can now become a totally conscious experience with the help of this handy guidebook. You'll soon learn to leave your body and explore the astral realm with confidence and safety. Achieving your first astral travel experience is always the most difficult--and no single method will work for everyone. That's why the techniques in this book are carefully graded to step by step through an actual out-of-body experience. And with fifteen time-tested methods to choose from you're sure to be astral traveling in no time. Once you learn to leave your body, the freedom you'll discover will transform your life. Explore new worlds ... learn to travel with a partner ... go back and forth through time ... even find a lover... but, most importantly, lose your fear of death as you discover that you are a spiritual being independent of your physical body.
Sklep: Libristo.pl 11,15 zł
Książki & Multimedia > Książki
Opis - Pierwsze na świecie świadectwo ofiary zbrodni honorowej. Miała siedemnaście lat i zakochała się: zhańbiła rodzinę. Więc rodzina wydała na nią wyrok śmierci... Pokochała go pierwszą miłością. Myślała, że się z nią ożeni. Ale ukochany zniknął, a ona odkryła, że jest w ciąży. A w jej świecie to najcięższa zbrodnia... W zapomnianej przez Boga wiosce w Cisjordanii kobiety są warte mniej niż zwierzęta domowe. Tu mężczyzna jest panem życia i śmierci żony, córki, siostry. Brat może bezkarnie zabić siostrę, matka - córkę, kolejną bezużyteczną dziewczynkę, jaka się urodzi. Tu kobiecie odbiera się godność, a nawet życie zgodnie z odwiecznym obyczajem i uświęconą tradycją. A śmierć jest karą dla dziewczyny, która zhańbi rodzinę. Tak jak Souad. Wyrok wydaje jej ojciec. Szwagier dokonuje egzekucji. Oblewa Souad benzyną i podpala... SOUAD przeżyła - cudem, ale rodzina usiłowała zabić ją nawet w szpitalu. Na zawsze jednak pozostanie straszliwie okaleczona - na ciele i duszy. I wciąż musi się ukrywać; dopóki żyje, jej rodzinę okrywa hańba. Spalona żywcem, opublikowana pod pseudonimem szokująca opowieść o piekle, jakim było jej dzieciństwo i młodość, stała się międzynarodowym bestsellerem. Wydana w 37 w krajach książka przerywa tabu milczenia wobec istniejącej nadal w krajach muzułmańskich barbarzyńskiej tradycji. Nieludzkiego obyczaju, prawa mężczyzn, na mocy którego co najmniej pięć tysięcy kobiet pada co roku ofiarą zbrodni honorowej. Nazwa - Spalona Żywcem Wyd. Kieszonkowe Autor - Souad Oprawa - Miękka Wydawca - Amber Kod ISBN - 9788324159406 Kod EAN - 9788324159406 Wydanie - 1 Rok wydania - 2016 Tłumacz - 31182,maria rostworowska; Format - 110 x 175 x 14 Ilość stron - 224 Podatek VAT - 5% Premiera - 2016-06-23
Sklep: InBook.pl 40,80 zł
Literatura faktu
'Only with the greatest of simplifications, for the sake of convenience, can we say Africa. In reality, except as a geographical term, Africa doesn't exist'. Ryszard Kapuscinski has been writing about the people of Africa throughout his career. In a study that avoids the official routes, palaces and big politics, he sets out to create an account of post-colonial Africa seen at once as a whole and as a location that wholly defies generalised explanations. It is both a sustained meditation on the mosaic of peoples and practises we call 'Africa', and an impassioned attempt to come to terms with humanity itself as it struggles to escape from foreign domination, from the intoxications of freedom, from war and from politics as theft. The Beginning: Collision, Ghana 1958 More than anything, one is struck by the light. Light everywhere. Brightness everywhere. Everywhere, the sun. Just yesterday, an autumnal London was drenched in rain. The airplane drenched in rain. A cold, wind, darkness. But here, from the morning
Sklep: Albertus.pl 31,54 zł
Książki & Multimedia > Książki
Opis - NOWA SERIA WSPÓŁCZESNYCH POWIEŚCI OBYCZAJOWO-KRYMINALNYCH, KTÓRYCH AKCJA ROZGRYWA SIĘ W USA, A ICH WSPÓLNYM MOTYWEM SĄ DAMSKIE MARKOWE TOREBKI. Kryminał, jakiego jeszcze w Polsce nie było! Żywa, dowcipna, dynamiczna akcja, pełna nieoczekiwanych i zaskakujących zwrotów. Powieść barwniejsza niż hollywoodzki film - czyta się doskonale! Jeśli spodobała Ci się książka Diabeł ubiera się u Prady, musisz przeczytać serię o Haley Randolph. Torebki i morderstwo to dowcipna i inteligentna powieść dziejąca się w Los Angeles, Mieście Aniołów, z rozlicznymi centrami handlowymi, butikami i straganami gdzie sprzedaje się damskie torebki. Pasją życiową bohaterki, Haley Randolph, są właśnie torebki. Ale wyłącznie MARKOWE, zaprojektowane przez stylistów z najwyższej półki... I ta namiętność sprowadzi na bohaterkę mnóstwo kłopotów, wśród których najmniejszymi będą oskarżenia o morderstwo i defraudację... Aby mieć środki na życie - i na swoja życiową pasję - Haley musi pracować na dwóch posadach. Ta główna, prestiżowa, to praca w renomowanej firmie prawniczej Pike&Warner, której centrum decyzyjne mieści się na tajemniczym, i dla urzędniczego proletariatu firmy niedostępnym, Szesnastym Piętrze. Druga posada to praca ekspedientki-kasjerki-sprzątaczki-magazynierki (zależnie od kaprysu kierownictwa...) w wielkim domu towarowym Holt`s, w którym sprzedaje się "ohydne ciuchy", "koszmarne buty" i "beznadziejne torebki"... To właśnie tam, w magazynie damskiej bielizny, znajduje zwłoki Richarda, wyjątkowo niesympatycznego faceta, którego ktoś zatłukł drążkiem wyłamanym ze stojaka na ubrania... Niebawem ona sama staje się główną podejrzaną. Haley sama musi oczyścić się z zarzutów i podejmuje prywatne śledztwo. Kończy się ono nieoczekiwanym rezultatem... Nazwa - Torebki i morderstwo Autor - Dorothy Howell Oprawa - Twarda Wydawca - Bellona Kod ISBN - 9788311132061 Kod EAN - 9788311132061 Rok wydania - 2014 Format - 13x20 Ilość stron - 382 Podatek VAT - 5% Premiera - 2014-09-30
Sklep: InBook.pl 83,30 zł
Inne 1
Beginning with a Cuban Catholic ritual in Miami, this book takes readers on a momentous theoretical journey toward a new understanding of religion. At this historical moment, when movement across boundaries is of critical importance for all areas of human life--from media and entertainment to economy and politics--Thomas Tweed offers a powerful vision of religion in motion, dynamic, alive with crossings and flows. A deeply researched, broadly gauged, and vividly written study of religion such as few American scholars have ever attempted, Crossing and Dwelling depicts religion in place and in movement, dwelling and crossing. Tweed considers how religion situates devotees in time and space, positioning them in the body, the home, the homeland, and the cosmos. He explores how the religious employ tropes, artifacts, rituals, and institutions to mark boundaries and to prescribe and proscribe different kinds of movements across those boundaries; and how religions enable and constrain terrestrial, corporeal, and cosmic crossings. Drawing on insights from the natural and social sciences, Tweed's work is grounded in the gritty particulars of distinctive religious practices, even as it moves toward ideas about cross-cultural patterns. At a time when scholars in many fields shy away from generalizations, this book offers a responsible way to think broadly about religion, a topic that is crucial for understanding the contemporary world. Lucid in explanations, engaging in presentation, rich in examples, Crossing and Dwelling has profound implications for the study and teaching of religion in our day. Thomas Tweed has written the most important theoretical book of this decade, and maybe this generation, for geographers of religion...While Tweed's theory is philosophically detailed, readers will be impressed with the wide array of religions and nationalities represented in the analysis...Any scholar interested in either religion or geography will find this volume a refreshing and enlightening study. Those interested in both religion and geography will soon find themselves woefully behind in their scholarship if they have not yet digested it.    --Michael Ferber, American Religious Experience websiteBeginning with his reflections on the Cuban Catholic community in Miami, Tweed develops a dynamic and relational theory of religion he feels has been lacking. He sees the key ideas of religion as being place (dwelling) and travel and exile (crossing) and uses the concept of itinerary to examine both Eastern and Western religions. As Tweed sees it, religion acts like a compass, helping to situate people in the body, the home, the homeland, and the cosmos. At the same time, we are all crossing boundaries: terrestrial, corporal, and cosmic. He offers a thoughtful analysis of the nature of religion and speaks of the limitations of his theory as well as of its potential. This well-thought-out work, accessible to scholars and lay readers alike, is a worthy successor to Mircea Eliade's Images and Symbols: Studies in Religious Symbolism, which remains the classic text on the subject.    --Augustine J. Curley, Library JournalTweed's contrast of religion in stasis and in motion helps illuminate the vexing issue of religious pluralism.    --Roger S. Gottlieb, TikkunThis is a masterpiece. It belongs on everyone's shelf next to William James's The Varieties of Religious Experience. Tweed's book is at once elegant and informed, a thorough intellectual sighting of religion.    --Bruce B. Lawrence, Duke UniversityCrossing and Dwelling provides a strikingly new and compelling theory of religion. Religions, Tweed argues, are much like watches and compasses: they help people find their bearings. Throughout he offers numerous examples from a variety of traditions and contexts to illustrate the way that his theory works. Tweed's engaging writing style should make the book accessible to a wide range of readers.    --Ann Taves, University of California at Santa BarbaraTweed boldly offers here a new and differently devised definition of religion. And he anchors that definition in widely disparate phenomena of religious life around the globe. It is refreshing to see an analysis that moves wisely beyond the insularity of past debates. This book will stir some still waters and elicit a profitable exchange of ideas.    --Daniel Pals, University of Miami
Sklep: Albertus.pl 54,79 zł
Książki / Literatura obcojęzyczna
Do our thoughts really create our reality? Do we exist in more than one universe at once? Can it be proven that consciousness survives physical death? Hazel Courteney sets out in search of answers to these questions and others, on a quest to discover if the 'ultimate truths' expounded by today's spiritual teachers have any truth to them at all. After an incredible near-death experience in 1998 and some miraculous events that followed, Hazel felt compelled to seek out spiritual masters and leading scientists to help her to uncover what was really going on. The result is this fast-paced book - the story of a spiritual journey on which Hazel meets distinguished yet controversial thinkers who share cutting-edge scientific research and theories that lead her to some staggering conclusions. In the book she examines the growing belief that our universe is nothing but a hologram, projected by an ancient supercomputer or super-mind, and that we are biological computers operating inside a preprogrammed simulator. She considers evidence that other civilisations exist alongside ours in other space/time dimensions; explores the phenomenon of Orbs, strange spheres of light that are now appearing on digital pictures the world over; and hears from one renowned physicist what he believes happened before the Big Bang. To complement the scientific perspective, Hazel turns to the spiritual as well. From a highly respected shaman/scientist who has spent twenty-five years learning from the ancient knowledge of the shape-shifters of Peru, she receives insight into what happens after we leave the physical body and how we can change the future. At the incredible temples of Damanhur near Turin, she finds out about time travel and how sacred geometry links our world with others. And she discovers how science can actually measure enlightenment. Ultimately, she leaves readers with no doubt about who we really are, where we need to go and why - and how much more we are all capable of than we've ever imagined.
Sklep: Libristo.pl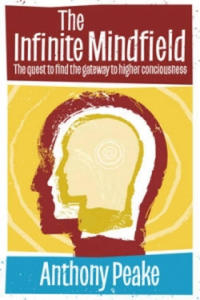 54,79 zł
Książki / Literatura obcojęzyczna
For thousands of years voyagers of inner space - spiritual seekers, shamans and mystics - have returned from their inner travels reporting another level of reality that is more real than the one we inhabit in 'waking life'. Others have claimed that under the influence of mysterious substances, known as entheogens, the everyday human mind can be given glimpses of this multidimensional realm of existence that is usually hidden from us by our five basic senses. Using information from the leading edges of modern science, this book presents a startling new hypothesis that these 'inner worlds' are as real, or possibly even more real, than the 'reality' we experience in waking life. The Infinite Mindfield uses as its starting point the widespread historical belief that the pineal gland - the 'third eye' - is a profoundly important organ. It links this to the various myths, originating in ancient Sumer, that 'dragons' or 'serpents' have guided humanity and presents evidence that these beings are symbolic of DNA. It is now known that DNA gives off a form of light known as bioluminescence. This information-rich 'inner light' needs an organ of sight to process it - that organ is the pineal gland. It is through this small organ that we "perceive" the inner worlds of lucid dreaming, out-of-body experiences, hypnagogic imagery, near-death experiences, astral travel and the kundalini experience. The book ends with the mind-blowing proposition that all living beings are one unitary consciousness experiencing itself subjectively. This book is genuinely revolutionary and will cause both interest and controversy in equal measure. Its science is watertight as is its logic. Be ready to be stunned - you will never have read anything like this before.
Sklep: Libristo.pl 63,90 zł
Książki / Literatura obcojęzyczna
This book helps you discover everything you ever wanted to know about anything with this first reference for young readers and writers. An inspiring and comprehensive collection of the best in the DK First Reference series, all gathered together in one superb volume. From prehistoric life to space travel, bacteria to the human brain help your child discover all about the world we live in. They'll discover how life on Earth began, how the human body works, how people lived in Ancient Egypt, why some dinosaurs were so huge, what makes machines work, the countries of the world and much, much more. Full of fantastic photos, bite-sized facts and quiz questions kids will love getting their teeth into, there's lots to see and explore. Perfect for homework or just for fun. Go ahead; let your child find out more about everything!
Sklep: Libristo.pl 39,73 zł
Książki / Literatura obcojęzyczna
Welcome to the weird and wonderful world of Yorkshire, or as it is sometimes beautifully referred to, God's Own County. Though this isn't the usual side of the county the tourists, travellers and residents see. This is the real Yorkshire, the strange and twisted nooks and crannies of the county's bizarre history - past, present and future. Following on from the bestselling Portico Strangest titles now comes a book devoted to one of England's most beautiful valley regions. Located in the upper body of Britain's old man, Yorkshire is a county with more strangeness than you can shake a Dale walking stick at. Home of Robin Hood (he was born in Barnsdale), Guy Fawkes, Dick Turpin and Dracula (Bram Stoker wrote part of the vampire tale in a Whitby hotel!) and, some say, the birthplace of modern civilization even began in Leeds! But you'll have to read the book to find out why. Yorkshire's Strangest Tales is a treasure trove of the hilarious, the odd and the baffling - an alternative travel guide to some of the county's best-kept secrets. Read on, if you dare! You have been warned. Word count: 35,000
Sklep: Libristo.pl
Sklepy zlokalizowane w miastach: Warszawa, Kraków, Łódź, Wrocław, Poznań, Gdańsk, Szczecin, Bydgoszcz, Lublin, Katowice
Szukaj w sklepach lub całym serwisie
2. Szukaj na wszystkich stronach serwisu
t1=0.05, t2=0, t3=0, t4=0.032, t=0.05