krainaksiazek the sydney handbook of anxiety disorders a guide to the symptoms causes and treatments of anxiety disorders 20131151
- znaleziono 5 produktów w 1 sklepie 225,46 zł
Książki / Literatura obcojęzyczna
Despite dramatic advances in our understanding of the brain and brain disorders, we still have much uncharted territory to explore in neuropsychiatry and behavioral neurology, two rapidly growing disciplines devoted to understanding the behavioral consequences of brain dysfunction and using this information to improve patient care. The second edition of this popular pocket guide (part of American Psychiatric Publishing, Inc.'s Concise Guides series; it literally fits into the pocket of a lab coat or jacket) is updated throughout, featuring new medications and new diagnostic procedures and criteria. Like the first edition, it presents brief synopses of the major neuropsychiatric and neurobehavioral syndromes, discusses their clinical assessment, and provides guidelines for management, plus a glossary, index, and bibliographies that refer to more extensive reading. The authors summarize diagnostic and treatment information in easy-to-read tables, including clinical features, underlying pathophysiology, and treatment options for the major neuropsychiatric disorders. Beginning with several chapters on neuropsychiatric assessment methods, basic neuroanatomic and neurochemical principles, neuropsychiatric symptoms (including unexplained neurological symptoms, such as generalized anxiety, panic, and conversion and dissociative disorders) and syndromes (e.g., frontal lobe, aphasia), and the differential diagnosis of major neuropsychiatric disorders (e.g., depression, mania, psychosis, anxiety), the authors organize subsequent chapters by disease: -Visual/visuospatial impairment, which is critical to human survival and most severe with right-brain dysfunction and injury, where it causes a variety of neuropsychiatric symptoms -Disorders of memory (etiology, anatomy, and tests for disorders such as amnesia), epilepsy (especially temporal lobe epilepsy), dementia and delirium (emphasizing the clinical criteria identifying the different dementias), and movement disorders (including ParkinsonAs disease and hyperkinetic movement disorders and tremors) -Stroke (cerebrovascular disease is one of the most common causes of acquired behavior change in adults) and brain tumors (with associated neuropsychiatric morbidity) -White matter diseases (e.g., multiple sclerosis), with acquired or hereditary leukoencephalopathies, which can be further classified pathologically or according to the underlying metabolic abnormality; and head injury (e. g., intracranial hematoma, infection, epilepsy) and its sequelae (e.g., personality and cognitive changes, depression, posttraumatic stress disorder) The final chapter covers the latest treatments, such as neuropsychopharmacology (e.g., antidepressants, antipsychotics, sedative hypnotics, mood-stabilizers, anticonvulsants), electroconvulsive therapy, vagus nerve stimulation, and neurosurgical procedures (i.e., destruction of large tracts of white matter to and from the frontal lobes). An immediately useful clinical companion for psychiatrists and geriatric psychiatrists, neurologists, and neuropsychologists both within the U.S. and abroad, this volume is also exceptionally practical for students and residents because of its broad scope and easily accessible information.
Sklep: Libristo.pl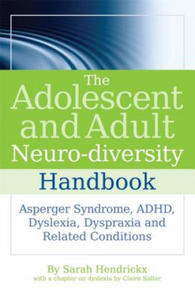 73,33 zł
Książki / Literatura obcojęzyczna
Increasing numbers of adults are realising that they have been living with an undiagnosed developmental condition, yet most information and support focuses on children. This leaves many adults confused and in the dark. "The Adolescent and Adult Neuro-Diversity Handbook" is a handy first-reference point guide to the full range of developmental conditions as they affect adolescents and adults. Each chapter focuses on a different condition, describing its history, causes and characteristics, its implications for the individual, diagnosis and assessment, treatments and approaches, and strategies for providing support and self-support. A wide range of conditions are covered, including Autistic Spectrum Disorders, Dyslexia, Dyspraxia, ADHD, OCD, Tourette's and Anxiety Disorders. "The Adolescent and Adult Neuro-Diversity Handbook" is an invaluable resource for health and social care practitioners, as well as for individuals who feel that they may be living with an undiagnosed developmental condition.
Sklep: Libristo.pl 90,22 zł
Książki / Literatura obcojęzyczna
The completely updated and expanded new edition of this well-established text incorporates DSM-5 changes as well as other new developments. The all-in-one guide covers the whole range of often co-existing neuro-behavioral disorders in children - from attention deficit hyperactivity disorder (ADHD), obsessive-compulsive disorder, and anxiety, to autism spectrum disorders, nonverbal learning disabilities, Tourette's, sensory integration problems, and executive dysfunction. A completely revised chapter on the autism spectrum by Tony Attwood explains not only new understanding in the field, but the new diagnostic criteria, and the anticipated usage of the term 'Asperger's Syndrome'. Dr. Kutscher provides accessible information on causes, symptoms, interactions with other conditions, and treatments. He presents effective behavioral strategies for responding to children who display traits of these disorders - whether at home, at school, or in other settings - along with case vignettes and practical tips. Finally, a chapter on the role of medications summarizes current knowledge. The author's sympathetic yet upbeat approach and skillful explanations of the inner world of children in the syndrome mix make this an invaluable companion for parents, teachers, professionals, and anyone else who needs fast and to-the-point advice on children with special needs.
Sklep: Libristo.pl 74,66 zł
Książki / Literatura obcojęzyczna
Although we are all born with brains and minds which are amazing, those who research and treat the symptoms of psychological and psychiatric disorder firmly believe we would all find our lives enhanced by a user's guide to the mind. We are supposed to be living in more enlightened times, yet it seems that more people than ever are suffering from mental health problems. In fact, statistics show: 1 in 4 people will experience some kind of mental health disorder in the course of their life; 1 in 6 of us will suffer from depression - most commonly between the ages of 25 and 44; and 1 in 10 people are likely to suffer from disabling anxiety at some stage in their life. Edited by Dr Raj Persaud and published in collaboration with the Royal College of Psychiatrists, "The Mind: A User's Guide" has been written by distinguished experts and offers information on the latest research into brain and mind sciences. It gives distinctive descriptions of behaviour, feelings and thoughts relating to a variety of conditions - including addictions, body image and bipolar disorders, depression and OCD - and helps us to clarify and understand symptoms and treatments. This handbook also confronts and debunks some of the most damaging myths and misconceptions surrounding the subject of mental health. Given how common these kinds of problems are throughout our lifespan, "The Mind: A User's Guide" could prove to be the most valuable reference book you own.
Sklep: Libristo.pl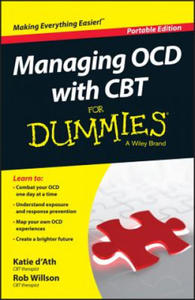 63,90 zł
Książki / Literatura obcojęzyczna
Break the chains of OCD with Cognitive Behavioural Therapy§§Are you suffering from Obsessive Compulsive Disorder (OCD)? You're not alone. Whether you've tried countless treatments or are seeking help for the first time, this expert, accessible guide is your beacon of hope for breaking the chains of this crippling disorder. Managing OCD with CBT For Dummies uses mindfulness-based Cognitive Behavioural Therapy (CBT) to eradicate OCD from your day-to-day life. Through clear and sensitive direction, you'll find out how to identify and correct negative thought patterns, confront your problems with positive solutions and recognise the power of cognitive thinking.§§Once a term only used by psychologists and counselors, CBT is now in common use and has become the preferred treatment method for a variety of psychological issues, including anxiety and depression, self-esteem, eating disorders, addiction, and many others. If you're planning on trying it on its own or in conjunction with other types of therapies, you'll be heartened to know that a staggering 75% of people with OCD are significantly helped by CBT--which is why it remains the treatment of choice for tackling the disorder by the National Institute for Health and Clinical Excellence (NICE).§Demonstrates how CBT encourages new thinking patterns to combat destructive thought tendencies§Explains the causes and symptoms of OCD§Shows you how to use CBT to modify everyday thoughts and behaviours with the aim of positively influencing your emotions§Illustrates the importance of facing your fears and offers positive strategies on exposure therapy§§There's no need to let OCD continue to control your life. This how-to guide helps you break down the negative patterns that have been keeping you hostage--and allows you to build a positive future free of the hold of OCD.
Sklep: Libristo.pl
Sklepy zlokalizowane w miastach: Warszawa, Kraków, Łódź, Wrocław, Poznań, Gdańsk, Szczecin, Bydgoszcz, Lublin, Katowice
Szukaj w sklepach lub całym serwisie
2. Szukaj na wszystkich stronach serwisu
t1=0.029, t2=0, t3=0, t4=0, t=0.029