krainaksiazek the theory and practice of meditation in chinese buddhism 20169876
- znaleziono 5 produktów w 1 sklepie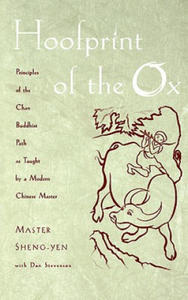 236,80 zł
Książki / Literatura obcojęzyczna
Revered by Buddhists in the United States and China, Master Sheng-yen shares his wisdom and teachings in this first comprehensive English primer of Chan, the Chinese tradition of Buddhism that inspired Japanese Zen. Often mistunderstood as a system of mind games, the Chan path leads to enlightenment through apparent contradiction. while demanding the mental and physical discipline of traditional Buddhist doctrine, it asserts that wisdom (Buddha-nature) is innate and immediate in all living beings, and thus not to be achieved through devotion to the strictures of religious practice. You arrive without departing. Master Sheng-yen provides an unprecedented understanding of Chan, its precepts, and its practice. Beginning with a basic overview of Buddhism and meditation, 'Hoofprint of the Ox' detials the progressive mental exercises traditionally followed by all Buddhists. Known as the Three Disciplines, these procedures develop moral purity, meditiative concentration, and enlightening insight through the 'stilling' of the mind. Master Sheng-yen then expounds Chan Buddhism, recounting its centuries-old history in China and illuminating its fundamental tenets. He contemplates the nature of Buddhahood, specifies the physical and mental prerequisites for beginning Chan practice, and humbly considers what it means to be an enlightened Chan master. Drawing its title from a famous series of pictures that symbolizes the Chan path as the search of an ox-herd for his wayward ox, 'Hoofprint of the Ox' is an inspirational guide to self-discovery through mental transformation. A profound contribution to Western understanding of Chan and Zen, this book is intended for practicing Buddhists as well as anyone interested in learning about the Buddhist path.
Sklep: Libristo.pl 77,59 zł
Książki / Literatura obcojęzyczna
"Tranquil Sitting" is the Taoist Master Yin Shih Tzu's inspirational testament and practical guide to the healing power and spiritual benefits of meditation. The book explores the theory and physiological aspects of meditation and offers practical instruction in traditional meditation techniques. It also documents Yin Shih Tzu's personal experiences with meditation, his own self-healing which he attributes to his Taoist practice, and his initiation into the Tibetan tantric practice of opening the crown of the head. Thus giving the reader an idea of the long-term process of meditation practice and the deep healing that can result from it. Faithfully translated from the Chinese, this is an influential text that belongs on the bookshelves of everyone with an interest in Taoist practice and meditation.
Sklep: Libristo.pl 57,48 zł
Książki / Literatura obcojęzyczna
This treasury of essential Buddhist writings draws from the most popular Indian, Tibetan, Chinese, and Japanese sources. Among the selections are some of the earliest recorded sayings of the Buddha on the practice of freedom, passages from later Indian scriptures on the perfection of wisdom, verses from Tibetan masters on the enlightened mind, and songs in praise of meditation by Zen teachers. The book also includes traditional instruction on how to practice sitting meditation, cultivate calm awareness, and live with compassion. Jack Kornfield, one of the most respected American Buddhist teachers, has compiled these teachings to impart the essence and inspiration of Buddhism to readers of all spiritual traditions.
Sklep: Libristo.pl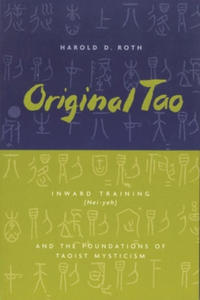 140,10 zł
Original Tao Columbia University Press
Książki / Literatura obcojęzyczna
Revolutionizing received opinion of Taoism's origins in light of historic new discoveries, Harold D. Roth has uncovered China's oldest mystical text -- the original expression of Taoist philosophy -- and presents it here with a complete translation and commentary. Over the past twenty-five years, documents recovered from the tombs of China's ancient elite have sparked a revolution in scholarship about early Chinese thought, in particular the origins of Taoist philosophy and religion. In Original Tao, Harold D. Roth exhumes the seminal text of Taoism -- Inward Training (Nei-yeh) -- not from a tomb but from the pages of the Kuan Tzu, a voluminous text on politics and economics in which this mystical tract had been "buried" for centuries. Inward Training is composed of short poetic verses devoted to the practice of breath meditation, and to the insights about the nature of human beings and the form of the cosmos derived from this practice. In its poetic form and tone, the work closely resembles the Tao-te Ching; moreover, it clearly evokes Taoism's affinities to other mystical traditions, notably aspects of Hinduism and Buddhism. Roth argues that Inward Training is the foundational text of early Taoism and traces the book to the mid-fourth century B.C. (the late Warring States period in China). These verses contain the oldest surviving expressions of a method for mystical "inner cultivation," which Roth identifies as the basis for all early Taoist texts, including the Chuang Tzu and the world-renowned Tao-te Ching. With these historic discoveries, he reveals the possibility of a much deeper continuity between early "philosophical" Taoism and the later Taoist religion than scholars had previously suspected. Original Tao contains an elegant and luminous complete translation of the original text. Roth's comprehensive analysis explains what Inward Training meant to the people who wrote it, how this work came to be "entombed" within the Kuan Tzu, and why the text was largely overlooked after the early Han period.
Sklep: Libristo.pl 275,17 zł
Książki / Literatura obcojęzyczna
Covering all the major-and some of the larger minor-religions of the world, Religions and Nonviolence: The Rise of Effective Advocacy for Peace examines the rich history of how human thinking on nonviolence has developed and what each religion offers to the theory and practice of nonviolence, providing a counterpoint to the perspective that religion has largely inspired violence and intolerance. It also traces the contributions of religious traditions to secular nonviolent practices, recognizes and explains why religion has historically inspired violence, and provides additional resources for investigating the crossroads of religion and advocacy of nonviolence and peace. The author addresses the nonviolence traditions in religions such as Bahai, Buddhism, Christianity, Ethical Atheism, the First Nations of North America, Judaism, Hinduism, Islam, Sikhism, Tenrikyo, and Revitalized Paganism. Ancient religions with important contributions to nonviolence-Zoroastrianism, Taoism, and Jainism-receive attention, as do Mo Tse and other Chinese philosophers as well as Pythagoras and other classical Greek thinkers. Students of religion, history of religion, sociology, or psychology will find this book key to achieving a balanced and therefore more accurate understanding of both religion and history. General readers will gain insights into the commonalities among different religions as well as each major religion's historical and current stances on issues of violence, such as human or animal sacrifice, slavery, war, and the death penalty.
Sklep: Libristo.pl
Sklepy zlokalizowane w miastach: Warszawa, Kraków, Łódź, Wrocław, Poznań, Gdańsk, Szczecin, Bydgoszcz, Lublin, Katowice
Szukaj w sklepach lub całym serwisie
2. Szukaj na wszystkich stronach serwisu
t1=0.245, t2=0, t3=0, t4=0.022, t=0.245