krainaksiazek the united nations and genocide 20131426
- znaleziono 9 produktów w 2 sklepach 87,20 zł
Inne 1
International security needs to be understood in much broader terms in the aftermath of the Cold War. This extensively revised edition retains the valuable descriptions and analyses of the United Nations' achievements and failures, while placing them in the context of the ever-broadening definition of international security and of changing attitudes toward national sovereignty and humanitarian intervention. In order to deal with the internal struggles that are now the prevalent form of conflict, it is necessary to allay the root causes of tensions within societies. Means of enforcement must be applied to prevent gross violations of human rights, including genocide. Sutterlin describes the background of innovations that recent crises have imposed on the UN. He analyses how recent reforms have affected the UN's capacity to deal with the security problems of the 21st century. Peacekeeping, peace-enforcement, peace-building, and the application of sanctions all bring new challenges. In one chapter, Sutterlin focuses on the UN's experience in enforcing disarmament in Iraq. A new chapter details the impact of terrorism and weapons of mass destruction on UN policies and actions. This systematic presentation, using scholarly analysis and a practitioner's inside knowledge, should provide a readable and challenging text for courses on the United Nations.
Sklep: Albertus.pl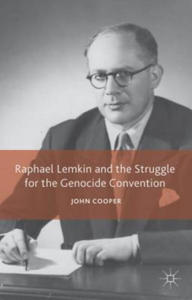 601,64 zł
Książki / Literatura obcojęzyczna
Now published for the first time in paperback, this is the first comprehensive biography of Raphael Lemkin (1900-59), the man who invented the word genocide and campaigned relentlessly for the United Nations Genocide Convention. Utilising Lemkin's own papers as well as other sources, it contextualises his career, showing how his ideas were formed in the midst of ethnic strife in Eastern Europe and as a member of the international law circuit. The book focuses on the campaign for a convention orchestrated by Lemkin, dealing both with its supporters and enemies, particularly the British government. While Lemkin drew attention to the need to preserve diverse cultures, both in his campaigning and his historical writing, the Western powers amended the convention, so that it became an instrument solely for preventing physical genocide. The book also covers Lemkin's historical research on genocide, presenting a number of studies, particularly of colonial genocide.
Sklep: Libristo.pl 601,64 zł
Książki / Literatura obcojęzyczna
This book is the first complete biography of Raphael Lemkin, the father of the United Nations Genocide Convention, based on his papers; and shows how his campaign for an international treaty succeeded. In addition, the book covers Lemkin's inauguration of the historical study of past genocides.
Sklep: Libristo.pl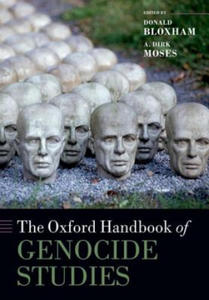 341,13 zł
Książki / Literatura obcojęzyczna
Genocide has scarred human societies since Antiquity. In the modern era, genocide has been a global phenomenon: from massacres in colonial America, Africa, and Australia to the Holocaust of European Jewry and mass death in Maoist China. In recent years, the discipline of 'genocide studies' has developed to offer analysis and comprehension. The Oxford Handbook of Genocide Studies is the first book to subject both genocide and the young discipline it has spawned to systematic, in-depth investigation. Thirty-four renowned experts study genocide through the ages by taking regional, thematic, and disciplinary-specific approaches. Chapters examine secessionist and political genocides in modern Asia. Others treat the violent dynamics of European colonialism in Africa, the complex ethnic geography of the Great Lakes region, and the structural instability of the continent's northern horn. South and North America receive detailed coverage, as do the Ottoman Empire, Nazi-occupied Europe, and post-communist Eastern Europe. Sustained attention is paid to themes like gender, memory, the state, culture, ethnic cleansing, military intervention, the United Nations, and prosecutions.The work is multi-disciplinary, featuring the work of historians, anthropologists, lawyers, political scientists, sociologists, and philosophers. Uniquely combining empirical reconstruction and conceptual analysis, this Handbook presents and analyses regions of genocide and the entire field of 'genocide studies' in one substantial volume.
Sklep: Libristo.pl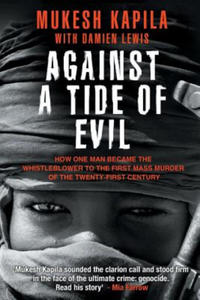 75,03 zł
Książki / Literatura obcojęzyczna
The former head of the United Nations in Sudan reveals for the first time the shocking depths of evil plumbed by those in Khartoum who designed and orchestrated 'the final solution in Darfur' Against A Tide of Evil How One Man Became the Whistleblower to the First Mass Murder of the Twenty-First Century By Dr. Mukesh Kapila When darkness stalked the plains of Africa one man stood alone to face the evil . . . In this no-holds-barred account, the former head of the United Nations in Sudan reveals for the first time the shocking depths of evil plumbed by those who designed and orchestrated 'the final solution' in Darfur. A veteran of humanitarian crisis and ethnic cleansing in Iraq, Rwanda, Srebrenica, Afghanistan and Sierra Leone, Dr Mukesh Kapila arrived in Sudan in March 2003 having made a promise to himself that if he were ever in a position to stop the mass-killers, they would never triumph on his watch. Against a Tide of Evil is a strident and passionate cri de coeur. It is the deeply personal account of one man driven to extreme action by the unwillingness of those in power to stop mass murder. It explores what empowers a man like Mukesh Kapila to stand up and be counted, and to act alone in the face of global indifference and venality. Kapila's story reads like a knife-edge international thriller as he uses all the powers at his disposal to bring to justice those responsible for the first mass murder of the twenty-first century - the Darfur genocide - and is finally forced to risk all and break every rule to do so.
Sklep: Libristo.pl 601,64 zł
Książki / Literatura obcojęzyczna
The fiftieth anniversary of the foundation of the United Nations was commemorated in 1995 with a number of conferences and publications which assessed the history and contemporary role of this paramount international organisation. This book is the result of a meeting of scholars and specialists who wished to further understanding of the challenges faced by the United Nations in its efforts to intervene in post-cold war conflict. In particular the experiences in Bosnia, Somalia and in Rwanda, where UN peacekeepers seemed powerless to act in the face of acts of genocide, gross violations of human rights and the widespread suffering caused by war, makes such an analysis timely and important.
Sklep: Libristo.pl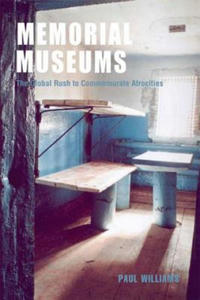 252,83 zł
Książki / Literatura obcojęzyczna
The past 25 years has seen an extraordinary boom in a new kind of cultural complex: the memorial museum. These seek to research, represent, commemorate and teach on the subject of dreadful, violent histories. With World War and Holocaust memorials as precursors, the kinds of events now recognized include genocide in Armenia, Cambodia, Rwanda and the Balkans, state repression in Eastern Europe, apartheid in South Africa, terrorism in the United States, political "disappearances" in Chile and Argentina, massacres in China and Taiwan, and more. This book is the first of its kind to "map" these new institutions and cultural spaces, which, although varying widely in size, style and political situation, are nonetheless united in their desire to promote peace, tolerance and the avoidance of future violence. Moving across nations and contexts, Memorial Museums critically analyzes the tactics of these institutions and gauges their wider public significance.
Sklep: Libristo.pl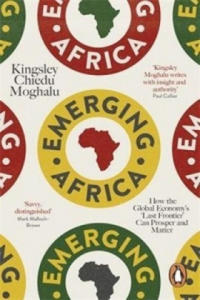 55,60 zł
Książki / Literatura obcojęzyczna
A rare and timely intervention from Kingsley Chiedu Moghalu, Deputy Governor of the Central Bank of Nigeria, on development in Africa. To many, Africa is the new frontier. As the West lies battered by financial crisis, Africa is seen as offering limitless opportunities for wealth creation in the march of globalization. But what is Africa to today's Africans? Are its economies truly on the rise? And what is its likely future? In this pioneering book, leading international strategist Kingsley Moghalu challenges conventional wisdoms about Africa's quest for growth. Drawing on philosophy, economics and strategy, he ranges from capitalism to technological innovation, finance to foreign investment, and from human capital to world trade to offer a new vision of transformation. Ultimately he demonstrates how Africa's progress in the twenty-first century will require nothing short of the reinvention of the African mindset. "Africans seriously analyzing Africa's opportunities are all too rare. Kingsley Moghalu writes with insight and authority". (Paul Collier). "Savvy ...distinguished". (Mark Malloch-Brown)."Unique in the depth of its insight, the ambition of its scope, and the clarity of its argument. Kingsley Moghalu brings a remarkable intellect and his vast experience to this tour de force on Africa's economic transformation. This is a truly weighty contribution to understanding Africa's developmental dilemma and its quest for a more prosperous future". (Ngozi Okonjo-Iweala). "Insightful and analytical ...sheds instructive light on Africa's position in the world. It is a testament to the palpable optimism that encompasses Africa while frankly addressing the myriad challenges that lie ahead for its economic transformation". (Shashi Tharoor). Kingsley Chiedu Moghalu is Deputy Governor of the Central Bank of Nigeria. He was the Founder and CEO of Sogato Strategies S.A., a global strategy and risk management consulting firm in Geneva, Switzerland. He has previously worked for the United Nations for 17 years in strategic planning, legal, development finance and executive management. His previous books include Global Justice and Rwanda's Genocide.
Sklep: Libristo.pl 54,50 zł
Inne 1
Rules for the World provides an innovative perspective on the behavior of international organizations and their effects on global politics. Arguing against the conventional wisdom that these bodies are little more than instruments of states, Michael Barnett and Martha Finnemore begin with the fundamental insight that international organizations are bureaucracies that have authority to make rules and so exercise power. At the same time, Barnett and Finnemore maintain, such bureaucracies can become obsessed with their own rules, producing unresponsive, inefficient, and self-defeating outcomes. Authority thus gives international organizations autonomy and allows them to evolve and expand in ways unintended by their creators. Barnett and Finnemore reinterpret three areas of activity that have prompted extensive policy debate: the use of expertise by the IMF to expand its intrusion into national economies; the redefinition of the category "refugees" and decision to repatriate by the United Nations High Commissioner for Refugees; and the UN Secretariat
Sklep: Albertus.pl
Sklepy zlokalizowane w miastach: Warszawa, Kraków, Łódź, Wrocław, Poznań, Gdańsk, Szczecin, Bydgoszcz, Lublin, Katowice
Szukaj w sklepach lub całym serwisie
2. Szukaj na wszystkich stronach serwisu
t1=0.024, t2=0, t3=0, t4=0, t=0.024