krainaksiazek understanding prophecy prophecy the prophetic and prophets 20167586
- znaleziono 7 produktów w 2 sklepach 124,29 zł 54,59 zł 183,41 zł
Książki / Literatura obcojęzyczna
Secular and spiritual prophets of doom abound in the information-rich twenty-first century - as they have for millennia. But there has yet to be worldwide floods, meteor impact, global computer failure, obvious alien contact, or direct intervention from God to end the world as we know it. Considering the frequency with which prophecy apparently fails, why do prophecies continue to be made, and what social functions do they serve? This volume gives a concise, but comprehensive, overview of the rich diversity of prophecy, its role in major world religions as well as in new religions and alternative spiritualties, its social dynamics and its impact on individuals' lives. Academic analyses are complimented with contextualized primary source testimonies of those who live and have lived within a prophetic framework. The book argues that the key to understanding the more dramatic, apocalyptic and millenarian aspects of prophecy is in appreciating prophecy's more mundane manifestations and its role in providing meaning and motivation in everyday life.
Sklep: Libristo.pl 78,63 zł
Książki / Literatura obcojęzyczna
An authoritative guide to clearly understanding the place and meaning of prophecy in the Bible For thoughtful readers who are curious about biblical prophecy, this book will help them learn the place of prophecy in the message of the Bible and clear up the confusion that often surrounds reading these texts. Studying biblical prophecy is about much more than predicting end times events. Rather, a proper approach to prophecy acknowledges that the threads of prophecy crisscross throughout Genesis to Revelation, forming the fabric of canonical Scripture. This is why having a good grasp of the prophetic genre is essential for understanding the message of the entire Bible. Authors Alan Bandy and Benjamin Merkle not only offer thoughtful and careful explanations of individual biblical prophecies, but also give the reader the big picture of how all prophecy relates to and should be interpreted in light of Jesus Christ. This book examines the nature, themes, purposes, and theology of biblical prophecy and provides a framework for how to interpret any passage in the context of the Bible as a whole.
Sklep: Libristo.pl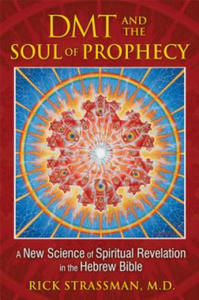 83,76 zł
Książki / Literatura obcojęzyczna
After completing his groundbreaking research chronicled in DMT: The Spirit Molecule, Rick Strassman was left with one fundamental question: What does it mean that DMT, a simple chemical naturally found in all of our bodies, instantaneously opens us to an interactive spirit world that feels more real than our own world? When his decades of clinical psychiatric research and Buddhist practice were unable to provide answers to this question, Strassman began searching for a more resonant spiritual model. He found that the visions of the Hebrew prophets--such as Ezekiel, Moses, Adam, and Daniel--were strikingly similar to those of the volunteers in his DMT studies. Carefully examining the concept of prophecy in the Hebrew Bible, he characterizes a "prophetic state of consciousness" and explains how it may share biological and metaphysical mechanisms with the DMT effect. Examining medieval commentaries on the Hebrew Bible, Strassman reveals how Jewish metaphysics provides a top-down model for both the prophetic and DMT states, a model he calls "theoneurology." Theoneurology bridges biology and spirituality by proposing that the Divine communicates with us using the brain, and DMT--whether naturally produced or ingested--is a critical factor in such visionary experience. This model provides a counterpoint to "neurotheology," which proposes that altered brain function simply generates the impression of a Divine-human encounter. Theoneurology addresses issues critical to the full flowering of the psychedelic drug experience. Perhaps even more important, it points the way to a renewal of classical prophetic consciousness, the soul of Hebrew Bible prophecy, as well as unexpected directions for the evolution of contemporary spiritual practice.
Sklep: Libristo.pl 340,84 zł
Książki / Literatura obcojęzyczna
There were fifteen important prophets in Israel, whose lives covered nearly four centuries, beginning about 750 B.C.E. Known as the literary prophets because they wrote down their prophecies, they were chosen by God at a time of social and political crisis in the community. Their task was to warn, criticize the morals and ethics of their day, and counsel and comfort the Israelite people. This book presents an overview of the literary prophets and the nature of their prophecies. They include Amos, Hosea, Isaiah, Micah, Jeremiah, Ezekiel, Haggai, Zechariah, Malachi, Joel, Obadiah, Nachum, Habbakuk, Zephaniah, and Jonah. In addition to the so-called literary prophets, there were other people in the Bible referred to as prophets as well. Gideon, in the Book of Judges, was referred to as a prophet, Deborah is called a prophetess in the Book of Judges. Moses was twice called a prophet in the Bible and even Abraham is once referred to as a prophet in the Book of Genesis. Messengers of God: A Jewish Prophets Who's Who explores these prophets as well. Topics in this volume include: what is a prophet; varieties of prophets; commissioning of the prophet; preliterary prophets; false prophets; Moses; Deborah; prophetic signs and visions; values of the prophets; prophecy in the Talmud, philosophers and prophets, and prophets in the liturgy and rabbinic sources. Messengers of God: A Jewish Prophets Who's Who will enable the reader to have a better understanding of the nature of the prophets and their works.
Sklep: Libristo.pl 351,27 zł
Książki / Literatura obcojęzyczna
John Calvin as Sixteenth-Century Prophet examines Calvin's sense of vocation. Jon Balserak argues that Calvin believed himself to be a prophet "placed over nations and kingdoms to tear down and destroy, to build and to plant" (Jer 1: 10). With this authority, Calvin pursued an expansionist agenda which blended the religious, political, and social towards making France, upon which he turned his attentions especially after 1555, Protestant. Beginning with an analysis of the two trajectories of thought existing within Christian discourse on prophecy from the patristic to the Early Modern era, this study goes on to locate Calvin within a non-mystical, non-apocalyptic prophetic tradition that focused on scriptural interpretation. Balserak demonstrates how Calvin developed a plan to win France for the gospel; a plan which included the possibility of armed conflict. To pursue his designs, Calvin trained "prophets" who were sent into France to labor intensely to undermine the king's authority on the grounds that he supported idolatry, convince the French Reformed congregations that they were already in a war with him, and prepare them for a possible military uprising. An additional part of this plan saw Calvin search for a French noble willing to support the evangelical religion, even if it meant initiating a coup. Calvin began ruminating over these ideas in the 1550s or possibly earlier. In this analysis, the war which commenced in 1562 represents the culmination of Calvin's years of preparation.
Sklep: Libristo.pl
Sklepy zlokalizowane w miastach: Warszawa, Kraków, Łódź, Wrocław, Poznań, Gdańsk, Szczecin, Bydgoszcz, Lublin, Katowice
Szukaj w sklepach lub całym serwisie
2. Szukaj na wszystkich stronach serwisu
t1=0.03, t2=0, t3=0, t4=0, t=0.03