krainaksiazek understanding the epidemic the not so elusive solutions 20128868
- znaleziono 2 produkty w 1 sklepie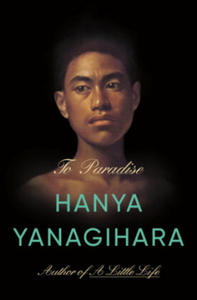 75,83 zł
To Paradise Random House Publishing
Książki / Literatura obcojęzyczna
From the author of the classic A Little Life a bold, brilliant novel spanning three centuries and three different versions of the American experiment, about lovers, family, loss and the elusive promise of utopia.In an alternate version of 1893 America, New York is part of the Free States, where people may live and love whomever they please (or so it seems). The fragile young scion of a distinguished family resists betrothal to a worthy suitor, drawn to a charming music teacher of no means. In a 1993 Manhattan besieged by the AIDS epidemic, a young Hawaiian man lives with his much older, wealthier partner, hiding his troubled childhood and the fate of his father. And in 2093, in a world riven by plagues and governed by totalitarian rule, a powerful scientist s damaged granddaughter tries to navigate life without him and solve the mystery of her husband s disappearances. These three sections are joined in an enthralling and ingenious symphony, as recurring notes and themes deepen and enrich one another: A townhouse in Washington Square Park in Greenwich Village; illness, and treatments that come at a terrible cost; wealth and squalor; the weak and the strong; race; the definition of family, and of nationhood; the dangerous righteousness of the powerful, and of revolutionaries; the longing to find a place in an earthly paradise, and the gradual realization that it can t exist. What unites not just the characters, but these Americas, are their reckonings with the qualities that make us human: Fear. Love. Shame. Need. Loneliness. To Paradise is a fin de siecle novel of marvelous literary effect, but above all it is a work of emotional genius.  The great power of this remarkable novel is driven by Yanagihara s understanding of the aching desire to protect those we love partners, lovers, children, friends, family and even our fellow citizens and the pain that ensues when we cannot.
Sklep: Libristo.pl 72,79 zł
Quick Fix Farrar, Straus and Giroux
Książki / Literatura obcojęzyczna
An investigative journalist exposes the many holes in today's bestselling behavioral science, and argues that the trendy, TED-Talk-friendly psychological interventions that are so in vogue at the moment will never be enough to truly address social injustice and inequality.With their viral TED talks, bestselling books, and counter-intuitive remedies for complicated problems, psychologists and other social scientists have become the reigning thinkers of our time. Grit and "power posing" promised to help overcome entrenched inequalities in schools and the workplace; the Army spent hundreds of millions of dollars on a positive psychology intervention geared at preventing PTSD in its combat soldiers; and the implicit association test swept the nation on the strength of the claim that it can reveal unconscious biases and reduce racism in police departments and human resources departments. But what if much of the science underlying these blockbuster ideas is dubious or fallacious? What if Americans' longstanding preference for simplistic self-help platitudes is exerting a pernicious influence on the way behavioral science is communicated and even funded, leading respected academics and the media astray? In The Quick Fix, Jesse Singal examines the most influential ideas of recent decades and the shaky science that supports them. He begins with the California legislator who introduced self-esteem into classrooms around the country in the 1980s and the Princeton political scientist who warned of an epidemic of youthful "superpredators" in the 1990s. In both cases, a much-touted idea had little basis in reality, but had a massive impact. Turning toward the explosive popularity of 21st-century social psychology, Singal examines the misleading appeal of entertaining lab results and critiques the idea that subtle unconscious cues shape our behavior. As he shows, today's popular behavioral science emphasizes repairing, improving, and optimizing individuals rather than truly understanding and confronting the larger structural forces that drive social ills. Like Anand Giridharadas's Winners Take All, The Quick Fix is a fresh and powerful indictment of the thought leaders and influencers who cut corners as they sell the public half-baked solutions to problems that deserve more serious treatment.
Sklep: Libristo.pl
Sklepy zlokalizowane w miastach: Warszawa, Kraków, Łódź, Wrocław, Poznań, Gdańsk, Szczecin, Bydgoszcz, Lublin, Katowice
Szukaj w sklepach lub całym serwisie
2. Szukaj na wszystkich stronach serwisu
t1=0.017, t2=0, t3=0, t4=0, t=0.017