krainaksiazek understanding the social world research methods for the 21st century 20169224
- znaleziono 10 produkty w 3 sklepach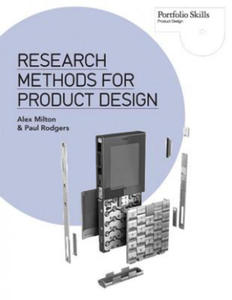 131,51 zł
Książki / Literatura obcojęzyczna
This book provides the reader with a comprehensive, relevant, and visually rich insight into the world of research methods specifically aimed at product designers. It includes practical case studies and tutorials that will inform, inspire and help you to conduct product design research better. Product designers need a comprehensive understanding of research methods as their day-to-day work routinely involves them observing people, asking questions, searching for information, making and testing ideas, and ultimately generating 'solutions' to 'problems'. Manifest in the design process is the act of research. Huge technological advances in information, computing and manufacturing processes also offer enormous opportunities to product designers such as the development of 'intelligent' products and services, but at the same time raise important research questions that need to be dealt with. Product designers are, in many ways, best placed to address these challenges because of the manner in which they apply their design thinking to problems. This book demonstrates in a clear, highly visual and structured fashion how research methods can support product designers and help them address the very real issues the world currently faces in the 21st century.
Sklep: Libristo.pl 292,63 zł
Książki / Literatura obcojęzyczna
Critical qualitative research informs social education through a lens that ensures the investigation of issues in education tied to power and privilege, ultimately leading to advocacy and activism. The concept of critical is increasingly challenged in this age of neoliberal reform; nevertheless, critical implies questioning, investigating and challenging in terms of equity and social justice, leading to critical consciousness (Freire, 1970). While we resist defining social education, as hopefully these ideas / concepts are fluid, the idea stems from a continual analysis and synthesis of critical theory/ critical pedagogy, media and cultural studies, social reconstruction / social justice, and social studies education framed by culturally responsive pedagogy. A social education take on critical qualitative research thus suggests multiple truths and perspectives and focuses on questions rather than answers. While many have written on qualitative educational research and some have attempted to integrate critical pedagogy and qualitative research, few have explored the specific idea of social education and critical qualitative research. A major issue is that social education claims that there are no set procedures, scripted approaches, or narrow definitions as to the possibilities of research endeavors. Social education researchers make the process and investigation their own and adapt questions, procedures, methods, and strategies throughout the experience. This reflects an ever changing criticality in the bricolage of the research (Steinberg, 2011). Critical qualitative research and social education are vital for the world of the 21st century. The onslaught of neoliberalism, corporatization, standardization, testing, and the continuing attack on public schools and educators necessitate critical approaches to teaching and learning along with critical qualitative research in social education. Ongoing issues with equity and social justice tied to race, ethnicity, class, orientation, age, and ability linking to schooling, education, teaching and learning must be addressed. The struggle between unbridled capitalism and democracy warrant these investigations in the 21st century, hopefully leading to advocacy and activism.
Sklep: Libristo.pl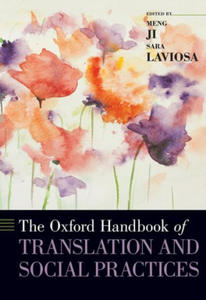 875,60 zł
Książki / Literatura obcojęzyczna
The discipline of translation studies has gained increasing importance at the beginning of the 21st century as a result of rapid globalization and the development of computer-based translation methods. Today, changing political, economic, health, and environmental realities across the world are generating previously unknown inter-language communication challenges that can only be understood through a socially-oriented and data-driven approach. The Oxford Handbook of Translation and Social Practices draws on a wide array of case studies from all over the world to demonstrate the value of different forms of translation - written, oral, audiovisual - as social practices that are essential to achieve sustainability, accessibility, inclusion, multiculturalism, and multilingualism. Edited by Meng Ji and Sara Laviosa, this timely collection illustrates the manifold interactions between translation studies and the social and natural sciences, enabling for the first time the exchange of research resources and methods between translation and other domains' experts. Twenty-nine chapters by international scholars and professional translators apply translation studies methods to a wide range of fields, including healthcare, environmental policy, geological and cultural heritage conservation, education, tourism, comparative politics, conflict mediation, international law, commercial law, immigration, and indigenous rights. The articles engage with numerous languages, from European and Latin American contexts to Asian and Australian languages, giving unprecedented weight to the translation of indigenous languages. The Handbook highlights how translation studies generate innovative solutions to long-standing and emerging social issues, thus reformulating the scope of this discipline as a socially-oriented, empirical, and ethical research field in the 21st century.
Sklep: Libristo.pl 77,14 zł
Penicillin Oxford University Press
Medycyna > English Division
Penicillin is the drug of the twentieth century. It was the first of the antibiotics that, for decades after the Second World War, underpinned a popular belief that infectious disease had at last met its match. With the emergence of 'superbugs' in recent decades these hopes have faded. Across the world, we are warned that widespread antibiotic abuse will inexorably erode the drugs' efficacy and our own earlier confidence in them. Penicillin pulls these different but conjoined stories into a compelling narrative spanning the second half of the twentieth century. Using a wealth of new research, Robert Bud sets the discovery and use of penicillin in the broader context of social and cultural change across the world. He examines the drug's critical contributions to medicine and agriculture, and he investigates the global spread of resistant bacteria as antibiotic use continues to rise. Clearly written and highly topical, his book will be of great interest to historians, scientists, and anyone wishing to understand penicillin's seismic impact on modern life. [A] Terrific book. History of Philosophy and Life Sciences ...very impressive. The Journal of BJHS ...well written and based on outstanding research. Journal of the Historical Association ...an entensively researched and gripping saga...an enjoyable read...the story unfolds like a political thriller; the plot just as thrilling as the best fiction. Dr Tina Matthews, The Bulletin of The Royal College of Pathologists Bud has an engaging and flowing style that allows him to tell the story in a thorough yet gripping way. This is a scholarly but very readable book; Bud's long-standing interest in the history of penicillin clearly shows in the depth and thoroughness of his analysis. Stuart Anderson, Notes and Records of the Royal Society, 62, 335-336 A thorough and approachable review...a fascinating story. His prose is...precise and eminently authoritative. His data is superbly referenced. John Dwyer, Times Literary Supplement ...a fascinating overview of the development and marketing of penicillin. Allen F Shaughnessy, British Medical Journal ...a compelling perspective on the achievements of 20th-century medicine, and how they have given rise to new challenges for the 21st. Jon Turney, THES [An] insightful and thorough history. Financial Times This is a serious and thorough text from OUP, with a number of important messages for doctors and patients alike. Dr Jeremy Sager, Univadis Review ...a story full of human interest that general readers will enjoy. Hugh Pennington, Nature A highly detailed account of how we arrived at what may be the threshold of a post-antibiotic age, containing a wealth of medical and social history. Jo Whelan, New Scientist This extremely well-written and exhaustively researched book is invaluable in understanding the story of penicillin I. Richman, Choice Reviews Online Bud's volume offers much food for thought. The Lancet ...a well-done, throughly researched documentary. Christopher Lawrence ISIS ...of interest to historians, scientists and anyone wishing to understand penicillin's impact on modern life. CABI
Sklep: Ksiazki-medyczne.eu 408,27 zł
Książki / Literatura obcojęzyczna
'Education policy is now a global matter and all the more complex for that. Mark Olssen, John Codd and Ann-Marie O'Neill do us an invaluable service in producing a carefully theorised guide to current issues and key concerns - this is an important, erudite and very practical book' - Stephen J Ball, Education Policy Research Unit, University of London. 'Given the global reach of neoliberal policies, we need cogent books that enable us to better understand the major effects such tendencies have. "Education Policy" is such a book. It is insightful and well written - and should be read by all of us who care deeply about what is happening in education in international contexts' - Michael W Apple, Author of "Educating the 'Right' Way" and John Bascom Professor of Education University of Wisconsin, Madison. 'I really am taken with the book, the range and depth of analysis are truly impressive. This book is a magnum opus and everyone in the area should read it' - Hugh Lauder, University of Bath. 'In their insightful and comprehensive book on education policy Mark Olssen, John Codd and Anne-Marie O'Neill wrestle with the big questions of citizenship and democracy in an age of globalization. They argue that education policy in the 21st century is the key to security, sustainability and survival. The book, anchored in the poststructuralist perspective of Michel Foucault, traverses the whole territory of education policy not only methods and approaches of policy analysis and the dominant political perspectives that influence policy - classical liberalism, social democracy and neo-liberalism - but also those policy areas that require the closest scrutiny: markets, trust, professionalism, choice, diversity, and finally, community, citizenship and democracy. This is the new policy bible for educationalists - it is at once systematic, provocative and instructive' - Michael A Peters, Research Professor, University of Glasgow. 'It is rare indeed for books with such ambitious scope as this one to appear within educational scholarship...This is an important book for any graduate student who is undertaking work on any aspect of education policy' - "Education Review". This book provides an international perspective on education policy, and of the role and function of education in the global economy. The authors present a Foucauldian perspective on the politics of liberal education, within a theoretical framework necessary for the critical analysis of education policy. The authors set out the analyses necessary for understanding the restructuring in education and social policy that has occurred in many countries affected by the resurgence of neo-liberal political theory. They examine education policy in relation to globalization, citizenship and democracy. The authors argue that globalization is an extension of neoliberalism and is destructive of the nation state, community and democracy. They show the importance of education in building strong democratic nation states and global communities based on cultural identity and inter-cultural awareness. This book is essential reading for students of education policy studies and social policy analysis.
Sklep: Libristo.pl 7699,18 zł
Książki / Literatura obcojęzyczna
Renewed debate, discussion and inquiry into food and agricultural topics have become a hallmark of the turn toward more sustainable policies and lifestyles in the 21st century. Attention has turned to the goals and ethical rationale behind production, distribution and consumption of food, as well as to non-food uses of cultivated biomass and the products of animal husbandry. These wide-ranging debates encompass questions in human nutrition, animal rights and the environmental impacts of aquaculture and agricultural production. Each of these and related topics is both technically complex and involves an often implicit ethical dimension. §This Encyclopedia offers a definitive source on issues pertaining to the full range of topics in the important new area of food and agricultural ethics. It includes summaries of historical approaches, current scholarship, social movements, and new trends from the standpoint of the ethical notions that have shaped them. It combines detailed analyses of specific topics such as the role of antibiotics in animal production, the Green Revolution, and alternative methods of organic farming, with longer entries that summarize general areas of scholarship and explore ways that they are related. Other topics include methods for integrating ethics into scientific and technical research programs or development projects, the role of intensive agriculture and biotechnology in addressing persistent world hunger and the role of crops, forests and engineered organisms in making a transition to renewable, carbon-neutral sources of energy. The Encyclopedia of Food and Agricultural Ethics will prove an indispensible reference point for future research and writing on topics in agriculture and food ethics for decades to come.
Sklep: Libristo.pl 15,80 zł
Książki & Multimedia > Książki
Opis - Druga część ulubionej przez dzieci i cenionej przez nauczycieli książki o rodzinie Wafelków ("Dobre maniery, czyli savoir-vivre dla dzieci") Joanny Krzyżanek, autorki znanych serii o Cecylce Knedelek, Kurze Adeli i wielu innych niezwykle sympatycznych książek dla dzieci. "Dziecięce sprawy, czyli jak sobie radzić na co dzień i od święta" to książka, która uczy i bawi. Poprzez zabawne opowiadanka i humorystyczne kolorowe ilustracje dziecko dowiaduje się i przyswaja mnóstwo wiedzy, wartości i przydatnych w życiu umiejętności. - Ile powinien ważyć plecak ucznia i przedszkolaka? - Co powinno znaleźć się w śniadaniówce każdego ucznia? - Dlaczego nie należy się garbić? - Dlaczego powinniśmy jeść kiełki i nasiona? - Co zrobić, by poprawić koncentrację? - Czy robienie ściąg jest pożyteczne? - Co to jest współpraca? - Czy czyściochy mogą być brudne? - Co to są rozpraszacze? - Czy pomaganie jest przyjemne? Nazwa - Dziecięce sprawy czyli jak sobie radzić na co dzień i od święta Autor - Joanna Krzyżanek Oprawa - Twarda Wydawca - Publicat Kod ISBN - 9788327101587 Kod EAN - 9788327101587 Rok wydania - 2015 Język - polski Tłumacz - 26055,brak; Seria wydawnicza - Centrum edukacji dziecięcej Format - 21.5x30.0cm Ilość stron - 48 Podatek VAT - 5% Premiera - 2016-03-30
Sklep: InBook.pl 2762,05 zł
Książki / Literatura obcojęzyczna
In the 21st century the importance of earth sciences in the pursuit of knowledge and understanding of the planet on which we live, has increased tremendously. Above all, they address the challenge of enriching human lives with the bounties of nature, while preserving the planet for future generations. The chief goals of Solid Earth Geophysics are to define and quantify the internal structure and processes of the Earth in terms of physical principles, and to provide an essential framework that allied disciplines can employ for more focused investigations.The earliest version of The Encyclopedia of Solid Earth Geophysics was released by Van Nostrand Reinhold publishing company in 1989. More than two decades later, a completely revised and updated version, edited by Prof. Harsh K. Gupta, was published in 2011. Including over 200 articles authored by specialists from all over the world, it was very well received.Reflecting the rapid advances in Solid Earth Geophysics over the past decade and the global need for an authentic update, this new edition of the Encyclopedia presents over 250 articles covering established and new concepts in Geophysics across various sub-disciplines such as Gravity, Geodesy, Geomagnetism, Seismology, Seismics, Deep Earth Processes, Plate Tectonics, Thermal Domains, Computational Methods, etc. in a systematic and consistent format. Offering an authoritative and current up-to-date reference source with extraordinary scope and gathering expert contributions by more than 300 authors around the globe, the new edition will serve as a valuable and cherished source of information for current and future generations of professionals.Review from the first edition:"The Encyclopedia of Solid Earth Geophysics ... nicely brings together numerous geophysical topics and presents this sometimes dry, mathematical and abstract field in a language comprehensible to researchers, teachers, students, and professional geophysicists. ... the new encyclopedia should be of great interest to petroleum explorers, researchers and educators as well. ... A list of references at the end of each article directs the interested reader for further research." (Rasoul Sorkhabi, GEO ExPro, September, 2013)
Sklep: Libristo.pl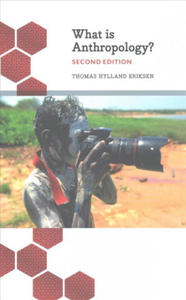 108,97 zł
Książki / Literatura obcojęzyczna
Leading anthropologist Thomas Hylland Eriksen shows how anthropology is a revolutionary way of thinking about the human world. Perfect for students, but also for those who have never encountered anthropology before, this book explores the key issues in an exciting and innovative way. Lucid and accessible, What is Anthropology? draws examples from current affairs as well as previous anthropological studies. He looks at the history of anthropology, its unique research methods and some of its central concepts, such as society, culture and translation. This second edition contains a new introduction, as well as updates throughout. New content includes discussions about Brexit, the rise of the populist Right in Europe, the anthropology of climate change and social media. What is Anthropology? shows in persuasive ways why anthropology is a fundamental intellectual discipline, perhaps more so in the 21st century than ever before.
Sklep: Libristo.pl 3170,89 zł
Książki / Literatura obcojęzyczna
Provides a comprehensive gateway to Herodotus' Histories, the story they tell, and the world in which they were writtenThe first work of its kind, this book offers students and faculty of all levels an easy-to-use, up-to-date reference tool on Herodotus of Halicarnassus (the "Father of History") and provides Herodotean scholars with a collection of important strands of recent work. Topics include the debt of Greek historical writing to epic poetry (and other genres); narratological analysis of the text; Herodotus' position vis-
Sklep: Libristo.pl
Sklepy zlokalizowane w miastach: Warszawa, Kraków, Łódź, Wrocław, Poznań, Gdańsk, Szczecin, Bydgoszcz, Lublin, Katowice
Szukaj w sklepach lub całym serwisie
2. Szukaj na wszystkich stronach serwisu
t1=0.056, t2=0, t3=0, t4=0.011, t=0.057