krainaksiazek very little cinderella 20128534
- znaleziono 13 produktów w 3 sklepach 90,77 zł
Książki / Literatura obcojęzyczna
In March 2013, a new Rodgers and Hammerstein musical opened on Broadway - new to Broadway, but based on a TV musical first written nearly 60 years before, and beloved by audiences all over the world. It was Rodgers + Hammerstein's Cinderella, which very quickly became the belle of the ball of the Broadway season, winning cheers for its fresh take on a timeless classic. Douglas Carter Beane created a new, Tony-nominated book that was hailed for complementing the inspirational themes of Rodgers and Hammerstein with a 21st-century sensibility, giving the musical new characters, surprising plot twists, and revelatory moments that harkened back to the Charles Perrault version of the fairy tale. The score was cheered as well: the familiar songs from the television versions- In My Own Little Corner, Impossible, A Lovely Night, Do I Love You Because You're Beautiful, and so on-along with undiscovered gems from the "trunk." Rodgers + Hammerstein's Cinderella was hailed by the Associated Press as a charming, witty and relevant take on the classic story and cheered by New York magazine as a wised-up, wit-spackled CINDERELLA ...As solidly entertaining as they come!
Sklep: Libristo.pl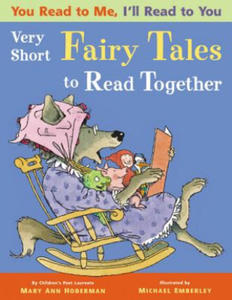 35,40 zł
Książki / Literatura obcojęzyczna
This book uses traditional reading teaching techniques (alliteration, rhyme, repetition, short sentences) to invite young children to read along with an adult. Eight short fairy tales fit on one spread and feature the characters and stories that children love best. With clear, color-coded typography and amusing illustrations, this collection is sure to entertain while encouraging reading skills and interaction with others. The fractured fairy tales include: The Three Little Bears, The Princess and the Pea, Billy Goat's Gruff, Cinderella, and more!
Sklep: Libristo.pl 24,99 zł
Muzyka>Pop
1. Diana 2. I Love You Baby 3. Tell Me That You Love Me 4. You Are My Destiny 5. Crazy Love 6. Let The Bells Keep Ringing 7. Midnight 8. Just Young 9. Teen Commandments Of Love 10. (All Of A Sudden) My Heart Sings 11. I Miss You So 12. Lonely Boy 13. Put Your Head On My Shoulder 14. It's Time To Cry 15. Puppy Love 16. Adam And Eve 17. My Home Town 18. Something Happened 19. Hello Young Lovers 20. I Love You In The Same Old Way 21. Summer's Gone 22. The Story Of My Love 23. Don't Say You're Sorry 24. Tonight My Love Tonight 25. Kissin' On The Phone 101. Love Me Warm And Tender 102. A Steel Guitar And A Glass Of Wine 103. Dance On Little Girl 104. Cinderella 105. Loveland 106. The Fools Hall Of Fame 107. I'd Never Find Another You 108. Don't Ever Leave Me 109. I'm Coming Home 110. Every Night (Without You) 111. Cry 112. Don't Gamble With Love 113. Happy Tears 114. Your Love 115. That's Love 116. When I Stop Loving You 117. Send For Me 118. Love Letters In The Sand 119. I Remember 120. Your Cheatin' Heart 121. I Love Paris 122. I'm In The Mood For Love 123. Love Is A Many Splendored Thing 124. I Can't Give You Anything But Love 125. Autumn Leaves
Sklep: Gigant.pl 81,48 zł
Książki / Literatura obcojęzyczna
This dual language book is the way to introduce your kids to the classics. The Brothers Grimm's fairytales are magical; but how do you get kids excited about the stories when most translations were written over 100 years ago in a dated English? This is a collection of the very best known works of Brothers Grimm in modern English! All the classic tales are here (including: Cinderella, Snow White The Frog Prince, Hansel and Gretel, Rapunzel, Rumpelstitskin, The Fisherman and His Wife, Little Red Riding Hood, and Tom Thumb) KidLit-o is a new publishing house just for kids! From reimagined classics to history books, there's something for everyone here!
Sklep: Libristo.pl 10,89 zł
Książki & Multimedia > Książki
Opis - Doskonałe do malarstwa olejnego i akrylowego, wykonane z bawełny o gramaturze 330g powleczonej gruntem uniwersalnym, lekkie ramy wykonane z drewna paulowni, zszywki umieszczone z tyłu ramy, komplet klinów rozporowych. Nazwa - Podobrazie malarskie 24x30 ASTRA Kod EAN - 5900263270019 Wydawca - ASTRA POLSKA Podatek VAT - 23%
Sklep: InBook.pl 52,34 zł
Książki & Multimedia > Muzyka
Lista utworów - Płyta 1 1. Prologue: Into the Woods 2. Cinderella at the Grave 3. Hello, Little Girl 4. I Know Things Now 5. A Very Nice Prince 6. Giants in the Sky 7. Agony 8. It Takes Two 9. Stay With Me 10. On the Steps of the Palace 11. Careful My Toe 12. Ever After 13. Witch's Lament 14. Any Moment 15. Moments in the Woods 16. Your Fault 17. Last Midnight 18. No One Is Alone 19. Finale/Children Will Listen (Pt. 1) 20. Finale/Children Will Listen (Pt. 2) Nazwa - INTO THE WOODS (TAJEMNICE LASU) Autor - Soundtrack Kod EAN - 0050087320157 Rok wydania - 2015 Nośnik - Płyta CD Ilość elementów - 1 Podatek VAT - 23% Premiera - 2015-03-06
Sklep: InBook.pl 41,82 zł
Książki / Literatura obcojęzyczna
Helen, the Countess Godwin, knows there is nothing more unbearably tedious than a virtuous woman. After all, she's been one for ten long years while her scoundrel of a husband lives with strumpets and causes scandal after scandal. So she decides it's time for a change: she styles her hair in the newest, most daring mode, puts on a shockingly transparent gown and goes to a ball like Cinderella, hoping to find a Prince Charming to sweep her off her feet ...and into his bed. But instead of a prince, she finds only her own volatile, infuriatingly handsome husband, Rees, the Earl Godwin. They'd eloped to Gretna Green in a fiery passion, but passions can sometimes burn too hot to last. However, Rees now makes her a brazen offer, and Helene decides to become his wife again ...but not in name only. No, this time she decides to be very, very wicked indeed.
Sklep: Libristo.pl 84,63 zł
Książki / Literatura obcojęzyczna
"There are only so many 'bads' in one day," Green would say to herself in a very positive way after crashing into a tree. "And one has already happened. So the rest of the day will be perfect." Green has all the reason in the world not to be positive. She is a homeless fairy, living in a Fairy Shelter. She has looked for a job, even gone to the Fairy Job Fair, but all the fairy jobs would be had by other fairies. She interviewed to be Cinderella's fairy, but a beautiful little sprite would have that job. She tried for the Tinkerbell position and many more, but wasn't even chosen as a Tooth Fairy. She was becoming green with envy, a characteristic she did not like at all. She wanted what all of us want, a home of her own and the ability to take care of herself. Being jobless hurts. Though because she was homeless, she had learned to recycle, reclaim, and reuse. That was who she had become and she was very aware of what was happening to the Earth. Before she had a chance to leave the fair, The Boss of All Fairies finds her and offers her a job that suits her perfectly. She would be the Environmental Fairy and change the world through the minds of the children. And so it was. Green would set out on her first of many tasks, the world water issue. That's what she would take on first. The Boss of All Fairies hands her a package of Fairy Sticky Note Pads. Most fairies use magic wands, but hers would be in the shape of sticky notes. On them, she would write words of conscience and stick them on the foreheads of children as they sleep. In the morning those words would become part of their new way of thinking. They would be inspired to compromise, but not necessarily do without. If all of us learned to compromise, the world would be a better place for everyone. She asks The Boss of all Fairies, "Wouldn't everyone want the Earth to be a better place for people and animals?" She would fight for the world, our home. Although this is her first book for children, Ms. Filgas has been shaping the minds of young children for 38 years. As a recently retired teacher, she has influenced more than a thousand children throughout her teaching career. She looks forward to continuing to touch the hearts and minds of today's children through her work with the Environmental Fairy, Green. Carla Filgas lives in Healdsburg, California with her husband Dennis Martin, 2 dogs, Bear, a Golden Retriever, and Chloe, a Basset Hound, 40 koi fish, 15 chickens, and an extensive garden. In her spare time, she crafts reusable bags and purses from chicken, cat, and dog feed sacks and canvasses second hand or antique stores seeking other recyclables. Her own children, now adults, were an influence on her writing. Stay tuned for further adventures of Green, the Environmental Fairy. Through her writing, Carla wishes to shape the future of our world through the minds of our young people. Once a child's life has been influenced to recycle, reclaim and reuse, they in turn will become an influence for others to do the same. Hopefully children will develop some insights as to the Green Fairy's plight of poverty and her care for the environment. This book will give parents the ability to dialogue with their children about these issues in a friendly, less stressful way through the eyes of a young fairy and her efforts to survive in the world as it is today, helping Green fight for a better world.
Sklep: Libristo.pl 76,14 zł
Książki / Literatura obcojęzyczna
Excerpt from Portuguese Folk-Tales West 0' the Moon. In nos. 27 and 28 the Beast is not the husband but the wife, there being, as is usual, a feminine as well as a masculine form of the story. In the one case, a young man, in the most improbable manner, without the slightest compulsion, marries a Spider; in the other, a youth weds something which felt very cold and clammy, and which turns out to be a little tick. In both of these stories the idea which lent an air of comparative probability to their eastern originals has been forgotten or misunderstood. In most of the Indian stories of this class, and their variants in other Asiatic lands, there exists the notion that a celestial being may be condemned to live on earth, generally cased in a bestial husk, but having the power of, at times, laying that husk aside, until the spell under which the fallen divinity labours is brought to an end by the destruction of the husk during the temporary absence of its celestial tenant. The story of Cinderella occurs twice, nos. 18 and '24, or three times if the Katie Woodencloak form of the tale in no. 16 is included. In the first and second of these the heroine is styled the hearth-cat, because she was fond of assisting the servant in the kitchen. In neither of them is it stated that She was assisted, as no doubt was the case, by her dead mother. In No. 18 a cow protects her, and in No. 24 a fish, which She had rescued from the frying-pan. About the Publisher Forgotten Books publishes hundreds of thousands of rare and classic books. Find more at www.forgottenbooks.com This book is a reproduction of an important historical work. Forgotten Books uses state-of-the-art technology to digitally reconstruct the work, preserving the original format whilst repairing imperfections present in the aged copy. In rare cases, an imperfection in the original, such as a blemish or missing page, may be replicated in our edition. We do, however, repair the vast majority of imperfections successfully; any imperfections that remain are intentionally left to preserve the state of such historical works.
Sklep: Libristo.pl 78,14 zł
Książki / Literatura obcojęzyczna
A modern-day Cinderella story. Before baby Alle could grow to realize and recognize the bountiful, sacrificial, parental love that was bestowed upon her-the meticulous nurturem care and protection of her mother and father-she tragically lost them both the same day. But without question, her life's journey was providential. This adorable little orphan beat the odds and won the heart of a woman, her aunt Ella. So she grew up in a stable and affluent home with so much warmth. This unconditional love is what Alle Rednic longed for when she spent a portion of her young life in foster care. But when her aunt Ella became the legal guardian of her and two of her girlfriends (Stilya and Trixie) from the orphanage, Alle got a taste of what love feels like. But a few years later, Ms. Ella married a man who didn't seem to like Alle very much. For some reason, he treated her differently from other girls, and after a while, his contemptuous behavior toward her rubbed off on Stilya and Trixie. This was devastating for Alle because these girls were the siblings she never had. But the nightmare actually began the day Ms. Ella passed away. Alle was a senior in high school. And she felt like the one and only person in the world who loved her was gone. Phenomenally, that dark night at the beach, Alle wished upon a falling star. She wished for something that she yearned for most of her life, true love. And in a matter of seconds, a mysterious woman (Mother Nature) infused the power of a magic silver pen that had her name, Christmas Snow, engraved in gold. When Alle's life would have ended up as a woman desolate and alone, this unique gold silver ink pen, rewrote her destiny.
Sklep: Libristo.pl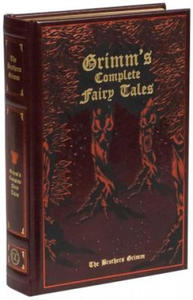 113,34 zł
Książki / Literatura obcojęzyczna
They are the stories we've known since we were children. "Rapunzel." "Hansel and Gretel." "Cinderella." "Sleeping Beauty." But the works originally collected by the Brothers Grimm in the early 1800s are not necessarily the versions we heard before bedtime. They're darker and often don't end very happily--but they're often far more interesting. This elegant edition of "Grimm's Complete Fairy Tales" includes all our cherished favorites--"Snow White," "Rumpelstiltskin," "Little Red Cap," and many more--in their original versions. With specially designed end papers, a genuine leather cover, and other enhancements, it's the perfect gift for anyone looking to build a complete home library. Many of these tales begin with the familiar refrain of "once upon a time"--but they end with something unexpected and fascinating!
Sklep: Libristo.pl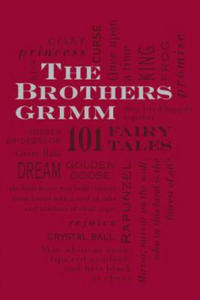 69,70 zł
Książki / Literatura obcojęzyczna
They are the stories of characters we've known since childhood: Snow White, Hansel and Gretel, Cinderella. But the works originally collected by the Brothers Grimm in the early 1800s are not necessarily the versions told before bedtime. They're darker and often don't end very happily--but they're often far more interesting. This elegant edition of "Brothers Grimm: 101 Fairy Tales" includes all our cherished favorites--"Sleeping Beauty," "Rumpelstiltskin," "Little Red Cap," and many more--in their original versions. Now available as part of the Word Cloud Classics series, "Brothers Grimm: 101 Fairy Tales" is a must-have addition to the libraries of all classic literature lovers. Many of these stories begin with the familiar refrain of "once upon a time"--but they end with something unexpected and fascinating! About the Word Cloud Classics series: Classic works of literature with a clean, modern aesthetic! Perfect for both old and new literature fans, the Word Cloud Classics series from Canterbury Classics provides a chic and inexpensive introduction to timeless tales. With a higher production value, including heat burnished covers and foil stamping, these eye-catching, easy-to-hold editions are the perfect gift for students and fans of literature everywhere.
Sklep: Libristo.pl 29,54 zł
Książki / Literatura obcojęzyczna
Snap is every child's much-loved first card game and these large, colourful and high quality cards will delight very young children. The cards feature illustrations of children's favourite subjects - characters from fairytales including the "Three Little Pigs" and "Cinderella in Fairytale Snap" and magnificent dinosaurs including a Tricerotops and a Blarblarsaurus in "Dinosaur Snap". Snap is an easy and fun game which is a great way for young children to develop important matching and reading skills. The card packs make great gifts and follow on from the success of Usborne's other fabulous card games.
Sklep: Libristo.pl
Sklepy zlokalizowane w miastach: Warszawa, Kraków, Łódź, Wrocław, Poznań, Gdańsk, Szczecin, Bydgoszcz, Lublin, Katowice
Szukaj w sklepach lub całym serwisie
2. Szukaj na wszystkich stronach serwisu
t1=0.547, t2=0, t3=0, t4=0.019, t=0.548