krainaksiazek voices from the past the battle of waterloo 20128632
- znaleziono 7 produktów w 5 sklepach 119,99 zł
Książki Obcojęzyczne>Angielskie>Humanities>History>Military history>Napoleonic WarsKsiążki Obcojęzyczne>Angielskie>Humanities>...
0x0017d2c200000000
Sklep: Gigant.pl 11,15 zł
Książki & Multimedia > Książki
Opis - Pierwsze na świecie świadectwo ofiary zbrodni honorowej. Miała siedemnaście lat i zakochała się: zhańbiła rodzinę. Więc rodzina wydała na nią wyrok śmierci... Pokochała go pierwszą miłością. Myślała, że się z nią ożeni. Ale ukochany zniknął, a ona odkryła, że jest w ciąży. A w jej świecie to najcięższa zbrodnia... W zapomnianej przez Boga wiosce w Cisjordanii kobiety są warte mniej niż zwierzęta domowe. Tu mężczyzna jest panem życia i śmierci żony, córki, siostry. Brat może bezkarnie zabić siostrę, matka - córkę, kolejną bezużyteczną dziewczynkę, jaka się urodzi. Tu kobiecie odbiera się godność, a nawet życie zgodnie z odwiecznym obyczajem i uświęconą tradycją. A śmierć jest karą dla dziewczyny, która zhańbi rodzinę. Tak jak Souad. Wyrok wydaje jej ojciec. Szwagier dokonuje egzekucji. Oblewa Souad benzyną i podpala... SOUAD przeżyła - cudem, ale rodzina usiłowała zabić ją nawet w szpitalu. Na zawsze jednak pozostanie straszliwie okaleczona - na ciele i duszy. I wciąż musi się ukrywać; dopóki żyje, jej rodzinę okrywa hańba. Spalona żywcem, opublikowana pod pseudonimem szokująca opowieść o piekle, jakim było jej dzieciństwo i młodość, stała się międzynarodowym bestsellerem. Wydana w 37 w krajach książka przerywa tabu milczenia wobec istniejącej nadal w krajach muzułmańskich barbarzyńskiej tradycji. Nieludzkiego obyczaju, prawa mężczyzn, na mocy którego co najmniej pięć tysięcy kobiet pada co roku ofiarą zbrodni honorowej. Nazwa - Spalona Żywcem Wyd. Kieszonkowe Autor - Souad Oprawa - Miękka Wydawca - Amber Kod ISBN - 9788324159406 Kod EAN - 9788324159406 Wydanie - 1 Rok wydania - 2016 Tłumacz - 31182,maria rostworowska; Format - 110 x 175 x 14 Ilość stron - 224 Podatek VAT - 5% Premiera - 2016-06-23
Sklep: InBook.pl 94,10 zł
Instinct for War MIT Press Massachusets Institute of Tech nology
Inne 1
Stories about war are some of the oldest stories told--used to entertain, to glorify, to lament, to educate. An Instinct for War utilizes myriad tales of war to offer a remarkable look at one of humanity's oldest plagues. Roger Spiller excavates the essence of war and its evolution through the words and thoughts of those who led--and those who were led--into battle, moving from the perspective of an ancient Chinese emperor to Napoleon's command, from a Civil War soldier's final days to the particularities of today's small wars throughout the globe. Spiller combines a mastery of the primary sources with a vibrant historical imagination to locate a dozen turning points in the world's history of warfare that altered our understanding of war and its pursuit. We are conducted through profound moments by the voices of those who witnessed them and are given a graphic understanding of war, the devastating choices, the means by which battles are won and lost, and the enormous price exacted. Spiller's attention to the sights and sounds of battle enables us to feel the sting and menace of past violent conflicts as if they were today's. A bold departure from standard military history, An Instinct for War will challenge our understanding of how war forever alters the landscape--both human and geographic--and how individuals can alter the nature of battle. This collective portrait of the life of war offers unparalleled insight into our struggle for mastery over a fundamental instinct. In a graceful feat of imagination and trenchant analysis, Spiller presents 13 mostly first-person parables, meditations on moments when the 'nature and conduct of war' changed significantly. His narrators, invented almost from whole cloth or reconstructed from notable figures, reflect on the craft and meaning of war in settings ranging from Han China to a future North America...These inventive vignettes encompass a broad sweep of history and military thought.    --Publishers WeeklyImagine a military historian who can travel in time to past and future wars. That's what Roger Spiller, who taught at the U.S. Army Command and General Staff College in Fort Leavenworth, Kansas, does in his imaginative collection of 13 short stories. They stretch from ancient China to a 21st-century war 'so terrible it was beyond naming.'...His mostly first-person stories deal with Cortez's conquest of the Aztecs, what Civil War Gen. George McClellan tried to borrow from Napoleon and an investigation of a Japanese general after World War II. Spiller's stories can be read as parables. They neither celebrate nor condemn war but raise fundamental questions faced by soldiers and civilians.    --Bob Minzesheimer, USA TodayAn Instinct for War is a brilliantly unorthodox piece of work. Roger Spiller, now George C. Marshall Professor, emeritus, of Military History at the U.S. Army Command General Staff College, has written a strange, brave, and absolutely fascinating book...Spiller's fictions are always in the service of ideas. They dramatize aspects of the experience of war and of strategic thought over two and a half millennia, so they are fictions in the sense that Platonic dialogues are fictions...All these stories are powerful, most of them are disturbing, and each contains lessons that can be subtle, multiple, and contradictory, as so many of war's lessons are...Along the way Spiller displays great learning, always lightly worn; great moral seriousness, never ponderously displayed; and literary flair. This is a remarkable book, initially disconcerting and eventually enthralling.    --Fredric Smoler, American HeritageRoger Spiller is the least conventional of historians. For years, he has laboured on a book on the nature of war, and he has cast it in fictional form...This thought-provoking book represents an infusion of a lifetime's reading and thought about war, and renders the dimensions of conflict comprehensible to all. This is an achievement rare among historians, and Roger Spiller must now be reckoned among the notable writers about war.    --Brian Holden Reid, Times Literary SupplementWith An Instinct for War, Roger Spiller takes his place alongside John Keegan and Paul Fussell, those who are able to penetrate the armor of war itself and get at its horrible, vivifying, excruciating heart. The truths that accumulate here in this book are like the layers of a pearl, born in friction, imperceptibly accrued at first, but ultimately exquisitely valuable.    --Ken Burns, filmmaker An Instinct For War is a book of war-stories like no other I've read--a cultural history of the world's war-making, from ancient China and Greece to the Apocalypse that's just ahead of us. Spiller's skills include ventriloquism: he makes every war speak in a voice of its own, sometimes historical, sometimes not. His book is a tour de force that will engage every student of war, as it did me.    --Samuel Hynes, author of Flights of Passage and The Soldier's TaleRoger Spiller has written a remarkable book--a fusion of learning, reflection, and imagination--that will engage readers for whom the subject of war is too important to be left to either military historians or public officials.    --John Shy, Professor Emeritus of History, University of Michigan Spiller's knowledge of warfare is global in every sense of the word, spanning the earth and stretching from earliest recorded history to the present. This is military history at its very best.    --Peter Maslowski, author of Looking For A Hero: Staff Sergeant Joe Ronnie Hooper And The Vietnam War
Sklep: Albertus.pl 74,30 zł
Nine Northwestern University Press
Powieści i opowiadania
With the collapse of the Soviet Union and the rise of free speech (and publishing), Russian women have become a force in the world of letters. Whereas in the past they were known chiefly as literary widows or devoted wives, occasionally as poets or critics, and only very rarely as novelists, today they are beginning to dominate publishing lists in fiction and non-fiction alike. Nine includes three internationally known names--Ludmila Petrushevskaya, Ludmila Ulitskaya, and Svetlana Alexiyevich--as well as half a dozen other respected women authors appearing here for the first time in English.Who and what you will find in Nine:Ludmila Petrushevskaya's absurd middle-aged heroine (in 'Waterloo Bridge') finds she has fallen in love with a character in a movie. Seeing the film again and again, she experiences the romantic love she never had in real life. 'Petrushevskaya's genius consists in her ability to seize on the disparate details of everyday life and render them as a single perfect whole, in which even the most unpalatable reality is made beautiful by the perfection of her art.'Ludmila Ulitskaya's 'Diana' and 'End of the Story' look at women who lie with verve just to escape dreary reality. 'Permeated with a tolerant humorous warmth, Ulitskaya's stories exemplify that strand in the humanist tradition that neither denounces nor deifies, but attempts to understand human psychology in its infinitely numerous manifestations.'Svetlana Alexiyevich, a Byelorussian dissident, constructs powerful narrative collages out of 'live human voices' culled from her interviews with witnesses to and participants in the most shattering national events. 'She follows life rather than trying to invent it and she does so with great talent and keen vision.' Her 'Landscape of Loneliness' shows how tragic social circumstances deprive people of the ability to experience and enjoy love.Olga Slavnikova, a prolific young author from Yekaterinburg, depicts provincial life in a town where most of the men are involved in the illegal mining and cutting of precious stones. 'Krylov's Childhood' combines memorable characters with ethnographic detail.Maria Arbatova--a leading feminist famed for her frank, outspoken and witty style--is Russia's Erica Jong. 'My Name is Woman' takes place in an abortion clinic where the heroine reflects on her failed love affair and women's submissive role in love and life.Nina Gorlanova sets 'Lake Joy' in her native Siberian city of Perm--in the small, closed world of a maternity ward. As a new life is born their suburb is being flooded and they are moved to new homes to start a new life.Anastasia Gosteva takes the reader on an unusual journey around India and America ('Closing Down America'). The heroine's attempt to run away from herself and an unrequited love is in fact a desperate effort to come to terms with who she really is.Margarita Sharapova draws on her unique personal experience as a circus animal tamer to describe the world of popular entertainment. 'Brilliantly crafted, inspired prose. . . unputdownable.'Natalia Smirnova paints a disquieting picture of a provincial town in the Urals where two cultivated women must survive amidst crude working-class surroundings ('The Women and the Shoemakers'). 'Her prose is deep and subtle but by no means female.'
Sklep: Albertus.pl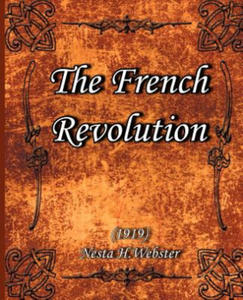 133,22 zł
Książki / Literatura obcojęzyczna
Astrologers tell us that the history of the world moves in cycles; that from time to time the same forces arise producing eras that strangely resemble one another. Between these eras a close affinity exists, and so it is that we, in looking back to the past from the world crisis of today, realize that periods which in times of peace have soothed or thrilled us have now lost their meaning, that the principles which inspired them have no place in our philosophy. The Renaissance is dead; the Reformation is dead; even the great wars of bygone days seem dwarfed by the immensity of the recent conflict. But whilst the roar of battle dies down another sound is heard-the angry murmur that arose in 1789 and that, though momentarily hushed, has never lost its force. Once more we are in the cycle of revolution. The French Revolution is no dead event; in turning over the contemporary records of those tremendous days we feel that we are touching live things; from the yellowed pages voices call to us, voices that still vibrate with the passions that stirred them more than a century ago-here the desperate appeal for liberty and justice, there the trumpet - call of " King and Country "; now the story told with tears of death faced gloriously, now a maddened scream of rage against a fellow-man. When in all the history of the world until the present day has human nature shown itself so terrible and so sublime? And is not the fascination that amazing epoch has ever since exercised over the minds of men owing to the fact that the problems it held are still unsolved, that the same movements which originated with it are still at work amongst us? " What we learn to-day from the study of the Great Revolution," the anarchist Prince Kropotkin wrote in 1908, " is that it was the source and origin of all the present communist, anarchist, and socialist conceptions."
Sklep: Libristo.pl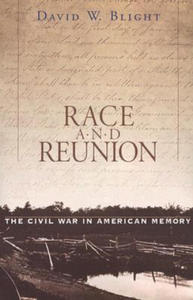 102,81 zł
Książki / Literatura obcojęzyczna
No historical event has left as deep an imprint on America's collective memory as the Civil War. In the war's aftermath, Americans had to embrace and cast off a traumatic past. David Blight explores the perilous path of remembering and forgetting, and reveals its tragic costs to race relations and America's national reunion. In 1865, confronted with a ravaged landscape and a torn America, the North and South began a slow and painful process of reconciliation. The ensuing decades witnessed the triumph of a culture of reunion, which downplayed sectional division and emphasized the heroics of a battle between noble men of the Blue and the Gray. Nearly lost in national culture were the moral crusades over slavery that ignited the war, the presence and participation of African Americans throughout the war, and the promise of emancipation that emerged from the war. "Race and Reunion" is a history of how the unity of white America was purchased through the increasing segregation of black and white memory of the Civil War. Blight delves deeply into the shifting meanings of death and sacrifice, Reconstruction, the romanticized South of literature, soldiers' reminiscences of battle, the idea of the Lost Cause, and the ritual of Memorial Day. He resurrects the variety of African-American voices and memories of the war and the efforts to preserve the emancipationist legacy in the midst of a culture built on its denial. Blight's sweeping narrative of triumph and tragedy, romance and realism, is a compelling tale of the politics of memory, of how a nation healed from civil war without justice. By the early 20th century, the problems of race and reunion were locked in mutual dependence, a painful legacy that continues to haunt us today.
Sklep: Libristo.pl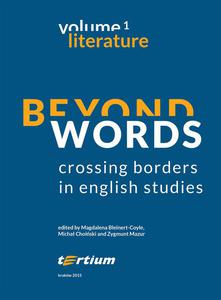 35,00 zł
Książki/Książki angielskojęzyczneKsiążkiGłównaTertiumKsiążki/Języki obceKsiążki/Językoznawstwo i translatologia
Recenzowany zbiór artykułów dotyczących różnych tematów literaturoznawczych CONTENTS: Preface Michael Irwin - Literature and the Moon Terence McCarthy - Much Ado About Not: Crossing Arthurian Borders Wayne Franklin - Fenimore Cooper's "Indians" and the "Category of Human Rights" Christoph Houswitschka - Crossing Eastern Borders in English Literature Krystyna Strzebońska - Fear and Fame: Crossing the Threshold of Death in Anglo-Saxon Poetry María Beatriz Hernández Pérez - By the Window Sill: Margery Kempe and the Art of Praying Martha Oberle - What Have We Here? The Gifts of the Shepherds in Prima and Secunda Pastorum Dominika Ruszkiewicz - "Welcum of Scotland to be Quene": Margaret Tudor in the Poetry of Her Time Anna Kowalcze-Pawlik - "A Signe of Discontent": Free Speech, Silence and Treason in Elizabeth Cary's The Tragedy of Mariam Joanna Maciulewicz - The Representation of Print Culture in Areopagitica, The Battle of the Books and The Dunciad Anna Bugajska - Singleton, Or, There and Back Again: The (Mono)myth of a Pirate Joel Burnell - Jonathan Edwards and the Beauty of Work: A Colonial American Argument for Social Responsibility in the Workplace Ib Johansen - Tricksters in Philosophy and Fiction: From William Blake to the Postmodern Age Anna Paluchowska-Messing - Probing with Words at What Lies Beyond Them: Frances Burney's Mastectomy Narrative Anna Stanisz - The Semantics of Sense & Sensibility: The Meaning of the Title Words in Jane Austen's Novel Monika Mazurek - Roman Catholicism as the Uncanny in the Victorian Protestant Novel Agata Kowol - "The Charm of the Universal Experience from which One Expects an Uncommon and Personal Sensation": Pursuit of Self-Knowledge in Joseph Conrad's The Shadow-Line Caterina Maria Grasl - (Un)writing Imperial Minds: Mental Images, Narrative Strategy, and Anti-Imperialism in Selected Novels by Sylvia Townsend Warner Damian Podleśny - Beyond the Border of Cognition: Deception, Paranoia, and Conspiracy Theories in the Fiction of Philip K. Dick Monika Kozub - Northern Voices: Stewart Parker Magdalena Wąsowicz - "It's Vital to Remember Always That You Are Hungarian": The Role of Cultural Memory in The Storyteller by Anna Porter Maciej Wieczorek - "None of This Is the Truth, It's Just People Saying Things": Blurring the Border Between the Fictional and the Real in Dennis Kelly's Taking Care of Baby Aleksandra Tryniecka - Syrie James' The Secret Diaries of Charlo
Sklep: Hatteria.pl
Sklepy zlokalizowane w miastach: Warszawa, Kraków, Łódź, Wrocław, Poznań, Gdańsk, Szczecin, Bydgoszcz, Lublin, Katowice
Szukaj w sklepach lub całym serwisie
2. Szukaj na wszystkich stronach serwisu
t1=0.041, t2=0, t3=0, t4=0.026, t=0.041