krainaksiazek whether god or king 20167636
- znaleziono 3 produkty w 1 sklepie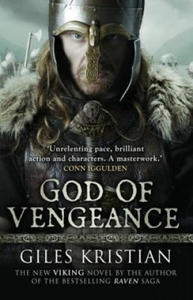 48,08 zł
Książki / Literatura obcojęzyczna
Norway 785 AD. It began with the betrayal of a lord by a king...But when King Gorm puts Jarl Harald's family to the sword, he makes one terrible mistake - he fails to kill Harald's youngest son, Sigurd. On the run, unsure who to trust and hunted by powerful men, Sigurd wonders if the gods have forsaken him: his kin are slain or prisoners, his village attacked, its people taken as slaves. Honour is lost. And yet he has a small band of loyal men at his side and with them he plans his revenge. All know that Odin - whose name means frenzy - is drawn to chaos and bloodshed, just as a raven is to slaughter. In the hope of catching the All-Father's eye, the young Viking endures a ritual ordeal and is shown a vision. Wolf, bear, serpent and eagle come to him. Sigurd will need their help if he is to make a king pay in blood for his treachery. Using cunning and war-craft, he gathers together a band of warriors - including Olaf, his father's right hand man, Bram who men call Bear, Black Floki who wields death with a blade, and the shield maiden Valgerd, who fears no man - and convinces them to follow him. For, whether Odin is with him or not, Sigurd will have his vengeance. And neither men nor gods had best stand in his way...It is a must read for all who enjoy thrilling, action-packed fiction fiction - from Bernard Cornwell to George R R Martin's Game of Thrones.
Sklep: Libristo.pl 209,05 zł
Blood Thirst Oxford University Press Inc
Książki / Literatura obcojęzyczna
In the past hundred years, since the publication of Bram Stoker's infamous book, no literary figure has enjoyed a more horrific resiliency than Count Dracula. In film, television, novels, and short stories, he keeps coming back to life, fed by the vital imaginative energies of a world-wide audience that cannot seem to resist his abominable charms. Aristocratic and urbane, deeply erotic and profoundly evil, Dracula's bloodsucking savagery has cast a mesmerizing fascination not only over his victims but over his readers as well. And, as Leonard Wolf suggests, "Vampire fiction...exerts an amazing pull on readers for a reason that we may find disturbing. The blood exchange-the taking of blood by the vampire from his or her victim is, all by itself, felt to be a singularly symbolic event. Symbolic and attractive!" Now, in Blood Thirst: One Hundred Years of Vampire Fiction, Leonard Wolf brings together thirty tales in which vampires of all varieties make their ghastly presence felt-male and female, human and non-human, humorous and heroic-all of them kin to the dreadful bat. From Lafcadio Hearn, Mary E. Wilkins-Freeman, Edith Wharton, August Derleth, and Ray Bradbury to such contemporary masters as Anne Rice, Stephen King, Joyce Carol Oates, John Cheever, and Woody Allen, and in settings as diverse as rural New England and outer space, this collection offers readers a dazzling compendium of vampire stories. Wolf organizes the collection into six categories-The Classic Adventure Tale, The Psychic Vampire, The Science Fiction Vampire, The Non-Human Vampire, The Comic Vampire, and The Heroic Vampire-which allows readers to see the many guises Dracula's descendants have assumed and the many ways they can be interpreted. In his penetrating introduction, Wolf argues that such an arrangement enables us to see the evolution of the vampire from an unmitigated evil to a creature we are more likely to identify with. "In a century in which God and Satan have become increasingly irrelevant in the popular arts, there has been an accompanying secularization of the vampire idea. And, as the stories in Blood Thirst will show, sympathy for the vampire has grown as we have become increasingly interested in the workings of the mind." Indeed, the vampire's ability to change over time, to draw into itself such a richness of symbolic meanings, to conjure itself into so many diabolical shapes, may account for the enduring appeal of the literature written about it. Here, then, is a definitive collection for aficionados and novices alike, and whether readers find the vampires who inhabit these pages sympathetic or horrific, psychologically intriguing or spiritually repellent, morbidly seductive or comically absurd, Blood Thirst gives us all something to sink our teeth into.
Sklep: Libristo.pl 89,89 zł
Książki / Literatura obcojęzyczna
A round-Robbins on the themes of scent, so-called "floral consciousness," and immortality - skipping through time and space, but offering a little old-fashioned storytelling charm along with the usual cute/hip doodling. In one of the two parallel plot-lines here, Robbins juggles the separate attempts of various parfumiers around the world to come up with a perfume (upon a jasmine base) that will outenchant any previous concoction: Madame Devalier in New Orleans is feverishly experimenting; so is her adopted daughter Priscilla in Seattle; and the megs-company LeFever is also hard at work in Paris. Meanwhile, in the other main plot, we follow King Alobar - a Dark Ages hero - through his global wanderings: he eventually reaches India, meeting a widow named Kudra; both of them are in flight from Death; and both eventually, through the direct intervention of the decrepit god Pan, actually achieve immortality - even learning how to capture the immortality-essence in bottled-liquid form. So ultimately, of course, these two plot-strands will link up - as Alobar time-travels up to the present, providing the evolutionary missing-link to "floral consciousness". . . and teaming up with a Timothy Learylike outlaw scientist, Dr. Wiggs Dannyboy, who adds a bit of new-age theory to Robbins' usual flower-power rhetoric. ("Philosophers have argued for centuries about how many angels can dance on the head of a pin, but materialists have known all along that it depends on whether they are jitterbugging or dancing cheek to cheek.") As in all of Robbins' novels, there is much that's juvenile and insufferable here: terminally cute asides and many, many groaners - e.g., "a populace that was beginning to put Descartes before des horse." Still, the mundane/exotic enterprise of making perfume offers a rich basis for Robbins' half-credible, half-cartoonish explorations. And, thanks to its lively sweep through time and geography, this may be his most agreeable book ever: relaxed, readably sequential, goofily lyrical - with some feather-weight appeal for non-fans as well as the usual Robbins readership. (Kirkus Reviews)
Sklep: Libristo.pl
Sklepy zlokalizowane w miastach: Warszawa, Kraków, Łódź, Wrocław, Poznań, Gdańsk, Szczecin, Bydgoszcz, Lublin, Katowice
Szukaj w sklepach lub całym serwisie
2. Szukaj na wszystkich stronach serwisu
t1=0.015, t2=0, t3=0, t4=0, t=0.015