krainaksiazek whether god or king 20167639
- znaleziono 4 produkty w 1 sklepie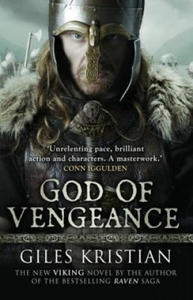 94,19 zł
Książki / Literatura obcojęzyczna
Norway 785 AD. It began with the betrayal of a lord by a king...But when King Gorm puts Jarl Harald's family to the sword, he makes one terrible mistake - he fails to kill Harald's youngest son, Sigurd. On the run, unsure who to trust and hunted by powerful men, Sigurd wonders if the gods have forsaken him: his kin are slain or prisoners, his village attacked, its people taken as slaves. Honour is lost. And yet he has a small band of loyal men at his side and with them he plans his revenge. All know that Odin - whose name means frenzy - is drawn to chaos and bloodshed, just as a raven is to slaughter. In the hope of catching the All-Father's eye, the young Viking endures a ritual ordeal and is shown a vision. Wolf, bear, serpent and eagle come to him. Sigurd will need their help if he is to make a king pay in blood for his treachery. Using cunning and war-craft, he gathers together a band of warriors - including Olaf, his father's right hand man, Bram who men call Bear, Black Floki who wields death with a blade, and the shield maiden Valgerd, who fears no man - and convinces them to follow him. For, whether Odin is with him or not, Sigurd will have his vengeance.And neither men nor gods had best stand in his way...It is a must read for all who enjoy thrilling, action-packed fiction fiction - from Bernard Cornwell to George R R Martin's Game of Thrones.
Sklep: Libristo.pl 69,09 zł
Książki / Literatura obcojęzyczna
Book Three of the ELENIUM is fantasy on a truly epic scale, in which the Pandion Knight Sparhawk must finally use the power of the jewel. Aided by the goddess Aphrael, Sparhawk and his band of companions have recovered the magical jewel Bhelliom - the Sapphire Rose - from the cave of the troll-dwarf Ghwerig. Now they have the power to wake and cure Ehlana, the young Queen of Elenia. But while they were seeking Bhelliom, great forces of evil moved into the power vacuum left behind. The unholy triple alliance between Otha, degenerate sorcerer-king of the Zemochs, the renegade Pandion Knight Martel, and Annias, traitorous Primate of Cimmura, threatens to overrun all of Eosia. In returning to Cimmura to wake Ehlana, Sparhawk risks delivering the Sapphire Rose into the hands of his enemies, who will use it to give the evil god Azash dominion over the whole world. To stop them they may have to unleash the full power of the jewel, but no one can predict whether the world itself will survive such an event. THE SAPPHIRE ROSE is the gripping, brilliant conclusion to THE ELENIUM, a panoramic tale of a conflict between good and evil that envelops an entire continent.
Sklep: Libristo.pl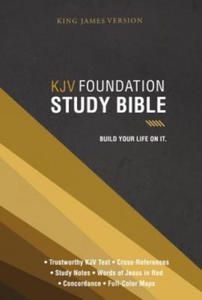 99,94 zł
Książki / Literatura obcojęzyczna
The perfect foundation for Bible study and the Christian life. Build your life on it! The" Foundation Study Bible" is a thorough, portable, and affordable Bible for students of God's Word at any level. It has the most important helps for basic study, whether you're just beginning or brushing up on essentials. Features include: Trustworthy, time-honored KJV text Cross references Verse-by-verse study notes and theological notes Words of Jesus in red Index Concordance Full-color Bible maps Part of the "Signature Series" line of Thomas Nelson Bibles The King James Version - The most successful Bible translation in history with billions of copies published
Sklep: Libristo.pl 89,32 zł
Książki / Literatura obcojęzyczna
A round-Robbins on the themes of scent, so-called "floral consciousness," and immortality - skipping through time and space, but offering a little old-fashioned storytelling charm along with the usual cute/hip doodling. In one of the two parallel plot-lines here, Robbins juggles the separate attempts of various parfumiers around the world to come up with a perfume (upon a jasmine base) that will outenchant any previous concoction: Madame Devalier in New Orleans is feverishly experimenting; so is her adopted daughter Priscilla in Seattle; and the megs-company LeFever is also hard at work in Paris. Meanwhile, in the other main plot, we follow King Alobar - a Dark Ages hero - through his global wanderings: he eventually reaches India, meeting a widow named Kudra; both of them are in flight from Death; and both eventually, through the direct intervention of the decrepit god Pan, actually achieve immortality - even learning how to capture the immortality-essence in bottled-liquid form. So ultimately, of course, these two plot-strands will link up - as Alobar time-travels up to the present, providing the evolutionary missing-link to "floral consciousness". . . and teaming up with a Timothy Learylike outlaw scientist, Dr. Wiggs Dannyboy, who adds a bit of new-age theory to Robbins' usual flower-power rhetoric. ("Philosophers have argued for centuries about how many angels can dance on the head of a pin, but materialists have known all along that it depends on whether they are jitterbugging or dancing cheek to cheek.") As in all of Robbins' novels, there is much that's juvenile and insufferable here: terminally cute asides and many, many groaners - e.g., "a populace that was beginning to put Descartes before des horse." Still, the mundane/exotic enterprise of making perfume offers a rich basis for Robbins' half-credible, half-cartoonish explorations. And, thanks to its lively sweep through time and geography, this may be his most agreeable book ever: relaxed, readably sequential, goofily lyrical - with some feather-weight appeal for non-fans as well as the usual Robbins readership. (Kirkus Reviews)
Sklep: Libristo.pl
Sklepy zlokalizowane w miastach: Warszawa, Kraków, Łódź, Wrocław, Poznań, Gdańsk, Szczecin, Bydgoszcz, Lublin, Katowice
Szukaj w sklepach lub całym serwisie
2. Szukaj na wszystkich stronach serwisu
t1=0.024, t2=0, t3=0, t4=0, t=0.024