krainaksiazek whether god or king 20167639
- znaleziono 14 produktów w 1 sklepie 126,23 zł
Książki / Literatura obcojęzyczna
How many times have we pointed a finger at Eve-God's first created woman, who took a bite of the apple after being tempted by a serpent? Although her name is only mentioned in four verses of Scripture, she was made infamous for her greatest debacle. We tend to blame her for our own personal dramas. Eve had everything; she lived in paradise, in a carefree, pain-free, sorrow-free world. In spite of this, she was unsatisfied, and she sinned. God, however, looked beyond her sin and pursued her as part of a bigger story. Surprisingly, He doesn't focus on her sin but rather considered her His bride, the bride of Christ. Building on the story of Eve, I Didn't Want to Be That Girl! A Look into the Life of Eve presents a Bible study designed for women and exploring a variety of topics. Author Sue Allen considers God's silence, His goodness, our humility, our struggles with sin, and our need to learn to hear God's voice. She also examines Godly womanhood, holiness, insecurity, motivations of the heart, restoration and forgiveness, and much, much more. This devotional offers eight weeks of personal, interactive, conversational-style Bible study with daily prompts leading to confession. We, as women, must recognize our need for a Savior, Jesus Christ and realize that we are all sinners, saved by God's grace, and His grace alone. Just like Eve, we didn't want to be that girl. And despite our flawed pasts and imperfections, we have been created to be the bride of Christ. "Through keen insight and real-life vulnerability, Sue Allen unfolds the true nature of what it means to be the bride of Christ. Whether you are happily single, contemplating marriage, or long-time espoused, her fresh wisdom will beckon you to join her in preparing your heart anew for the King of Kings. The bridegroom is coming! What a joy it is to get ready for Him together." Tonya Riggle Pastor's Wife and Bible Study Teacher Second Baptist Church, Houston "Knowing Sue and her heart to have women embrace our inheritance that we have in Christ allows me to not only put my stamp of approval on this study, but to use it in our ministry to college athletes and our staff that ministers to these athletes. Sue Allen's desire for women to live the abundant life in Christ is immediately noticed within minutes of being in her presence. Thank you, Sue, for your passion to study the Word and your love affair with Christ." April Nelson Women's Leadership Team Athletes in Action
Sklep: Libristo.pl 131,07 zł
Książki / Literatura obcojęzyczna
This is an exceptional King James Version training tool for the Christian. As we see the fulfillment of biblical prophecy unfolding daily, one cannot question the rapid approach of the end times spoken of in the scriptures. With the diluting of God's word and the many different versions of the Bible, there brings a need for a simple presentation to humble the "Now Generation." Taking time to read this book will truly leave one gazing upon the face of God. Leaving one with the question, "Am I living my life kind of Christ-like or am I living my life like Christ?" The questions which our Lord addressed to His disciples at various times are gathered together here from the Four Gospels, and arranged to form the basis of a series of meditations for those private hours, whether on the Lord's Day or on other days, which every Christian heart delights to set apart as silent hours with God. These meditations, being meant for Christians, have been written in such a personal form that each reader may adopt them as his own. "If the blessing of the Great Master Himself shall accompany the reading of these chapters, and any of His disciples be thereby led to a higher faith, a larger trust, a deeper self-scrutiny, and a heartier consecration, my aim in writing them will be attained." -Garelochhead, 1905 *A portion of the sales of this book will go to support the Teen Challenge FARM in London, Ontario, Canada.
Sklep: Libristo.pl 56,77 zł
Książki / Literatura obcojęzyczna
Excerpt from The Cipher Found A prominent gentleman being interviewed as to the Donnelly cipher, said: "The question whether Bacon was the author of the works, or of certain works of Shakespeare, is not new, and I have read numerous pamphlets on the subject, which have taught me nothing... It suffices me to admire "Hamlet," "Macbeth," "King Lear," etc., and I do not seek to know if God exists. The sun shines, and that is enough." Every one is not so easily satisfied. The light of the sun is but one of the many wonders of the Divine Author. We should always, as Lord Bacon says, "enlarge as far as God will permit, the borders of mans dominion." Men of an anylitical bent of mind, have found much to interest them in the Bacon-Shakesperian controversy, and probably without thinking much about doing au act of justice to either author, have determined, if possible, to pluck the mystery out of the works themselves, by endeavoring to discover a cipher, on the clue furnished by various authors. Among the first to call attention to this matter was Mrs. Delia Bacon in a work which displays the greatest research, and a mind capable of fathoming the deepest subjects. About the Publisher Forgotten Books publishes hundreds of thousands of rare and classic books. Find more at www.forgottenbooks.com This book is a reproduction of an important historical work. Forgotten Books uses state-of-the-art technology to digitally reconstruct the work, preserving the original format whilst repairing imperfections present in the aged copy. In rare cases, an imperfection in the original, such as a blemish or missing page, may be replicated in our edition. We do, however, repair the vast majority of imperfections successfully; any imperfections that remain are intentionally left to preserve the state of such historical works.
Sklep: Libristo.pl 125,00 zł
Książki / Literatura obcojęzyczna
Description: This groundbreaking and provocative book charts the recent history and impact of Christian youth work. It argues that the extraordinary growth of the evangelical movement in the UK can be attributed to its work among young people, and demonstrates how the youth work of one generation shapes the adult church of a later one. Peter Ward opens up vital areas of debate - has youth work become primarily defensive, rather than evangelical? Are we afraid to engage creatively with modern culture? What hope is there for the church of the future? Endorsements: ""Pete Ward argues that the evangelical subculture is essentially shaped by what goes on in the youth fellowship. So evangelicalism is essentially adolescent? It's a provocative idea, not to be dismissed lightly, and means that we all need to pay attention to what we are doing in youth work and consider seriously what this book claims."" --Derek Tidball, London Bible College ""A challenging and controversial book which deserves the closest attention and response."" --Graham Cray, Ridley Hall ""This book opens up a wider debate on issues familiar to those in frontier youth work about the roots and influence of Christian youth culture in general and the nature of evangelicalism in particular."" --Michael Eastman, Frontier Youth Trust ""This book is a must for anyone concerned either with youth work or the future of the church. Whether you agree with him or not, Pete Ward shows what a rich heritage of youth work evangelicals have, and how important for the future are realism, vision, and courage."" --David McInnes, St. Aldate's Church About the Contributor(s): Peter Ward teaches at King's College, London, where he is involved in research into popular theology and culture. He is the author of a number of books, including Liquid Church, God at the Mall, Youthwork and the Mission of God, and Youth Culture and the Gospel.
Sklep: Libristo.pl 105,03 zł
Książki / Literatura obcojęzyczna
Excerpt from The Methodist Magazine, Vol. 10: Designed as a Compend of Useful Knowledge, and of Religious and Missionary Intelligence, for the Year of Our Lord 1827 It must be obvious to all who pay attention to the subject, that the terms kingdom of Christ, kingdom of Heaven, kingdom of God, as used in the New Testament, especially by the evangelists, refer primarily, to the spiritual government of Christ over the hearts of men, through the inżuence of that gospel of which he was the author. And when Christ says of his kingdom, it is not of this world, he should be understood to distinguish it from the governments of this world. The object of Pilate's question seems to have been to ascertain whether Christ was a king. And the design of the answer was not only to affirm that he was a king, but to assert at the same time that his authority and govern ment were not like those of this world. Understanding this to be the import of the text, we proceed to show in several propositions, how Christ's kingdom is distinguished from the governments of this world; and under each proposition, notice, that this differ ence renders the principles of Christ's kingdom of eminent service to the well being of political society. About the Publisher Forgotten Books publishes hundreds of thousands of rare and classic books. Find more at www.forgottenbooks.com This book is a reproduction of an important historical work. Forgotten Books uses state-of-the-art technology to digitally reconstruct the work, preserving the original format whilst repairing imperfections present in the aged copy. In rare cases, an imperfection in the original, such as a blemish or missing page, may be replicated in our edition. We do, however, repair the vast majority of imperfections successfully; any imperfections that remain are intentionally left to preserve the state of such historical works.
Sklep: Libristo.pl 82,65 zł
Książki / Literatura obcojęzyczna
A Baby Boomer's Decision Making drives the nation's 75 million baby boomers to examine life through the decisions they make, whether they are considering finances, changing national priorities or the needs of aging parents. Boomers will explore decisions of love, school, career, family and fun. From 1956 Chevrolets to Martin Luther King Jr., Vietnam and the 21st century, memoir snippets expose the author's best and worst decision making. From these engaging stories, a model of decision making emerges driven by individual experience in a distinctive combination of understanding, relationships and God. A Baby Boomer's Decision Making creates a bridge from abstract theoretical manuscripts to the daily reality, dreams and apprehensions of baby boomers. Mathematics unlocks the tools of decision making, and prejudice is an omnipresent force. The peaks and valleys of love, family and career highlight the ingredients of decision making. Guidelines and principles of decision making solidify and further assist readers in reviewing the past, assessing the present and preparing for their future. A series of activities and questions at the end of the book encourage individual reflection or small group discussion. Francis J. Kostel earned a Ph.D. from the University of Chicago. As superintendent of schools in suburban Chicago's St. Charles, he led the district of more than 13,000 students, 1,600 staff members and 17 schools. He also served as principal of St. Charles High School, a nationally recognized Blue Ribbon high school, as a leadership consultant and as a mathematics teacher. From the working-class neighborhoods of Chicago to the White House Rose Garden, Kostel has experience with organizational success and conflict resolution. Through August One Consulting, Kostel serves as an executive coach and mentor. Kostel has given presentations throughout the country on leadership, strategic planning, personnel evaluation, change and policy decisions. He has written several articles and served on statewide and regional boards. Kostel is a choir member and ballroom dancer. He and his wife, the love of his life for more than 38 years, have two adult sons. Comments and inquiries regarding A Baby Boomer's Decision Making and August One Consulting are welcome at augustone@sbcglobal.net.
Sklep: Libristo.pl 179,50 zł
Książki / Literatura obcojęzyczna
Shakespeare's Late Work is a detailed reading of the plays written at the end of Shakespeare's career, centring on Pericles, Cymbeline, The Winter's Tale, and The Tempest. Unlike many previous studies it considers all the late work, including Henry VIII, The Two Noble Kinsmen, the revised Folio version of King Lear, and even what can be ascertained about the lost Cardenio. From this broadened canon emerge signs of a distinct identity for the late work. Lyne explores how Shakespeare sets great store in grand principles - faith in God, love of family, reverence for monarchs, and belief in theatrical representations of truth. However, there is also a ubiquitous and structuring irony whereby such principles are questioned and doubted. Audiences and readers are left with a difficult but empowering decision whether to believe, or to question, or to accommodate both faith and scepticism. Alongside this interest in the new and characteristically 'late' qualities of this phase in Shakespeare's career, Shakespeare's Late Work puts it in a wider cultural context. A chapter on the collaborations and broader dramatic relationships with John Fletcher and Thomas Middleton illuminates how Shakespeare's canon interacts with other writing of its time. A chapter on how the late work revisits and reconsiders themes from earlier plays shows that continuity needs to be remembered alongside novelty. Overall this is an introduction to the key works of this period which advances a new reading of them. They emerge as fascinating and dazzling explorations of their potential and their limitations.
Sklep: Libristo.pl 88,16 zł
Książki / Literatura obcojęzyczna
From Simla, once the summer capital of India under British rule, comes a charming collection of Himalayan folk lore, known for its beauty, wit, and mysticism. These 56 stories, fire-side tales of the hill-folk of Northern India, will surely delight readers of all ages. One of the stories, "The Power of Fate, " is a tale of a Rajah who summons his six daughters to ask each whether she is satisfied with her lot in life. When the youngest princess refuses to flatter her father as her oldest sisters have done, he brutally banishes her. This Himalayan counterpart to the story of King Lear, however, includes an enchanted jungle, the intervention of the god, Mahadeo, and a magical fan, that causes a Prince to appear for the banished Princess when waved. Eight illustrations by the author complete this delightful volume.
Sklep: Libristo.pl 258,45 zł
Blood Thirst Oxford University Press Inc
Książki / Literatura obcojęzyczna
In the past hundred years, since the publication of Bram Stoker's infamous book, no literary figure has enjoyed a more horrific resiliency than Count Dracula. In film, television, novels, and short stories, he keeps coming back to life, fed by the vital imaginative energies of a world-wide audience that cannot seem to resist his abominable charms. Aristocratic and urbane, deeply erotic and profoundly evil, Dracula's bloodsucking savagery has cast a mesmerizing fascination not only over his victims but over his readers as well. And, as Leonard Wolf suggests, "Vampire fiction...exerts an amazing pull on readers for a reason that we may find disturbing. The blood exchange-the taking of blood by the vampire from his or her victim is, all by itself, felt to be a singularly symbolic event. Symbolic and attractive!" Now, in Blood Thirst: One Hundred Years of Vampire Fiction, Leonard Wolf brings together thirty tales in which vampires of all varieties make their ghastly presence felt-male and female, human and non-human, humorous and heroic-all of them kin to the dreadful bat. From Lafcadio Hearn, Mary E. Wilkins-Freeman, Edith Wharton, August Derleth, and Ray Bradbury to such contemporary masters as Anne Rice, Stephen King, Joyce Carol Oates, John Cheever, and Woody Allen, and in settings as diverse as rural New England and outer space, this collection offers readers a dazzling compendium of vampire stories. Wolf organizes the collection into six categories-The Classic Adventure Tale, The Psychic Vampire, The Science Fiction Vampire, The Non-Human Vampire, The Comic Vampire, and The Heroic Vampire-which allows readers to see the many guises Dracula's descendants have assumed and the many ways they can be interpreted. In his penetrating introduction, Wolf argues that such an arrangement enables us to see the evolution of the vampire from an unmitigated evil to a creature we are more likely to identify with. "In a century in which God and Satan have become increasingly irrelevant in the popular arts, there has been an accompanying secularization of the vampire idea. And, as the stories in Blood Thirst will show, sympathy for the vampire has grown as we have become increasingly interested in the workings of the mind." Indeed, the vampire's ability to change over time, to draw into itself such a richness of symbolic meanings, to conjure itself into so many diabolical shapes, may account for the enduring appeal of the literature written about it. Here, then, is a definitive collection for aficionados and novices alike, and whether readers find the vampires who inhabit these pages sympathetic or horrific, psychologically intriguing or spiritually repellent, morbidly seductive or comically absurd, Blood Thirst gives us all something to sink our teeth into.
Sklep: Libristo.pl 67,24 zł
Książki / Literatura obcojęzyczna
Happily ever after begins today. The honor of your presence is requested at three spring weddings ...A March Bride by Rachel Hauck Susanna Truitt (Once Upon a Prince) is three weeks from royalty. She'll soon marry King Nathaniel II of Brighton Kingdom. But when the government insists she renounce her American citizenship before the wedding, coupled with the lack of involvement by family and friends, Susanna's heart begins to doubt whether this marriage is God's plan for her. An April Bride by Lenora Worth Bride-to-be Stella Carson cannot wait another day to marry soldier Marshall Henderson. But when Marshall returns home to Louisiana, it becomes clear to them both that he is not the man he used to be. With only weeks until the wedding, Stella and Marshall must choose between a marriage built on the past and faith in long-ago love or a very different future than the one Stella imagined. A May Bride by Meg Moseley Ellie Martin, a country girl living in Atlanta, has dreamed of a traditional wedding all her life, but she's missing a key ingredient to her plans for the future: a groom. Then Ellie meets Gray Whitby-at a wedding of all places. But when Ellie jeopardizes her own future for the sake of her sister, Gray feels like he'll always be second to Ellie's family. Can Ellie and Gray find their own way together amidst the demands and perceptions of others, or will their romance end before it has truly begun?
Sklep: Libristo.pl 58,62 zł
Książki / Literatura obcojęzyczna
Book Three of the ELENIUM is fantasy on a truly epic scale, in which the Pandion Knight Sparhawk must finally use the power of the jewel. Aided by the goddess Aphrael, Sparhawk and his band of companions have recovered the magical jewel Bhelliom - the Sapphire Rose - from the cave of the troll-dwarf Ghwerig. Now they have the power to wake and cure Ehlana, the young Queen of Elenia. But while they were seeking Bhelliom, great forces of evil moved into the power vacuum left behind. The unholy triple alliance between Otha, degenerate sorcerer-king of the Zemochs, the renegade Pandion Knight Martel, and Annias, traitorous Primate of Cimmura, threatens to overrun all of Eosia. In returning to Cimmura to wake Ehlana, Sparhawk risks delivering the Sapphire Rose into the hands of his enemies, who will use it to give the evil god Azash dominion over the whole world. To stop them they may have to unleash the full power of the jewel, but no one can predict whether the world itself will survive such an event. THE SAPPHIRE ROSE is the gripping, brilliant conclusion to THE ELENIUM, a panoramic tale of a conflict between good and evil that envelops an entire continent.
Sklep: Libristo.pl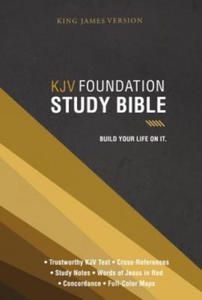 87,76 zł
Książki / Literatura obcojęzyczna
The perfect foundation for Bible study and the Christian life. Build your life on it! The" Foundation Study Bible" is a thorough, portable, and affordable Bible for students of God's Word at any level. It has the most important helps for basic study, whether you're just beginning or brushing up on essentials. Features include: Trustworthy, time-honored KJV text Cross references Verse-by-verse study notes and theological notes Words of Jesus in red Index Concordance Full-color Bible maps Part of the "Signature Series" line of Thomas Nelson Bibles The King James Version - The most successful Bible translation in history with billions of copies published
Sklep: Libristo.pl 76,38 zł
Książki / Literatura obcojęzyczna
With a brand new, vibrant cover, discover the most exciting truth in the universe: Jesus lives! And from your heart's deepest cry to life's joyful praises, the King of kings is in them all! Knowing Jesus on a deeper, more personal level not only means seeing Him at work in your life, but also sharing your heart with the Savior. Whether you're struggling your way through a valley or reaping a bounty of blessings, Jesus is very much alive and present. The question is: Do you see Him? Do you recognize His voice? His comforting hand? His desire to fellowship with you? In Jesus LivesTM, 180 topical devotions exemplify Jesus' presence in your life. Through this journey, Sarah brings to light the truth of Romans 8:11: The Spirit of God, who raised Jesus from the dead, lives in you! This promise will come to life and bring new meaning as you discover that Jesus lives indeed!
Sklep: Libristo.pl 56,90 zł
Książki / Literatura obcojęzyczna
In his epic new novel, the acclaimed and bestselling author of Raven and God of Vengeance re-imagines and retells the story of one of the great figures of British myth and legends - the warrior who fought at King Arthur's side: Lancelot - and whether you're fan of George R R Martin or Bernard Cornwell, it will be a must-read!
Sklep: Libristo.pl
Sklepy zlokalizowane w miastach: Warszawa, Kraków, Łódź, Wrocław, Poznań, Gdańsk, Szczecin, Bydgoszcz, Lublin, Katowice
Szukaj w sklepach lub całym serwisie
2. Szukaj na wszystkich stronach serwisu
t1=0.622, t2=0, t3=0, t4=0.019, t=0.623