krainaksiazek when i break 20131198
- znaleziono 128 produktów w 20 sklepach 24,20 zł
Powieści i opowiadania
Despite her broken heart, when Dilly Gently joins Magnus Olensen's new band, the chemistry between them is explosive. Both impossibly romantic dizzy blondes with the souls of poets, they could be made for each other. But before they have chance to declare themselves, Dilly's friend Nell confides that she has a huge crush on Magnus, and Dilly nobly steps down in order to play reluctant matchmaker. Nell returns the favour by setting her friend up with her dashing twin brother Flipper. But Flipper the bounder is not a good rebound for a true romantic. He hides a secret that could break Dilly's heart all over again...
Sklep: Albertus.pl 29,80 zł
Powieść sensacyjnaHorror i thrillerKryminałProza obcaKsiążki
Snow is falling in the exclusive alpine ski resort of Saint Antoine, as the shareholders and directors of Snoop, the hottest new music app, gather for a make or break corporate retreat to decide the future of the company. At stake is a billion-dollar dot com buyout that could make them all millionaires, or leave some of them out in the cold.The clock is ticking on the offer, and with the group irrevocably split, tensions are running high. When an avalanche cuts the chalet off from help, and one board member goes missing in the snow, the group is forced to ask - would someone resort to murder, to get what they want?
Sklep: NaszaSzkolna.pl 36,60 zł
Powieść sensacyjnaHorror i thrillerKryminałProza obcaKsiążki
How far would you go to protect your darkest secrets?When teenager Sadie Winter jumps from the roof of her school, her death is ruled as suicide
Sklep: NaszaSzkolna.pl 78,47 zł
Książki / Literatura obcojęzyczna
The bum who put the touch on JoJo was just like any other bum on Skid Row-red-faced, in clothes that didn't fit, and with the shakes, a condition that only a drink could still. The line was the same with all of them and they always targeted JoJo for his big heart. "I ain't et in two days," they'd beg to JoJo but he knew if he parted with the quarter-that is, if he even had one to part with-the bum would head straight for the nearest liquor store or beer joint. Set in Memphis, Tennessee during the Great Depression, "Skid Row" follows the lives of a group of laborers known as tinners. There was Jew Bill, Shorty, Fingers, Grinder, Swede and Junior, among others, some said to be, "as ugly as homemade sin." Also known as down-and-outers, these men never missed a chance to gawk at the high-steppers prancing in and out of the flophouse across the street from the tin shops. Yet they treated the lovely, shapely Reba, the Widow Hanna, and the innocent Betty Jo with more respect. All the while, these were men trying desperately to make it to the next payday, fighting within themselves whether to put food on the table for the family, or use the last bit of pocket change for a much-needed drink. Teeming with vivid narrative about a lively yet lonely street from a time and place long forgotten, "Skid Row" is told through the eyes of a young lad growing from teenager to manhood while working in his father's tin shop. Joe Werner has filled his first novel with humor and yearning in his own, unique, bare-knuckled voice. With no subtlety or pretense, Werner makes you root for a group of people struggling to simply exist in this gritty, entertaining novel of bygone days. Joe Werner was born and raised in Memphis, Tennessee and worked until retirement as a tinsmith and contractor. When taking a break from writing, Joe and his wife, Amelia, travel the world and play golf. These days, he's busy working on his next novel.
Sklep: Libristo.pl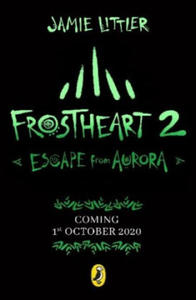 41,44 zł
Frostheart 2 Penguin Random House Children's UK
Książki / Literatura obcojęzyczna
Sequel to the bestselling Frostheart - the crew are back for another thrilling adventure!Ash and the rest of the Frostheart's brave crew have finally arrived at the majestic stronghold of Aurora - and Ash's mind is blown. It's an extraordinary place - unlike anything he's ever seen - and he can't wait to solve the next clue that will lead him to his parents. But it's quickly clear that even Aurora isn't safe for Song Weavers.A fanatical Pathfinder captain has turned the city against Ash and his kind - and it's not long before the Frostheart has to make another break for freedom. But when a vicious Wraith attack leaves Ash, Lunah, Rook and Tobu stranded on the ice, they will have to use all their strength and cunning to reach safety. But what they find is even more incredible...Praise for Frostheart: "Littler's debut is wild, funny, lavishly illustrated and filled with excitement." Guardian"A heart-stopping tale ... [that] really lives up to the hype" Sunday Post"This exhilarating snowy adventure will have kids reading under the covers long after lights out." i Newspaper
Sklep: Libristo.pl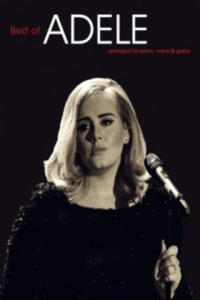 83,99 zł
Best of Adele Hal Leonard Europe Limited
Książki / Literatura obcojęzyczna
"This Best Of Adele songbook features 21 of the British singer's biggest songs so far, arranged for Piano, Voice and Guitar with full lyrics, chord symbols and Guitar chord boxes. Including the greatest hits from all three of her albums, as well as the chart-topping Hello, plus a brief introduction to each album, this is the definitive Adele sheet music songbook.
Sklep: Libristo.pl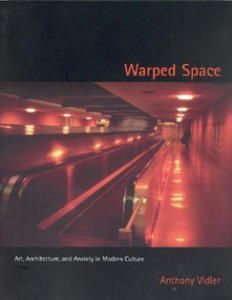 121,94 zł
Książki / Literatura obcojęzyczna
Beginning with agoraphobia and claustrophobia in the late nineteenth century, followed by shell shock and panic fear after World War I, phobias and anxiety came to be seen as the mental condition of modern life. They became incorporated into the media and arts, in particular the spatial arts of architecture, urbanism, and film. This "spatial warping" is now being reshaped by digitalization and virtual reality.Anthony Vidler is concerned with two forms of warped space. The first, a psychological space, is the repository of neuroses and phobias. This space is not empty but full of disturbing forms, including those of architecture and the city. The second kind of warping is produced when artists break the boundaries of genre to depict space in new ways. Vidler traces the emergence of a psychological idea of space from Pascal and Freud to the identification of agoraphobia and claustrophobia in the nineteenth century to twentieth-century theories of spatial alienation and estrangement in the writings of Georg Simmel, Siegfried Kracauer, and Walter Benjamin. Focusing on current conditions of displacement and placelessness, he examines ways in which contemporary artists and architects have produced new forms of spatial warping. The discussion ranges from theorists such as Jacques Lacan and Gilles Deleuze to artists such as Vito Acconci, Mike Kelley, Martha Rosler, and Rachel Whiteread. Finally, Vidler looks at the architectural experiments of Frank Gehry, Coop Himmelblau, Daniel Libeskind, Greg Lynn, Morphosis, and Eric Owen Moss in the light of new digital techniques that, while relying on traditional perspective, have radically transformed the composition, production, and experience--perhaps even the subject itself--of architecture.
Sklep: Libristo.pl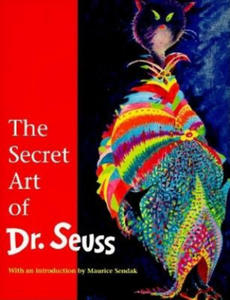 129,49 zł
Książki / Literatura obcojęzyczna
If you've ever read Oh, the Places You'll Go!, The Cat in the Hat, Horton Hears a Who, or any of the dozens of books written and illustrated by Theodor Geisel, you may think you're familiar with the work of the man who delighted millions as "Dr. Seuss". But the wildly imaginative creations collected in these pages show a previously unseen dimension of Geisel's art. These fabulous and whimsical paintings, created for his own pleasure and never before shown to the public, will enchant and amaze you. These fantastical images have the inimitable style of Geisel's alter ego Dr. Seuss, frequently depicting outlandish creatures in otherworldly settings. The puckish Seuss humor is in evidence, as well as the insight that often gave his stories deeper meaning. But these paintings break new ground, using a dazzling rainbow of hues not seen in the primary-color palette of Geisel's books for children. The Secret Art of Dr. Seuss exhibits a sophisticated, technically accomplished, and often quite unrestrained side of Geisel's talent. As his widow, Audrey Geisel, writes in her eloquent note to the collection: "I remember telling Ted that there would come a day when many of his paintings would be seen and he would thus share with his fans another facet of himself - his private self. That day has come".
Sklep: Libristo.pl
Sklepy zlokalizowane w miastach: Warszawa, Kraków, Łódź, Wrocław, Poznań, Gdańsk, Szczecin, Bydgoszcz, Lublin, Katowice
Szukaj w sklepach lub całym serwisie
2. Szukaj na wszystkich stronach serwisu
t1=0.045, t2=0, t3=0, t4=0.026, t=0.045