libristo english for medicine teacher book 1196059
- znaleziono 4 produkty w 2 sklepach 107,30 zł
Książki / Literatura obcojęzyczna
English for Medicine in Higher Education Studies The Garnet Education English for Specific Academic Purposes series won the Duke of Edinburgh English Speaking Union English Language Book Award in 2009. English for Medicine is a skills-based course designed specifically for students of medicine who are about to enter English-medium tertiary level studies. It provides carefully graded practice and progression in the key academic skills that all students need, such as listening to lectures and speaking in seminars. It also equips students with the specialist medical language they need to participate successfully within a medical faculty. Extensive listening exercises come from medical lectures, and all reading texts are taken from the same field of study. There is also a focus throughout on the key medical vocabulary that students will need. The Teacher's Book includes: * Comprehensive teaching notes on all exercises to help teachers prepare effective lessons * Complete answer keys to all exercises * Full transcripts of listening exercises *Facsimiles of Course Book pages at the appropriate point in each unit *Photocopiable resource pages and ideas for additional activities The Garnet English for Specific Academic Purposes series covers a range of academic subjects. All titles present the same skills and vocabulary points. Teachers can therefore deal with a range of ESAP courses at the same time, knowing that each subject title will focus on the same key skills and follow the same structure. Key Features * Systematic approach to developing academic skills through relevant content. * Focus on receptive skills (reading and listening) to activate productive skills (writing and speaking) in subject area. * Eight-page units combine language and academic skills teaching. * Vocabulary and academic skills bank in each unit for reference and revision. * Audio CDs for further self-study or homework. * Ideal coursework for EAP teachers.
Sklep: Libristo.pl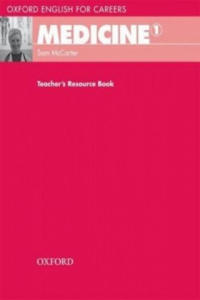 84,88 zł
Książki / Literatura obcojęzyczna
Medicine teaches pre-work students to communicate accurately and effectively in English, with patients and colleagues.
Sklep: Libristo.pl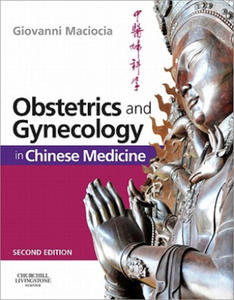 646,50 zł
Książki / Literatura obcojęzyczna
This is the new edition of the most comprehensive Chinese Medicine Obstetrics and Gynecology textbook in the English language. World - renowned author and teacher Giovanni Maciocia gives a clear, detailed explanation of the physiology, pathology and aetiology of women's disorders in Traditional Chinese Medicine (TCM) and adapts these to Western conditions and patients. Seventy gynecological conditions are discussed in detail with consideration given to differentiation between conditions, the advised treatment using acupuncture and herbs, prevention and prognosis. Guidelines on lifestyle and use of the eight extraordinary vessels are provided, with case studies allowing easy application of theory to practice throughout. New for this edition: new attractive two-colour layout with book marks to ease navigation; endometriosis and its treatment now included and fully covered in a new chapter; infertility chapter includes recent research highlighting factors in infertility; all prescriptions now removed from the text and attractively presented in three appendices - Patient Remedies, Prescriptions and Three Treasure Remedies. "Obstetrics and Gynecology in Chinese Medicine is a paradigmatic work. It is tempered with reverence and innovation, meticulous archival attention and detailed modern clinical insight. When future generations look back at this worka? they will find not only knowledge and wisdom but also reasons for inspiration and awe." From the Foreword to the first edition by Ted J. Kaptchuk, Associate Director, Centre for Alternative Medicine Research, Beth Israel Hospital; Instructor in Medicine, Harvard medical School, Boston, USA.
Sklep: Libristo.pl 797,94 zł
Medycyna > English Division
With this fully revised fourth edition, Dr Stahl returns to the essential roots of what it means to become a neurobiologically empowered psychopharmacologist, expertly guided in the selection and combination of treatments for individual patients in practice. Embracing the unifying themes of 'symptom endophenotypes', dimensions of psychopathology that cut across syndromes, and 'symptoms and circuits', every aspect of the text has been updated to the frontiers of current knowledge, with the clarity of explanation and illustration that only Dr Stahl can bring. Integrating much of the basic neuroscience into the clinical chapters, and with major additions in the areas of psychosis, antipsychotics, antidepressants, impulsivity, compulsivity and addiction, this is the single most readily readable source of information on disease and drug mechanisms. This remains the essential text for all students and professionals in mental health seeking to understand and utilize current therapeutics, and to anticipate the future for novel medications. Reviews of previous editions: '... essential reading ... I would thoroughly recommend this book to anyone who works with psychotropic drugs - or who has the task of teaching others about them!' American Journal of Psychiatry 'The clinically orientated chapters do an impressive job of bringing together the neuropathological basis and psychopharmacological approaches to psychiatric conditions. I would highly recommend this as a concise, entertaining and easily accessible source of information.' Addiction Biology 'If there is one basic psychopharmacology text for a practitioner or teacher of psychiatric medicine to own, this is it ... Cleverly illustrated with simple cartoons, this book presents complex information in an easily accessible manner ... [Stahl's] Essential Psychopharmacology is a first rate book.' The Lancet '... an excellent basic textbook covering the key areas of psychopharmacology. Its concise and structured approach made reading enjoyable ... I would wholeheartedly recommend this book to all psychiatric trainees.' Journal of Intellectual Disability Research 'As an MRC psychiatry student I have benefited enormously from studying this book. Stahl has allowed me to see the light in what I previously found to be a very complex subject ... it has made a fascinating and fulfilling read.' International Journal of Geriatric Psychiatry '[Stahl's] Essential Psychopharmacology offers a wide range of readers an engaging and comprehensive view of psychopharmacology. It is highly recommended to both novice and experienced researchers, who stand to gain a new or renewed appreciation for the complexity and beauty of how the nervous system mediates the behavioural effects of drugs.' Contemporary Psychology 'The book is an excellent source of information for the art of prescribing psychotropic medications. This book belongs in every clinician's library and serves as a model of clarity for others.' Acta Psychiatrica Scandinavica 'Medical students, psychiatry residents and fellows and experienced clinicians will find the style and content refreshing ... I recommend this text as an extremely useful reference work as we enter the next decade of discovery in brain neurosciences and its role in clinical psychiatry.' Psychological Medicine 'We highly recommend this book both to general practitioners who may need information on general mechanisms of psychotropic drugs and to students that would like to learn more about basic psychopharmacology and its practical applications.' Clinical Neuropsychiatry
Sklep: Ksiazki-medyczne.eu
Sklepy zlokalizowane w miastach: Warszawa, Kraków, Łódź, Wrocław, Poznań, Gdańsk, Szczecin, Bydgoszcz, Lublin, Katowice
Szukaj w sklepach lub całym serwisie
2. Szukaj na wszystkich stronach serwisu
t1=0.013, t2=0, t3=0, t4=0.014, t=0.013