libristo examination questions and answers in basic anatomy and physiology 18836036
- znaleziono 10 produkty w 2 sklepach 123,90 zł
Książki / Literatura obcojęzyczna
"300 Questions and Answers in Anatomy and Physiology" has been published in response to repeated requests for self-test material in this subject - an area that causes most difficulty in examination. This collection of multiple choice questions gives the student the opportunity to concentrate on specific areas of weakness with a focussed and comprehensive review programme in the subject of their choice. Compiled by a leading training centre, these questions are representative of the type of question likely to appear in the examination paper. By using this revision guide you will not only increase your understanding of the subject, but also increase your chances of achieving success in the examination.
Sklep: Libristo.pl 93,00 zł
Medycyna > English Division
The Viva Voce is a particularly difficult element of the MRCS exam since candidates will be tested across a broad range of topics in surgery, pathology, critical care and basic science, and also as candidates are unsure what to expect, or how to prepare for such an exam. Questions for the MRCS Viva is an essential guide to sitting and passing the Viva Voce part of the MRCS exam. Each subject area offers 20-30 questions, which follow a conversational pattern where new questions follow logically from previous answers - exactly as one would expect in the exam itself. Written by recently qualified surgeons who are now actively involved in the teaching and support of new trainees, this book is the closest a candidate will get to being a fly on the wall in a Viva Voce examination. If you read this book you will be very well prepared for the MRCS vivas. It is one of the best and most comprehensive available and I now recommend it to all our local senior house officers...If I were taking the MRCS examination, I would base my revision around this book Postgraduate Medical Journal The best book I ever bought! I thank the authors for ensuring I passed, as I had already answered most of the questions I was asked by going through this book. Amazon Customer Review It is perfect for asking questions to your study group/partners and you then have the answers to your questions at hand. The answers provided are excellent - plenty of detail and well written. I personally found myself regurgitating many of the answers from this book for my viva exam -especially the physiology. I passed. Amazon customer review
Sklep: Ksiazki-medyczne.eu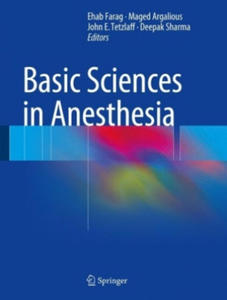 938,33 zł
Książki / Literatura obcojęzyczna
This textbook presents the most recent evidenced-based knowledge in basic sciences in anesthesia. It covers topics from the syllabus of the American Board of Anesthesiology (ABA) basic science exam, including anatomy, pharmacology, physiology, physics in anesthesia, and more. In each chapter, key points summarize the content, followed by a pertinent and concise discussion of the topic, ending with multiple choice questions with answers and suggested further reading. Basic Sciences in Anesthesia is aimed at residents taking the ABA basic science of anesthesia examination, and any other anesthesiologist or trainee with an interest in the topic.
Sklep: Libristo.pl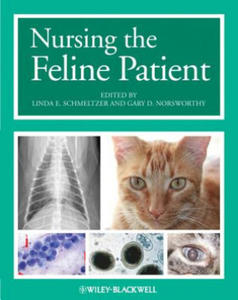 403,84 zł
Książki / Literatura obcojęzyczna
Nursing the Feline Patient is a comprehensive and accessible clinical manual addressing the unique nursing needs of cats. Covering all aspects of feline nursing care from the examination room to the surgical suite, the book highlights the special considerations for cat patients throughout. Written specifically for veterinary technicians and nurses, topics range from restraint, preventative care, and laboratory procedures to surgery, dentistry, and specific diseases of concern.
Sklep: Libristo.pl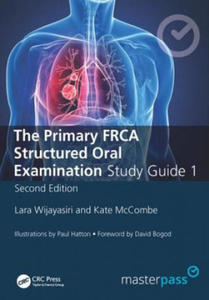 297,42 zł
Książki / Literatura obcojęzyczna
MasterPass Series This fully up-to-date book is designed specifically for candidates preparing for the Primary FRCA structured oral examination incorporating the new exam structure and syllabus. Sample questions accurately reflect the examination while model answers are systematically structured with definitions and classifications and illustrated with essential diagrams and graphs. The books provide clear and concise explanations to key scientific concepts and problem-based answers to clinical scenarios. This first part contains questions on physiology and physics. Packed with new guidelines fundamental topics that are poorly covered in other main texts and current hot topics this book and its companion The Primary FRCA Structured Oral Examination Study Guide 2 are the definitive revision aid to the Primary FRCA but will also be of value to candidates preparing for the basic science component of the Final FRCA as reference source for qualified anaesthetists and as a text for tutors preparing candidates for the structured oral examination (SOE). For more information on other titles in this series please click here
Sklep: Libristo.pl 443,13 zł
Książki / Literatura obcojęzyczna
Board certification by the American Board of Neurological Surgery is considered the gold standard for neurosurgeons practicing in the U.S. The ABNS primary examination requires many months of preparation, and passing it is both a significant accomplishment and integral component in becoming board certified. Contributions from current neurosurgical residents and seasoned practitioners infuse this book with a well-rounded perspective. Having been there and done that, the authors incorporated what they felt was missing from board review books when they sat for the exam
Sklep: Libristo.pl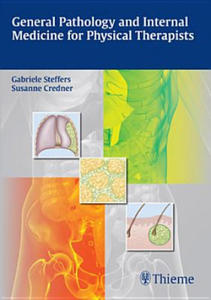 280,32 zł
Książki / Literatura obcojęzyczna
Written by physicians, General Pathology and Internal Medicine for Physical Therapists introduces the basic principles of internal medicine and general pathology clearly and comprehensively for physical therapy (PT) students and practitioners that are essential for understanding disease patterns and symptoms as well as diagnostic procedures and medical therapies. With this user-friendly book at hand, students and PT practitioners will have the knowledge to identify underlying medical conditions, develop individualized treatment plans that take these factors into account, achieve sound therapeutic goals, and refer patients to other resources where necessary. Special Features: * The only general medicine book for physical therapists written with the in-depth knowledge and experience of practicing MDs * Organized in two logical sections: the first, General Pathology, provides a basic foundation in the origin and course of diseases, cardinal signs and symptoms, and diagnostic and therapeutic procedures; the second, Internal Medicine, focuses on anatomy, physiology, and diagnosis of pathologies found in different organ systems, with a concentration on diseases that are treated with physical therapy * Presents the information in concise summary form but with enough detail to enable PTs to accurately screen and diagnose patients * Offers nearly 300 full-color, didactic illustrations that serve as a superb visual aid to learning * Includes numerous tables, chapter summaries, a glossary of medical terminology, and dozens of case studies that make every concept clear and accessible * Assists in exam preparation by furnishing dozens of study questions and answers Now a major part of the curriculum in undergraduate and graduate physical therapy programs, internal medicine and general pathology are part of the basic equipment of the physical therapist. For PT students, this book will be a training guide throughout their studies and a valuable review as they prepare for examinations. For practitioners of physical therapy, exercise physiology, massage therapy, and other allied health disciplines, it is a reliable and easy-to-use reference that will help them fully understand their patients medical conditions and provide the highest levels of care.
Sklep: Libristo.pl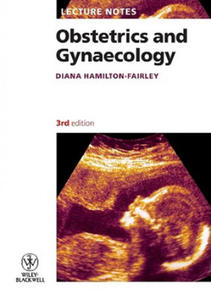 143,07 zł
Książki / Literatura obcojęzyczna
Now in its 3rd edition, Lecture Notes: Obstetrics and Gynaecology has been extensively revised and updated to provide a concise and practical introduction to obstetrics and gynaecology for medical students and junior doctors. Starting with a section on basic science, the text is divided into six sections that explain female health needs and their management from the early years to old age. The self-assessment section is now a separate chapter, and includes Extended Matching Questions (EMQs), scenarios for practical history taking for the Objective Structured Clinical Examination (OSCE) and Multiple Choice Questions (MCQs). Part 1 looks at female reproductive anatomy and physiology. Part 2 covers the puberty and menstrual problems of young women, sub-fertility, pregnancy prevention, and sexual problems. Part 3 examines the reproductive years including pregnancy and childbirth. Part 4 covers the mature woman including menstrual problems of the older woman and pelvic pain. Part 5 discusses the older woman including the menopause, incontinence and malignancy including breast cancer. Part 6 demonstrates the importance of public health statistics on the provision of services in obstetrics and gynaecology. Now in two-colour throughout, with a new colour plate section, Lecture Notes: Obstetrics and Gynaecology covers the core material needed for O&G courses, written specifically for medical students, nursing students, junior doctors on the Foundation Programme and the first two years of specialist training, midwives, and GPs.
Sklep: Libristo.pl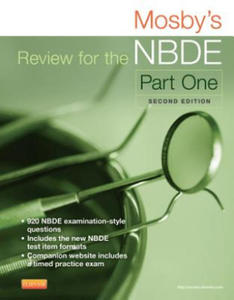 344,80 zł
Książki / Literatura obcojęzyczna
The new second edition of Mosby's Review for the NBDE, Part I provides the most up-to-date information on each of the basic sciences addressed in Part I of the National Board Dental Examination (NBDE) - including Anatomic Sciences, Biochemistry and Physiology, Microbiology and Pathology, and Dental Anatomy and Occlusion. Edited by Frank Dowd, a recognized authority in the dental field, and authored by experts in each of the 9 subject areas, this complete exam review utilizes an easy-to-use outline format that mirrors the topic progression of the NBDE. It also comes loaded with informative examples and illustrations, endless practice questions reflecting the latest question types, and customizable testing modes to ensure you are fully prepared to tackle every aspect of Part I of the NBDE.
Sklep: Libristo.pl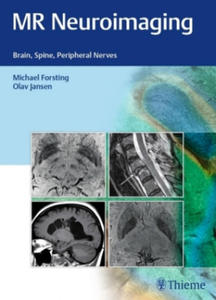 998,12 zł
Książki / Literatura obcojęzyczna
The imaging quality achievable in MR imaging today was inconceivable just a few years ago. No other subdiscipline has evolved so swiftly while placing ever-greater emphasis on fast and accurate results. This book is intended as an indispensable tool at the workplace, as reference for image interpretation, and even for fast orientation during the examination. Adjunct information is provided that fosters the dialogue with referring physicians: for most diseases and conditions there are summaries of epidemiology, clinical findings, pathogenesis and pathophysiology, as well as basic therapy concepts. Special features: A fast-reference guide, even in tricky cases-differential diagnosis made easy, with high clinical relevance Tips for organizing examinations Reference images for comparison with actual images A reference book for looking up equivocal findings More than 1,300 vivid, high-resolution images from the latest generation of scanners Coverage of peripheral nervous system diseases and MR neurography Answers to questions such as: What technique is best for answering a specific question? What does normal anatomy look like, and what landmarks should be sought? Which differential diagnoses should I consider? What are the optimal equipment settings at my workplace? What therapeutic options does interventional radiology provide? For all radiologists in hospital or office settings, also for neurologists and neurosurgeons.
Sklep: Libristo.pl
Sklepy zlokalizowane w miastach: Warszawa, Kraków, Łódź, Wrocław, Poznań, Gdańsk, Szczecin, Bydgoszcz, Lublin, Katowice
Szukaj w sklepach lub całym serwisie
2. Szukaj na wszystkich stronach serwisu
t1=0.036, t2=0, t3=0, t4=0.026, t=0.036