libristo impact of economic growth on unemployment in south africa 9126666
- znaleziono 7 produktów w 1 sklepie 344,13 zł
Książki / Literatura obcojęzyczna
South Africa is one of the African countries that is endowed with a lot of resources, both human and minerals. However due to activities such as increase in corruption, gross mismanagement and adverse policies of various governments, these resources have not been optimally utilised. One of the most pressing problems facing the South African economy is unemployment, which has been erratic over the past few years. This study examined the impact of economic growth on unemployment, using quarterly time series data for South Africa for the period 1994 to 2012. The study resulted in the following policy recommendation: South African government should re-direct its spending towards activities that directly and indirectly promote creation of employment and decent jobs; a conducive environment and flexible labour market policies or legislations without impediments to employment creation should be created; and lastly government should prioritise industries that promote labour intensive. All this will help in absorbing large pools of the unemployed population thereby reducing unemployment in South Africa.
Sklep: Libristo.pl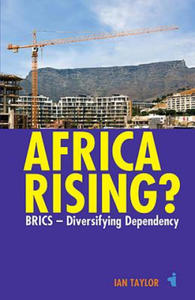 110,61 zł
Książki / Literatura obcojęzyczna
Africa is said to be rising, turning a definitive page in its history, heralding new and exciting possibilities for the continent. The Africa Rising discourse maintains that upsurge in economic growth comes with improved governance and endogenous dynamics; that the emerging economies, and especially the BRICS (Brazil, Russia, India China, South Africa), have been instrumental in diversifying Africa's international relations, perhaps leading to a radical change in the global order, favourable to the developing world. But to what extent is this true, and how deep and how broad has been the impact on society at large? This book takes a critical look at the prevalent Africa Rising discourse, and explores the nature and implications of Africa's "rise" and the role that the BRICS have played in it thus far. The author argues that Africa has still yet to go through any structural transformation and, that there is strong evidence to suggest de-industrialisation and jobless growth have accompanied the upsurge of interest in the continent in recent years. Far from bringing about a milieu where Africa may make a radical turn in its developmental trajectory, Taylor suggests that the continent is ever more being pushed into the resource corner. At the same time, hope that the BRICS might offer up an alternative to the extant neoliberal order have been misplaced: the elites of the BRICS have a stake in maintaining the current unequal global system. While the emerging economies will be important, Africa must fashion its own independent path - relying on the external actors may simply reproduce anew the current state of underdevelopment. Ian Taylor is Professor in International Relations and African Politics, University of St Andrews; Chair Professor, Renmin, University of China; Professor Extraordinary, University of Stellenbosch, South Africa; Honorary Professor, Institute of African Studies, Zhejiang Normal University, China; and a Visiting Scholar at Mbarara University of Science and Technology, Uganda.
Sklep: Libristo.pl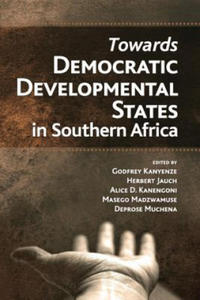 269,24 zł
Książki / Literatura obcojęzyczna
The dawn of the twenty-first century heralded an apparent change of fortunes for most sub-Saharan African economies, with annual growth averaging over 5% for fifteen years. However, this was not accompanied by structural transformation: poverty, food insecurity, unemployment and inequality persist. Structural transformation has not been - and indeed cannot be - delivered by market forces and neo-liberal economic policies; it requires a state committed to development, and to achieving it in a democratic way. To what extent do the countries of Southern Africa exhibit the characteristics of such a 'developmental state'? What steps, if any, do they need to take in order to become one? The book answers the questions with respect to South Africa, Botswana, Namibia, Zimbabwe, Angola and Malawi. Godfrey Kanyenze and his colleagues have assembled a distinguished team of writers to take the temperature of the regional political economy, and chart a path for its future development.
Sklep: Libristo.pl 528,95 zł
Książki / Literatura obcojęzyczna
This book presents the findings of research conducted by scholars and activists associated with the Agrarian South Network, based mainly in Africa, Asia and Latina America. The research articulates a Southern perspective on the "new scramble" for Africa, with a view to strengthen tri-continental solidarities. The book explains the significance of the new scramble in terms of the economic structures inherited from the late-nineteenth-century scramble and the subsequent post-independence period. The renewed competition for Africa's land and natural resources and the resumption of economic growth at the turn of the millennium have revived concerns regarding the continent's position in the world economy and the prospects for its development in the twenty-first century. In this regard, the book addresses two related issues: the character of the expansion of Southern competitors in relation to the more established Western strategies; and the impact of the renewed influx of investments in land, minerals, and associated infrastructure. The findings are presented with empirical rigor and conceptual clarity, to enable the reader to grasp what really is at stake in the twenty-first century - an epic struggle to reclaim Africa from the monopolies that exercise control over its land, minerals, labour, and destiny.
Sklep: Libristo.pl 484,39 zł
Książki / Literatura obcojęzyczna
Since South Africa is a developing state, the roles of the parastatals in stimulating economic growth and contributing to the alleviation of unemployment and poverty eradication are inevitable. South African parastatals find themselves with numerous initiatives that become projects as part of these initiatives. The projects vary from small to large capital investments. Parastatals are strategic assets that need to account for taxpayers funds. This thesis considers that the executed projects can add value only if there is a link to the strategic objectives. The effectiveness of this link can be established by having benefit realisation metrics. The metrics should have a process of measuring performance of projects based on strategic objectives. The thesis views projects that are executed outside strategic objectives as not viable. Without a clear process of using strategic objectives as a guide to measure success of projects, the expenditure in parastatals will remain unaccounted for, resulting in what could lead to a PFMA issue. The argument is that the lack of strategic leadership has resulted in the challenges facing parastatals with regard to capital expansion.
Sklep: Libristo.pl 450,59 zł
Książki / Literatura obcojęzyczna
Many regard the ways in which paid work can be combined or 'balanced' with other parts of life as an individual concern and a small, rather self-indulgent problem in today's world. Some feel that worrying about a lack of time or energy for family relationships or friendships is a luxury or secondary issue when compared with economic growth or development. In the business world and among many Governments around the world, the importance of paid work and the primacy of economic competitiveness, whatever the personal costs, is almost accepted wisdom. Profits and short term efficiency gains are often placed before social issues of care or human dignity. But what about the impact this has on men and women's well being, or the long-term sustainability of people, families, society or even the economy? Drawing from interviews and group meetings in seven diverse countries - India, Japan, the Netherlands, Norway, South Africa, the UK and USA - this book explores the multiple difficulties in combining paid work with other parts of life and the frustrations people experience in diverse settings. There is a myth that 'work-life balance' can be achieved through quick fixes rather than challenging the place of paid work in people's lives and the way work actually gets done. As well as exploring contemporary problems, this book attempts to seed hope and new ways of thinking about one of the key challenges of our time.
Sklep: Libristo.pl
421,98 zł
Książki / Literatura obcojęzyczna
This textbook examines strategies of investing in human health and investing in economic growth as distinct approaches to development. It explores the symbiotic relationship of these tactics, and considers the applications and outcomes from a global, national and community level perspective. Each chapter introduces concepts of economic development and population health, and uses case studies to illustrate the same. These case studies include program and policy examples from Bangladesh, Chile, Haiti, Rwanda, South Africa and Sri Lanka. The textbook also examines the impact of macroeconomic adjustment programs, health care restructuring, investment in primary health care, public-private partnerships, and the challenges of program coordination and up-scaling in stable and conflict-ridden countries. Discussion questions are provided at the end of each chapter to facilitate classroom activities. Solutions are provided at the end of the textbook.
Sklep: Libristo.pl
Sklepy zlokalizowane w miastach: Warszawa, Kraków, Łódź, Wrocław, Poznań, Gdańsk, Szczecin, Bydgoszcz, Lublin, Katowice
Szukaj w sklepach lub całym serwisie
2. Szukaj na wszystkich stronach serwisu
t1=0.332, t2=0, t3=0, t4=0.019, t=0.332