libristo sh t no one tells you about toddlers 9414407
- znaleziono 4 produkty w 2 sklepach 87,83 zł
Książki / Literatura obcojęzyczna
They re getting bigger. And you re not getting any more sleep. Second in the "Sh!t No One Tells You" series, in "The Sh!t No One Tells You About Toddlers" Dawn Dais tells it like it is again offering real advice for parents of growing children. Filled with tips, encouragement, and a strong dose of humor, "The Sh!t No One Tells You About Toddlers" is a survival handbook for parents on the edge. Chapters include: You Suck at This. "It s not just your imagination."Walking Is Hard. "Bruising is considerably less difficult."Remember When You Judged Other Parents? "Prepare to eat your words, with a side of karma s a bitch."Restaurants Are Battle Zones. "Spoiler Alert: You are not the victor."Kids Get Sick. "Then everyone gets sick."This Childhood Will Be Televised. "Hello, camera phones."Your TV Has Been Hijacked. "By things with very high-pitched voices." Coming from one empathetic parent to another, the tips in this book are real, clever, honest, and designed to make life with a terrible two- or three-year-old a little bit more manageable. Hilarious, helpful, and handy, this book will be appreciated by any parent who has asked: Why didn t anybody warn me that unconditional love would be so much work? "
Sklep: Libristo.pl 75,17 zł
Książki / Literatura obcojęzyczna
There comes a time in every new mother's life when she finds herself staring at her screaming, smelly bundle of joy and wishing someone had told her that her house would reek of vomit, or that she shouldn't buy the cute onesies with a thousand impossible buttons, or that she might cry more than the baby. Best-selling humor author Dawn Dais, mother to a one-year-old and author of The Nonrunner's Marathon Guide for Women, is convinced that there is a reason for this lack of preparedness. She believes that a vast conspiracy exists to hide the horrific truth about parenting from doe-eyed expectant mothers who might otherwise abandon their babies in hospitals and run for it. In The Sh!t No One Tells You, Dais tells it like it is, revealing what it's really like to be a new parent and providing helpful insights, humor, and hope for those who feel overwhelmed by the exhausting trials they're suddenly facing. Eschewing the adorableness that oozes out of other parenting books, Dais offers real advice from real moms--along with hilarious anecdotes, clever tips, and the genuine encouragement every mom needs in order to survive the first year of parenthood.
Sklep: Libristo.pl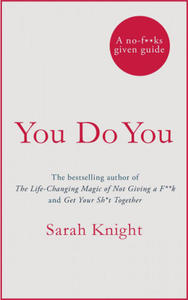 58,22 zł
Książki / Literatura obcojęzyczna
*From the author who brought you the 'genius' bestsellers The Life-Changing Magic of Not Giving a F**k and Get Your Sh*t Together* In The Life-Changing Magic of Not Giving a F**k, our favourite 'anti-guru' Sarah Knight unleashed the power of saying no. In Get Your Sh*t Together, she prioritised the sh*t you need and want to do so you can achieve your hopes and dreams. Now she's back, doubling down on your happiness with her latest message: You Do You. Being yourself should be the easiest thing in the world. Yet instead of leaning in to who we are, we fight it, listening too closely to what society tells us. You Do You helps you shake off those expectations, say f**k perfect, start looking out for number one and keep on with your badass self. From career and finances to relationships and family, lifestyle and health, Sarah Knight rips up the rulebook. Writing about her mistakes and embarrassments in her own personal quest to 'do me' - because nobody gets everything right all day, every day - Sarah Knight shows why you can and should f**k up and teaches you to let yourself off the hook, bounce back and keep standing tall. What everyone is saying about Sarah Knight: 'The anti-guru' Observer 'I love Knight' Sunday Times 'Life-affirming' Lucy Mangan, Guardian 'Genius' Vogue
Sklep: Libristo.pl 40,80 zł
Literatura faktu
'Only with the greatest of simplifications, for the sake of convenience, can we say Africa. In reality, except as a geographical term, Africa doesn't exist'. Ryszard Kapuscinski has been writing about the people of Africa throughout his career. In a study that avoids the official routes, palaces and big politics, he sets out to create an account of post-colonial Africa seen at once as a whole and as a location that wholly defies generalised explanations. It is both a sustained meditation on the mosaic of peoples and practises we call 'Africa', and an impassioned attempt to come to terms with humanity itself as it struggles to escape from foreign domination, from the intoxications of freedom, from war and from politics as theft. The Beginning: Collision, Ghana 1958 More than anything, one is struck by the light. Light everywhere. Brightness everywhere. Everywhere, the sun. Just yesterday, an autumnal London was drenched in rain. The airplane drenched in rain. A cold, wind, darkness. But here, from the morning
Sklep: Albertus.pl
Sklepy zlokalizowane w miastach: Warszawa, Kraków, Łódź, Wrocław, Poznań, Gdańsk, Szczecin, Bydgoszcz, Lublin, Katowice
Szukaj w sklepach lub całym serwisie
2. Szukaj na wszystkich stronach serwisu
t1=0.221, t2=0, t3=0, t4=0.047, t=0.222