libristo wittgenstein theory literature 4435168
- znaleziono 7 produktów w 1 sklepie 150,44 zł
Książki / Literatura obcojęzyczna
Applying the approach of Wittgenstein to core areas of literary theory, including poetry, deconstruction, the ethical value of literature and the nature and logic of fictional discourse, this volume brings together 21 articles by prominent figures in the field.
Sklep: Libristo.pl 397,23 zł
Książki / Literatura obcojęzyczna
Stanley Cavell is a leading figure in American philosophy and one of the most exhilarating and wide--ranging intellectuals of our time. In this book Espen Hammer offers a lucid and thorough account of the development of Cavella s work, from his early writings on ordinary language philosophy and skepticism to his most recent contributions to film studies, literary theory, romanticism, ethics, and politics. The book traces the many lines of skepticism occurring in Cavella s work and shows how they amount to a rich and subtle picture of human subjectivity. Hammer explores Cavella s passionate engagement with Austin and Wittgensteina s visions of language, and his uncovering of conceptions of the ordinary in Emerson and Thoreau. Central sections of the book are devoted to the tragic and the comic as these modes of existence come into play in Shakespeare and Hollywood cinematic drama. In elaborating Cavella s responses to thinkers such as Heidegger, Levinas, and Derrida, the author situates Cavella s writing within the wider context of contemporary continental philosophy. Hammer clearly reveals the existential dimensions of Cavella s thought. He argues that his variant of ordinary language philosophy is a vital stimulus to self--transformation in cognitive, aesthetic, ethical, and political domains, contributing significantly to a rethinking of issues such as responsibility and autonomy, and the relationship between philosophy and literature. A critical introduction to the thought of an inordinately complex writer, this book will be of great interest to students and scholars in philosophy, literary theory, cultural theory, comparative literature, and media and cultural studies.
Sklep: Libristo.pl 174,65 zł
Książki / Literatura obcojęzyczna
Kojin Karatani, Japan's leading literary critic, is perhaps best known for his imaginative readings of Shakespeare, Soseki, Marx, Wittgenstein, and most recently Kant. His works, of which Origins of Modern Japanese Literature is the only one previously translated into English, are the generic equivalent to what in America is called "theory." Karatani's writings are important not only for the insights they offer on the various topics under discussion, but also as an example of a distinctly non-Western critical intervention.In Architecture as Metaphor, Karatani detects a recurrent "will to architecture" that he argues is the foundation of all Western thinking, traversing architecture, philosophy, literature, linguistics, city planning, anthropology, political economics, psychoanalysis, and mathematics. In the three parts of the book, he analyzes the complex bonds between construction and deconstruction, thereby pointing to an alternative model of "secular criticism," but in the domain of philosophy rather than literary or cultural criticism.As Karatani claims in his introduction, because the will to architecture is practically nonoexistent in Japan, he must first assume a dual role: one that affirms the architectonic (by scrutinizing the suppressed function of form) and one that pushes formalism to its collapse (by invoking Kurt Godel's incompleteness theorem). His subsequent discussions trace a path through the work of Christopher Alexander, Jane Jacobs, Gilles Deleuze, and others. Finally, amidst the drive that motivates all formalization, he confronts an unbridgeable gap, an uncontrollable event encountered in the exchange with the other; thus his speculation turns toward global capital movement. While in the present volume he mainly analyzes familiar Western texts, it is precisely for this reason that his voice discloses a distance that will add a new dimension to our English-language discourse.
Sklep: Libristo.pl 159,09 zł
Książki / Literatura obcojęzyczna
In the course of nearly thirty years of work with patients in psychiatric hospitals and private practice, Franoise Davoine and Jean-Max Gaudilliere have uncovered the ways in which transference and countertransference are affected by the experience of social catastrophe. Handed down from one generation to the next, the unspoken horrors of war, betrayal, dissociation, and disaster in the families of patient and analyst alike are not only revived in the therapeutic relationship but, when understood, actually provide the keys to the healing process. The authors present vivid examples of clinical work with severely traumatized patients, reaching inward to their own intimate family histories as shaped by the Second World War and outward toward an exceptionally broad range of cultural references to literature, philosophy, political theory, and anthropology. Using examples from medieval carnivals and Japanese No theater, to Wittgenstein and Hannah Arendt, to Sioux rituals in North Dakota, they reveal the ways in which psychological damage is done--and undone. With a special focus on the relationship between psychoanalysis and the neurosciences, Davoine and Gaudilliere show how the patient-analyst relationship opens pathways of investigation into the nature of madness, whether on the scale of History--world wars, Vietnam--or on the scale of Story--the silencing of horror within an individual family. In order to show how the therapeutic approach to trauma was developed on the basis of war psychiatry, the authors ground their clinical theory in the work of Thomas Salmon, an American doctor from the time of the First World War. In their case studies, they illustrate how three of the four Salmonprinciples--proximity, immediacy, and expectancy--affect the handling of the transference-countertransference relationship. The fourth principle, simplicity, shapes the style in which the authors address their readers--that is, with the same clarity and directness with which
Sklep: Libristo.pl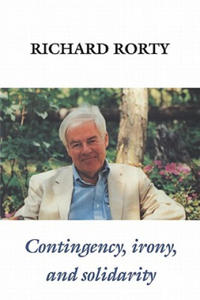 176,04 zł
Książki / Literatura obcojęzyczna
In this 1989 book Rorty argues that thinkers such as Nietzsche, Freud, and Wittgenstein have enabled societies to see themselves as historical contingencies, rather than as expressions of underlying, ahistorical human nature or as realizations of suprahistorical goals. This ironic perspective on the human condition is valuable on a private level, although it cannot advance the social or political goals of liberalism. In fact Rorty believes that it is literature not philosophy that can do this, by promoting a genuine sense of human solidarity. A truly liberal culture, acutely aware of its own historical contingency, would fuse the private, individual freedom of the ironic, philosophical perspective with the public project of human solidarity as it is engendered through the insights and sensibilities of great writers. The book has a characteristically wide range of reference from philosophy through social theory to literary criticism. It confirms Rorty's status as a uniquely subtle theorist, whose writing will prove absorbing to academic and nonacademic readers alike.
Sklep: Libristo.pl 103,54 zł
In The Break University of Minnesota Press
Książki / Literatura obcojęzyczna
In his controversial essay on white jazz musician Burton Greene, Amiri Baraka asserted that jazz was exclusively an African American art form and explicitly fused the idea of a black aesthetic with radical political traditions of the African diaspora. In the Break is an extended riff on "The Burton Greene Affair, " exploring the tangled relationship between black avant-grade in music and literature in the 1950s and 1960s, the emergence of a distinct form of black cultural nationalism, and the complex engagement with and disavowal of homoeroticism that bridges the two. Fred Moten focuses in particular on the brilliant improvisatory jazz of John Coltrane, Ornette Coleman, Albert Ayler, Eric Dolphy, Charles Mingus, and others, arguing that all black performance--culture, politics, sexuality, identity, and blackness itself--is improvisation. For Moten, improvisation provides a unique epistemological standpoint from which to investigate the provocative connections between black aesthetics and Western philosophy. He engages in a strenuous critical analysis of Western philosophy (Heidegger, Kant, Husserl, Wittgenstein, and Derrida) through the prism of radical black thought and culture. As the critical, lyrical, and disruptive performance of the human, Moten's concept of blackness also brings such figures as Frederick Douglass and Karl Marx, Cecil Taylor and Samuel R. Delany, Billie Holiday and William Shakespeare into conversation with each other. Stylistically brilliant and challenging, much like the music he writes about, Moten's wide-ranging discussion embraces a variety of disciplines--semiotics, deconstruction, genre theory, social history, and psychoanalysis--to understand thepoliticized sexuality, particularly homoeroticism, underpinning black radicalism. In the Break is the inaugural volume in Moten's ambitious intellectual project--to establish an aesthetic genealogy of the black radical tradition.
Sklep: Libristo.pl 140,96 zł
Książki / Literatura obcojęzyczna
Jorge Luis Borgesż philosophical fiction and Platożs intellectual dramas are perhaps the most intricate records in Western history of attempts to artfully interweave mythos and logos, argumentation and narrative, thought and imagination. Their juxtaposition, presented in the following study, aims at demonstrating the complex connections between classical and modern literature and thought. The study shows how the Platonic viewpoint sheds new light on Borgesż essayistic and fictional work, providing what Wittgenstein calls an aspect change in considering Borgesż literary and theoretical work as a whole textual corpus. The first part of the study deals with three theoretical themes: the interrelation of myth and logos, the quest for knowledge, and the theory of the archetypes. The second part is more aesthetically oriented, attending to artistic inspiration, literary representation, narrative identity, the nature of the written word, the act of reading, and the act of writing. All in all, the study strives to manifest the extent to which Borgesż thought is deeply rooted in classical doctrines and Platonic themes, and, based on that, to provide new interpretations to Borgesian stories and poems.
Sklep: Libristo.pl
Sklepy zlokalizowane w miastach: Warszawa, Kraków, Łódź, Wrocław, Poznań, Gdańsk, Szczecin, Bydgoszcz, Lublin, Katowice
Szukaj w sklepach lub całym serwisie
2. Szukaj na wszystkich stronach serwisu
t1=0.298, t2=0, t3=0, t4=0.019, t=0.299