prenatal and postnatal care
- znaleziono 44 produkty w 7 sklepach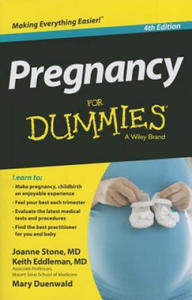 102,54 zł
Książki / Literatura obcojęzyczna
The reassuring guide to a happy, healthy pregnancy This new edition offers soon-to-be moms and dads detailed, friendly information on preparing and planning for pregnancy. You'll find guidance on the basics, as well as special considerations like age, multiple births, complications, illness, labor and delivery, postpartum care, and everything in between. Now in a portable, handy trim size that makes it easy to keep with you on the go, Pregnancy For Dummies, 4 th Edition is your go-to guide on everything you'll encounter during the first, second, and third trimesters-and beyond. Packed with new information and the latest developments in medical technology, it puts your mind at ease by offering straightforward answers to all the questions you may have about pregnancy, including health risks during pregnancy, fertility problems and solutions, "on demand" cesarean sections, weight gain during pregnancy, the correlation between mercury and autism, ways to stay emotionally and physically healthy during pregnancy, and much more. Includes a complete guide to pregnancy, through all three trimesters and beyond, including a week-by-week account of what to expect during pregnancy Covers the latest information related to healthcare and pregnancy, including the latest on vaccinations, fertility problems, and prenatal diagnoses Offers advice on picking a doctor, planning prenatal visits, and designing a birthing plan Explains the stages of labor and how to care for yourself and your newborn after childbirth If you're an expectant parent, Pregnancy For Dummies, 4 th Edition covers everything mom and baby experience before, during, and after childbirth.
Sklep: Libristo.pl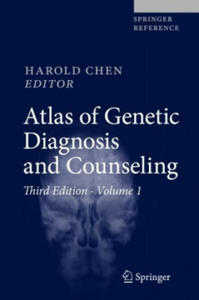 7685,65 zł
Książki / Literatura obcojęzyczna
Dr. Harold Chen shares his almost 50 years of clinical genetics practice in this new edition of a comprehensive pictorial atlas, featuring almost 290 genetic disorders, malformations, and malformation syndromes. The author provides a detailed outline for each disorder, describing its genetics, basic defects, clinical features, diagnostic tests, and counseling issues, including recurrence risk, prenatal diagnosis, and management. Numerous color photographs of prenatal ultrasounds, imagings, cytogenetics, and postmortem findings illustrate the clinical features of patients at different ages, patients with varying degrees of severity, and the optimal diagnostic strategies. The disorders cited are supplemented by case histories and diagnostic confirmation by cytogenetics, biochemical, and molecular techniques, when available.§§Since the publication of the previous edition in 2012, the atlas has been widely accepted and used in light of rapid progress in genetic and gnomic information. In this new edition, additional genetic disorders are added, as well as extensive updates to the previous disorders with new illustrations, supplemented by case and family history, clinical features, and laboratory data, especially molecular confirmation if available. The atlas is written in outline format for ease of use.§§Atlas of Genetic Diagnosis and Counseling, Third Edition is of great value to medical geneticists, genetic counselors, pediatricians, neonatologists, developmental pediatricians, perinatologists, obstetricians, neurologists, pathologists, and any physicians and health care professionals caring for handicapped children such as craniofacial surgeons, plastic surgeons, otolaryngologists, and orthopedists. It is the definitive volume for helping all physicians to understand and recognize genetic diseases and malformation syndromes and better evaluate, counsel, and manage affected patients.§
Sklep: Libristo.pl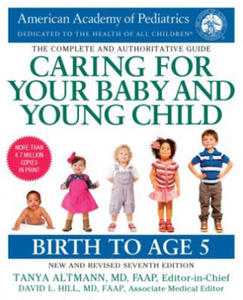 110,62 zł
Książki / Literatura obcojęzyczna
Now in its seventh edition! From the American Academy of Pediatrics, the most up-to-date, expert advice for mothers, fathers, and care providers
Sklep: Libristo.pl 193,20 zł
Inne 1
GENETICS IN THE CLINIC provides a broad understanding of advances in genetics and their implications for primary care practice. The book begins with basic concepts in genetics, diagnosis and management of genetic disease, cancer genetics, and prenatal testing. Part Two deals with topics relevant to all areas of primary care, such as cultural and ethnic differences, the role of the nurse, and genetic counseling. Part Three addresses ethical or social issues applicable to specific practices. The book's final section considers regulatory matters, including the impact of managed care and insurance and employment issues. Practitioners who are knowledgeable about health care, but who have no special training in genetics, will find this book especially useful as they learn to deal with the clinical, ethical, and social implications of advances in genetics for their practice.
Sklep: Albertus.pl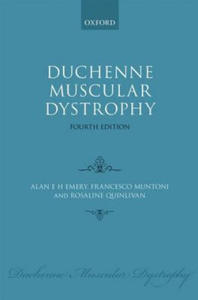 713,35 zł
Książki / Literatura obcojęzyczna
Duchenne Muscular Dystrophy, an inherited and progressive muscle wasting disease, is one of the most common single gene disorders found in the developed world. In this fourth edition of the classic monograph on the topic, Alan Emery and Francesco Muntoni are joined by Rosaline Quinlivan, Consultant in Neuromuscular Disorders, to provide a thorough update on all aspects of the disorder. Recent understanding of the nature of the genetic defect responsible for Duchenne Muscular Dystrophy and isolation of the protein dystrophin has led to the development of new theories for the disease's pathogenesis. This new edition incorporates these advances from the field of molecular biology, and describes the resultant opportunities for screening, prenatal diagnosis, genetic counselling and from recent pioneering work with anti-sense oligonucleotides, the possibility of effective RNA therapy. Although there is still no cure for the disorder, there have been significant developments concerning the gene basis, publication of standards of care guidelines, and improvements in management leading to significantly longer survival, particularly with cardio-pulmonary care. The authors also investigate other forms of pharmacological, cellular and gene therapies. Duchenne Muscular Dystrophy will be essential reading not only for scientists and clinicians, but will also appeal to therapists and other professionals involved in the care of patients with muscular dystrophy.
Sklep: Libristo.pl
202,77 zł
Książki / Literatura obcojęzyczna
The Student's Guide to Becoming a Midwife is an essential guide for all student midwives who want to become competent practitioners. It provides students with an understanding of the standards of competency required by the Nursing and Midwifery Council (NMC) to enable them to gain entry to the midwives' part of the register as a registered midwife. Thoroughly re-written and updated to include the latest 2012 NMC standards for pre-registration midwifery education, this invaluable textbook explores: - Effective communication and documentation - Confidentiality - Interdisciplinary working - The fundamentals of antenatal, Intrapartum, and postnatal care - Assessment and examination of the newborn baby - Medication - Public Health - Clinical Decision Making - Evidence-based Practice With case studies, top tips, activities and questions throughout, and a brand new chapter on The Midwife and Public Health, The Student's Guide to Bec oming a Midwife is ideal for all pre-registration student midwives. Special features: - New edition of a successful textbook for student midwives - Extensive case studies and activities throughout - Incorporates the newly revised and updated NMC Standards for pre-registration midwifery education - Has a strong focus on normal birth - The only text of its type that describes in detail the standards of education required to achieve NMC standards of competence as demanded by the NMC
Sklep: Libristo.pl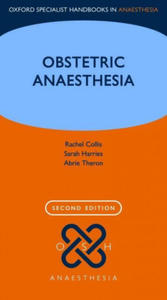 419,58 zł
Książki / Literatura obcojęzyczna
The Oxford Specialist Handbook in Obstetric Anaesthesia returns for a second edition with updated practical management advice for medical and nursing staff in a portable, accessible format. An invaluable quick-reference resource for all consultant anaesthetists and SAS doctors involved in obstetric anaesthesia, as well as a succinct exam revision aid for the FRCA, this go-to guide provides incisive coverage of all aspects of the sub-specialty. This is essential reading for anyone working on the labour ward, with concise instructions for both antenatal and postnatal care.
Sklep: Libristo.pl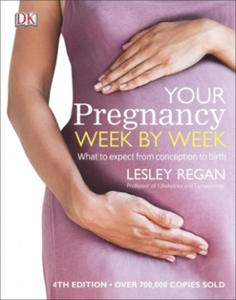 141,02 zł
Książki / Literatura obcojęzyczna
The only pregnancy guide you need, now updated. Understand what is happening to you and your developing baby from the moment of conception to giving birth, to the first six weeks with your newborn baby, with this in-depth week-by-week guide to pregnancy. Based on up-to-date research and full of detailed scans and images, Your Pregnancy Week by Week shows you your baby's remarkable development in the womb. Perfect for first-time mums, the book guides you through the physical and emotional changes you will experience, and through every aspect of your antenatal and postnatal care from the first signs of pregnancy to breastfeeding and beyond. The book's advice and reassurance ensure that you will have the best possible understanding of this extraordinary and wonderful time. Professor Lesley Regan, the world-renowned obstetrician, draws on both her professional and personal experience as the mother of twin daughters, to explain exactly what is happening to you and your developing baby week by week. This pregnancy bible is completely up-to-date in style and content, ready to appeal to a new generation of mothers-to-be.
Sklep: Libristo.pl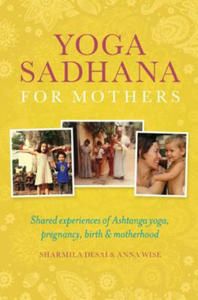 97,15 zł
Książki / Literatura obcojęzyczna
Yoga Sadhana for Mothers is far more than just a 'how-to' yoga manual. Although the book includes clear, illustrated guidelines on modifying the Ashtanga yoga primary series during pregnancy, at its heart are intimate first-hand accounts from prominent members of the Ashtanga yoga community of their experiences of conception, pregnancy, birth and motherhood. Additional material includes interviews with the Jois family and essential guidance for pregnancy and postnatal care. Beautifully presented, with treasured family photos alongside yoga photography, this is an inspiring, essential guide for any yoga student, yoga teacher - and mother.
Sklep: Libristo.pl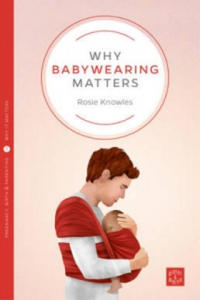 48,86 zł
Książki / Literatura obcojęzyczna
Evidence continues to increase on the practical and emotional benefits of babywearing, both to parents and their children. Among many other benefits, babywearing can help parents bond with a new baby, and facilitate both breastfeeding and the care of the baby's older siblings. Babywearing also has benefits for society at large. Children are more securely emotionally attached and there is evidence of a link between the reduced incidence of postnatal depression and babywearing. In this new book, Rosie Knowles explores all these advantages, along with the practicalities of how to babywear and babywearing culture. She demonstrates how a clearer understanding of babywearing, and the attachment parenting philosophy as a whole, can ultimately lead to a happier, healthier society.
Sklep: Libristo.pl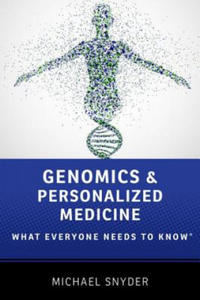 82,53 zł
Książki / Literatura obcojęzyczna
Today genomics, part of a larger movement toward personalized medicine, is poised to revolutionize health care. By cross-referencing an individual's genetic sequence - their genome - against known elements of "Big Data," elements of genomics are already being incorporated on a widespread basis, including prenatal disease screening and targeted cancer treatments. With more innovations soon to arrive at the bedside, the promise of the genomics revolution is§limitless.
Sklep: Libristo.pl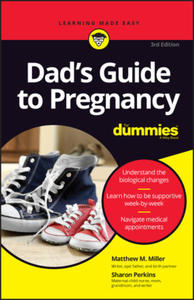 96,58 zł
Książki / Literatura obcojęzyczna
An invaluable handbook to being the best father-to-be you can be during one of the most exciting times of your lifeDad's Guide to Pregnancy For Dummies walks you through the ins and outs of how to best support your partner through the logistical, physical, and emotional challenges of pregnancy. Yes, we know that you won't be doing the lion's share of the work over the next nine months, but you can do your part by getting a head start on learning critical information about the ins and outs of pregnancy, labor and delivery, and the first few months of baby care.You'll get the lowdown on topics like setting up a nursery, how to be helpful during childbirth, and the best way to change a diaper. You'll even find advice about when to let other people in on the fact that you're expecting.The book also offers:* Comprehensive info on ultrasounds, caesarean sections, infertility treatments, and other pre-birth and birth-related subjects* Brand-new updates on using a surrogate, sperm donation, and what dads can do when they won't be physically present during the pregnancy* Strategies for handling prenatal depressionFull of authoritative and easy-to-follow tips and techniques to get you ready for the big day (and all the days that follow it), Dad's Guide to Pregnancy For Dummies is your survival guide to pregnancy, childbirth, and fatherhood.
Sklep: Libristo.pl 90,61 zł
Bonding Da Capo Press Inc
Książki / Literatura obcojęzyczna
The mighty bond between parent and child is one of the enduring wonders of psychology. John Kennell and Marshall and Phyllis Klaus bring decades of research, insight, and clinical practice into one book that offers parents, and those who care for them during pregnancy, everything they need to know to enhance this essential relationship. This important work explores the effects of various birth practices and situations--prenatal testing, labor support, testing of newborns, breast feeding, prematurity, and adoption--on the parents' feelings and on the development of later attachment and independence.
Sklep: Libristo.pl
1187,19 zł
Książki / Literatura obcojęzyczna
This volume provides current state-of-the-art methods for screening, diagnosis, management, and prevention of fetal alcohol spectrum disorder (and FASD). Chapters detail animal models, mechanism of ethanol teratogenesis, genetic mechanisms, clinical perspectives, physical traits in children with FASD, managing behavior, FASD and the correction system, nutritional influences aiding FASD prevention, prenatal alcohol screening, the use of dental signatures in FASD diagnosis, the experiences of FASD research and clinical practices in Australia, adult FASD diagnosis, FASD in the UK, FASD and children in care, FASD and the healing journey. Authoritative and cutting-edge, Advances in Fetal Alcohol Spectrum Disorder aims to be a useful practical guide to researchers and clinicians to help further their study in this field.
Sklep: Libristo.pl
Sklepy zlokalizowane w miastach: Warszawa, Kraków, Łódź, Wrocław, Poznań, Gdańsk, Szczecin, Bydgoszcz, Lublin, Katowice
Szukaj w sklepach lub całym serwisie
2. Szukaj na wszystkich stronach serwisu
t1=0.088, t2=0, t3=0, t4=0.018, t=0.088